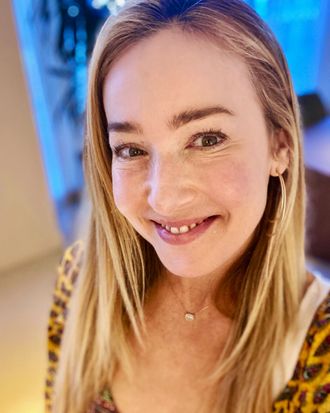 For my birthday, I usually treat myself to several syringes of Botox. But this year, I took a cheaper and less invasive route. I bought the CurrentBody Skin LED Light Therapy Mask, an at-home red-light mask illuminated by 49 LEDs. The skin-care claims about red light are irresistible. It's been shown to increase collagen production and improve the appearance of fine lines and wrinkles with clearer, more radiant skin. My main issues were patches of discoloration where my freckles had morphed into dark sun spots. Mostly, my face looked tired and lifeless, perhaps languishing, which was understandable given the past 18 months of pandemic stress that relegated me to staring at myself on Zoom for hours on end. My skin's glow was fading, and I was ready to do something about it.
I opted for a mask over the other LED light-therapy options because I could multitask. Most other LED lights are handheld, keeping you tethered in one place for the treatment, but this mask is flexible and wraps around your face (you'll look something like Jason Voorhees), securing around the back of your head with an adjustable Velcro strap that, surprisingly, stays put. (The Velcro did catch my hair so I suggest wearing a high ponytail during a session.) The CurrentBody's instructions prescribe a ten-minute daily routine. I stuck to it for 30 days, usually masking after my bath while watching The Bold Type (and when that was over, The White Lotus, obviously.) And although not cheap at $399, the price was competitive with other popular masks like Dr. Dennis Gross SpectraLite FaceWare Pro ($435) or MZ Skin Golden Light Therapy Device ($578).
LED masks and injectables like filler and Botox make some of the same promises: Smoothed lines and a more supple, youthful appearance. But as someone who got their first hit of Botox at 25 and has had many syringes of fillers shot into her face in the years since, the red light mask is so attractive because the effects of LED light are supposedly cumulative and lasting. I'm definitely not saying it beats the immediate plump up of fillers from a dermatologist, but it's a great way to mimic the effects at a more manageable cost.
My skin goals were pretty simple and, I hoped, attainable. I wanted fresh, shiny skin that looked alive right after I washed it without layers of serums, makeup, or turning up the "Touch up appearance" dial on Zoom. Within a few weeks of using the CurrentBody mask, as the many YouTube "before and afters" promised, my face reclaimed a luminance I hadn't seen in a long time. My skin looked supple and especially bouncy with a just-got-laid glow. At four weeks, I noticed a small scar over my left eyebrow was no longer visible. The mask was working. Mostly, it boosted my confidence and helped me like looking in the mirror more.
Though the glow-up would've been plenty, I had another — very unexpected — win after using the LED mask for one month. I had developed intense jaw pain in June 2020 from clenching my teeth during sleep (and most of my waking hours). I spent six months trying everything to fix it: a mouth guard, a yoga wheel for neck stretching, and face fitness that encouraged blood flow to the area. But just after a few nights of use, I noticed that my jaw was looser and the pain had lessened. Within four weeks, the CurrentBody's 49 LED lights acted like a Xanax for my masseters — my lockjaw was no longer a thing.
I reached out to Dr. Jared Jagdeo, a board-certified dermatologist and leader in laser- and light-based medicine, to illuminate this unexpected turn of events. Turns out my relaxed jaw made perfect sense. "Red light has been shown to penetrate deep into the skin and decrease inflammation, so it's absolutely conceivable that it could decrease jaw tension," Jagdeo said.
And it wasn't just my jaw that benefited from red-light anti-inflammatory action. I had been using the mask to relax other parts of my body like my right trapezius, where I carry all my tension, and my lower back for period cramps. I even noticed that it reduced my post-Sweetgreen stomach bloat. After a salad, I placed the red lights on my belly — directly on the skin (the lights aren't effective otherwise) — and within five minutes, my tummy was flatish again. The CurrentBody became a blankie of sorts. I even used it in the car on my lower back. It helped me stay zen while driving. Because L.A. traffic, y'all.
LED light has been shown to help heal everything from sore muscles to aging skin, but in talking to Jagdeo, I learned that delivery of the red light is extremely important to its usefulness. "Visible red light generated by LEDs has the power to positively influence the way that our skin looks and feels," said Jadego, "and there is emerging science that indicates that the effects may go beyond skin deep." That sounded right to me because the CurrentBody had been so helpful in other areas of my body.
But after sharing the CurrentBody's specs with Jagdeo, I learned it actually has a lower energy output than some of the other masks on the market, which may explain why it has a longer treatment time. Dr. Jagdeo said the efficacy I experienced "could be attributed to the product's synergy of using both red and near-infrared lights, which is not true for all masks on the market."
After several months, my exploration of the CurrentBody revealed one more surprise. Any time I wore the mask after dark, my breath deepened, my eyes got heavy — lights out. Evidently, this slumber-inducing phenomenon checks out as several studies conclude that red-light therapy could have a positive effect on sleep and may stimulate the production of melatonin, the naturally occurring sleep hormone. Although the correlation is still a theory, I was shook. What couldn't these red lights do?
The Strategist is designed to surface the most useful, expert recommendations for things to buy across the vast e-commerce landscape. Some of our latest conquests include the best acne treatments, rolling luggage, pillows for side sleepers, natural anxiety remedies, and bath towels. We update links when possible, but note that deals can expire and all prices are subject to change.