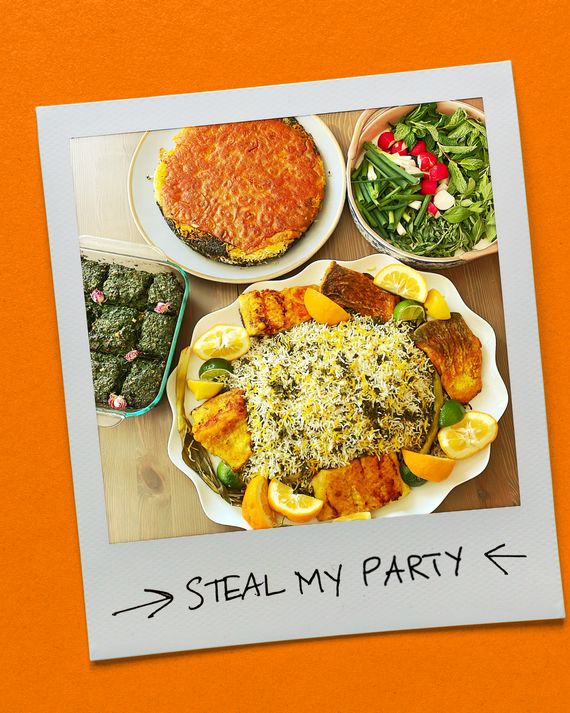 Photo-Illustration: The Strategist; Photo: Naz Deravian
Hosting can be a lot, especially when part of the game is having the soirée you put together look effortless. In this series, veteran party-throwers tell us how they pull off their highly specific, flawlessly executed gatherings (well beyond the holidays). This installment comes from Naz Deravian, a Los Angeles–based cookbook author and recipe developer, who shares how she hosts family and friends for Nowruz. Also known as the celebration of the vernal equinox in the Northern Hemisphere, Nowruz commemorates the first day of spring and the Iranian New Year. The start of the 13-day holiday falls at exactly 8:33 a.m. PT on Sunday, which means she'll be serving a late-afternoon lunch after she and her guests welcome the New Year.
Naz Deravian starts her sabzeh, which means sprouted wheat or lentils, a couple of weeks before Nowruz starts. The little green shoots represent growth and rebirth, one of seven symbolic items placed on her family's haft-sin, an arrangement meant to honor the holiday. "That's what I'm doing right now," she says. "And we're all very concerned in my household because we think it's not going to grow. Every year we think it's not going to grow, but this year we really think it's not going to grow." But that's also ultimately okay, she assures: You can buy sprouts, even from your local health-food store, if need be.
In fact, in Iran, where Deravian lived when she was young, families start getting ready for Nowruz as far as six weeks ahead with what's called khune tekuni. "It literally means shaking the house up," she says, "which is a spring clean. Everything gets washed. Windows, cupboards, carpets get taken outside and beaten. And this takes you all the way up to Nowruz, which is then celebrated for 13 days."
It's a long holiday, with a lot of meaningful symbols and traditions revolving around the earth's cycle and fresh beginnings. But it's also light and joyous, the first day reserved for gathering around the haft-sin and then joining loved ones for a family-style feast. This year, because of the time, it will be a lunch for about ten of Deravian's guests, full of the dishes she always makes: sabzi polo (herbed rice), mahi sorkh shodeh (pan-fried white fish), mahi doodi (smoked whole white fish), and kookoo sabzi (an herb-laden, frittata-like egg dish).
"Nowruz is a celebration of nature," Deravian says. "And anyone is welcome to partake. If you'd like to set up a little haft-sin, go for it. If you'd like to cook and eat, do so. I even tell my non-Iranian friends, if you happen to be awake at 8:33 in the morning, just look outside, or step outside, and say, 'Happy Nowruz.'"
Two days before: Set up your haft-sin
A couple of days before, we get everything together for our haft-sin. I'll set it up the night before, but it's good to make sure everything is ready to go. Haft is the number seven, and seen is the Persian letter S — so what you have is seven symbolic items starting with the letter S arranged on a table. Though not technically one of the seven, we start with the sofreh, which means the tablecloth or spread you put all the things on top of. The cloth itself is very respected. Mine has been in my family for about 200 years, and it comes out every Nowruz.
Other than that, there is samanu, a naturally sweet pudding made from germinated wheat representing sweetness in the New Year; senjed, or oleaster, which is the dried fruit of the wild olive tree and represents love; somagh, or sumac, for sunrise and fertility; sib, or apple, for beauty and health; sir, or garlic, for medicine and health; and serkeh, or vinegar, for age and patience.
Those are most traditional, but families will have a myriad of other items set out, too. There are colored eggs for fertility; a real goldfish for life (though you can also make goldfish out of marzipan); a book like The Divān of Hafez, by the celebrated 13th-century Persian poet (other people might have other books; this is just the one my family sets out); a mirror for reflection and brightness; candles for light and enlightenment; a bowl of water with a floating narenj, or orange, for Earth floating in space; coins for wealth and prosperity; rose water to purify and perfume; a sonbol, or hyacinth, and fresh flowers like narcissus or tulips for spring in vases.
I also often buy extra-small hyacinth flowers at my Iranian market to decorate the table we'll eat at.
One day before: Prep lunch
The day before, I prep as much of the food as I can. I wash and chop all my herbs. There are a lot of them used in various dishes, so I pull out my salad spinner and food processor for this.
I fully make the kookoo, the eggplant dip, and the yogurt sauce with rose petals. I also portion my fish into filets and put together the flour-and-turmeric dredging mix. The fish is important because it's a symbol of life; we're also in the zodiac sign for Pisces. But you can make whatever fish you want. (Here are some others I like.) Or even just make a piece of salmon.
Before I go to bed, I also set the table so it's ready to go the next day. Personally, I'm not big on tablescapes — the food all needs to fit on big platters in the middle, because that's the focus. I've been to Nowruz parties where they go all out, but that's just not me. But I do dot the middle with some of those small hyacinth flowers or some oranges or limes. But there must be room for the food.
Day of
8 a.m.: Gather around the haft-sin
We gather around the haft-sin with our immediate family to observe the New Year at 8:33 a.m. We sweeten our taste buds with some pastries (I order mine from Zozo Baking, but you can also make treats like rice-flour cookies, baghlava cake, and toot yourself if you want).
11 a.m.: Prepare the rice
In the late morning, I put on my apron and start cooking. First up is the sabzi polo in my nonstick Dutch oven. I parboil my rice, drain it, and prepare the crispy tahdig layer at the bottom of my pan. (You want to brew your saffron in a mortar and pestle to help get the most out of such an expensive ingredient, which I actually wrote about for the New York Times last year.) A mound of rice mixed with herbs goes on top of that layer. The whole thing should be over a flame by about 12:15 p.m., but you can set the pan aside with the lid ajar if you're not quite ready to cook it yet.
I also arrange a naan-o panir-o sabzi platter for guests to snack on before the meal.
12:45 p.m.: Cook the fresh fish
This is when I start frying the fish, right before people arrive.
1 p.m.: Last-minute finishes
As guests arrive, I put on lively Iranian music. I just found a Nowruz playlist on Spotify. If you search, so many will pop up and any of them will do. I heat the kookoo and the smoked fish in the oven at 350 degrees until warmed through. That will take about ten minutes for the kookoo and 25 minutes for the fish.
As soon as people walk in the door, I offer them tea. This year, I think I'll make traditional Iranian tea in my samovar (the kettle above is a stove-top version). Basically, you make a tea concentrate in the top part and then dilute it to your preference with hot water from the bottom part. Tea is a big part of Iranian culture. Typically, it needs to be served in glass because the color of the tea is very important. So you ask guests, "Do you like your tea dark? Do you like your tea light?" and add water to their preference. Sometimes, I put in a splash of orange blossom water, too.
We show friends the haft-sin, and if anyone is unfamiliar with it, explain the traditions and symbolism. In years past I've had a card printed that showed what everything meant, and I would just put it on the table so people could look for themselves. Everyone munches on the sabzi platter.
1:30 p.m.: Time to eat
Finally, I ask people to bring platters to the table and we all sit down to eat. The food is all plated family-style. It's how we eat because everything in Iranian cuisine is about balance, not courses. Everything should be consumed at the same time — a little bit of rice with the fish and the herbs. You want to get the perfect bite.
After the meal, there's more tea, this time with saffron rock candy to stir in, and dessert — Persian ice cream and maybe some of the sweets we ate in the morning. The ice cream is refreshing after a big meal.
Now, this is just the beginning. You're supposed to keep your haft-sin fresh for 13 days. It stays up, and you have visiting hours where family comes over, and you go to other people's houses, pay your respects, and wish them a happy New Year. There are no more big meals, though, until the last day, when there's a picnic, Sizdah Be-dar. You tie two blades of grass together and make a wish, or release your sabzeh into a flowing body of water, like a stream or a river, and send it back to nature.
The Strategist is designed to surface the most useful, expert recommendations for things to buy across the vast e-commerce landscape. Some of our latest conquests include the best acne treatments, rolling luggage, pillows for side sleepers, natural anxiety remedies, and bath towels. We update links when possible, but note that deals can expire and all prices are subject to change.