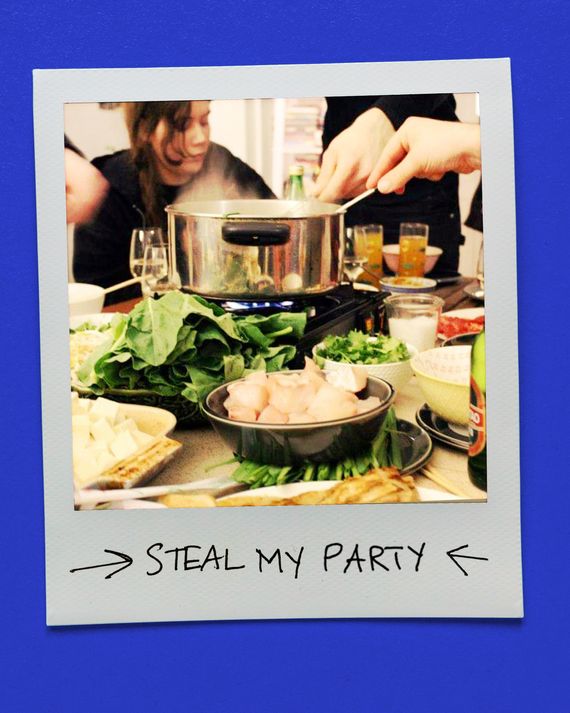 Photo-Illustration: The Strategist; Photo: Courtesy of Natasha Pickowicz
Hosting can be a lot, especially when part of the game is having the soirée you put together look effortless. In this series, veteran party-throwers tell us how they pull off their highly specific, flawlessly executed gatherings (well beyond the holidays). This installment comes from New York–based pastry chef and writer Natasha Li Pickowicz, who details the baijiu-fueled hot-pot dinner parties she hosts for friends — her own iteration of the communal Chinese meals she ate growing up.
Ever since I can remember, my family has hosted hot-pot parties, a communal Chinese meal typically held at home during the cold winter months. At huoguo, which literally translates to fire pot, guests jockey around a bubbling cauldron that rapidly cooks small bites of raw vegetables and meat à la minute while filling the room with aromatic steam and warmth. Interactive, playful, and full of drama, hot pot is not just a meal but a lifestyle, my heritage, and the single most spectacular way I know to bring a group of people together.
My mother, the artist Li Huai, grew up in Beijing, so we practice the northern Chinese variation, which is less intense than the mouth-numbing hot-pot broths of Chongqing, in the Sichuan province. As poor art-school students, my mom and her friends would put up $5 each — a massive sum — to indulge. "Hot pot was not for every day. It was special because you got to eat meat, which was a luxury item for many," she tells me. "Back then, hot pot was just mutton and napa cabbage, but together, the two are like fireworks."
To host a hot-pot dinner yourself, impress your guests with an abundant, overflowing table of leafy green vegetables, sliced mushrooms, lamb, and noodles. (If you love a dramatic tablescape, this is your dream menu.) "You must put out many more food items than possibly could be consumed," says my dad, historian Paul Pickowicz. "This is crucial! It is a good-luck sign; it speaks to abundance and celebration. Leftovers are a symbol that your family is doing well, that you can afford a surplus."
Over time, the endless dipping and dunking of savory morsels enriches the water, creating an intoxicating broth. After sipping this nourishing, nutty soup, guests will float out of your home in an ecstatic haze, and you'll collapse into a deep, satisfying sleep. As my mom puts it, "You want your loved ones to feel like, Wow, I am one of the lucky guests."
A week before: Make sure you have your physical hot pot
You should budget three to four people per hot pot.
The physical hot pot is a domestic art object, traditionally made with copper and embellished with decorative lions or fish and with its own smoke chimney and tray for burning charcoal. More practically, a small camping stove, fed with cans of butane, is cleaner and cheaper (avoid electrical burners because your guests will drunkenly trip over the power cord). A double-chambered pot is useful for vegan or vegetarian guests, but you can always use a Dutch oven or shallow stockpot instead.
A few days before: Grocery shop
In China, hot pot and heavy drinking go hand in hand, so plan accordingly. You won't find baijiu, a fruity, high-proof sorghum whiskey, in a western-style liquor store (Mark's Wine & Spirits, on Mott Street, is my go-to). Look for 750-milliliter bottles in the $60 to 80 range; drink anything cheaper and you'll feel like you're being punched in the stomach. Add on a case of easy-drinking Tsingtao beer and at least one bottle of wine for every two people. (I love the affordable, vivacious natural wines at Brooklyn's Radicle Wine, which — full disclosure — is owned by my partner.)
Buy pantry and freezer items from a Chinese grocer. Thinly sliced mutton is traditional with northern-style hot pot, but your guests might prefer a less gamy lamb loin or shoulder. Look in the freezer aisles for Styrofoam trays of presliced meat (don't go any thicker than two millimeters), and thaw it out in your refrigerator the night before the party. Aim for about eight ounces of meat for every four people — pork, beef, or chicken are also acceptable proteins.
While in the freezer aisle, pick up a few packages of cong you bing (flaky scallion pancakes) or shao bing (soft sesame flatbreads), which add necessary fluffy carbs to the offerings. (If you're feeling extra, you can make them yourself.)
You can buy premade sesame dipping sauce at Chinese groceries, but it's so easy to whisk up your own. "The dipping sauce must be made in abundance," my mom insists. "It must taste so robust that it can make even cabbage taste really, really rich!"
Don't forget a jar of your favorite chili crunch (I love the bright Momofuku version), a package of superfirm tofu, and a netted parcel of dried vermicelli noodles.
Finally, grab a variety of your favorite Chinese snacks like spicy peanuts (my family is hopelessly addicted to the mouth-numbing, spicy, just barely sweet Sichuan-style Huang Fei Hong peanuts), shrimp chips, White Rabbit, and Ferrero Rocher.
Day of
9 a.m.: Buy the vegetables
Wait until the last possible moment to purchase your vegetables since you'll be serving them raw like crudités. I rarely buy everything in one place; instead, I make several small stops to source the best versions of everything. (Your mantra: The shopping is the prep.) As you shop, bear in mind that abundance and variety are key to the hot-pot table. "Many different vegetables create beautiful color, texture, and volume," my mom instructs. "It creates a beautiful landscape full of highs and lows. It's all about creating drama."
Organic Smallhold mushrooms come in gorgeous, hard-to-find varieties including lion's mane (big Year of the Tiger energy), blue and yellow oyster, and royal trumpet. (I've spotted them at Archestratus Books + Foods in Brooklyn.) This time of year, local farmers' markets will have napa cabbages, kabocha squash, and Japanese sweet potatoes. Support organic Asian-run farms if you can as they'll have superlative versions of common Asian vegetables such as daikon radishes, tatsoi, gai lan, and pea shoots. Korean and Japanese chain markets like H Mart and Sunrise Mart will have high-quality vegetables including lotus root, mung bean sprouts, and bok choy as well as super-fragrant herbs such as perilla leaves, Thai basil, spring onions, and cilantro.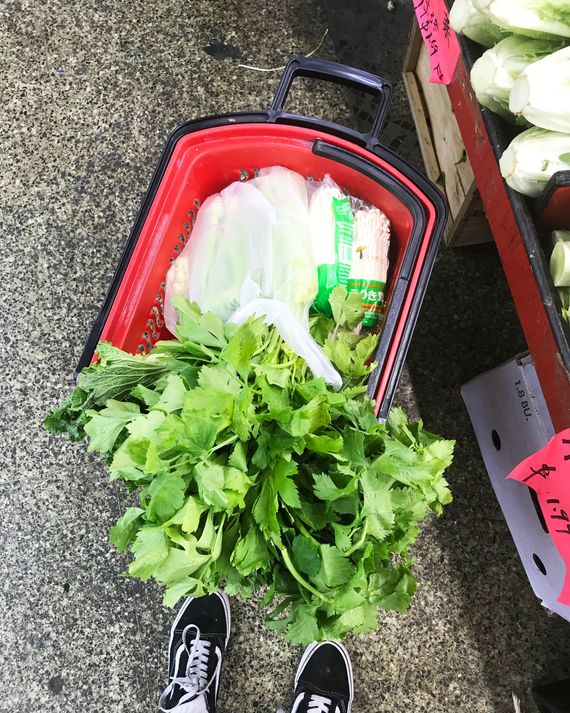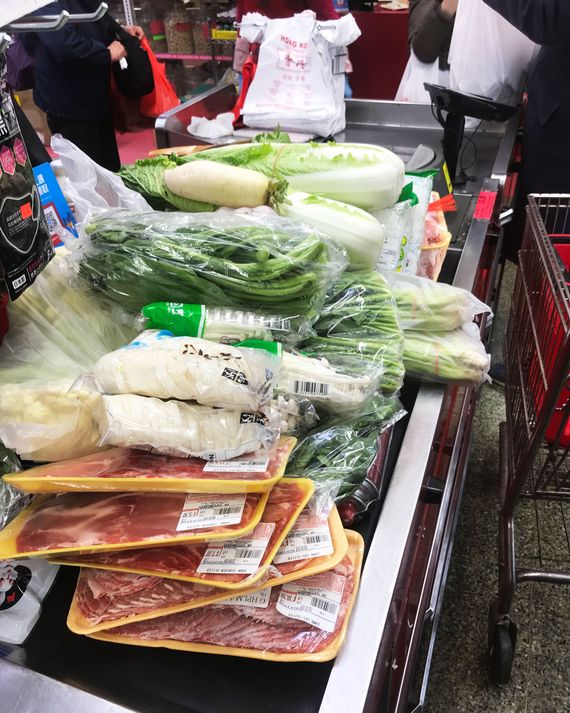 In NYC, pristine in-season citrus such as sumo mandarins and satsuma tangerines can be delivered the next day via Natoora; otherwise, look for stem-on mandarins from a sidewalk stall in Chinatown. Whatever citrus you get will be served as a light dessert.
Finally, visit your local fishmonger (for me, that's Greenpoint Fish & Lobster Co.) for such seafood as shell-on shrimp, whole scallops, clams, or fish balls; the idea is any seafood should cook to perfect tenderness quickly (this is not the time to braise).
10 a.m.: Do some prep work
Mix the white sesame sauce and let it rest in an airtight container in the fridge. Wash and dry all the vegetables, then break them up into bite-size pieces. Dice the tofu into inch-wide cubes. Roll up the thawed meat into pretty ruffles or little cigars. Arrange the ingredients onto a series of platters so they look vibrant and inviting (they don't have to match). Then wrap them in plastic and keep them chilled until it's time to eat. Transfer wine and beer to a fridge or cooler.
3 p.m.: Set the table
Divide the snacks into small bowls and arrange them on a coffee table or a cocktail area. Set the hot-pot table with the butane stove, hot pot, and individual place settings. Each guest should have a pair of chopsticks, a mesh-strainer scoop, a small soup bowl, and a big soup spoon (these are all things you can find at your local Asian supermarket like Hong Kong Supermarket or Ranch 99). "If at all possible, you want a round table so that it is easy for everyone to see and hear everyone else," my dad tells me. "And usually the guest of honor should sit in the seat facing south because it is good luck and a sign of respect."
7 p.m.: The guests arrive
Offer everyone a drink and some snacks. Start boiling a big pot or kettle of water. Bake the frozen breads in a 400-degree oven (or toaster oven) for about ten minutes until crisp and fragrant.
7:30 p.m.: Time to eat
Don't let people fill up on peanuts. Bring out the platters of food (there will be oohs and aahs) and the warm bread. Transfer the boiling water to the hot pot and flick the stove on to keep it simmering. Most bites of food will cook very quickly, but use the mesh baskets to contain the longer-cooking ingredients (such as sweet potato and squash), bending the handle to rest on the rim of the hot pot like a bather relaxing in a jacuzzi. "Even the act of cooking is collective," my dad explains. "The food in your basket may fall out and disappear into the broth. Maybe you can find it, but someone else may grab it, too!"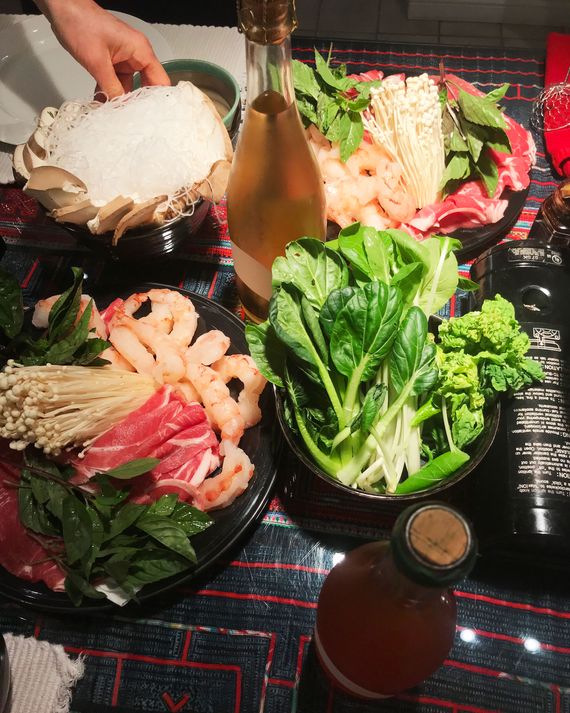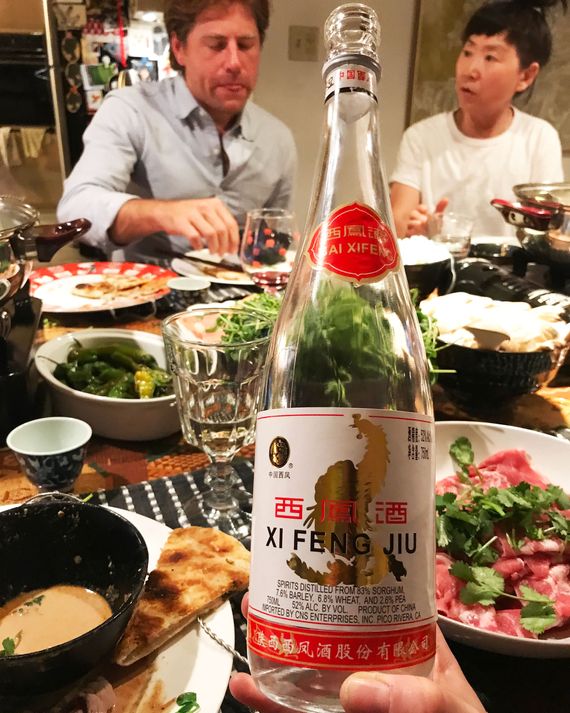 8 p.m.: Shots, toasts, and more eating
Every so often, pour everyone a small shot of baijiu. As you shoot it together, say "Gan bei," then show everyone the bottom of your glass. "The Chinese phrase for 'Bottoms up' literally translates to 'dry cup,'" my dad says. "You drink it collectively and toast to the typical things like the health and prosperity of the family." This can be repeated as many as six or eight times during one hot-pot session. The baijiu serves a gustatory purpose, too. It races into your stomach like gasoline, magically opening up your palate to desire even more food. It's a cycle that can — and should — continue for hours.
9 p.m.: Still going strong
Watch the windows of your home cloud over with steam. Make everyone give a grand or sentimental speech (as the host, you'll start). Keep the cold beer and wine coming. Replenish ingredients and boiling water as needed.
10 p.m.? 11 p.m.?: Drink the broth
By now, you should have a murky, highly aromatic broth. When everyone is finally done eating, ladle a bit of broth into everyone's sauce bowl and drink up. Retire to the living room and wrap things up with hot tea and dessert, which should be so simple as to almost be nonexistent. Cold, whole citrus is a refreshing repast, and ripe Fuyu persimmons in the winter are tremendous, too. Wrap up any leftover ingredients, shove them in the fridge, and stumble into bed.
The next day: Make leftovers to cure your hangover
Like a Thanksgiving turkey repurposed into weekend-long sandwiches, I look forward to the next day's meal just as much as the main event. Pick up a container of steamed jasmine rice from your local Chinese spot (Kings Co Imperial for me), then stir-fry all the leftovers in a little oil over high heat. Add a scrambled egg or two, and that's your post-hot-pot hangover cure. Hide the baijiu until your liver has sufficiently recovered.
The Strategist is designed to surface the most useful, expert recommendations for things to buy across the vast e-commerce landscape. Some of our latest conquests include the best acne treatments, rolling luggage, pillows for side sleepers, natural anxiety remedies, and bath towels. We update links when possible, but note that deals can expire and all prices are subject to change.