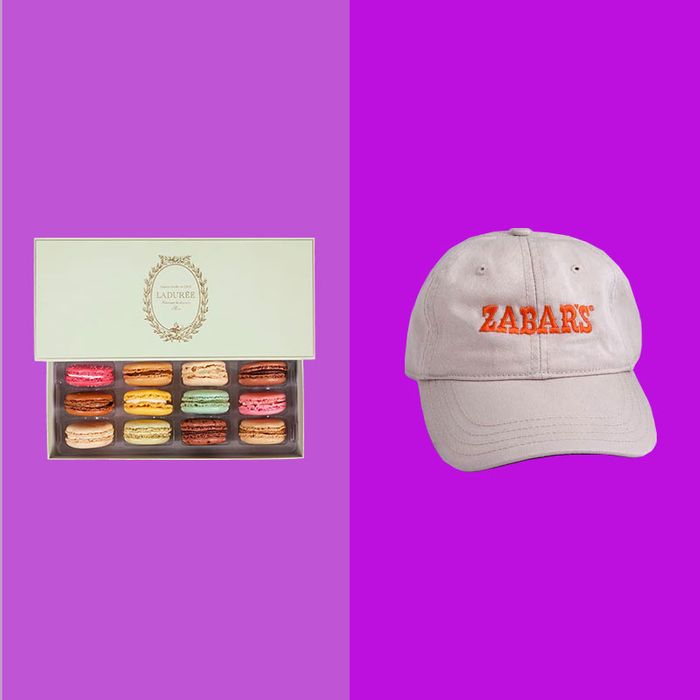 Photo-Illustration: The Strategist; Photos: Retailers
We write about hundreds of products a week. Here, in our version of the Sunday circular, we've plucked some of our recent favorites — expert-recommended essentials, life-changing stuff you didn't know you needed, newly launched gizmos, and very good deals we uncovered while trawling through the vast online-shopping universe, including a controversial apricot scrub, a pair of elusive water shoes, and a $10 eye pencil that might just help you master tight-lining.
A stylish mint julep cup with many uses …
Chloë Sevigny's wedding had ice swans, scallop-shaped oyster-sauce dishes, and silver cups filled with Marlboro Lights and American Spirits. You can display cigarettes just as elegantly at your wedding (or in your home) with these $18 dupes that are actually mint julep cups but would look just as good holding a different kind of vice.
… And a hold-everything tote you can carry many ways
We sifted through pre-Memorial Day sales to find you the best deals on a pet GPS tracker, a chef-approved butter warmer, and this extra-deep canvas tote that got a shout-out in our roundup of the best work bags. You can get this spacious tote (which fits a 15-inch laptop) for more than 20 percent off and carry it in hand, over the shoulder, or cross-body.
An appliance to support your freshly baked cookie habit
If you're still skeptical about air fryers, maybe the endorsement of professional baker Gracie Bensimon of Gracie Baked will change your mind. Bensimon recommends this Ultrean machine for making "outrageously doughy" treats in our review of the best models. She sets it to 370 degrees (no waiting around for preheating), adds a piece of parchment paper, and eight minutes later has fresh cookies with a "nice golden bake."
A hat to rep your favorite NYC institution …
In her roundup of favorite things, Saturday Night Live's Chloe Fineman reveals her rather unusual Zabar's order (bagel and lox, hold the cream cheese) — and the fact that she proudly reps the New York City institution with this baseball cap, which she and her best friend wear constantly. "I moved back to New York to be near Zabar's," Fineman jokes. "It's an institution."
… And some skates to carry you through crowded city streets
Our review of the best rollerblades includes something for shredders of all levels. These macroblade skates were named the best less-expensive option for intermediate skaters because they have a heel brake and the option to swap in your own wheels. According to Daniel Nodzak, co-owner of Blader Union, they have the "power transfer and stability benefits of an aluminum frame" without the cost of high-end inline skates.
A sweet treat with equally delectable packaging
For this week's Assistant Files, we spoke to Lisa, right-hand woman to a luxury-travel influencer, who says she once picked up Ladurée macarons just so they could use the recognizable green box for a "high-glam" photo shoot. Lisa says the cookie supply was then supplemented with additional (cheaper) macarons from another bakery to create an illusion of abundance — which makes sense given that the philosophy behind Lisa's prop purchases boils down to "the quality doesn't matter and the cost doesn't matter. It matters how it looks."
A sought-after PVC shoe that looks high fashion …
In our latest Stock Chaser, Strategist senior editor Chelsea Peng investigates why these Decathlon Naibaji Aquafun water shoes are consistently sold out in most sizes. (We've been on #AquafunWatch since February, when fashion person and illustrator Jenny Walton posted them on her Instagram stories.) It could be that they look like a cross between the Row's megapopular (and megaexpensive) nylon sock shoe and Loewe's jelly sneaker. Or there could be a more complex, all-too-familiar-these-days reason these designer dupes are so hard to track down.  
… And a luxe soap that is high fashion
Dads who are label snobs will swoon when they unwrap something from our Father's Day guide to the cheapest gifts from expensive brands. This oregano-scented soap is debossed with the designer's logo, and if Dad plans to display rather than use it, he can hang it from the attached rope or place it in a fancy soap dish.
Scrub powerful enough to slough off a bad day
Drag queen Miss Fame made a case for their beloved apricot scrub from St. Ives, which they acknowledge is controversial. Miss Fame notes, "I won't use it on my face because it's too strong," but as a body exfoliant, it's both affordable and effective. They use it to slough off dead skin every one to two weeks, depending on the season, and say, "It feels like I get a deeper level of product penetration" for creams and serums applied afterward.
$10 eyeliner that holds a candle to kohl