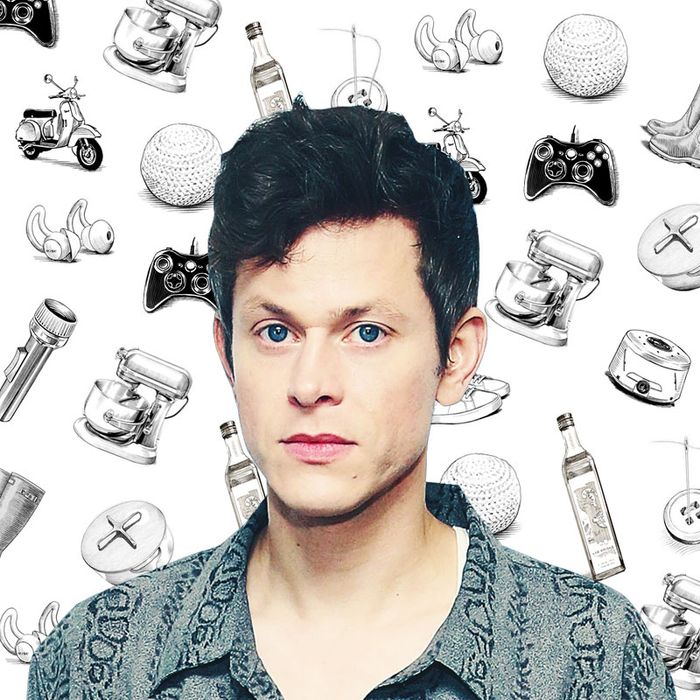 Photo-Illustration: The Strategist; Photos: Robin Marchant/Getty Images
If you're like us, you've probably wondered what famous people add to their carts. Not the JAR brooch and Louis XV chair but the hair spray and electric toothbrush. We asked musician Mike Hadreas, a.k.a. Perfume Genius — whose sixth album, Ugly Season, is out today — about his signature scent, his potentially life-threatening Diet Coke habit, and the luxurious hand cream he buys even though it maybe doesn't work that well.
Peanut butter? I wake up thinking about it. I have a hard time when I'm going to bed not getting up for it. I love these specific bars — they're kind of rare, and I have to go to multiple Whole Foods to find them. They always end up just having the lemon or cranberry. They also have a chocolate peanut-butter flavor, which is nice, but that feels too candy bar. These are just really satiating and really good and very sweet. For some reason, even though I've read the ingredients and looked at the label, I consider them to be healthy. Maybe because I got them at Whole Foods. The way the label looks? It makes it okay for me.
I'm kind of obsessed with bedding and am always trying to perfect the whole experience. I resisted linen sheets because I always thought they'd be scratchy. But linen makes the most sense to me. I sleep really hot. They are soft but feel sturdy and delicate at the same time. They breathe, and it feels kind of luxe but in a natural way. I think I read that linen sheets are more hygienic. I don't know if that's true, but that's been my experience. It feels that way. I don't like any synthetic materials because they're less breathable. They can be supersoft, but there's a barrier there with the temperature for me. I do like that hotel-slide-y feeling, but it won't be the same if I try to recreate it. Maybe for one sleep — then I'll fuck it up somehow with my hot body.
This is based on another thing that I read, which is that you shouldn't spend a bunch of money on a cleanser because you just wash it off. It's on your face for 20 seconds. And I'm very pro-drugstore. My skin's really temperamental and sensitive, and this is cleansing but not stripping and irritating. And on tour I can find it anywhere I go in the States. My skin-care routine used to be really intense, and I credit it with making my skin a lot worse. I was always using tons of active acids but not paying attention to what my skin was doing, just what I read and people were recommending. But once I started paying attention, my skin really just likes a more minimal cleanser and a moisturizer and sunscreen.
It's ugly. It's not a cute thing. But it's very handy that there's just one station for everything instead of having to find multiple outlets. And some of them charge really quickly — the top two ports. I don't know why they had to limit it to two. I like gadgets. I have an iPad, which I'm relentlessly made fun of for on the internet. Whenever it's "Twitter from iPad" on my tweets, I have five or seven children harassing me. I have a Kindle; I have all of it. I don't have the Apple Watch yet, but it's not far for me. People have been asking me not to get it (my boyfriend says no), but I have to do it. My friend put hers on me, and it measured something. Something that was important. But an Uber Eats ad did pop up — just a big cheeseburger. Which I didn't know would happen.
I could pick any of Bruno's scents. I just love his perfumes. They're very complicated and layered but harmonious. You keep wanting to figure it out in a pleasant way. There's something alien about them all but very familiar. And it has iris in it, which is my favorite note. A really papery iris. But it changes depending on how acidic or something I am. On my boyfriend it smells really powdery and sweet and milky and creamy, and on me it smells like piss and vinegar. But not in a way I dislike. If there are peppery notes, I will bring them out. If there's anything sharp, I will bring it out. Bruno, he has become a friend, and we have been talking about making something together, I will say that.
My friend got it as a gift from the Gwyneth Paltrow Goop Fest. So that does season it with wellness energy. I also just love foam rolling. Any kind of exercise-recovery thing, I have every single device you could have. I have a Theragun. But I feel like a foam roller is better, honestly. Theragun is too intense. I like watching other people do it; I like the visual. But on me, I'd rather foam roll. Recovery, though — it's part of exercise. It's the same thing. Not doing stuff is part of doing stuff. I think that way about everything. Like writer's block is part of whatever the opposite is. Like maybe it's supposed to be blocked right now because my ideas are bad. And it'll unblock when they're good.
It's very fancy, and that's why I picked it — to be deliberately fancy. The packaging's really beautiful, and this specific one is really grassy and almost smells like hay or tea. Usually incense is very cloying and reminds me of a teenager's bedroom. This is a little more tea and hay and smoke. It's still sweet and has that familiar incense energy to it. Maybe I've just been picking the wrong candles, but a candle is too subtle. I feel like room spray and incense, that's really giving. Maybe I'm a maximalist or something, but I want to be immediately somewhere else.
I used to cook a lot more. I don't know what happened. During the pandemic, you'd think I'd be cooking more, but I actually cooked less. I couldn't get the energy up. But the dashi is a more recent thing because I've been cooking a lot more Japanese food. There are a million different uses for it. I tried to make my own dashi and could never get it right, and the instant one was exactly what I was trying to do the whole time; it was what I was trying to re-create from restaurants. It's this core group of flavors that can move into a whole bunch of places. You can cook squash in it, you can make beef and chicken, you can make soups or just make it into a rich sauce. It's just super-satisfying. Salty, sweet — it's everything.
I'm not going to say how many I drink per day. I read an article once about a man that died from drinking too much Diet Coke and smoking too many cigarettes, and the amount that he drank was less than I drink. I'm not smoking as many cigarettes, but I'm sure I'm making up for it with the extra cans. But if I eat something bad that's not agreeing with me, when I drink a Diet Coke, I really do think it kills whatever's going on. People say I look young for my age, and I think it's because it's embalming me while I'm alive. I'm joking, but I secretly believe it a little bit. It's selectively killing off only the bad things in my body and preserving the good.
They're cute, they're sturdy, they're not superexpensive, and they're well made. It just makes me feel organized even though I'm not. I'm putting literally a bunch of random garbage in the pouch, but then you put the pouch in a big bag and it feels like you're very organized. And I love that. I love packing cubes, all the little organizational things. I'm pretty messy as a person, but for some reason I like to be very clean when I'm traveling. It's a little break from being messy, I guess.
It smells really, really good, and it dries really quickly. Which is probably because it contains alcohol, which is not good for a hand cream. I was debating between this and a more utilitarian hand cream that actually works a lot better, and I think I picked the right thing. Although they're definitely not about to send me a bunch of free ones now. The best hand cream that works is Working Hands. But it has no scent, and it's ugly. Although there is something sort of straight-acting about it that I like.
The Strategist is designed to surface the most useful, expert recommendations for things to buy across the vast e-commerce landscape. Some of our latest conquests include the best acne treatments, rolling luggage, pillows for side sleepers, natural anxiety remedies, and bath towels. We update links when possible, but note that deals can expire and all prices are subject to change.