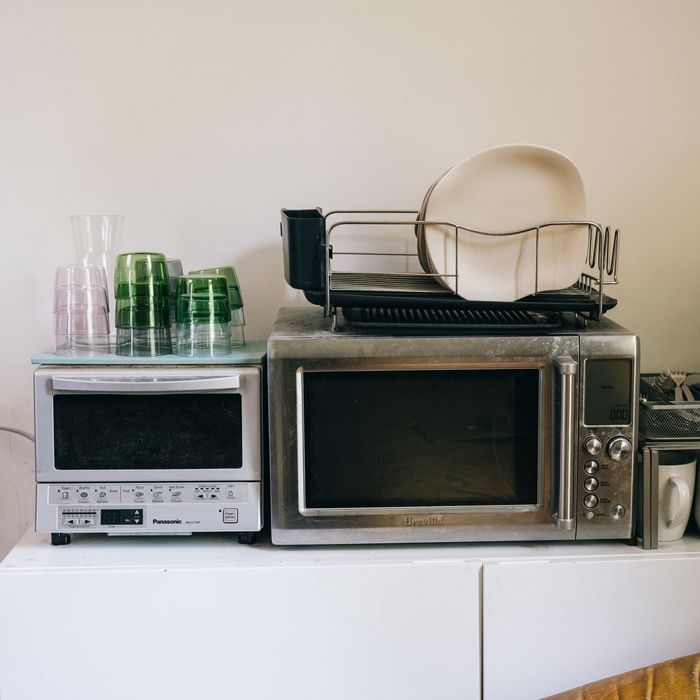 I'm totally a millennial stereotype: During the pandemic, my husband, Teddy, made about 400 loaves of sourdough bread and we purchased an old home and decided to renovate it ourselves despite not having any experience. But now, we're almost a year into the home-renovation journey, and not only do we now know how to refinish old wood floors and remove wallpaper, we've also become experts at how to live through a very long and very messy renovation.
When we moved in, we packed a small box of things we thought we'd need to live with while working on our kitchen. It was mid-September; we'd surely have at least a semi-functioning kitchen by December, so paper plates seemed like a good option for a few months. But that was naïve: It's now June, and we finally have cabinets and a handful of appliances installed in our future kitchen.
Even before the pandemic, we cooked a lot at home. Teddy is a food and drink photographer by trade, runs a newsletter about local food makers called The Deligram, and is an extreme home chef. Eating takeout for a year was not an option for us — it's expensive, less healthy, and less satisfying. But cooking without a kitchen was a challenge. As was eating, cleaning, and just about everything else. (When you don't have a table to eat at, paper plates are not realistic. The only clean surface was our bed, so every night for several months, we'd put a metal tray on top of a towel as a makeshift table. But when you upgrade from disposable but still don't have a kitchen sink, washing dishes becomes a burden.)
Once we realized we were living without a kitchen for longer than we anticipated, we scrambled to set up a temporary kitchen: a coffee station, a cooking station, and a cleaning station. Some of the appliances and products we already owned proved handy, but others we quickly purchased. There were things we thought that would be useful that we haven't touched once, while there are also unexpected stars (the toaster oven really pulled its weight).

For cooking food
If I could have one appliance, and one appliance only, it would be a toaster oven. You can reheat leftovers, make effortless small meals, or go elaborate — on our anniversary, Teddy cooked a lobster in ours. This toaster oven, in particular, served us well: It cooks with infrared, so it heats up very quickly and doesn't have to be on for a long time. It's very small and compact, so it doesn't take up much space, which is important when you're working in tight quarters. It's also very lightweight, so you can move it easily — something we've done several times. (Something about the infrared technology also means that it makes the best toast. I can't explain it, you'll have to trust me.)
We knew we needed a way to cook simple, nutritious food — mostly eggs, but on occasion fish and steak. We bought two of these because they had decent reviews and were under $50 each. We knew these would be temporary, so we didn't need the most expensive or highest quality induction burner for our purpose, and these had plenty of power. We bought two, so that we could theoretically cook multiple dishes at a time, but one would have been sufficient.
With an instant pot, you can make a great one-pot home-cooked meal in a fraction of the time with less mess and no sacrifice to quality. We already owned the Instant Pot Classic six-quart when we moved into our house, but upgraded to the Instant Pot Pro six-quart because this model has handles on the pot, which makes it easier to lift the pot out of the appliance and serve food directly. Also, it's easier to clean when it's hot, which is important when you're washing dishes in a small bathroom sink or a bathtub.
We already owned a Breville microwave and plan to put it into our new kitchen, but if we were buying a microwave specifically for a temporary kitchen, I'd recommend a smaller, cheaper model. That being said, if you want a microwave in your future kitchen, why buy something twice? Get the one you want to have and then use it. The microwave was, of course, useful for reheating leftovers — but we also used it a lot to make steamed vegetables (green beans, broccoli, spinach).
We have a collection of large pans that mostly stayed in their boxes this year — but we pretty much only used our pans that are eight inches and under, perfect for cooking for two. We had two cast-iron pans and one ceramic pan that is induction compatible. If I was doing it all over again, I would purchase one six-inch nonstick skillet that's induction compatible and call it a day. The cast iron is nice to cook on but difficult to clean without a kitchen sink when things get stuck on.
For making coffee
We always start our day with cappuccinos at home and wanted our new house to feel like a home — even though it was a construction site. The first thing we set up after moving in was our coffee station, so we could have espresso on our first morning. We already owned an Expobar Brewtus 2 Dual Boiler Espresso Machine and a Mazzer Major E, both purchased off of Craigslist. This espresso machine has a water tank and is a reasonable size (though not small) and has a deep drip tray for easily transporting when full to a sink — a great thing when your sink is in another room. I used to own a Rancilio Silvia, a popular entry-level machine, but it has a shallow drip tray that would be impossible to carry to a sink far away.
Aside from having temperature controls for pour over or different types of teas, it's great to be able to grab a splash of water when you're cooking something else, if you don't have a sink in your temporary kitchen. It has a gooseneck for pour-over coffee, at a reasonable price (important to us long term). We thought it was the best-looking option at this price point as well! The temperature control isn't as detailed as some of the more expensive models.
For keeping things cold
We did have a full fridge downstairs for the majority of our food, but since getting to it required wading through a pretty serious mess most of the time, and it was pretty far away from our temporary kitchen setup, we purchased a Whirlpool 3.1 Cubic Feet Mini Fridge on Craigslist for about $60. This one isn't perfect; the back of the fridge portion gets very cold, so anything there ends up frozen solid. But it was the right size and the right price — and it was available. It's been really convenient for milk, beer, ice, and other essentials.
When you have a mini-fridge, you need a mini ice tray. Because this one is made out of silicone, it's easy to get ice out of, fits nicely in a small freezer — and, of course, it's indestructible.
For preparing food
Photo: Courtesy of vendor
We were given a ReBoard cutting board, which is made out of sustainable plastic, and are so grateful. Because it's plastic, you can use it with anything — meat, vegetables — and it's easy to clean. Because this one looked nicer than the worn-out plastic cutting boards that we still have somewhere in boxes, it also doubles as a serving tray.
We have several high-quality Japanese chefs knives but they are fairly high maintenance — they can't sit out dirty, the blades are more delicate — so washing them in a small porcelain sink is scary. For the past year, we've been using a seven-inch Victorinox Fibrox Santoku and a paring knife. The Victorinox is pretty indestructible and not precious. And, for $40, if it did get damaged, it's not the end of the world.
For serving
Eating off of disposable plates is not sustainable for long periods of time. But when you're washing dishes in a small bathroom sink, porcelain or ceramic plates just aren't practical. So these plates, which are made out of melamine, were the perfect thing to have. They are a great size and shape for eating off of, easily washable, and cute, so we can use them even when we have a kitchen again.
Having glasses that serve a specific function — wine glasses, coffee cups — is a luxury that just doesn't make sense when you don't have any place to store them. We purchased several sets of these small glasses, which come in a range of fun colors, and have no regrets. They are small enough to be easily washable in a small sink and are great for a range of beverages — we drink cappuccinos, water, and wine out of them — and, most importantly, they are easily stackable, so they don't take up much space.
When your sink is nowhere near your kitchen, having a supply of low-maintenance, unprecious carafes is key. We did buy a water filter, but it takes so long to filter that we barely used it. These carafes, on the other hand, we used all the time. Yes, they're glass, but at $3, we aren't too afraid of breaking them. (We purchased two and still, miraculously, have two.)
For cleaning
We already owned this dish rack from our previous rental apartment, and it almost didn't make the move — but I'm so glad it did. When you're washing dishes in a bathroom sink down a long hallway, a large tray that can hold piles of cups, plates, and silverware is great. And the additional tray was helpful for smaller hand-washing loads.
Great for cleaning everything, fits inside surprisingly small vessels — great for doing everything from big pots to small cups in a sink or bathtub, where you might not have the same kind of angles.
We own several of these containers in a range of sizes, and formerly used them for food storage or making dough, but without a kitchen, they became our dish stations. These plastic tubs, which can be purchased from Cambro, Rubbermaid, or restaurant supply stores, are not breakable, and they have handles, so they are easy to carry back and forth from a temporary kitchen to whatever sink you have available. We used our 12-quart containers the most, but make sure to get ones that are at least the same size as the biggest plates you're using.
The Strategist is designed to surface the most useful, expert recommendations for things to buy across the vast e-commerce landscape. Some of our latest conquests include the best acne treatments, rolling luggage, pillows for side sleepers, natural anxiety remedies, and bath towels. We update links when possible, but note that deals can expire and all prices are subject to change.