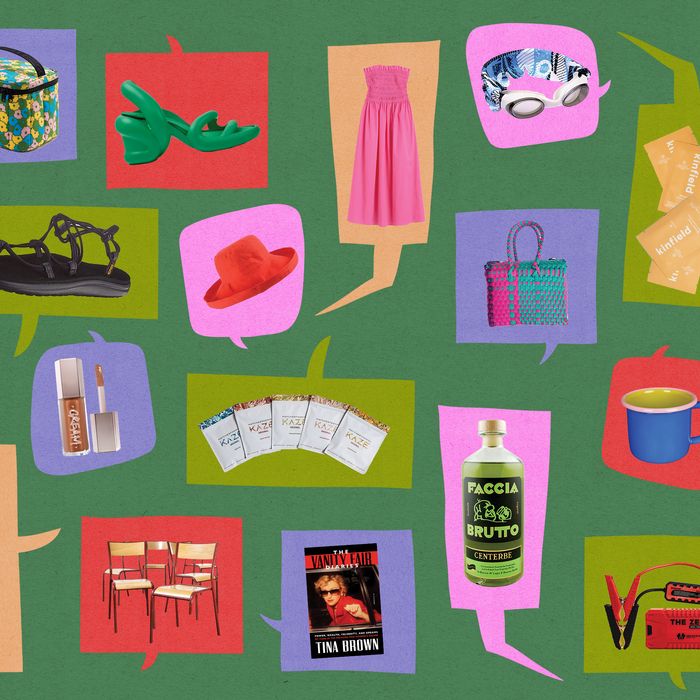 Photo-Illustration: by The Strategist; Photos courtesy the vendors
This article was featured in One Great Story, New York's reading recommendation newsletter. Sign up here to get it nightly.
1.

Poshmark is swimming in inexpensive (like under-$20) linen. Here's a ranking of the best.
This one (from a brand beloved by stylish Melburnians) is perfectly minimalist and practical. And since it was designed for use in a country with a depleted ozone layer, it has a broad and bendy brim that offers actual sun protection, as well as a detachable chin strap. -K.G.
3.

And for a cheaper hat …
The owned-by-two-Strategist-editors, available-on-Amazon-for-$28 Milani is easy to pack down and is a nice bucket-wide brim-hybrid. The nearly identical Scala has a wider color selection. -K.S.
4.

I don't understand how it works, but if you soak these "Chilly Mini Towels" in cold water, they really will stay cold for hours on end.
They're exceedingly pleasant to wear on a hot bike ride to the beach. -L.C.
5.

If you can't work or sleep with a noisy air conditioner running, try the affordable Honeywell Quiet Set tower fan.
Like a (quiet) ocean breeze! And way cheaper than Dyson. -K.G.
6.

A portable (chargeable) stroller fan is a nice way to make sure your baby doesn't boil alive this summer.
Any $15–$20 version on Amazon will do. -A.S.
7.

When it comes to guarding against mosquitoes, bug spray is best in towelette or lotion form …
(Kinfield's wipes smell so good, some have taken to using them as cologne.) -D.P.