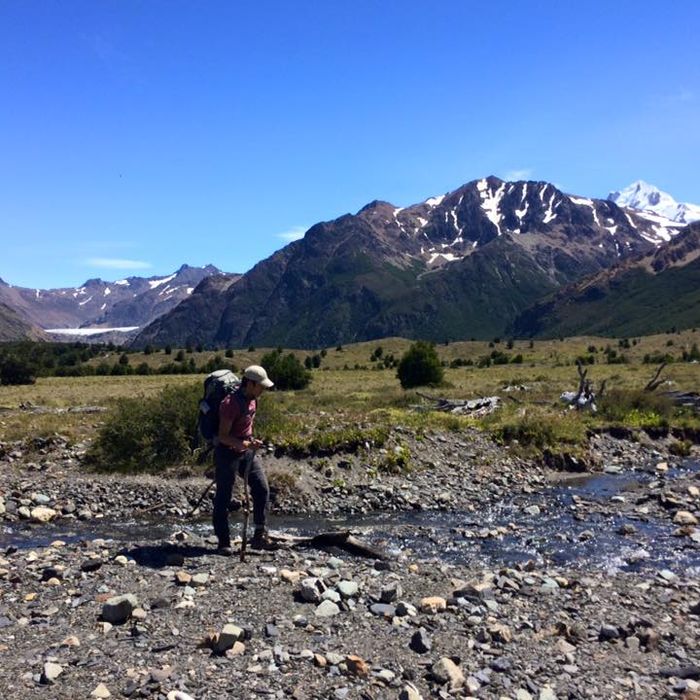 If you head out onto the trails, into the backcountry, or to any remote area, making a plan and itinerary — and sharing it — is the most important safety measure you can take, above any piece of gear or equipment you bring along. You should let your friends and family know where you're headed, who you're with, what you plan on doing, and when you expect to leave and return. That way, if something goes wrong, at least one other person will be waiting for you, and they'll know to send help.
The first time I spent a night in the woods alone was my sophomore year of college. The plan was a one-night backpacking loop around Spruce Knob in West Virginia. But things didn't go as planned. The maps I'd printed out at the library turned into papier-mâché from the rain, I took the wrong trail, and I forgot to bear-bag my food, which caused a restless night of sleep during which I was convinced I heard the sound of a crying baby. (It was most likely a red fox.)
That one night in West Virginia was formative not only because it was my first time alone, but because I learned from my rookie mistakes. Since that trip, I've backpacked and hiked in northern Peru, Patagonia, and Nepal and on trails in the Northeast U.S., the Sierra, and in the Rockies, particularly in the Sangre de Cristo mountains, when I lived in Santa Fe, New Mexico, and worked as an editor at Outside magazine. Each of those experiences — a mix of solo backpacking trips, group hikes, and shorter day hikes — has taught me something new about preparedness and safety in the wilderness.
Aside from establishing a plan, I like to make sure I'm bringing the right gear in my pack whenever I head into the wilderness. The chances of using all of this survival-and-emergency equipment on a single trip is unlikely (depending on the kind of trip; bringing all of these items on a thru-hike would make more sense than toting it on a quick day hike close to town), but the peace of mind they give me is invaluable, because being prepared allows me to enjoy my time in nature even more. Here's the checklist I go over before each trip.
A device for navigation and communication
Orienting yourself is crucial to being out in remote places. Physical maps and compasses are good too (and you should always study a trail or topographic map of the area you'll be in prior to heading there), but two-way communicators like the Explorer+ (and the smaller, lighter, Mini 2) allow you access to those same maps and the topography in your area, digitally. On one trip in the Jemez mountains in New Mexico I took one turn on my route that quickly made my hike a full-on bushwacking experience: I was way off trail. I pulled out my Garmin, pulled up a map of the area, and found the right trail within minutes. The Explorer also allows you to send and receive messages from friends and family, even without cell service. That feature is what makes it my favorite; you can use apps like AllTrails or onX to download offline maps, but I like the comfort of knowing I can communicate with my loved ones if needed.
Sun protective clothing, sunglasses, and sunblock
Being exposed to harmful UV rays for a long period of time outdoors can cause sunburn and damage your eyesight, and it may even lead to skin cancer. Having UPF clothing and the right sun gear, like sunglasses and sunscreen (check out the best face sunscreens we recommend, too), can not only make your time outside more enjoyable but also saves you from the negative effects of being outside for a prolonged period of time. I like this hoodie from Black Diamond, which I wore for almost ten days straight on a climbing and camping trip to Yosemite last summer. It keeps my skin cool and covered while wicking away sweat.
Extra layers, extra socks, a neck gaiter, and a dry bag to carry it all in
Long-term exposure to the elements is one of the sneakiest dangers of being outside. Having the right layers, like the right rain jackets and insulating tops and bottoms that keep you dry, warm, and generally protected from the elements, is a priority in any outdoor kit. The type of insulation you bring along will depend on the season and the location. Keeping these extra layers dry should be a priority. I stuff them in this Sea to Summit sack, which I keep inside my pack. That way if I get caught in a downpour and my bag soaks through, I can still keep my valuables and extra clothing dry. These work well for bear-bagging food, too.
A light source and a backup power source
By the time the sun sets, you'll want to be able to get your bearings and see around you. I like this 75-gram headlamp from Petzl, which emits 450 lumens on its highest setting and has a red light setting, which is great for reading and doing tasks around other campers at night because the muted light is less harsh on the eyes. (Most camping headlamps range from 200 to 400 or more, and an ideal lumen setting for seeing the trail is around 300.)
I also bring along an extra power source, like the Goal Zero flip power bank, to recharge my GPS device or headlamp (if, like the Actik Core, it comes with a rechargeable battery; if not, bring extra batteries). Having extra juice for these devices is crucial for being able to get to safety.
First-aid supplies
First-aid kits come in different sizes with different loadouts, but what medications or medical equipment you choose to bring with you will depend on the size of your party. I keep this small one in my climbing and hiking packs and recently used the blister-care pack to patch up my heel after my feet took a beating from breaking in new climbing shoes.
Tools and wildlife protection
Swiss Army knives are a Boy Scout classic for a reason: they offer a variety of tools for all sorts of backcountry tasks in one device. I like my stainless-steel Leatherman, which, at 8.6 ounces, is on the heavier side. But it has so many handy tools that I still carry it with me on day hikes or whenever I'm camping. Extra paracord can come in handy for replacing torn shoe laces, creating shelters, or hanging up a clothesline. Bear sprays and bear horns are also more important to bring for specific locations, especially in the mountain West, so do your research to know what kinds of wildlife might be in your area. If you'll be in a location with a lot of insects, you might consider bringing bug sprays or a bug protective layer to shield against mosquitos and ticks.
Fire-starter materials
If your situation allows it, creating a fire can allow you to keep warm, dry off, and prepare food — all crucial for surviving out in the wilderness. To achieve that, you need a dry environment, waterproof matches, and ferro rod fire starters that allow you to spark up kindling and build a larger fire.
Nutrition
It's always a good idea to bring extra food, even if you don't think you'll need it. Calorie-rich foods, like energy bars, are a safe bet to keep you satiated and functioning if you're out in the wilderness longer than expected. My favorites are crunchy-peanut-butter Clif Bars.
Hydration
Having access to clean drinking water is a priority when out in the backcountry. If you run out of drinking water that you've brought along, a portable water filter can help siphon out harmful bacteria from streams and ponds. I use this bottle, which has a built-in filter top, so I can fill up my bottle at a stream and start sipping through the straw — this came in clutch when my friend and I finished the water we'd packed on a three-day backpacking trip in Patagonia. Iodine tablets can kill bacteria too but won't filter out the more visible debris in muddy water.
For strenuous hikes, I like to bring along these Nuun hydration tablets, which are loaded with electrolytes and 80 milligrams of caffeine per tablet.
Emergency-shelter materials
A heat-reflective blanket (like the ones you might see marathon runners use after a race) is a lightweight emergency option if you don't have enough insulation in colder environments. Maintaining a stable core body temperature is crucial to survival when exposed to the elements, and this pocket-size layer can help you achieve that. Thankfully, I've never had to use this, but at 2.5 ounces, it's so light and packable that I keep it stashed in any pack I bring into the woods.
If you have the space for it (and don't have a more stable shelter, like a tent) a tarp, like this ten-ounce model from Kammok, can serve as a shelter to protect yourself from rain, wind, and the elements.
The Strategist is designed to surface the most useful, expert recommendations for things to buy across the vast e-commerce landscape. Some of our latest conquests include the best acne treatments, rolling luggage, pillows for side sleepers, natural anxiety remedies, and bath towels. We update links when possible, but note that deals can expire and all prices are subject to change.