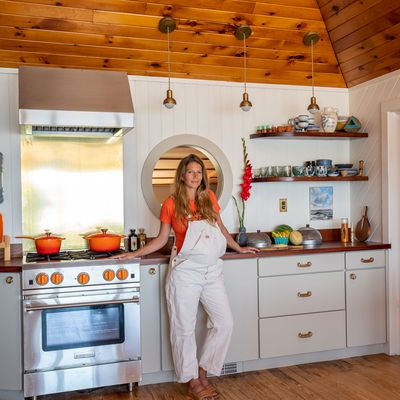 Alison Carroll, who nowadays splits her time between a home in Joshua Tree and one that she and her husband and business partner, Jay, are in the final stages of renovating in Maine, can't remember exactly when she started liking orange, but she thinks the seed might have been planted during her New Jersey childhood. "I grew up in a town adjacent to Princeton, and its colors happen to be orange and black," says Carroll, who co-founded Wonder Valley as an olive-oil brand but has shepherded its growth into a lifestyle brand. "And my dad is a big fan of the Philadelphia Flyers, whose colors are also black and orange. I pretty much like a Halloween color palette; I think it's wonderful."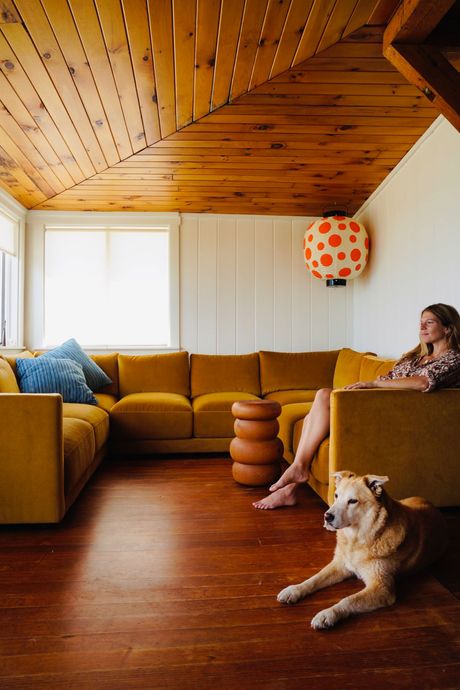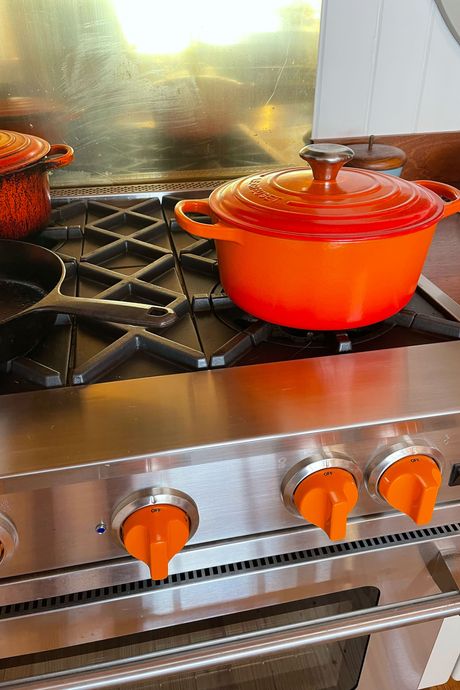 Her obsession is evident to anyone who knows her. "I have so many friends who will send me any orange stuff," she says. "Like, 'I saw these orange gardening clogs and thought of you,' or 'I found this vintage orange mushroom lamp, and I had to get it for you.'" They're not wrong. In sourcing everything for their new cabin in Maine, orange has been figured prominently. The couple have been coming to Maine (Jay is from Portland originally) to cool down for the summer for about ten years and, despite feeling defeated by the amount of new eager buyers fleeing city life during the pandemic, eventually found a place in a foreclosure auction. "Our cabin is on Bailey Island in Casco Bay, which is about two miles long and about 45 minutes from Portland," says Carroll, adding that a gorgeous cribstone bridge, built in 1928 from slabs of granite stacked Lincoln Logs style, allows for car access.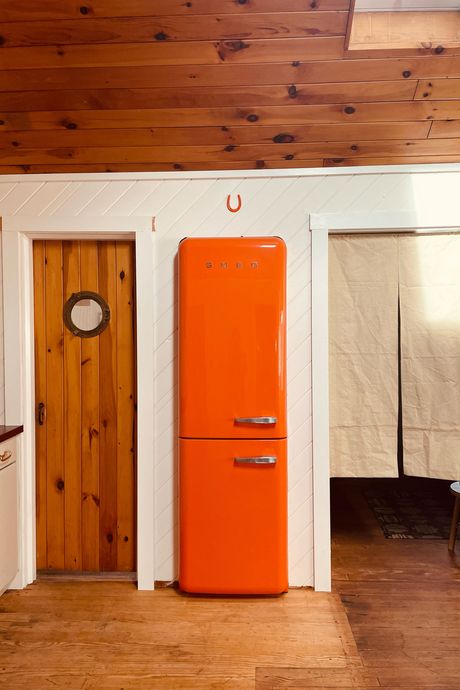 The orange thread in their cabin started with a Fanta-hued SMEG refrigerator. "Once we committed to this color, the rest of the design started filling in around it," says Carroll, whose personal style is just as reflective of her orange love. "I'm easy to spot no matter where I go with the amount of traffic-cone orange I wear and am surrounded with," she says. She counts herself a fan of vintage orange tees, a bright-orange RTH bag is her unofficial summer tote, her favorite shoes are a Beatrice Valenzuela sandal in poppy orange, and, before it was discontinued, she always had a poppy-colored pedicure to match. "There was this great nail-polish color called 'Lara's Theme,' by Deborah Lippmann, and I used to bring it with me to nail salons all the time," she says. "My toenails were that color for a decade and then they discontinued it and my bottle ran dry. I think I've been chasing that color ever since." But Carroll doesn't discriminate with her shades of orange. Corals aside — "That's one territory of orange I shy away from," she confesses — Carroll is a fan of the full spectrum, from terra-cotta to tangerine. "I celebrate all of it."
Orange fridge
We bought the SMEG orange fridge for the beach cabin, and it's been the focal point of our home. I'm pleasantly surprised by how functional and quality the make is for such a design-y piece. We recessed this tall, narrow fridge into the wall, and it looks great. It's such a mood-boost in the morning when you're grabbing items from it and fixing breakfast.
Flame-colored Dutch oven
I can't have a conversation about orange home goods without talking about this iconic Dutch oven. I like the 4.5-quart size because it's perfect for braising, baking my sourdough in it, making sauces and rice. I also have their sauce- and stockpot in the same flame color. I took cooking classes in college, and I remember my professor saying, "I know it's expensive now, when you're 20, but remember the name Le Creuset, and put it on your wedding registry. You'll have it forever." He was totally right. I got my first Le Creuset off my wedding registry, and the collection keeps growing.
Turmeric
I use turmeric in different ways. For a while when we were in the desert, I was making a lot of golden milk or mixing it in milky teas and smoothies. I do find myself just putting it in stuff like sautéed greens with garlic and plantains. I do a lot of rice with a heavy pinch of turmeric and butter and maybe poke a bay leaf in the mix.
Orange-trimmed napkins
We entertain a lot. I think that's part of living sort of rurally — places where it's at least a good 40 minutes for someone to come visit me from a city. I liked to cook before, but I think it has made me a much more confident, adept, roll-with-the-punches kind of cook. Cooking in Maine is really fun because there are all these new variables: We have a boat and maybe we caught mackerel one day, or someone just dropped off lobster, or a friend brought oysters that she's cultivating. We also have a little edible garden that is already giving me lots of herbs and beans, and that's something I haven't had in my life in a while, and I've been missing that in the desert. It's fun to have accessories like these sunny-colored Madre napkins, or toys like our little yakitori grill or the outdoor pizza oven Jay is finishing, to make entertaining and cooking more fun.
Honey-colored stand mixer
I like their honey-color line for the standing mixers and blender. One thing to come out of the pandemic is that I'm a way more confident baker and I use this KitchenAid weekly. I actually make a really good gluten-free banana bread, and I put a lot of cardamom and almond extract and turmeric in there. The color that comes out is so nice!
Orange oven knobs
We had bought one for our Joshua Tree house and got a store model, so I didn't know about the customization option. I was chasing this utilitarian, almost commercial-looking stove, and I found BlueStar. They are made in Pennsylvania and are as solid as they come, just cast iron and steel. But then I found that they have a bajillion color options for knobs or to match your hood, so you can get creative in a way that I don't see with any other appliance brand. We tried to match it as close as we could to our SMEG fridge.
Marigold quilt
Golden-hued things are my favorite: I'm always going to prefer gold over silver for jewelry, Douglas fir over white oak for wood; my hair is very golden; even my dog is golden. Warm things are just beautiful to me. This golden marigold quilt is reversible, and it has all the things that complement orange in the best way, like a rich green and an aubergine undertone. But it doesn't feel too loud. Nickey Kehoe is really one of my favorite home-goods stores. They're California-based interior designers but have a bit of New England sensibility to them.
Ocher cement tile
We made a new shower in our bathroom and lined it with this cheery ginger cement tile. It's a wonderful golden ocher color and looks great with our brass hardware. And then there's a Farrow & Ball color, "India Yellow," that we painted the walls. Every little piece of junky art that I'm finding at thrift stores just pops on these walls, so it's really nice. I have a happy bathroom.
Marigold couch
Our couch in Joshua Tree is also Interior Define. Like BlueStar, they have better-than-average customization possibilities, and I think the fabrics are really solid and the colors are not cheesy. Ours is a perfect golden-velvet marigold color. I wasn't planning on a sofa this large, but Jay found this particular model and he measured the room, and I'm like, "You better measure it like four times before we pull the trigger," because it seemed too big to me. But it has like an inch of clearance, and it's perfect in the space. It feels like a conversation pit: You get this arena view of the incredible working lobster cove that we look out on. I came here thinking it might be loud because of fishermen shouting and diesel engines chugging, but it's really not; it's very peaceful. And it's actually ridiculously entertaining. We call it Harbor TV — you're just watching all the time. We also have a prototype of a paper lantern above it that we'll be making for Wonder Valley with a maker in Japan. Looks great on its own, or you can add a simple pendle light fixture to illuminate it … stay tuned!
Nasturtium paperweight
We love a John Derian paperweight in our house. It's such a beautiful object to have on a coffee table or perched on a stack of books. This nasturtium one caught my attention, of course.
Mango-colored kayaks
You can't have a Maine home without some L.L.Bean goods. Aside from our beloved canvas totes, we just got these bright-orange kayaks. I'm currently seven months pregnant, but it's pretty calm in our cove, so I'm still kayaking. The seat is surprisingly cushy and is slightly reclined. I really like L.L.Bean products — their bright-orange two-burner stove helped us get by for six months when all appliances were on back order during the pandemic — and I don't know any other brand that's so closely tied to a state's identity. They are also open 24/7, which is wild (and probably unnecessary) but fun when you're driving back from Portland at night and decide to pop in at 11 p.m. and monogram a tote.
Sea buckthorn–infused face oil
When we were designing Wonder Valley's logo, I was very clear that I wanted a goldfish orange and the color palette to be like Halloween. Face oil is the most orange-tinged from our growing natural-skin-care line — the orange is from sea buckthorn and rose hip.
Orange robe
The robe is based on old 18th- or 19th-century American quilts; I think the term for the style is called crazy fan. You're just tripping over amazing vintage quilts here in Maine when you're antiquing, and I just really like the simple, two-tone pattern. I live in this robe. I love that period after a shower or bath — the transition before you get dressed — a solid hour of just puttering around and putting on products. That's the greatest part of the day for me.
More orange stuff on Alison's wish list …
Amber-colored rug
I don't own this rug, but I really like it. The amber-and-pink color combination is a dream. We have a hotel in Santa Fe called El Rey Court, and we have one of their rugs in the lobby. There's a very Instagrammable moment of the Nordic Knots rug, a mustardy couch, and this painting on an adobe wall; pretty much if you go to the hotel, you take that picture. It's a really great rug, and it holds up to commercial use, which is brutal. They're very thoughtful and well made, their prices are reasonable, and it's nice to support an independent brand.
Burnt-orange LED table lamp
This is at the top of our wish list right now. It's a classic mushroomy Deco shape that I don't think is going anywhere. But what I really like is that it's portable. There's an awkward gap on our dining table where, in the evening, it would be nice to have a bit more light. But even more than that, I would bring this lamp out on the deck. We're not going to put up a bunch of outdoor lights because it's nice to let the evening fade here on the water, but I would bring out something like this just for a little extra glow. And the burnt orange just looks so great — kind of like the Le Creuset, with a slight fade to it.
The Strategist is designed to surface the most useful, expert recommendations for things to buy across the vast e-commerce landscape. Some of our latest conquests include the best acne treatments, rolling luggage, pillows for side sleepers, natural anxiety remedies, and bath towels. We update links when possible, but note that deals can expire and all prices are subject to change.