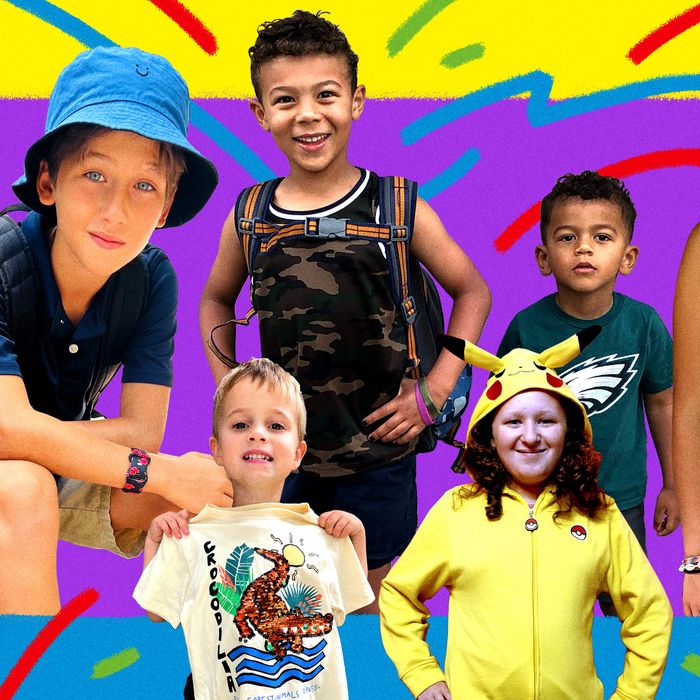 Photo-Illustration: The Strategist/Photos courtesy the families
For many kids, the start of a new school year is a chance to reinvent their style. And the first day of school is the ideal debut — whether that's with a new haircut, a summer growth spurt, or a shiny new backpack. While we can't do much to help with the first two, we've collected a ton of intel on the coolest stuff to wear and take to school right now, by talking to 39 students (and their parents) about the backpacks, sneakers, water bottles, and clothing they're planning to wear and bring with them this year, whether they're just starting pre-K or entering their last year of high school. Since it's hard to find a consensus between a kindergartner's taste in fashion and a teen's, we've organized our findings from youngest to oldest, with some interesting overlap — for example, Hydro Flask water bottles and Fjällräven Kanken backpacks are beloved by little and big kids alike.
Little kids are feeling the Hanna Andersson effect
For kids under 10, it's all about bright prints and bold graphic tees featuring their favorite cartoon characters or current obsessions. Two of the parents we spoke with are sending their kids to school in Hanna Andersson, which they love for the brand's long-lasting quality and Pop-y graphic prints (mushrooms, rainbows, animals, and bugs, to name a few). But many parents are also finding less expensive — but still colorful — alternatives from Primary, which we've written about as a dupe for Hanna Andersson; Nordstorm's house brand, Tucker & Tate; Target's endless Cat & Jack line; Carter's; and H&M.
Flip sequins are still in
If you've ever spent time playing with a reversible sequin stuffy or throw pillow, you know just how addictive the tactile sparkles can be. We were first tipped off to these flip sequins in 2017, and five years later, their pull remains strong. Jack, a preschooler from Bay Village, Ohio, told us the flip-sequin "shiny dinosaur and crocodile" shirts he got from H&M are the ones he likes best. Jack's specific designs are currently out of stock, but these T-rex and shark options should satisfy any kid who prefers their creature of choice to have a little bling.
Dishwasher-safe bento-style lunch boxes are parent-approved …
Four of the parents we talked to pointed out that bento-style lunch boxes from brands like Bentgo and PlanetBox (the two most mentioned) make packing food and cleaning up much easier. They also said that kid-safe materials such as stainless steel and BPA-free plastic are deciding factors in what they buy.
… but the hottest lunch bags are from Pottery Barn
Among the preschool and elementary-school set, the most popular kind of lunch bag, or backpack for that matter, is from Pottery Barn Kids. Five of the children we talked with will be carrying a lunch bag or backpack — or both — from the brand. In addition to offering custom monogramming, PBKids has a huge variety of prints and patterns to satisfy budding paleontologists, princesses, and superheroes as well as unicorn fiends, mermaid enthusiasts, and glitter freaks.
Everyone wants to be exploring
While dinosaurs and mythical creatures like mermaids and unicorns are as popular as ever, the cosmos, especially if there are UFOs involved, is another fascination of the younger age groups. (Move over, SpaceXCadets.) When we talked to 4-year-old Asher, a preschooler from Boston, he was wearing his favorite galaxy tee. Lachlan, a kindergartner from Piedmont, California, is planning to wear his Tucker & Tate graphic tee on the first day of school because "it looks like a rocket ship" and he wants "to go to space so I can see the aliens." And 6-year-old Myrna, a first grader from Austin, Texas, plans on carrying her lunch in a space-themed lunch box from Pottery Barn Kids, while New York City fifth grader Olanna is still feeling her galaxy-print backpack from last year.
Camouflage is pretty popular, too. Jack's older brother, Reid, a first grader, is excited about his new green camo shorts because the gray ones he had are "not really good at blending in." Maxwell, also in first grade, will be wearing a green camo tank and carrying his blue camo lunch bag from L.L.Bean as well as a camo backpack from Pottery Barn.
Native Shoes are (still) everywhere
Thanks to their light weight, zero laces, and ability to withstand mud puddles, bubbling streams, and ocean waves, Native's rubbery slip-on sneakers are a kid favorite. (We also heard they are a hit with children who don't like the feel of socks, because they are easy to wear on bare feet and don't get smelly.) Parents like them too, because they look more like regular sneakers than Crocs, and they're durable and easy to clean — just hose them down and dry them off. Asher told us they are "very speedy" and will help him get in front of the other kids in school. "You gotta keep in front of everyone if you wanna do a race," he says. Both he and Maxwell's younger brother, Hayes, who's in pre-K, wear the brand's Jefferson sneakers, while 4-year-old Lila has the mary jane–esque Junipers, and first grader Eliza has leveled up to the running-shoe-style Robbies.
Fancy footwear is the next best option, all the way through middle school
If they're not wearing Natives, there's a good chance they're wearing some novelty sneakers on their first day back, and many of the things you think would delight kids sure do. What we found interesting, though, is that an appreciation for fun features isn't limited to the young ones: Some middle schoolers are also showing up in novelty shoes.
"These sneaks light up!" says 5-year-old Cassidy of her new Frozen shoes, which also have "a cool shiny glossy style with ice winds and snowflakes." Her mom reports that she's been showing off the flashing heels at every opportunity, and another Frozen fan, preschooler Erin of Orinda, CA, says her own Elsa light-up shoes help her "freeze people."
Reese, a first grader from Cleveland, pointed to the glittery rainbow stripes on the heels of her zip-around Billy high-tops as her favorite part. "I like sparkly stuff," she says, also calling out her glittery backpack and lunch bag from — where else — Pottery Barn. She says that even though she knows how to tie the shoes' rainbow laces, she'll probably use the zippers because they are faster.
Diego, a second grader in Reston, Virgina, wears light-up shoes from Geox.
Seventh-grade twins Delilah and Layla will both be rolling through their school hallways in Heelys.
Myrna is really into cowboy boots, which she has in both red and pink.
Ella, a first grader in Nutley, New Jersey, will alternate between sparkle and cheetah-print Hey Dude shoes that she likes because they're "comfy and cool."
In addition to being very comfortable, these shark slides that Brooklyn sixth-grader Isky saw on TikTok are the coolest thing that he can imagine anyone wearing on the first day of school. "They have fins and little teeth on them. I would probably wear them with socks unless it was really hot, like 80 degrees." (Isky's mom told us that she is less of a fan of the idea of him wearing the shark slides to school.)
Keychains matter more than the backpack
Though many of the kids we spoke with have colorful backpacks, many seemed more excited to talk about the different keychains they plan to hang off of those backpacks. Lila is more excited about accessorizing her backpack with a sequined unicorn than the backpack itself, and Zoie, a third grader, specifically picked her mermaid-print backpack because it has an attached carabiner "so you can hang whatever you want on it."
Cassidy, who is starting kindergarten, picked her new unicorn-print backpack because it came with a unicorn-shaped Pop-It on the zipper.
Valencia, a first grader from Milford, Pennsylvania, has a mermaid pom-pom she can't wait to show off.
Myrna has four different keychains, including a mermaid, a cat, a laminated drawing of Frida Kahlo, and Sanrio's Gudetama character, which she describes as "this egg thing."
In other backpack news, Fjällräven's Kanken backpacks seem to have reached total market saturation. We have been aware that they're popular with teenagers since we did our first teen poll in 2019, and they're dominant among younger kids as well. Asher will be taking the mini version to preschool; Lachlan has one too; and Benny, a fifth grader from Philadelphia, saw them on all the cool kids in Rome this summer and is saving up for one in black.
Pokémon is eternal, but don't sleep on Naruto
Though we heard a lot about Elsa and Frozen (of course), as well as Sonic the Hedgehog, Minecraft, and Among Us, we definitely heard way more about Pikachu and other Pokémon stuff from the kids we interviewed (one parent even tipped us off that Zara turned out to have some of the best Pokémon clothing). Eleven-year-old Delilah is especially excited about her Pikachu sweatshirt from Target, which she'll wear as a jacket on cooler days: It features the character's face and pointy ears on the hood.
But little by little, the mentions of Naruto, an anime TV series, have started to take over some of that noise. Isky told us he is most excited about his new Naruto-themed lunch bag that looks like a takeout bag from a ramen restaurant in the show. He also recently got a Naruto watch band to zhuzh up his Apple Watch.
Thermos Funtainers are to kids what Hydro Flasks are to teens
Hydro Flasks still have a grip on teenagers and remain the statusy water bottle that four of the kids we spoke with (including three older kids and one preschooler) are bringing to school. And the insulated water bottles have practical benefits too. "It keeps water cold for hours and I can use it both in school and at softball practice," says Sofia, a high-school sophomore.
As for the pre-preteen set, the Thermos Funtainer, with its pop-up straw and lots of colors designs (including Pokémon), got the most mentions. The large handle makes it easy to carry, the insulated steel body keeps water cool without sweating, and parents appreciate that it's dishwasher safe.
Kids without phones check in via smartwatch
Wearing an Apple watch or another kind of smartwatch gives elementary and middle-school kids a direct line to their grown-ups, even without phones of their own. That's how the parents of first grader Nathaniel, sixth grader Isky, and seventh grader Jonah plan to keep in touch with and — in certain cases — watch over their kids during the school day. Nathaniel's T-Mobile SyncUp watch replaced an AirTag in his backpack because the AirTag "didn't update often enough," says his mom, Lizaida. The watch lets her see his location on the bus and has a "school mode" to keep him from playing games on it during class. For Jonah and Isky, who have Apple watches, picking out their own watch band is another way to show their personal style.
Middle schoolers love long socks … for some reason
"I really do not like no-show socks," says Tess, a seventh grader from Solana Beach. "I don't think that looks cute. I made my best friends switch over to long socks" — like the Hanes she wears with her low white Converse. Olanna also likes "very long socks"; hers are from the Gap, and Nikes were also mentioned by a couple of the kids we talked to. Meanwhile, Jonah, who loves sports and is comfort-focused, says his Stance performance stocks are "soft like slipper socks." And Isky chose his Adidas socks because they are "really soft and comfy, and I can wear a different color logo every day."
Doc Martens vs. Converse vs. Jordans
Older kids called out these three classics more than any other pair of shoes, with Converse (and a pair of Keith Haring–adorned Converse look-alikes from H&M) mentioned slightly more often than the other two. A common reason for choosing all three was that they're comfortable for long commutes, don't cause blisters, and go with everything from jeans and jean shorts to dresses and skirts. And some kids have their eye on statusy pairs, like the military-gray Jordan 4s that Sofia is "saving up all my babysitting money" to buy. But Converse, with its significantly lower prices and huge range of styles, came out ahead.
Uniforms leave room for style
Both Isky and Richie, a first grader, have to wear a uniform. But they told us they still get to pick their own accessories like shoes, backpacks, and even a favorite bucket hat. "It's reversible and has a smiley face on both sides. I think it looks really good because it kind of has skater vibes," Isky says. Richie went with a backpack featuring Sonic the Hedgehog — "my favorite because he's fast" — and likes that it comes with a pencil case and an extra bag.
Teens are hitting the thrift shop
With all the vintage clothing and thrifting influencers you can follow on Instagram, YouTube, and TikTok, the pastime is a bigger deal and easier to do online than ever before. It's also a great way to score popular brands like Lululemon and Brandy Melville for less and find one-of-a-kind pieces to finish off an outfit. Deirdre, a high-school junior from Cleveland, thrifts almost everything. "My friends and I pretty much exclusively shop at thrift stores. When you go to a mall, everything looks very similar" and the "low-quality mass production leads to a lot of waste," she explains. Both Tess and Giovanna, a high-school junior from the Castro Valley, added thrifted sweaters and flannels to their first-day-of-school outfits, while high-school freshman Anna picked up low-rise jeans from Depop.
Jeans are baggy (and usually paired with a crop top)
It's no secret that slouchy, low-rise jeans are back in a big way. That trend — part '90s, part Y2K — was well represented among our high-school-student sources. "Baggy jeans make me feel more confident," says Giovanna, who's pairing them with a crop top from Garage for the first day. And Sofia is all about comfort. "I have a really, really long commute (over an hour each way), so I usually tend to wear comfortable stuff like a pair of jeans," she says.