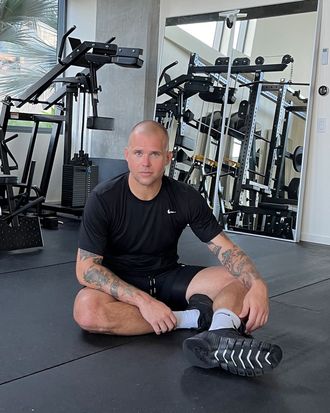 Chris Black has returned to the Strategist, now with a monthly column, to answer all your burning questions — from super-specific style predicaments and workout-and-tennis recs to foolproof host gift ideas that'll get you invited back to the beach house.
Best products to help with weight loss after gaining the quarantine 30?
You are not alone. The first step to feeling better is getting all the right gear to make it fun and exciting to exercise again. As I always say: pro gear, pro attitude.
To kick this weight loss into gear, you will need to be doing some cardio. The simplest and most democratic form is running. You go outside and you do it; the simplicity is attractive and the feeling of accomplishment after you finish is second to none. For this you will need the right footwear — may I suggest the Kismet 8 from Newton. They are light, stable, and look cool. Lace them up and start moving.
A simple TRX system is really versatile and will make this journey a lot easier. Using your body weight to get fit is less intimidating and less expensive than a gym or personal trainer. TRX suspension training uses an approach based on seven simple movements: push, pull, plank, rotate, hinge, lunge, and squat. That's all you need; leave the tire flipping for the bros.
This journey is going to require energy. Whether it is doing dips on the TRX system, running a few miles in the park, or making a smoothie in your Vitamix, you need to stay amped up. I suggest Ladder Pre-Workout. Look, this shit doesn't taste like a chilled red on a hot day, but it gives you energy, delays fatigue, and enhances strength. All things you are going to need.
This could be the first time I have ever recommended something that is free; please don't show my editor. But several people I know who have lost weight did so by tracking what they ate using this app. The interface is simple and the data is good. I have always been told abs are made in the kitchen and not the gym, and this helps prove that old proverb.
What's a great slack for a guy who never wears slacks?
First of all, don't say slacks. You sound like a narc. Let's say pants or, if we must, trousers. Let me help you. I am a Levi's 501 or Patagonia Baggies guy, but the trouser is a necessary piece of any well-dressed man's arsenal. I will suggest some simple and wearable options to get you going, but the world of trousers is vast and exciting!
To ease you into this, I am going to suggest something that may seem strange: a pair of clean black pants with an elastic waist. This style from Stussy is slim but not skinny and has a proper zipper. They can be dressed up or down, and the price is definitely right.