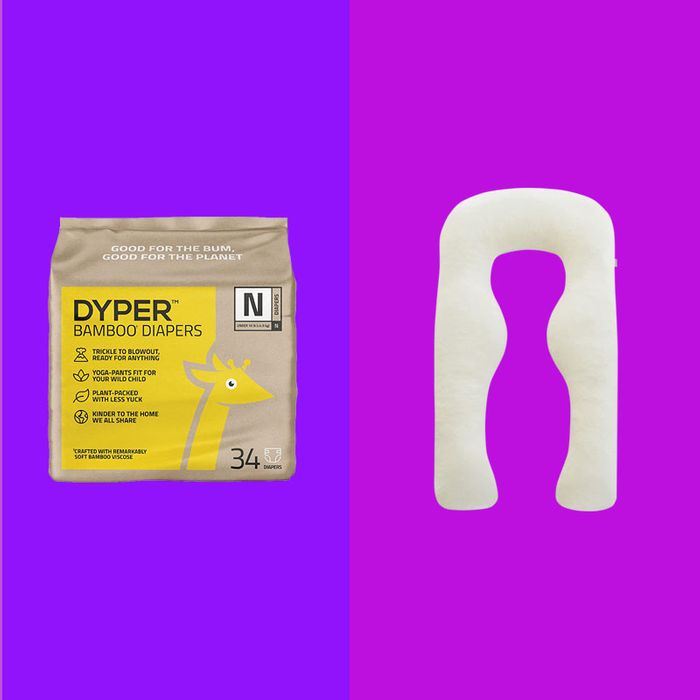 Photo-Illustration: The Strategist
"My expertise, I would say, is in pregnancy, the birth process, and initial postpartum needs for mom," says Carson Meyer, the Asheville-based doula and founder of the skin-care line C & the Moon. "That's a strong suit of mine." Meyer, who's attended over 100 births and has been practicing for six years, is also constantly picking up product insight from expectant and new moms, like why a certain nursing pillow gets better results than the cute rounded ones (they'll just fall to the side) or the name of the comfy leggings she sees at almost every prenatal visit. During COVID, when Meyer had to temporarily stop attending her clients' births in person, she created Growing Together, a 12-week online childbirth-education class that goes deeper than your standard one-day or weekend-long course. This expanded Meyer's new-mom circle even wider as well as the feedback she was hearing about what stuff worked and what didn't. Now, with her first baby due later this year, Meyer has compiled her years of experience, along with clients' recommendations, into a thoroughly vetted list.
Pregnancy
Leggings
Every time I would see a client at prenatal visits in leggings, I'd ask who makes them. "Hatch. Hatch," they'd all say. It's such a good staple, and the brand does such a good job of not making their stuff feel like maternity clothes. I was in denial about having to buy anything; I really thought that I could just get away with wearing some of my more loose-fitting clothing. I love these because I can wear them after birth, too.
Pregnancy pillow
Bedding is one of the places where I try to not skimp out on quality in terms of toxins — it's such a time of healing. I'd tried out a few others, but they had a funky off-gassing smell. This one didn't have a smell. It folds up perfectly in bed and feels so supportive. I also use it when getting a prenatal massage; you can bring it onto a massage table really easily. This is something I found through trying out a few.
Cork massage balls
I had some lower-back discomfort during my first trimester from the increase in relaxin and my expanding pelvis. Using this ball up against a wall to massage and release my glutes was so helpful. I recommend these to my clients because it's something they can do at home. I also like pelvic-floor therapy and massage, but I tell clients to use these to get to places they can't reach themselves. It's so important to be able to release the tension around the pelvis.