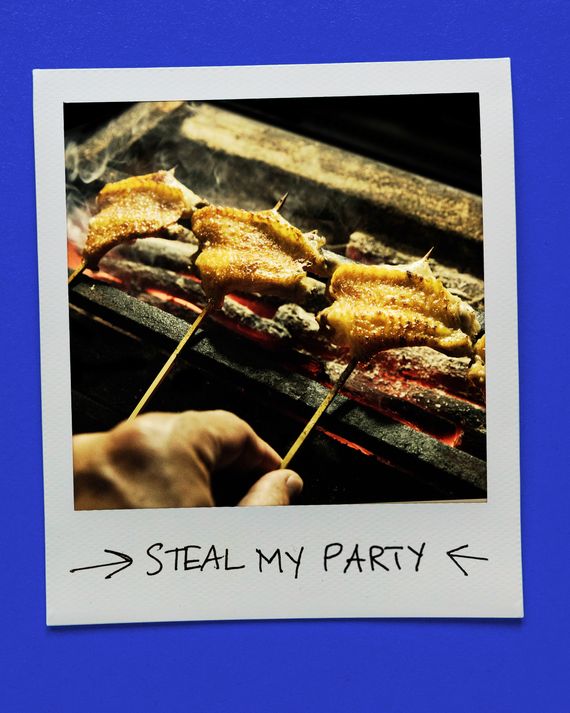 Photo-Illustration: The Strategist; Photo: Dylan James Ho
Hosting can be a lot, especially when part of the game is having the soirée you put together look effortless. In this series, veteran party-throwers tell us how they pull off their highly specific, flawlessly executed gatherings (well beyond the holidays). This installment comes from Dylan James Ho, a Los Angeles–based photographer who went from eating yakitori in Japan, to grilling it himself at home, to starting a professional pop-up. Here, he shares how he hosts a casual evening filled with friends and skewers.
In December 2019, photographer Dylan James Ho bought a two-person shichirin — a small charcoal grill — at a kitchen-supply store in Tokyo called Kama Asa. He carried it by hand back to Los Angeles and began making yakitori in his backyard. Ho's yakitori obsession was born in Japan, where he had traveled to as much as twice a year over the course of the previous decade. (He even studied Japanese to be able to better read yakitori menus.) But it wasn't until the pandemic hit that he took his observational knowledge and "really hit the gas on this at home," he says.
He read cookbooks and watched hundreds of YouTube videos. He bought whole chickens and broke them down himself. He invested in a bigger shichirin, and then a bigger one, and then a bigger one. As pandemic rules eased, he began to have friends over outside to share the meal, and after a few sessions, they encouraged him to start a pop-up. So earlier this summer, Ho launched Tori! Tory! Toré!, organizing dinners for clients in their own spaces.
But when Ho isn't cooking yakitori professionally, he still loves to have friends over in a relatively casual manner. His preferred method, which he details below, is interactive. Guests sip on wine (and beer and sake) as they thread chicken parts and seasonal vegetables onto bamboo sticks. Then, everyone proceeds to the backyard. ("I like to promote moving around," he says. "You're not confined to your seat.") Meanwhile, Ho takes to the grill, seasoning, flipping, and handing out skewers as he goes.
One day before: Grocery shopping
The afternoon before, I grocery-shop, either at the farmer's market (Hollywood, Santa Monica, and South Pasadena) or a good store, like Tokyo Central Market, Marukai, Mitsuwa, and H Mart. D'Artagnan is a great place to shop online for premium, farm-raised chicken. I always do a mix of chicken parts: thighs, tenders (the inside of the breast), wings (both the flats and drumettes), maybe some organ meats (hearts, gizzards, and liver). If your butcher carries schmaltz, you could pick some up to use as the cooking fat for the veggies — it's not strictly necessary, but it makes them so delicious. And then I love shiitake mushrooms and a mix of other vegetables, whatever is in season: zucchini and eggplant, okra, snap peas, corn, and little yellow or purple potatoes are crowd favorites, but you could do Romanesco or broccoli — I've even seen grilled tomatoes.
The general rule is that you want about ten skewers per guest, a mix of each kind (more on how exactly you'll be building those skewers below). I'd get a little extra of the stuff you think people are really going to like, such as wings and thighs.
Beyond the meat and produce, I make sure I'm stocked up on the condiments I need for serving: yuzu kosho and Japanese seven-pepper spice, which includes dried chile peppers, crushed seaweed, and sesame seeds. Those are the two things I set out for guests to use themselves; otherwise, I'm handling any added flavors or ingredients as I grill.
I also buy some bottles of wine. I particularly like oranges and whites with yakitori. Especially in summer, the juicier, the better, like the Meinklang above. For some reason, yakitori and red wine doesn't really taste good to me. I also know my friends will bring beer and sake. But you can drink whatever you like with it— whatever makes you happy.
That evening, I make tare — a mix of soy sauce, mirin, sake, and sugar — which is the finishing sauce for certain skewers and one of two basic seasonings for yakitori (the other is good sea salt, which you use on the front end of the cooking process). Tare needs some time to reduce, simmered over low heat in a saucepan. It takes about an hour and a half or so to make a good quantity.
Day of
12 p.m.: Prep your ingredients
In the afternoon, I prep the meat by cutting any chicken parts into bite-size pieces and washing the vegetables.
4 p.m.: Set up the table
I put the yakitori grill in the middle of the table so it's ready to go (the model I own is out of stock, but I've heard good things about Bincho and Yak). Then I set out some small plates and glassware, along with the yuzu kosho and seven-pepper spice.
5 p.m.: Friends arrive
Everyone is going to help skewer. You can technically use any wooden skewer, but I like the flatter, wider ones because there's no chance they'll roll or rotate on their own on the grill.
First, I make sure guests have a drink and then I put them to work. I set up stations around my dining table or the kitchen island. People thread different types of skewers, and they all end up on one giant platter (or you could use a disposable tinfoil baking tray or a sheet pan) so they can be easily carried outside later. I keep the meat on one side and the vegetables on the other.
I've done mushroom medleys with four types of mushrooms on one skewer, but that's just me being fancy. Or there's a popular one called negima (ねぎま), which is chicken thigh and green onion. But I usually do one ingredient per skewer, as they tend to in Japan.
Every skewer will be about 35 to 50 grams. You want to fill it with three or four bites only, which is no more than four inches of food per skewer. Another key is to not show too much of the tip. The Japanese feel that it doesn't look pleasant, and some people aren't careful and will jab the insides of their mouths. So putting the food close to the top is important, as is making sure there's no space between the pieces by stacking them tightly.
A lot of people assume you need to soak skewers before, but that's a Western way of thinking. The reason is because most people grill on a giant Weber and they p