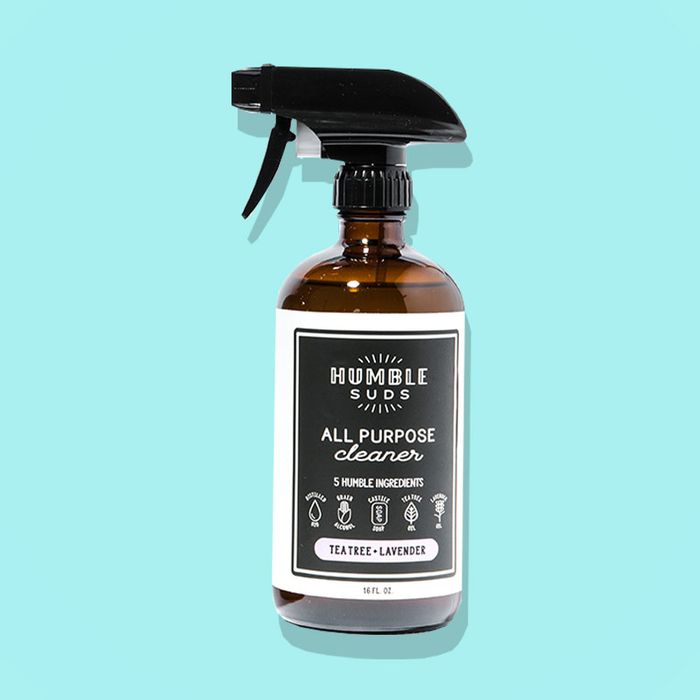 Photo-Illustration: The Strategist; Photo: Retailer
Cleaning products that make it across the threshold of my home usually meet a certain set of criteria: They have to clearly disclose their ingredients, smell great, ideally come in reusable packaging, and, of course, work the way they're intended. I've tested plenty of popular natural-cleaning sprays, and some just do not work. Blueland, for example, is a very popular brand with a novel dissolving-tablet concept, but, in my experience, its multipurpose spray just smears grime around and leaves a hazy film. (Plus I happen to think it smells similar to vomit.)
I'm usually partial to cleaning with distilled white vinegar, but since it's acidic, it isn't recommended for use on granite or natural stone (precluding me from wiping down my counters). I used to use Mrs. Meyers in either Basil or Lemon Verbena, which cleaned everything it needed to. But over time, I found that the heavy fragrance was headache inducing. And after years of using Method's Pink Grapefruit multipurpose cleaner, I simply tired of the scent.
But the multipurpose cleaner from Humble Suds — specifically in the tea-tree-and-lavender scent — is a natural cleaning spray that does work. In terms of effectiveness, this spray is just as adept at cutting grease and removing crust as any other leading multipurpose spray with harsher ingredients. Some things I've used it for: wiping dirty paw marks off the front door, soaking and scraping melted mozzarella from the stove top, cleaning the most forgotten and coffee-stained corners of my granite counters, removing toothpaste splatters from the bathroom mirror, and even wiping down the wood dining table with no sign of damage to the finish. Unlike my homemade spray, this is made without vinegar, so it's safe to use on all sorts of porous and semi-porous surfaces. And it has a pleasantly short list of ingredients, all of which are easily recognizable.
And the scent! The tea-tree-and-lavender combination is so good. So many commercial sprays smell extremely artificial, and lots of natural ones come unscented. While I respect the need for a free-and-clear version of things, I like the house to smell clean after I've tired myself out cleaning it, even if that's not necessarily the point. And listen, half the scented things in the world are described as "spalike," but there's something about the mix of tea tree and lavender that really, truly takes the edge off a frantic cleaning spree or a particularly splatter-y after-dinner cleanup.
Price-wise, the Humble Suds spray is definitely more of a splurge than the natural multipurpose sprays you can buy at Target or a grocery store such as Mrs. Meyers or Method. Humble Suds' spray is $14.95 per 16-ounce bottle, or $0.93 per ounce ($0.41 per ounce for the concentrate refill); depending on the retailer, Mrs. Meyers is roughly $5 for the same size bottle (or $0.31 per ounce), and Method is roughly $4 for a 28 ounce bottle ($0.14 per ounce). So yes, it costs more per ounce than some others, but it comes in a reusable glass bottle, is made from highly pronounceable ingredients, smells like a Muji store, and works exceedingly well. The reusable bottle is also amber colored, so it looks as if it had been freshly plucked from an "olde tyme" apothecary — in the best way. Even with my limited counter space and ruthless hatred of clutter, this bottle is welcome to sit out on the counter.
Some other multipurpose cleaners we've written about