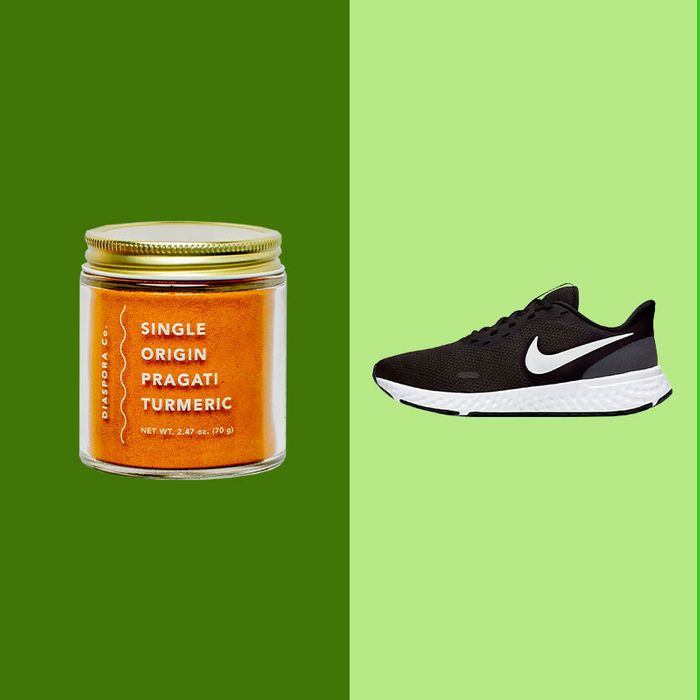 Photo-Illustration: The Strategist; Photos: Retailers
We write about hundreds of products each week. Here, in our version of the Sunday circular, we've plucked some of our recent favorites: expert-recommended essentials, life-changing stuff you didn't know you needed, newly launched gizmos, and very good deals we uncovered while trawling through the vast online-shopping universe — including a natural cleaner with a soothing scent, a deodorant that works to unclog pores, and the best shoes for climbing newbies.
Ingrown-fighting deodorant
Strategist beauty writer Rio Viera-Newton became "obsessed" with Megababe's natural deodorant after it helped decrease "irritation and redness under [her] arms" and made her smell "lovely and rosy, like a little garden, all day and into the evening hours." The brand recently released a new two-in-one cream deodorant and ingrown-hair treatment. Its star ingredients are mandelic and lactic acids, which work to block odor-causing bacteria and clear clogged pores that might cause ingrowns; the formula also contains niacinamide, squalane, and vitamin E to help improve skin tone and encourage softer, smoother skin.
Cable ties with a cornucopia of uses
While searching for a solution to organize the tangle of cords and cables on her floor, Strategist junior writer Kitty Guo stumbled across these Nite Ize gear ties. They "tickled her fancy" due to their "eye-catching colors, from cobalt blue to lime green to traffic-cone orange, as well as the wide assortment of sizes ranging from 3 inches to 18 inches long." She soon discovered a plethora of functions for them beyond cable management; the "smooth, fluid motion of the wire" and the "feel of the textured rubber" made them the ultimate fidget toy. In a pinch, they could also act as makeshift hooks, zipper pulls, and chip clips. "They can tackle any and all problems you're facing — including ones you didn't even know you had," she says.
Lightweight sneakers for everyday hikes …
When we asked Euphoria actress Chloe Cherry about what she can't live without, she told us these Nike Revolutions are her favorite shoes for getting in her 10,000 steps per day. "They're really lightweight and have a nice bounce to them," Cherry says. "I used to do track in school — I've been running my whole life — and I've noticed shoes are best when they're lightweight." She owns the sneakers in both black and white; she likes the black ones in particular because they don't show as much dirt and grime, since when you hike in L.A. "your shoes get covered in dust and they get disgusting."
… and specialty shoes for scaling mountainsides
Strategist writer Jeremy Rellosa has been "climbing for a decade and [has] tested [his] fair share of beginner gear, both outdoors and in climbing gyms." For those interested in getting into the sport, he recommends buying these Tarantulace climbing shoes from La Sportiva, which were his first pair of climbing shoes. "They held up for about a year of continuous climbing outside and in gyms before I formed a hole through the rubber and had to retire them," Rellosa writes. Since it has "a flat, supportive, accommodating shape" that's not too soft, it's perfect for easing "your feet into the demands of flexing and curling your foot muscles."
An all-natural spray cleaner that really works