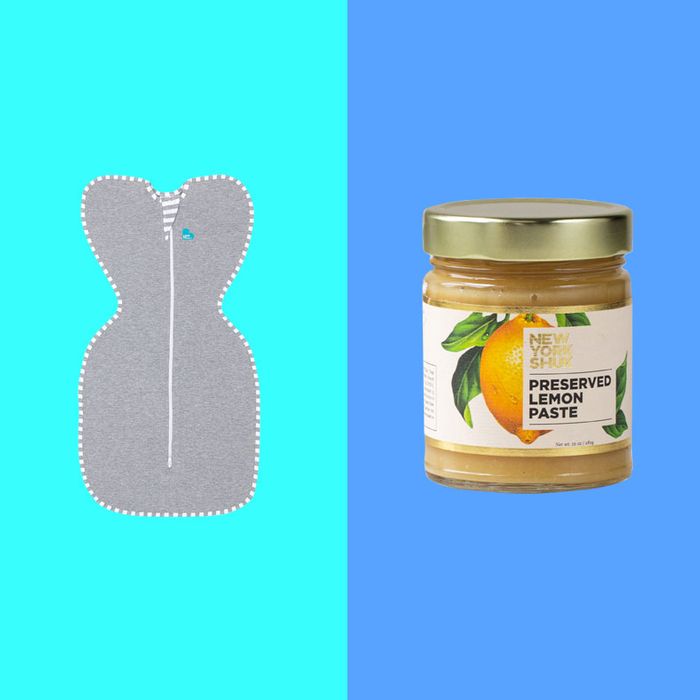 Photo-Illustration: The Strategist
We write about hundreds of products each week. Here, in our version of the Sunday circular, we've plucked some of our recent favorites: expert-recommended essentials, life-changing stuff you didn't know you needed, newly launched gizmos, and very good deals we uncovered while trawling through the vast online-shopping universe — including an easy zip-up swaddle, a workhorse sports bra, and a glasses spray that will leave your lens sparkling.
A do-it-all condiment
Photo: DIOGRAFIC
Chef Lauren Joseph often has to whittle down her condiment collection to make room for groceries, but she'll never part with her jar of New York Shuk's Preserved Lemon Paste. "Its texture is soupy, which means it melts into a sauce or vinaigrette without any concerted whisking," Joseph writes. "When it's hot out, I drop a spoonful into a shaker full of ice, then empty a can of sparkling water over the top for a salted-lemonade spritz. Another spoonful mixed in my water bottle pre-run is possibly the best version of lemon-lime-flavored Gatorade." She enjoys cooking with it too, dropping a dollop into — or onto — everything from grilled zucchini to pork chops to olive-oil cake.
Wardrobe staple socks
When Saks Potts co-founder Barbara Potts was looking for a relaxing, restorative destination to escape to near the end of her maternity leave, a friend suggested Pantelleria, a small island between Sicily and Tunisia. She and her boyfriend stayed in the "very specific, very beautiful house" from her favorite film, Luca Guadagnino's A Bigger Splash, and set about exploring the island's winding beach trails, local markets, and volcanic lakes. When packing, Potts brought along these Comme Si socks, which she loves for "lounging around the house" but are also stylish enough "to wear for a little ankle exposure with tennis shoes." They're also ideal "for hiking as they're naturally insulating and moisture-wicking," Potts says.
The swaddle Ashley Graham used with her newborn twins
If Ashley Graham were to redo her baby registry, she would include this Love to Dream swaddle. She could never get the swaddle right with her first kid, Isaac, so it's "great for people like me — you just zip them in," Graham says. She really likes it because it keeps the baby's arms "tucked in and folded how they are in the womb, and they're not laid down straight like you would do a traditional swaddle," she explains. "This company really believes that babies want to sleep how they were in the womb." And once it's time to transition to a new sleep solution, "there are holes the arms can come out of when you're done swaddling," she told us.
A sports bra that's held up to 700 miles of hiking
Strategist contributor Maggie Slepian spent last summer thru-hiking the 485-mile Colorado Trail — and wore this Brooks Dare Crossback sports bra for all 23 days. "It's hard for me to find a comfortable sports bra that doesn't have me ripping it off and gasping for air at the end of the day," Slepian writes, but she was impressed with the bra's "nearly seamless design and the cups and straps that felt supportive without too much compression." She's also particularly fond of the racerback design, which allows for a full range of motion: "When you're doing the same thing all day, you realize that a seemingly minor discomfort like bunched fabric, pressure points, or the smallest material shift can become unbearable." She's since worn the bra an additional 200 miles backpacking on the Arizona Trail, making it the most-worn piece of clothing in her wardrobe.
Rose-scented specialty coffee …
Blue Bottle's Exceedingly Rare collection features specialty coffees created with a high level of quality and innovation. The latest addition to the line is this single-origin coffee from Tolima, Colombia, from producer Mauricio Shattah. It's a special variety of the coffee plant called Wush Wush, which originated in Ethiopia and is relatively new to South America. It's characterized by a distinctive elongated bean shape and intense rose aroma, as well as a bright, floral flavor. Building on its unique properties, Shattah has created a complex flavor profile for this blend, which includes notes of blackberry jam, pink lemonade, and rose water.
… and green tea-scented soap
Sharon Van Etten can't live without this Pré de Provence green-tea soap bar, which was first introduced to her by her friend and former roommate Sarah. "Her style is beautiful and minimal, museum-like pieces that are really elegant. I'm just not an elegant person," Van Etten told us. One day, she asked Sarah what perfume she was wearing, and "she was really sweet and almost embarrassed to show me this bar of soap. Now, it's just one of those memory things. I go right back to this time when I was still finding myself and had made my first adult friend in New York," she says, adding that she still "carries it everywhere."
Strappy sandals that won't leave you blistered
Strategist senior editor Simone Kitchens first noticed these strappy Tevas on someone "sitting outside Sincerely, Tommy in the summer of 2019." Then a few months later, she spotted Mary-Kate Olsen sporting a pair. But it wasn't until "they showed up in Samantha Adler's mid-coast Maine 'Steal My Vacation' packing list" that Kitchens finally took the plunge and bought her own pair. She quickly found that they were suited to "all kinds of warm-weather situations: trips to the pool, morning walks, puttering around in the garden, sudden downpours." And the skinny, adjustable bungee-cord straps means that, according to Kitchens, "there's no break-in time, no rubbing on your ankles or arches. Slip them on and you'll soon forget you're even wearing shoes."
A screwdriver kit for tool newbies
TV writer and podcast host Lesley Arfin is "in no way a professional handyperson nor would I even claim to be 'good at fixing things'," she says, but that doesn't stop her from picking up some tools and learning how to handle "basic household bugaboos" by herself. She reaches for this eight-in-one screwdriver set more than a single regular screwdriver "because it's easier to store and more pleasing to the eye." For the "occasions in which you do need a screwdriver, no other tool will suffice," which is why she likes keeping a variety around to address whatever needs crop up. She got her kit "at Daiso, but you can also find it at most hardware stores."
A toiletry bag with Italian flair
The latest installment of Chris Black's monthly column sees him answering a query about the most efficient, minimal, and chic toiletry bags. Black suggested some options from Saint Laurent and Louis Vuitton, but he also mentioned this candy-striped Hay bag. "I love Hay; it makes smart, well-designed products for almost every facet of life. Its take on the wash bag is very affordable and fun," Black writes. It's made from recycled polypropylene "with a sturdy zip fastening and easy-to-clean waterproof lining," so it's sure to stand the test of time. Though he'd normally opt for a black or neutral colorway, Black thinks this pattern is giving "'Italian holiday meets the legendary red-white-blue bag that originated in Hong Kong.'"
Streak-free glasses cleaner
Strategist writer Ambar Pardilla has been wearing glasses for as long as she can remember, but the lenses often become smudged or sullied, whether the culprit is "flecks from mascara, rogue sweat drops, or a lonely tear." She's tried multiple different cleaning sprays, as well as just water and dish soap, but they often produced "a hard-to-wipe streakiness" or a lingering iridescence. Then her latest optometrist introduced her to this Clear View glasses-cleaning spray that actually works; "one spritz on each lens is all it takes," Pardilla insists. "The cleaner cuts through everything, from forehead grease to olive oil splatters … the world looks instantly sharper." She's started carrying a bottle of Clear View with her wherever she goes, so that she has it "whenever I need to clear a fingerprint-covered corner."
The Strategist is designed to surface the most useful, expert recommendations for things to buy across the vast e-commerce landscape. Some of our latest conquests include the best acne treatments, rolling luggage, pillows for side sleepers, natural anxiety remedies, and bath towels. We update links when possible, but note that deals can expire and all prices are subject to change.