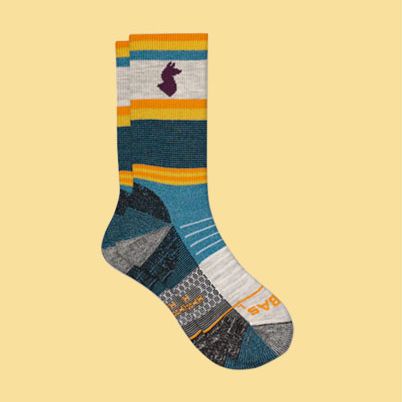 For this week's "Don't Dillydally," we've surfaced a range of things we're sure will sell out, including Sandy Liang's first bridal capsule collection, super-spicy chili crisps from Fly by Jing, and fancy coffee from Blue Bottle's Exceedingly Rare collection.
Rifle Paper Co. x Hedley & Bennett
Rifle Paper & Co. and Hedley & Bennett have joined forces again (the first time was in 2018) — bringing Rifle Paper Co.'s signature, floral designs to H&B's chef-approved aprons, a top pick when we surveyed chefs in 2021. It has lots of great little details that make it sturdy and user-friendly, like a contrast-color loop specifically for tools, and reinforced webbing, which helps the apron to last over time. There are five patterns to choose from, including this navy one, which we think looks nice and is a good option for hiding stains of all kinds.
Cotopaxi x Bombas
Bombas — which makes some of our favorite socks — and Cotopaxi — an outdoors brand that makes a shockingly roomy carry-on and is known for its bright, eye-catching colorways — recently released a co-branded collection. There's three pieces: a calf-length hiking sock, a crew-length hiking sock, and a limited-edition version of its Del Dîa fanny pack. Everything in the collection is one of a kind, meaning Cotopaxi will pick a colorway for you at random.
Ruggable Cowhide Rugs
Ruggable — which we've said makes the best washable rugs — has added faux-animal hides to its lineup. According to the brand, it looks and feels just like the real thing, but is made from a shed-resistant medium-pile polyester and polyurethane blend. There are five variations to choose from and four rug sizes — ranging from an accent-size 4x6 (which is hide-shaped) to a more substantial 6x9, which has a classic, rectangular shape. If you already have a Ruggable rug pad, you can skip buying a new one for the bigger sizes, which will save you over $100.
Fly by Jing Xtra Spicy Chili Crisp
Yesterday, Fly by Jing launched a spicier version of its insanely popular chili crisp. It's three times hotter than its normal Sichuan chili crisp (it uses extra-hot Chinese chilis), and before its release was apparently its most requested product to date. It's worth it to stock up: When you buy four jars, shipping is free and you get an extra 10 percent off.
Blue Bottle Exceedingly Rare
The latest from Blue Bottle's Exceedingly Rare collection is this single-origin coffee from Colombia, created by producer Mauricio Shattah. It's a special variety of the coffee plant called Wush Wush, which originated in Ethiopia and is relatively new to South America. It's known for its bright, floral flavor and has become popular with specialty growers around the world. That includes Shattah, who has created a complex flavor profile of blackberry jam, pink lemonade, and rose water.
Our Place Mini Always Pan