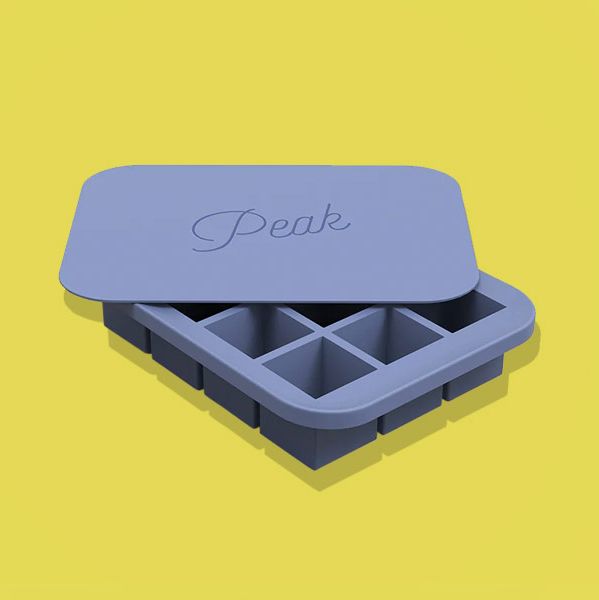 Photo-Illustration: The Strategist
Making ice is an important part of my household ecosystem, and until recently, I'd call it a chore. My boyfriend and I would both constantly empty and fill our ice-cube trays — the plastic kind you can find at any big-box store — which would often stick to one another when stacked, crack the ice into shards, and even crack themselves if you twisted them too harshly. Silicone molds were a decent step up, but it still took some negotiating to get the cubes out.
It wasn't until I bought these W&P Peak Ice Cube Trays last year that I realized how meh the previous ones were. I first used them when I visited my parents' house (my mom has five) and was immediately convinced to purchase a couple of my own. The material feels thinner and more flexible than that of its counterparts, so you can remove the cubes with almost alarming ease. In fact, the trays are so easy to manipulate that you can release all the ice at once, but they offer enough control that you can also unmold the cubes individually. They come with lids to keep out odors, which makes them stackable, a not-to-be-underestimated attribute when your freezer is as full as mine.
They're also something of a Strategist sensation — four of my co-workers own and love the Everyday molds as much as I do. (One even declared that she'd order some as I pitched this story.) "I can't believe I went through so many awful ice trays before finally buying this one," writer Arielle Avila says, adding that the "perfect little cubes pop out without any struggle." The W&P molds have been such a hit that senior editor Jen Trolio has branched out to the version that makes frozen sticks that fit through the narrow neck of her water bottle.
This summer, I've taken to adding thin cucumber and lemon slices to each compartment of my XL version and then dropping the infused ice into a clear pitcher, a party trick that never ceases to delight my guests. The cubes take a while to melt, keeping the water very cold, and slowly release the flavor and aroma of the vegetables and citrus inside. While that's the most innovative I've gotten so far, W&P says you can use the trays for meal-prep storage, freezing sauces, soups, and broths in one-cup portions (end-of-summer big-batch pesto, anyone?). That said, I think my next purchase will have to be its Ice Box — we're on such a roll making cubes in this house, we need somewhere to put the overflow.
Some more ice trays we've written about