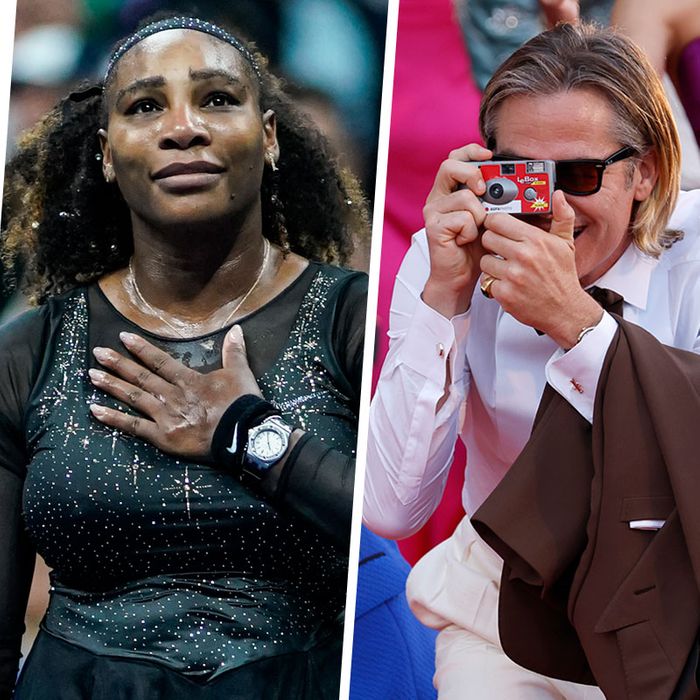 Photo-Illustration: The Strategist. Photos: Searchlight Pictures; Getty Images
If you're an adult who loves dressing up for Halloween, a large part of the appeal is the look of approval and delight on the faces of fellow partygoers when you see them recognize the reference behind your costume. Dressing up as a moment or figure in pop culture, whether it's Pizza Rat or the late Queen Elizabeth II, also makes for an easy conversation starter at Halloween parties — and if your costume is well executed, it might even win you a prize. So as we do every year, we've put together a list of the best pop-culture costume ideas of 2022, from the most glamorous of pregnant celebrities to everyone's favorite short king chef, complete with the products you'll need to pull them off. We've even included a few group costumes, couples' costumes, and costumes for very cool kids. They're all meant to impress strangers, score points with your crush, and get you lots of candy. In that spirit, we suggest you do your best to avoid committing the No. 1 Halloween faux pas: Not every costume is for everyone, and that's okay.
Evelyn Wang from Everything Everywhere All at Once
In the multiverse-centric, Michelle Yeoh–starring Everything Everywhere All at Once, the hot-dog-finger scene is among the most memorable. So memorable, in fact, that studio A24's batch of hot-dog-finger gloves promptly sold out (though you might try your luck on eBay). If that doesn't work, you could achieve a similar look with these latex ones — and add the below blouse and cable-knit cardigan to channel Yeoh's Evelyn.
Carmy Berzatto from The Bear …
Looking to exude a surprisingly sexy vibe? Heard. Dress up as this year's most drooled-over sad boy, Carmy Berzatto from FX's The Bear, with a royal-blue chef's apron, a fitted white T-shirt, and a black pair of Birkenstock Tokios (the ones with the ankle strap). The actual shirt actor Jeremy Allen White wears in the show is from Merz B. Schwanen, but if you're not trying to spend $95 on your costume, there are plenty of cheaper options that'll give your biceps a similar flaunt. Want to make it even more obvious who you are? Carry some canned tomatoes with you (sauce-covered wad of cash optional).