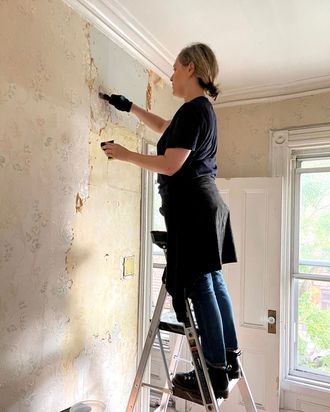 In June 2021, I didn't know anything about home renovation. I had owned the same Ikea tool kit since college, which I used to hang things on the wall and install Ikea shelves that one time in my old apartment. But when my husband and I closed on our first home, we quickly stocked up on all the tools we thought we'd need to do demo in our home and eventually put things back together — including a sledgehammer, which we barely touched. We're not experts, but after a very intensive year of home DIY, we've learned what tools you really can't live without for specific projects — and where you can save by buying a cheaper option.
I know we're not the only first-timers tackling projects like demoing tile and removing cabinets. We've been posting about our home renovation on Instagram and TikTok, and have seen a large community of first-timers doing extensive home-DIY projects. I've been especially impressed with Gabby Dolechek and her husband (who accidentally purchased a rat-infested home and are rebuilding every inch) and @Elm_Street_House, where the owner has been removing old insulation with her family every weekend for, it seems like, an eternity.
So, if you're planning on embarking on a home-DIY project — big or small — here are some tools that are worth the money and will make your life so much easier.
If you're considering any demo or reno, these are the multipurpose tools you'll need
I had a hammer from the previously mentioned Ikea set, but when we started this project, we were advised by a more experienced friend to get not just one hammer, but two. He said to get one that's more expensive to serve as your main hammer and one that's cheaper as a backup. And he was right: When doing any of these projects, you will misplace your hammer at some point. And sometimes you don't want to take the time to stop and find it. I have no regrets about this purchase.
We also upgraded our screwdrivers to include this set, which is useful for any kind of home project. They won't take up much space, and you can do it all.
It's more expensive than a hammer and a screwdriver, but if you're planning to tackle DIY projects at home, you'll want a drill and an impact driver. We bought the DeWalt 20 Volt Drill and Impact Driver and drill bits, and have no regrets about this spend.