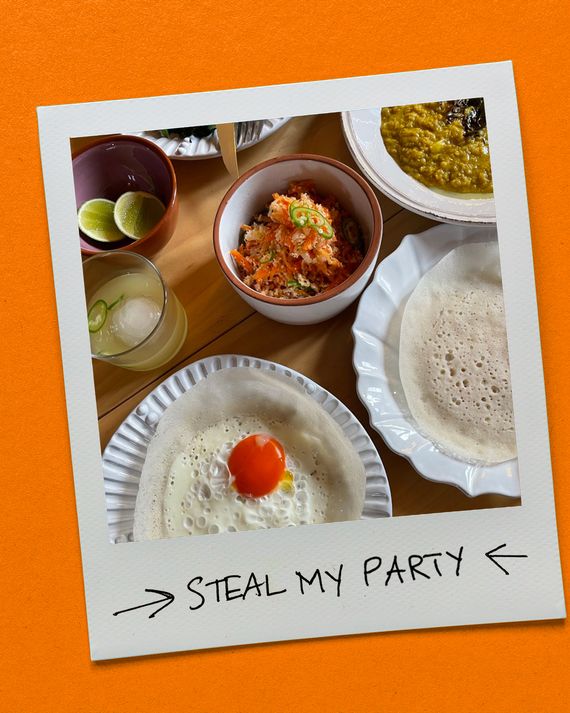 Photo-Illustration: The Strategist; Photo: Lauren Joseph
Hosting can be a lot, especially when part of the game is having the soirée you put together look effortless. In this series, veteran party-throwers tell us how they pull off their highly specific, flawlessly executed gatherings (well beyond the holidays). This installment comes from Lauren Joseph, a London-based chef and writer who — when she's not cooking professionally — likes to invite her friends over and make hoppers, a thin, fermented rice-batter pancake that's a Sri Lankan staple. Here, she details how she preps and cooks the meal, which includes a myriad of curries, sambols, and fresh vegetables.
My Sri Lankan family seems to have endless traditions around dinner — but few are held more sacred than the hopper party. Hoppers, a Sri Lankan food you can eat at any time of day, are thin, fermented rice-batter pancakes with sides that curl up into a bowl shape. Flavor-wise, they're like a slightly less-earthy Ethiopian injera. But texturally, hoppers are all on their own with crisp, lacy edges and a pillowy center, cushy enough to soak up curries. Torn with your hands, then scooped, folded, or stuffed with other dishes and condiments, they make the ideal vessel for hot island food. Swirl coconut cream and a little jaggery into one and you have a sweet-savory dessert, or crack an egg into that pillowy middle and let the soft yolk temper chili heat.
When my family hosts a reunion or big birthday that calls for these heavenly little pancakes, everyone crowds around the kitchen for a day or two, preparing all the curries, sambols, and dal first. Sri Lankan food relies heavily on coconut, lime, spice, and seafood with rice or rice flour-based dishes like hoppers being the respite from all that heat and acid. A lusciously spiced chicken curry usually simmers away on the stove while someone tosses together pol sambol, a slightly sweet, slightly spicy coconut-and-chili relish. Everyone tries to get a spoon into the fiery eggplant or silky cashew curries before they're done.
Hoppers go on last. By this point, spritzes have been passed around and at least one guest feels brave enough to ladle the batter into the small sizzling pans. (My grandmother has been known to stash a few hopper pans in her luggage while traveling from New York to my parents' house in London.) When we finally get around to sitting, the table's been set with teeny dishes filled with sambols, ranging from saucy and spicy to bright, pickled, and zingy. Steaming bowls heaped with basmati rice are handed out. Everyone begins with one whole hopper, often with a just-set egg in the center, before another platter — and then another platter — comes out.
To do it yourself, plan a menu of accompaniments first: I like one or two curries, dal, one sambol, and one raw vegetable for crunch and freshness. This doesn't have to be a weekend's worth of cooking, though — luckily, Sri Lankan dishes vary from the complex and time-consuming (black pork curry, lamprais) to the dead simple: One of my favorite foils to a rich meal is just slivers of cucumber and red onion, tossed in lime juice and salt. Hoppers, which come together in one bowl and cook in minutes, hit that sweet spot of being both easy and impressive.
One week before: Find yourself a hopper pan (or a small wok)
First, who's coming? Four to eight guests is the ideal range with six being my preferred number. That's enough people to feel festive and work their way through all the food, but not so many that the hoppers get cold by the time you get to the last batch. You could totally get by with one pan, but if you're stretching toward six to eight, either accept that you need two or that you'll need to make a second batch halfway through dinner.
A hopper pan, also called an appam pan, is a small, slope-sided nonstick pan with a curved bottom. It comes with a tight-fitting lid, which is key for egg hoppers because they rely on steam to set. For my last hopper party, I used a small wok as an alternative. If you do this, make sure it also has a snug lid — otherwise, you'll have to overcook the underside of the egg to get it to set. While my hoppers had a slightly less-than-authentic slope, they looked just fine to anyone who isn't an auntie.
The morning before: Grocery shop
Sri Lankan food is vegetarian-leaning, so produce drives the grocery list. I try to hit up the Notting Hill farmer's market or the green stalls on Portobello Road the day before, and I base my curries and sambols on what I find. If the market is closed, my wacky neighborhood bodega, Supermarket of Dreams, has some of the best produce in West London. My cart always includes onions, garlic, turmeric, ginger, lime, and some kind of sturdy green like kale or chard, which I'll sauté with all those aromatics and coconut milk. Other favorites include beets, squash, cucumbers, and eggplant. Here are two extremely doable vegan dishes from fellow Londoner Meera Sodha that I always recommend to the curry-curious.
Here's one spot where I risk breaking from my grandmother's tutelage: I tend to like a hopper feast to be light and bright. A meat on the table sometimes competes for stardom with hoppers, so only sometimes will I seek out a firm white fish, crab, or prawns for curry. Or, occasionally, I'll make a chicken curry like this one by Samantha Seneviratne. But I follow the same rule at home as I do when I'm pulling off a party for work: never more than two recipes I've never cooked. My trio of beloved Sri Lankan cookbooks usually provides the newbies.
Pantry-wise, I check on my Sri Lankan OGs: coconut oil, red lentils, rice flour, coconut milk, and spices. Ten years in New York spoiled me with ease of access to Kalusytan's for all these staples, but luckily, Planet Organic or my local Asian grocery, Tawana, always seem to have what I need. Sri Lankan curry powders use coriander, cumin, fennel, black pepper, turmeric, and curry leaves. I like to make my own — there is truly no comparison to freshly ground and toasted spices. My big molcajete didn't make it when I moved back here from New York, but this little Hario hand-crank coffee grinder works pretty well too.
I like to go for a high-quality, organic coconut milk that doesn't have stabilizers (they can change the consistency of batter), like this one from Native Forest. A lot of coconut products come out of Sri Lanka, which reminds me to do my due diligence and choose an equitable brand.
You'll be tempering spices and aromatics to swirl atop dal or curries, for which fresh whole spices are key, even if you used a store-bought powder in your base. (A temper is the same as a tadka; watch cookbook author Nik Sharma demonstrate the technique here.) Tempering adds enhanced flavor, texture, and oomph to dishes that have been mellowed by slow cooking, especially if you use the fair-trade, wildly flavorful spices from Diaspora Co. and Burlap & Barrel. Keeping a tiny pan on the stovetop helps resist the itch to skip this step — I use this little pot that was originally bought for warming up milk.
The two things that might require an extra shopping stop are frozen grated coconut and curry leaves, both of which show up across the cuisine and for which there are no substitutes. I snag these at my Asian grocery store or a good greengrocer. Keep a bag of the extra curry leaves in your freezer — they're far better defrosted than dried when you're in a pinch.
My drinks run usually ends up with a Thai beer like Singha, ingredients for an acidic or herbaceous spritz that can be booze or no booze, and a bottle of wine.
The afternoon before: Prep cook
I cook for private clients now and then, and get in my head too much if I don't have a prep day. You can easily pull this meal off the day of, but the flavors in most Sri Lankan dishes get better after a day anyway — just come to my family's house the morning after my grandmother cooks and watch the race to leftover-curry breakfast. The day before, I tend to get most of the washing, chopping, and slicing done, and I make the curries. Then on the day of, I assemble my raw sambol, top off dishes with lime and thinly sliced chili where needed, and cook hoppers.
4 p.m.: Ferment your batter
Hoppers are fermented, just like sourdough or a good three-day focaccia. But in this case, that tangy taste shows through powerfully even though the batter ferments for just a short time; it's very big bang for your buck on flavor to effort. There are plenty of hopper recipes online (and in those three books I mentioned earlier). Or you can follow along with my recipe on Instagram. Each one is just yeast, water, coconut milk, and a little salt and sugar, mixed together and left to sit for anywhere from 30 minutes to overnight. These are forgiving; the key is to use your intuition. A cold kitchen will call for a much longer fermentation time. Likewise, if your batter is going wild and bubbling like crazy, just cover it tightly with plastic wrap to avoid a skin and put it in the fridge for a bit to slow down the yeast. In the end, your batter should be pourable but creamy. I like to do this early so it's done and out of the way.
4:30 p.m.: Set the table and choose a playlist
My dinnerware is a hodgepodge, but in my dream kitchen, I'd plate milky-white hoppers on blue and amber glass and serve everything else on big white plates. I like to put a big pile of dishware and cutlery on the table, but not quite set it. I do this both because I'm lazy, and because there is always someone who wants to help. This gives them something to do that doesn't involve weaving through my tiny kitchen while I finish up.
5 p.m.: Dress your vegetables, plate up, set up your station
No matter what raw vegetable you landed on, it's not a leafy salad, which means it'll happily sit for a few hours tossed with lime juice and salt. Same goes for any kind of raw sambol. I tend to plate up the curries that have intensified overnight in the fridge, and make a reheat game plan where needed. Sambols can be served at room temp, while the dal and greens should be warm. Turn your oven to the lowest setting to keep your warm dishes at the right temperature, and beyond that, don't stress.
My hopper pan goes on one side of the stove, and a spoon rest, ladle, and small rubber spatula go on the other for pouring and releasing, respectively. I'm weirdly attached to the heat-safe, angled Gir for this.
If you're going to make egg hoppers, pull a few eggs out of the fridge to come to room temperature now. And while you're at it, put a bottle of wine or seltzer in the fridge.
With everything else ready to go, I put my kale by the stove to sauté last-minute, alongside a few little bowls of mise: coconut milk, chopped onion, garlic, and ginger. Sounds obsessive, but mise is the key to feeling chill while hosting. When guests arrive, I want to be knee-deep in a story, not chopping onions.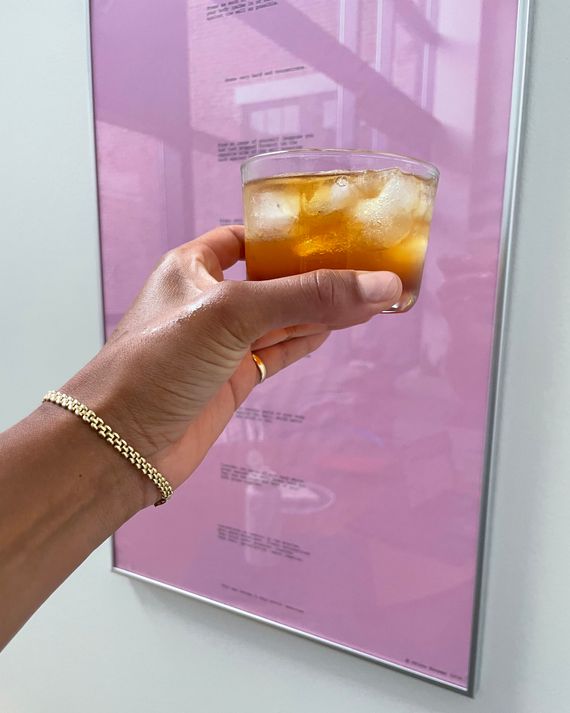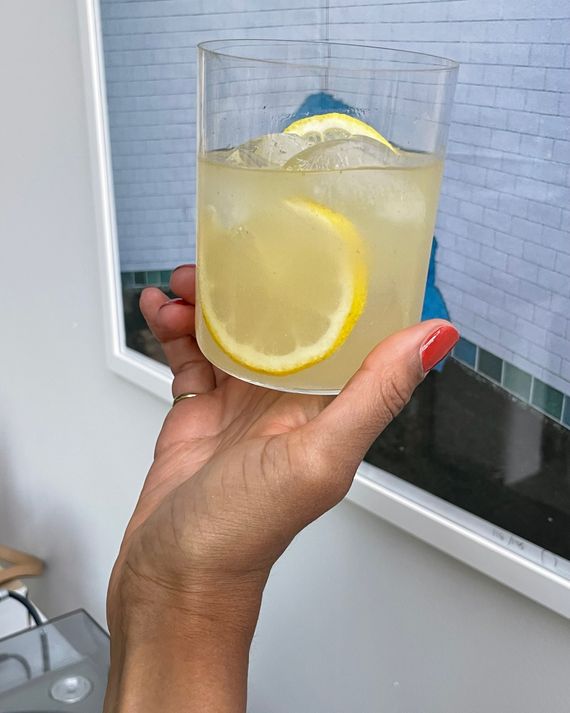 5:30 p.m.: Make yourself a drink
This is where I get into the joy of the pre-party spritz.
6 p.m: Guests arrive
I'll be honest: I do nothing the first 45 minutes of a hopper party but enjoy my friends. As it nears 6:45 p.m., I'll simmer aromatics in coconut milk for greens and get ready to cook the hoppers.
6:45 p.m.: Hoppers go on
Put out a roasting or sheet pan for your finished hoppers. Then check your batter: After a little stir, it should be creamy and fairly smooth, but you can thin it with a few spoons of warm water if needed. Heat your dry hopper pan over a medium-high flame and ladle in about a quarter-cup of batter. Pick up the pan and swirl immediately, shellacking the sides about halfway up with batter; they'll go lacy with the heat in a few seconds. Then put the pan back on the burner. A little bit of batter will pool in the center — you want this part to be just pillowy, like a thin pancake, while the sides have crêpe thinness. If the batter doesn't stick, the pan isn't hot enough. This first one will be flat but tasty. Just heat the pan more before the second.
If you're doing egg hoppers, crack one into a small bowl and slide it into the center of the hopper, then put the lid on. It'll take two to four minutes to set.
Repeat, sliding finished hoppers into the warming oven until you have one per person. If I have more than one pan, I sometimes like to rope someone — or everyone — into cooking, too.
7:15 p.m.: Eat
Everyone crowds around the table now and digs in, spooning curries and sambols in and around their hoppers. I usually make a second, smaller batch halfway through, which gets torn and shared. If you have extra batter, save it for tomorrow rather than cooking it tonight — hoppers dry out in the fridge, which adds to their magical, one-night-only appeal.
The Strategist is designed to surface the most useful, expert recommendations for things to buy across the vast e-commerce landscape. Some of our latest conquests include the best acne treatments, rolling luggage, pillows for side sleepers, natural anxiety remedies, and bath towels. We update links when possible, but note that deals can expire and all prices are subject to change.