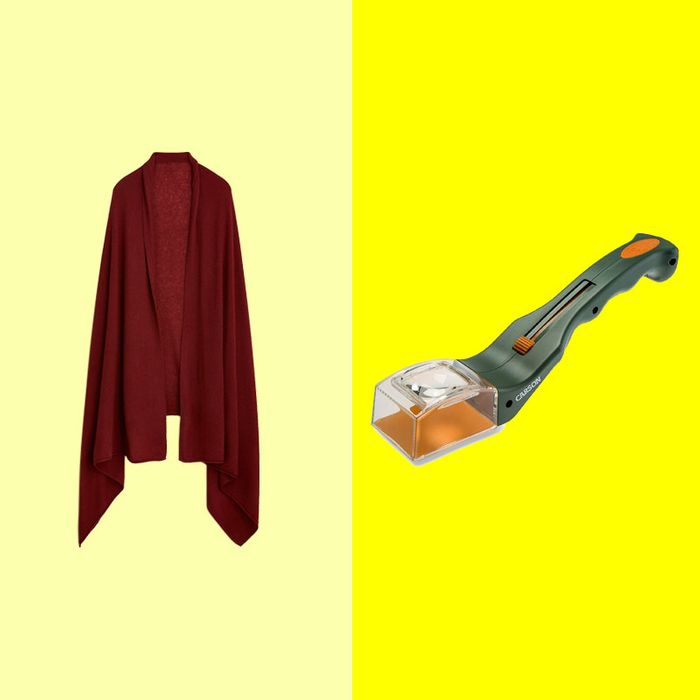 Photo-Illustration: The Strategist
We write about hundreds of products each week. Here, in our version of the Sunday circular, we've plucked some of our recent favorites: expert-recommended essentials, life-changing stuff you didn't know you needed, newly launched gizmos, and very good deals we uncovered while trawling through the vast online-shopping universe — including status-y bottles of olive oil, galoshes made from hemp plastic, and fake blood that's perfect for spooky season.
Olive oil in a whimsical — and convenient — container
Strategist writer Dominique Pariso learned the trick of decanting olive oil into squeeze bottles while working in restaurants in high school and college, so she was very excited to discover the brand Graza. They sell just two olive oils: "Drizzle, a finishing oil, and Sizzle, a high-smoke-point cooking oil, both made from 100 percent single-varietal Picual olives sourced from Jaen, Spain," she explains. Not only are they nicely flavored, affordable, and rising in status among chefs and other foodie types, she also appreciates their squeeze-bottle design, which means "no slippery caps, no greasy bottles, and, most important, no accidental overglugging," Pariso writes. Instead, it allows her to "drizzle and douse with precision and control."
Scissors that mean business
When we asked Beverly Nguyen what she can't live without, she revealed that has a "sick addiction to scissors." She firmly believes that, as an adult, you should have "a ton of scissors laying everywhere. You should definitely have two scissors in the kitchen. You should have a pair in your office. You should have a pair in the closet," she says. And she considers these Guggenhien tailor shears her favorite pair because of how "serious and industrial-strength" they are. As a lefty, she needs "something that's actually very durable and makes me feel like I have control," Nguyen explains, "and these definitely do that."
Rain boots for clomping around Norway …
Photo: retailer
Strategist contributor Chantel Tattoli recently flew with her husband and their toddler to the Hardangerfjord region of Norway, which is known as the orchard of the country. During their six-day trip, Tattoli and her family explored hiking trails, stopped by a James Turrell exhibit, and ate their fill of freshly picked plums, pears, and apples. She made sure to pack her Plasticana Wellies since wandering around the fjord "requires rain boots even when it's not raining: Streams and brooks thread through the landscape, and the ground is often sodden." She loves the boots' caramel color and, because they are made of hemp plastic, how eco-friendly they are.
… And blue jeans for strutting around Brooklyn
The latest installment of Chris Black's column sees him recommending options for a reader who wants "affordable-ish jeans" — "an age-old question," according to Black. He resisted his urge to suggest "Levi's 501s or maybe 505s" and instead dove into new territory by listing L.L.Bean's classic Double L men's jeans. "I bought a vintage pair of these on a whim years ago and was very impressed with the fit and quality. No frills, well-priced, and they come in a handful of washes to fit your every mood," Black says.
Stylish specs from Chloë Sevigny
Actor, director, and style icon Chloë Sevigny just released her second collaboration with Warby Parker. First launched in 2019, the Tate frames are a polished, contemporary combination of wire rim and crystal acetate (and the favorite style of at least two Strategist staffers). Now, the glasses are back in two luxe new colorways: silver and gold. Anything Sevigny touches tends to sell out quickly, so if you're thinking about snagging a pair, don't dillydally.
Sheets that eliminate night sweats
Strategist contributor Jolie De Feis is a self-professed "very sweaty person and an even sweatier sleeper." She's tested cooling bed sheets from a whole slate of brands, including Parachute, Brooklinen, and L.L.Bean, but none keep her as comfortable (and dry) as Ettitude's Signature Sateen sheets. "As soon as I touched the fabric I could tell the sheets were different," De Feis writes. "Made of 100 percent bamboo lyocell, they feel like a cross between cotton and silk, somehow crispy-cool and soft at the same time." She's since replaced "every other sheet I own, as well as my duvet cover, with Ettitude." They come in lots of pretty colors and patterns — Canyon, this earthy red shade, is her favorite so far.
A VFX veteran's go-to fake blood
Halloween will be here before you know it, so we polled a group of Hollywood experts about the best fake-blood products. Fleet Street Bloodworks emerged as the best overall option because, unlike cheaper fake-blood products that "remain moist for hours after application," it's "designed to set in place while retaining a liquid look." Howard Berger, an Academy Award–winning industry veteran whose résumé includes Tarantino films like Inglourious Basterds and the Kill Bill series as well as AMC's The Walking Dead, depends on Fleet Street when he knows an actor will be wearing fake blood for an entire day as opposed to only in a brief scene. "It looks very real," he says, adding that spraying down your clothing with a little water before application will make the product look "even more organic."
The perfect pan for making hoppers
For our latest installment of Steal My Party, London-based chef and writer Lauren Joseph advised us on how to host a hopper party. Hoppers, a Sri Lankan staple, are a thin, fermented rice-batter pancake with sides that curl up into a bowl shape. "Torn with your hands, then scooped, folded, or stuffed with other dishes and condiments, they make the ideal vessel for hot island food," Joseph says. They're typically made using an appam pan — a "small, slope-sided nonstick pan with a curved bottom." Joseph recommends this one for its "tight-fitting lid, which is key for egg hoppers because they rely on steam to set."
Kate Berlant's entomophobia-treating tool
Actress and comedian Kate Berlant counts this bug magnifier among her very favorite things. Since she's "equally terrified and fascinated by insects," this little device allows her to "stare at them from a safe distance." She'll capture a spider, inspect it "for as long as I want, and then safely release it outside. It has a long handle, so I can open the window and flick it out. I don't have to be a murderer," she says. Berlant thinks it almost acts as a form of exposure therapy, where you can be "so close to the thing you fear, but observe it safely."
A do-it-all cashmere shawl
While growing up in India, Strategist contributor Diksha Basu learned to always keep a shawl on hand "for unexpected drops in temperature" or "too-cold settings on air conditioners." She prefers something that she can wear around her neck but also drape over her body, and after much trial and error, found that J.Crew's cashmere oversize wrap fits the bill best. "It's large but folds down to an easily portable size that fits in my regular over-the-shoulder purse," Basu says. "The cashmere is soft and light, almost like muslin, but in a way that seems like magic, it's not flimsy at all." She can wear the wrap over "whatever crumpled shirt I have on and get complimented" by the other parents in the school drop-off line, but "it also looks elegant draped across my shoulders while outdoor-dining later in the day."
The Strategist is designed to surface the most useful, expert recommendations for things to buy across the vast e-commerce landscape. Some of our latest conquests include the best acne treatments, rolling luggage, pillows for side sleepers, natural anxiety remedies, and bath towels. We update links when possible, but note that deals can expire and all prices are subject to change.