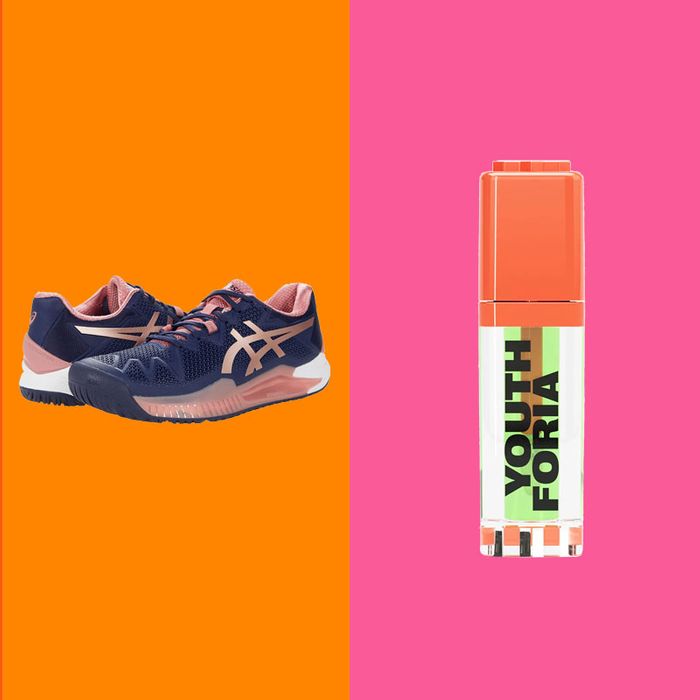 Photo-Illustration: The Strategist; Photos: Retailers
We write about hundreds of products each week. Here, in our version of the Sunday circular, we've plucked some of our recent favorites: expert-recommended essentials, life-changing stuff you didn't know you needed, newly launched gizmos, and very good deals we uncovered while trawling through the vast online-shopping universe — including a deeply discounted Dutch oven, doula-approved massage balls, and a reminder that time is arbitrary.
An actually blendable mineral sunscreen …
Chadner Navarro describes himself as a "man with stunning brown skin and a distinguished graying beard," which means that "every sunscreen must be scrutinized to the minutest detail to ensure that the formula not only provides sun protection but also complements my skin tone and features" and, critically, doesn't leave a white cast on his face or beard. Live Tinted's Hueguard hits all those marks — and leaves Navarro's skin looking so dewy and plump, "I have half a mind to ask the brand to make me their model."
… and a color-changing blush
Yes, this color-changing cheek oil starts the same green as Nickelodeon's slime. But according to Rio Viera-Newton, it creates an "Über-natural" blush that's easy to blend, thanks to the oil-based formula. "Without a question, it was the closest a makeup product had ever come to emulating my very own sun-kissed flush," she says, and it's become "a staple in my day-to-day, low-fuss makeup routine for meetings, getting lunch with friends, or just running a quick errand or two."
Relief from lower-back pain and pelvic tension
Carson Meyer, an Asheville-based doula and founder of the skin-care line C & the Moon, has attended over 100 births and shared all the pregnancy necessities her clients love (and that she's stocking up on now that she's expecting). One pick that even non-pregnant humans may want to try are these cork massage balls that Meyer used to release lower-back discomfort during her first trimester. "Using this ball up against a wall to massage and release my glutes was so helpful. I recommend these to my clients because it's something they can do at home," she says, adding, "I tell clients to use these to get to places they can't reach themselves. It's so important to be able to release the tension around the pelvis."
Middle-schoolers' preferred socks … for some reason
We talked with nearly 40 students on the eve of their first day back to school to find the coolest lunch boxes (from Pottery Barn, of all places), the best backpacks (Fjallraven's Kanken), and the most durable slip-on sneakers (Natives, of course). One sartorial surprise: Middle schoolers like long socks. "I really do not like no-show socks," says Tess, a seventh grader from Solana Beach. "I don't think that looks cute. I made my best friends switch over to long socks," like these Hanes that she wears with low-top Converse (another tween favorite for the first day).
A (temporary) cure for pet allergies