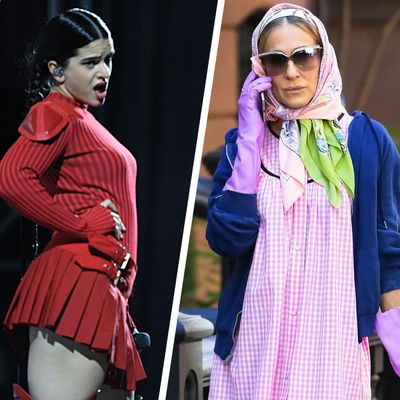 Photo-Illustration: The Strategist. Photos: ABC; Getty Images; HBO
If you're an adult who loves dressing up for Halloween, a large part of the appeal is the look of approval and delight on the faces of fellow partygoers when you see them recognize the reference behind your costume. Dressing up as a moment or figure in pop culture, whether it's Pizza Rat or the late Queen Elizabeth II, also makes for an easy conversation starter at Halloween parties — and if your costume is well executed, it might even win you a prize. So as we do every year, we've put together a list of the best pop-culture costume ideas of 2022 from the most glamorous of pregnant celebrities to everyone's favorite short-king chef, complete with the products you'll need to pull them off. We've even included a few group costumes, couples' costumes, and costumes for very cool kids. They're all meant to impress strangers, score points with your crush, and get you lots of candy. In that spirit, we suggest you do your best to avoid committing the No. 1 Halloween faux pas: Not every costume is for everyone, and that's okay.
Pearl from Pearl
A more recent addition to this year's pop-culture lexicon is the slasher flick Pearl. Mia Goth plays the title character, who dreams of being a star. (Do yourself a favor and turn up the volume on this video.) Her red dress (see the film's poster) is an obvious option, but the pitchfork-carrying, overalls-wearing Pearl is even more sinister (especially with lace ribbons in her hair).
Evelyn Wang from Everything Everywhere All at Once
In the multiverse-centric, Michelle Yeoh–starring Everything Everywhere All at Once, the hot-dog-finger scene is among the most memorable. So memorable, in fact, that studio A24's batch of hot-dog-finger gloves promptly sold out, came back in stock, and sold out again. For a cheaper option, you could achieve a similar look with these latex ones — and add the below blouse and cable-knit cardigan to channel Yeoh's Evelyn.
Carmy Berzatto from The Bear …
Looking to exude a surprisingly sexy vibe? Heard. Dress up as this year's most drooled-over sad boy, Carmy Berzatto from FX's The Bear, with a royal-blue chef's apron, a fitted white T-shirt, and a black pair of Birkenstock Tokios (the ones with the ankle strap). The actual shirt actor Jeremy Allen White wears in the show is from Merz B. Schwanen, but if you're not trying to spend $95 on your costume, there are plenty of cheaper options that'll give your biceps a similar flaunt. Want to make it even more obvious who you are? Carry some canned tomatoes with you (sauce-covered wad of cash optional).
… and chef Sydney Adamu
Or you could go as Carmy's talented sous-chef, Sydney. Her kitchen style is similarly understated but very cool. Again, you'll need a blue apron and a pair of Birkenstocks (this time in white), but what gives Ayo Edebiri's character the extra style edge are her extremely legit bandanas. This one, from episode seven where she ends up stabbing a co-worker in the butt, is from Japanese cult brand Kapital. But you could also get away with a $5 classic navy bandana.
The FBI's raid on Mar-a-Lago
Political costumes can be tricky, but if any moment from 2022's bizarre news cycle would make a good Halloween costume, it's the FBI's raid on Mar-a-Lago. It's also a pretty easy costume to assemble and works well for friends and couples. You'll need one or more file boxes, a handful of top-secret classified folders, and an FBI logo jacket or hat.
Janine Teagues from Abbott Elementary
Quinta Brunson's wildly popular sitcom Abbott Elementary is back for a second season with plenty of nerdy and impossibly optimistic asides from its main character, Janine Teagues. Whether you want to channel Janine on your own or gather a few friends to dress as her fellow faculty and staff members for an Abbott Elementary group costume, all you need are some fun but practical basics: a turtleneck, flowy skirt, and statement belt.
The soccer stars turned cannibals from Yellowjackets
If you haven't been following the (fictional) cannibalism craze, Yellowjackets follows a high-school soccer team whose plane crashes en route to a national tournament and is left to survive out in the cold Canadian wilderness. (It also features a star-studded cast that includes Melanie Lynskey, Juliette Lewis, and Christina Ricci as adult versions of the teens.) Pre-crash, the "Yellowjackets" uniform includes a classic varsity jacket, checkered soccer shorts, and tube socks. You could add a patch to make it unmistakable — and maybe a couple of makeshift icicles if you want to get a little gory. (Remember that traumatizing finale?)
Beyoncé's Renaissance
Beyoncé's Renaissance drop was an event — and the album's cover art perfectly matches the disco sounds heard on the tracks (reminiscent of Bianca Jagger's Lady Godiva cosplay at Studio 54). Although you probably don't have a horse on hand, you could carry around this silver pony — then add a Rapunzel-like golden wig and a rhinestone-encrusted ensemble (and maybe some silver strappy sandals) to seal the deal.
Rosalía chewing gum
It's the piece of gum that launched a thousand TikToks: Spanish singer Rosalía's dramatic chewing at the start of her "Bizcochito" concert routine quickly got the meme treatment. You could go all out by throwing on Wednesday Addams–style pigtails, but all you really need is a red turtleneck, matching tennis skirt, and thigh-high go-go boots. Oh, and please don't forget a pack of Extra.
Alien-tracking air dancers from Nope
Jordan Peele has the talent for making the banal scary. That includes air dancers — these even made an appearance at Nope's world premiere (please see how Keke Palmer posed with them). Though you might be tempted to dress up in Jupe's rodeo-ready, giddy-up getup or Emerald's coyote T-shirt, this (very) easy costume will be a hit with the real horror heads.
Eddie Munson from Stranger Things
Spoilers ahead: Stranger Things' fourth (and penultimate) season introduced us to Eddie Munson, the Dungeons and Dragons–obsessed, Metallica-playing super senior who (accidentally) stepped into the world of the Upside Down. He's the series' latest breakout star — our apologies to cold-brew-sipping Vecna. His "Chrissy, wake up" plea even became an admittedly catchy TikTok tune. You can imitate his metal look with a copycat Hellfire Club tee, denim vest, and, of course, a curly wig (hairspray not included).
Serena Williams bids a bedazzled farewell to tennis
In one of her final U.S. Open performances, Serena Williams sparkled — literally. The tennis star wore a star-covered Nike dress that matched with her daughter Olympia, who was wearing a similar 'fit as she cheered for her mom from the sidelines. Though the outfit is custom, a trusty bedazzler will give your workout dress some shine, too. And don't forget to coordinate your headband and cuff emblazoned with a Nike swoosh.
The cast of Fire Island group costume
If you can't stop reminiscing about your summer-house share in Cherry Grove, Halloween is the perfect night to relive the party. And if you've never been to Fire Island but look amazing in a tiny pair of swim trunks, this is also a good costume choice. All you need is a Speedo, a tank top, a gold chain, and four friends with just as much body confidence as you.
Don't
Worry
Darling
(choose
your
fighter)
There was a lot of worrying about what would happen when the cast of Don't Worry Darling gathered at the Venice Film Festival (here's a helpful timeline if you're lost on the drama). But Florence "Miss Flo" Pugh decidedly didn't seem worried ahead of the premiere. Missing out on an awkward press conference, Pugh arrived in Venice wearing a violet Valentino set with an Aperol spritz in hand. Copy her unbothered attitude with this satiny button-down (leave it unbuttoned), comfortable boxer-esque shorts, and bottle of Aperol liqueur.
Chris Pine
Chris Pine spent his time in Venice largely trying to avoid the spotlight. That didn't stop him from using a disposable camera to shoot candids of Pugh on the red carpet, acting as an eager paparazzo alongside co-star Nick Kroll. It won't take much to re-create Pine's Italian-grandfather style — you'll need the all-important Kodak camera for snapshots, and make sure your bow tie coordinates with your suit jacket (with this French cuff shirt). Then top it off with a shaggy wig.
Olivia Wilde
Make a dramatic entrance in an ensemble that mimics Olivia Wilde's sunshine-yellow evening dress, signature eyeliner, and crystal (read: rhinestone) parure. If you want to go Method, keep your distance from Pugh and Styles whenever photos are taken throughout the evening.
Harry Styles
There's so much fracas around this film that Harry Styles was actually accused of spitting on Pine. (Pine's rep issued a denial, while Styles joked about it onstage.) But Styles did look rather cheeky in the moment. If you'd like to dress up as the musician turned actor for the night, you just need a pointy-collared shirt like this vintage one, and a navy blazer from Zara.
Carrie Bradshaw from And Just Like That …
It might feel like Mr. Big's dramatic Peloton death happened forever ago, but much of the first season of And Just Like That… was indeed released in 2022. And one thing that remains very fresh in our minds is Carrie Bradshaw's smoking outfit (which she wears to keep the smell off her hands and hair) from the series' eighth episode. The actual outfit consists of a Batsheva housedress, Little-Edie-style kerchief, and lavender rubber gloves — almost all of which you can purchase on Amazon.
Bennifer 2.0
There are literally endless Bennifer 2.0 photographs you could use as inspiration for a couple's costume this Halloween. Want to go all out? Re-create J.Lo's serenade to Ben on their wedding day. Want to keep things chill in clothing you probably already own? Dress as the couple while out on a romantic coffee date. We know that Affleck is a devoted Dunkin' Donuts fan and Lopez likes to sip her coffee from a bejeweled Starbucks tumbler. Once you have those two props (we chose this Dunkin' dog toy because part of the profits go to charity), mix in a flannel and some white sneakers for Ben, don a pair of aviators for Jen, and call it a day.
Spotted lanternfly and bug zapper
Turn an expected ladybug into an unexpected spotted lantern fly. Just add another set of wings with a DIY combination of paint and cardboard. While this costume idea could work for an adult, as it did for Bowen Yang in a recent SNL bit, we think it will be especially cute on young kids. Not only will they stand out during the playground parade, but you can wryly follow along with a swatter during trick-or-treat. Intentionally or unintentionally, you've probably stepped on a spotted lantern fly this year. (And if you haven't, you should.) So the swatter is a practical prop, too, if you happen to see the bug flying on your neighbor's front lawn.
Jinkx Monsoon as Judy Garland on RuPaul's Drag Race All Stars
Longtime Drag Race fans know where they were when the phrase #IKilledJudyGarland flashed on the bottom of their screens. So it was a true full-circle moment when Jinkx Monsoon, the winner of the series' fifth season, dressed up as Judy Garland for the All Stars version of Snatch Game. All you really need to re-create this legendary moment in herstory is a red cocktail dress and a microphone to ask, "Is that my camera?" (Remember to look off into the distance when doing so.) But for a bit of bling, go with an engraved locket and glamorous rhinestone cuff.
Pregnant Rihanna
Amid a lot of difficult and depressing world news in 2022, there has also been joy, like when Rihanna announced her pregnancy at the end of January with a bare-belly photo shoot in the snow. Over the next several months, the singer proved that pregnancy can be glamorous, sexy, powerful, and cool, and she changed how the world looks at maternity clothing forever. There are many pregnant Rihanna outfits to choose from, but if you'd like an excuse to go out in your underwear, the see-through lingerie and patent-leather boots ensemble (here's a look-alike crystal choker for some sparkle) she wore to the Dior womenswear show in Paris is a solid choice. (White folks looking for an alternative to pregnant Rihanna should consider Chloë Sevigny, another fashion icon who showed up pregnant in this year's season of the Netflix series Russian Doll.)
Nathan Fielder in The Rehearsal
Sometimes you just need a last-minute lazy-guy costume. For many, dressing up like Nathan Fielder from his newest HBO social experiment The Rehearsal is just that. Plus, it's subtle enough to make even the most cynical Halloweeners smile. Simply throw on a crewneck sweatshirt and a laptop harness — we found the exact one from the show. And if you want to double down, you could go with three other people dressed as Angela, fake Nathan, and fake Angela.
The Rockford Peaches from A League of Their Own
Penny Marshall's classic A League of Their Own recently got the reboot treatment — or more like a reimagining, with completely new characters in the Rockford Peaches' lineup. Choose your favorite for a conversation-starter solo costume — just add a red lip to match the knee-high socks. Or go as the team, with everyone in your group chat putting on the cotton-candy-colored uniform.
Mei from Turning Red
For a kids' movie, Pixar's Turning Red deals with some pretty hefty issues: puberty and getting your first period, racial identity, mother-daughter relationships, and generational trauma, to name a few. So it's no surprise that the film meant so much to so many adults. Whether you're 40 or 14, dressing up as the main character, Mei, is easy. All you need is a red-panda tail and ears, Mei's wire-rim glasses, her red beanie, and a Tamagotchi to channel her transformation.
The Strategist is designed to surface the most useful, expert recommendations for things to buy across the vast e-commerce landscape. Some of our latest conquests include the best acne treatments, rolling luggage, pillows for side sleepers, natural anxiety remedies, and bath towels. We update links when possible, but note that deals can expire and all prices are subject to change.