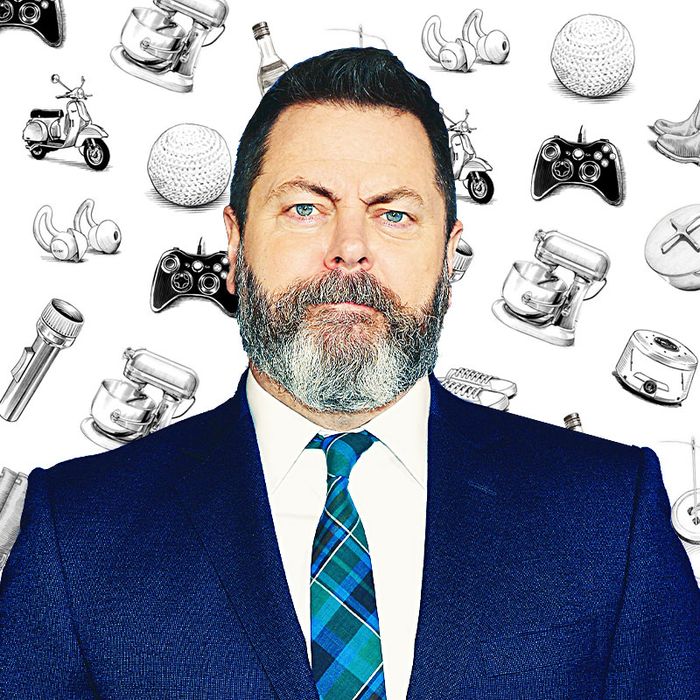 Photo-Illustration: The Strategist; Photo: Matt Winkelmeyer/Getty Images; Illustration: Joe McKendry
If you're like us, you've probably wondered what famous people add to their carts. Not the JAR brooch and Louis XV chair but the hair spray and the electric toothbrush. We asked Nick Offerman, who recently partnered with Lagavulin for its third limited release — Lagavulin Offerman Edition Charred Oak Cask 11-Year-Old Islay Single-Malt Scotch Whiskey — about his lavender beard oil, "crystal sharp" ruler, and the grill he has gifted to his dad and siblings.
This is the Pet Sounds album for boat builders. When you discover it, it is a mind-expanding whole new world of how small watercraft can be constructed with cedar strips and fiberglass. The author, Ted, and his partner, Joan Barrett, run Bear Mountain Boats out of Peterborough, Canada. I went and stayed with them and became a lifelong disciple once they taught me how to build canoes. They are like Obi-Wan Kenobi and Yoda put together.
I recommend turning to Canoecraft for inspiration in boat-building and in life. One of the greatest lessons from it is when Ted says, "You might look at a canoe and think, Well, there's no way I could ever build that. It's beautiful, curvaceous. It's like a cello." He says, "You can say the same thing about a Corvette: You look at a Corvette and think, I could never build that. But if I give you a wheel and an axle and say, 'Can you put these nuts on those bolts and attach the wheel to the axle?,' you say, 'Well, yeah.'" And he says, "Well, that's step one. And then you just have a bunch more steps. If you look at any challenging project one foot in front of the other, anything is achievable."
This is the latest offering of decades-long wit, satire, and empathy all packed into one handy IV line. I'm so excited that the world has another piece of short fiction from George. His last couple of books, while delightful, have veered away from his bread and butter: short story. This is a hilarious and poignant return to his criticism of corporate industrialism and the parts of us humans that make us susceptible to corporate industrialism, allowing consumerism to thrive. He does it with such love and patience for his fellow humans. He's so good at being utterly terrifying and charmingly hilarious at the same time. I wish that George Saunders was required reading in our educational system.
This is a groovy company out of Austin, Texas. They're completely organic and as wholesome and fragrant as you want your face- and body-products company to be. Megan [Mullally] and I fell in love with them years ago. She enjoys rubbing salves on herself even more than I do, which is saying something. But I rely mainly on this beard oil. It comes in a handy little spritzer. People think I'm some sort of crusty, tough lumberjack. I may be that on the surface somewhat, but I'm also the guy who doesn't mind his beard softened and smelling faintly of lavender.
I don't like shopping for things I don't need. But in the realm of music — especially music that's not Top 40 — I've always loved a boxed set. It allows me to nerd out. This was an incredible, substantial treat with a massive collection of live shows and alternate takes. Just goodies out the wazoo, to put it scientifically. I was listening to this at the woodshop, where a couple of young people work, too, and their ears perked up. It was very satisfying because I didn't have to go to them and say, "Hey, how do you like this band?" They came to me and said, "What is this we're listening to?" I was playing a remix of the song "Kamera." I was so excited to be able to say, "Oh, funny you should ask. It's the greatest American band of our lifetimes: Wilco." Also, it comes in all LPs that you can store digitally. So after, you can take the records and build a tiny house with all of the material in this boxed set. It's great music, beautiful poetry, and it's also a shelter in a pinch if things get really sticky.
I graduated from rough carpentry to fine woodwork around Y2K, coinciding with the resetting of all computers on the planet. It shifted my brain back to zero for a crystal-sharp new world seen in greater accuracy. I discovered what the demarcations between the inch lines on my tape measure meant. Instead of getting things to the nearest half- or quarter-inch, suddenly I was getting it down to the nearest 32nd- or 64th-inch. That's when I needed a high-quality machinist measuring ruler like this beauty. It's top of the line. The people building our spaceships are likely well versed with the Starrett line of measuring tools.
Thomas Lie-Nielsen runs a toolworks that he established in the '70s up in Maine. This is just an incredible American story. Start to finish, they make all of their fine woodworking tools on-site. They're great proof that you get what you pay for. You can buy cheaper planes, but they won't do nearly as nice of a job and you'll end up buying three of 'em in a lifetime of one of these. This will last forever. And it's just a joy to use. It fits in your hand like your favorite trumpet or cooking spoon. I've had mine for over 20 years.
This is also a very high-quality line of hand tools. Their spokeshave, especially, is beautifully made. It's a cast-iron head with cherry handles that fits very naturally into the hands. It has double-brass adjustable thumbscrews that let you dial in a blade for the perfect shaving. I hate to preach to the choir, but I think a lot of your readers will probably put their old spokeshaves up on eBay and turn to the new Veritas spokeshave.
I've always loved grilling. My dad is a master of the charcoal grill, and I aspire to his talent. I think I've gotten about halfway there. I also love smoking meats. It's so fun. It's a great way to curate mouthwatering, delectable treats. Across the board, the Big Green Egg is delightful, whether you're going for a full blaze, low and slow cooking, smoking meats, or cooking pizza — you name it. It's all in the engineering. It's ceramic with meticulously adjustable venting systems that allow you to maintain the ideal temperature. It's really an example of so many Japanese works of art — when they get things right, they really get them right. It's nice to look at; it's enjoyable to stand next to; it's a great listener if you have troubles you want to get off your chest. I love it so much that I got ones for my dad and my three siblings that all live within a block from him. We've all become Green Egg devotees.
A good friend of mine bought me my first Lagavulin in the '90s. It used to be much more obscure when I was younger. I never dreamed I would become associated with it through Parks and Recreation and eventually end up with my own edition of it. And now, I've somehow ended up with three. Stuart Morrison is the mad scientist behind all of the Offerman editions. He mixes things up while I'm allowed to stand at his elbow. I have the incredible privilege of helping decide the flavor profile. With this one, we tried to come up with the ultimate pairing experience with your favorite steak. It's formulated in American and European oak-cask barrels, which are shaved down and heavily recharred. (That's how we get the strongest flavor since often other beverages use barrels that are just cleaned and reused.) This gives you that extra-smoky, extra-charred oak flavor. If you give me this with a medium-rare rib eye seared with a perfect bark on the outside, I will shake your hand. I might even throw my arms around you.
The Strategist is designed to surface the most useful, expert recommendations for things to buy across the vast e-commerce landscape. Some of our latest conquests include the best acne treatments, rolling luggage, pillows for side sleepers, natural anxiety remedies, and bath towels. We update links when possible, but note that deals can expire and all prices are subject to change.