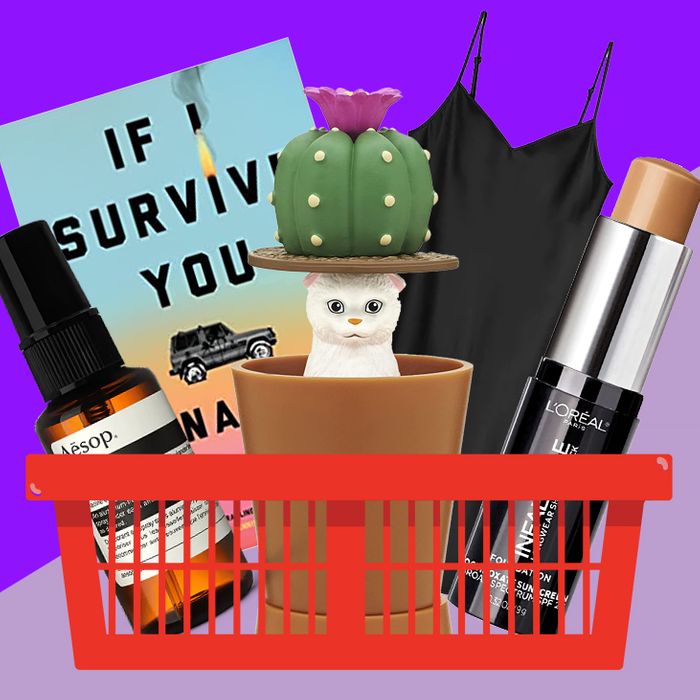 Photo-Illustration: The Strategist; Photos: Retailers
If you follow our monthly feature "Your Shopping Cart," you know we have some eerily good intel on what you all are buying, which led us to think that, as Strategist editors, we could turn the tables and highlight all the things we've been buying for ourselves. As you'll notice, it's both a blessing and a curse to be a Strategist editor; we're picky, but sometimes we just have to get on with it. (It's online-shopping expertise meets IRL needs.) Below, what we bought in October.
Emma Wartzman, kitchen-and-dining writer
I went to Uniqlo recently to grab a few winter essentials (HeatTech, a thin puffer for layering, socks). But as one does when wandering around that store, I found myself checking out with a little bonus. This sweet corduroy skirt caught my eye, so I snagged one in black, figuring it would be a great staple with tights and boots and all my sweaters. Indeed, when I wore it out last weekend, it proved pretty warm (for a miniskirt) and the perfect length (not too mini). A staple indeed.
I've been living in my apartment for about a year now, and one thing that has always driven me crazy is the lighting situation in my adjoined kitchen and dining-room area. It's all fairly harsh overhead (which is fine for the kitchen part), but I wanted something softer and nicer near the table for when we're eating dinner or just hanging out and don't need quite as much brightness. Enter this standing lamp, which is the perfect size for my little nook. It feels more substantial than a super-skinny one but doesn't have a protruding shade that would overwhelm the small space.
Lauren Ro, writer
I've always wanted a pair of 993s. They're the most dadlike New Balance while still looking a little technical. But I felt like Goldilocks trying to get the right size; after three attempts and so much time wasted, I finally did. They were sold out in my size in women's, so I started with a men's equivalent but overshot, and because a men's standard width is a women's wide, they were humongous. Then I realized I could buy a women's wide, which would get me closer to my actual size, but they were still a little loose. After I debated whether to keep a slightly too big pair of shoes, my size finally came back in stock in standard width, very briefly, so I jumped on them, even though I had yet to return the second pair. Word to the wise: These run large, so size down, and the wide is very wide, so unless you normally buy wide shoes, you shouldn't think they will fit. (They're sold out in stores, too, otherwise I would have gone in person.)
I recently broke a version of this (my husband's favorite cup) by knocking it off the kitchen counter and onto the tiled floor. It was only slightly cracked but enough to make it unusable. He had bought it at a Bed Bath & Beyond nearly ten years ago. The Jets are his favorite team, unfortunately for him, though they have been on an uncharacteristic winning streak, so it was of great sentimental value. I too came to love this giant tumbler (and team) over the years. Not only does it hold so much water, it keeps drinks icy cold thanks to its double-walled insulation. Magically, it doesn't sweat, either. It's like a Yeti without the price (or the looks, if we're being honest). Luckily, I was able to find one on Amazon. (Tervis makes a cup for every major sports team out there, if you're interested.) The patch isn't as cool as his original one (it was the Jets logo in the shape of an airplane), but the cup works just as well. This one even came with a lid. Apparently, these are a thing in the South, according to Chris Black. I agree they should be a thing everywhere.
Maxine Builder, editor
For the fifth year in a row, I've decided that now I will become a runner … again. (See: 2018, 2020, and 2021.) And for once I'm doing okay! I'm going on regularish runs outside, and I can jog on the treadmill for 20 minutes straight, even though I find it the most boring type of running. In an attempt to keep this streak going, I bought a Garmin Vivoactive on sale during Amazon's October Prime Day for just $187. (That's about $140 off the list price, for those keeping track.) The controls aren't the most intuitive (and I've accidentally deleted a couple of runs in trying to figure out how it all works), but I've really liked tracking my heart rate and seeing how well I sleep each night. I will also say my average mile time on the Garmin is a full 20 seconds faster than what I've been tracking on my iPhone — and I assure you nothing else has changed training-wise — so it has been worth it for the ego boost alone.
Tembe Denton-Hurst, writer
Photo: Publisher
This month was light on the book front; somehow I purchased only one. I picked up Jonathan Escoffery's If I Survive You, which has an interesting form. It's a novel in parts, meaning the chapters can stand alone but work together to create a complete story: an interesting meditation on being a first-generation immigrant, being Black but not in the way Americans are, and the shattered promise of the American Dream. It's juggling a lot of things at once, but there's a lot of levity (at times) in tragic situations, which made it a quick, enjoyable read.
One of my best friends had a birthday this month, so I got her this pottery kit from Sculpd that she'd asked for. The brand has all sorts of craft kits, all of which look like decent gifts for anyone who would enjoy making something with their hands. The pottery kit comes with about four pounds of air-dry clay, paint to make finished pieces waterproof, varnish (you can choose a glossy or matte finish), a pottery sponge, sculpting tools, paintbrushes, and a guide with instructions for 20 sample projects. I can't wait to see what she makes.
Kat Gillespie, writer
After sleeping on a just-squeaky-enough-to-be-annoying metal bed frame for an entire year, I finally got around to picking out this one from Wayfair as a replacement. I truly wish I'd done so earlier: It's so much more stable and way better looking, it's made from solid wood, and it arrived very promptly with thoughtful packaging and clear instructions. All the components aligned easily, and I was able to put the bed together single-handedly in about 45 minutes using the supplied Allen key, despite my fears that I would have to beg neighbors or TaskRabbits for help. I went with the dark "antique espresso" color to contrast with my lighter floorboards, and the finished product looks like it cost far more than $200. It'll do me well until the budget allows for a Floyd bed.
Photo: FX
This book came highly recommended by Strategist book influencer Tembe as well as a few other staffers. I finished it in a day — an easy, purely pleasurable reading experience that had me totally hooked despite my formerly negligible interest in its subject matter (aughts indie video games).
Tshepo Mokoena, senior editor
Aesop's woody, herby deodorant spray is already a Strategist regular spritzed on by Tallulah Willis, Chris Black, contributing editor Jessica Silvester, and more. Somehow, it's a signature scent for all of us. I was gifted a bottle, then picked up another, layering it over a simple antiperspirant roll-on (from Nivea or Dove). With a few sprays of Aesop's new, peppery Eidesis eau de parfum on top, I'm out the door.
This cleanser from the Ordinary has been a constant since my closest friends bought me the brand's hydration-heavy set (currently out of stock) as a gift years ago. It works really well as the first step in my double cleanse, melting makeup off on days when I've worn some. Although it is free of fragrance and foam, it can sting if you get it in your eyes — so be careful.
Ambar Pardilla, writer
After upgrading to a new iPhone (which was more of a process than I expected: Here's your reminder to back up your data whenever you have a second), I was excited to pick out a fresh case. Turns out that since the iPhone 14 is a relatively recent release, there aren't many nice-looking cases to choose from. (You could go the iPhone 13 route — it has similar dimensions — but the designs aren't much better.) I ultimately bought these two off Society6. I got the "tough" version of each, which features a silicone liner for accidents, and they feel surprisingly light to hold. They also have a glossy, collage-you'd-see-in-a-college-zine look that I really like.
Rachael Griffiths, writer
When Prime Day 2.0 happened earlier this month, I jumped on the chance to order a new electric toothbrush. My old one had broken a few months ago, and I was making do with a rather sad manual brush. I picked this one for two reasons: First, Oral-B toothbrushes have been recommended to us by experts time and again, and second, I like the little built-in pressure sensor. I'm weirdly nervous about overbrushing and getting told off by the dentist, so I appreciate the flash of red it emits when I'm being too severe. This brush is powerful, has three cleaning modes, comes with a replacement brush head, and lasts a good five days between charges. My little manual brush put in a good shift, but I won't be picking it up again.
I've tried a lot of cream contour products in my time — I have fair dry skin, so finding one that will blend out smoothly and not look too harsh has been a real struggle. When I got my makeup done professionally for my graduation earlier this year, my makeup artist swooped this Infallible stick under my cheekbones, and it blended so seamlessly I ordered one while sitting in the chair. Luckily, it wasn't just her expert application that made the product work so well: It's creamy yet lightweight, and the Honey shade is pale enough to look subtle but buildable for those days when I want to look snatched. It's on sale right now, but even when it's not, it's an absolute bargain.
Dominique Pariso, writer
My closet-organization skills leave a lot to be desired, so I decided to invest in this over-the-door shoe rack from Whitmore that former Strategist writer Lauren Levy evangelized about back in 2017. It has freed up a ton of floor space and was extremely easy to put together. Having all my shoes displayed and accessible has made getting dressed in the morning much simpler.
I also hit the Rent the Runway sample sale this month and picked up a slip skirt from Baacal, a plus-size brand I've had my eye on for a while for its selection of chic basics. A lot of other slip skirts I've tried are way too flimsy, but I was very impressed with the thickness of this material. While the brand doesn't currently have any skirts available online, it does offer a slip dress in a variety of colors that is similar to the skirt I bought. One note: Baacal uses numerical sizes 1, 2, 3, 4, and 5, with the largest equivalent to a 28 and the smallest equivalent to a 10.
Sam Daly, deals editor
I bought these tights for a Halloween costume, and they are surprisingly so nice and so soft! I always thought of myself as a black-tights-only person, but I find this sage pair is easy to incorporate into my fall wardrobe. The tights come in 24 colors.
I've been on the hunt for shapewear lately and finally gave in to the hype and bought these. They may look about ten sizes too small, but they're deceptively stretchy — you just have to believe! I bought a size L/XL, and they smooth everything out in a natural way without pinching.
Erin Schwartz, writer
Earlier this month, I went to Toy Tokyo in the East Village to buy a birthday gift, something to supplement a gift card plus an experiential present — even if it's small, I think it's nice to have something to open on your birthday. The store has a big wall of blind-box toys, and this one caught my eye. You twist the bottom of the planter to make a cat pop up, which seemed like a good pick for my friend Elizaveta, who has a scholarly interest in animatronics. I am generally hesitant to buy plastic tchotchkes because I don't want them to end up in a landfill, but the edge case is a tchotchke delightful enough that you will look at it and smile forever, which I think this is.
I've tried to include mostly relatable objects in Strat Hauls. This one is not relatable: I spent $450 on the sickest Italian lamp. It's like an inverted floor lamp that uses a heavy iron ball to hold itself taut vertically without a pole. I think it is the cleverest design in the world. It's vintage, so it's sold out from the store where I bought it, but there are a couple floating around on eBay and at the Canadian boutique Reixue. You'll get the best deal buying from the EU, though, so check on resale sites like Pamono or IntOndo first.
Kitty Guo, junior writer
During a trip upstate earlier this month, I stopped at a quirky artisanal home-goods store (I'm a cliché, I know) and discovered a range of adorable stationery from the Saugerties-based letterpress studio Quick Brown Fox. In addition to cards, stickers, and notebooks, brand founder Kate Murray offers a line of four candles named for ink-plate colors: Cyan, Magenta, Yellow, and Black. After sniffing all of them, I settled on Magenta, which features a fruit-forward fragrance with notes of apple, patchouli, and anise. It's the cherry on top for a long, luxurious bubble bath.
My digestive difficulties have been thoroughly documented on this website, and though the Stoolie assists in getting things going when I'm physically on the can, these Plantwise probiotics have really helped me turn a corner on maintenance and regularity. I initially received them via PR, but after I finished my first bottle, I rushed to stock up on my own accord. These days, I'll sometimes get the urge to go right when I wake up — that has never happened to me before. I don't know what magic ingredient Plantwise has stumbled upon, but whatever it is, my gut flora are loving it.
Winnie Yang, senior editor
Partway through my second trimester, I started stressing about finding a pillow to support side sleeping through the rest of my pregnancy. The pillows I used for my previous pregnancies had been thoroughly dissatisfying. The C-shaped pillow I tried with my first was unsightly, unwieldy, and felt cheap; I hated how clammy and pilly the jersey blend pillowcase felt as the weeks wore on. The fort I constructed from regular-size pillows for my second pregnancy would constantly shift in the night, and I would inevitably have to retrieve one or two that had fallen off the bed. So this time, I decided to get a nice body pillow that would be useful after pregnancy, and I liked that Parachute sold a linen pillowcase for it as well. This pillow is exactly what I had hoped for: soft, lofty, airy, and cooling when I feel overly warm; warm and comforting when I feel a little cold; and easy to maneuver into place. And I don't hate how it looks on the bed during the day, either.
Over the past month, we've noticed a slick patch in the hair of my daughter's violin bow that was getting in the way of producing a consistently clear tone. Her teacher thought it was worth buying an inexpensive one instead of requesting a replacement for the wooden one we've been renting from an instrument dealer. She mentioned that this carbon-fiber bow she found on Amazon turned out to be surprisingly okay, and she was right: It's decently balanced and plays well enough once it's all rosined up. I got a purple one in hopes that it will cut down on all the complaining about practicing.
Jeremy Rellosa, writer
I was looking for a simple workwear-inspired jacket for fall, and had been eyeing this one from Rhythm, an Aussie surf brand, for a few weeks before finally snagging it on sale. It's super-cozy: It has a sherpa fleece body lining, and the sleeve lining has a fine weave that's soft on my arms if I wear it over a T-shirt. I've been throwing it on after cold dawn-patrol surf sessions at Rockaway, and it feels like I'm wrapped in a warm blanket. I normally wear a medium in most tops, but I sized down and got it in small, and it fits perfectly.
I was sick with a stomach bug for a few days this month, and this was one of the only things I could keep down. The ginger helped settle my stomach, and mango is my favorite fruit, so this quickly became my favorite snack even after I was sick. I recently restocked with a one-pound bag.
Arielle Avila, writer
I did plenty of thrifting this month, but my favorite purchase was this Uniqlo jacket I picked up well under its original price. After wearing it for almost a month, I can say I gladly would have paid more for it. It fits with enough room to layer thicker garments underneath, and it's much warmer than expected. I wore it over a lightweight sweater on a brisk 40-degree morning and was cozy the entire time.
I purchased this not once but twice this month. The first was for my closet, where it now holds all my bags and backpacks, freeing up space for my sweaters and pants below. The second was for our water-heater closet for all of our board games, cleaning supplies, and other knickknacks. I can't speak to how easy it is to set up (I employed my boyfriend for that), but it seems incredibly sturdy and didn't require drilling any holes into the walls.
Kayleen Schaefer, senior editor
When Catherine Fish, Strategist vice-president of e-commerce business development and partnerships, said of Dr. Bronner's Organic Magic Balm, "I'm falling in love with this product," I bought some to replace my near-empty tin of Nivea Cream. Catherine was right. This balm is worth keeping close, especially now that skin-drying weather is here. It fills my only requirement for a moisturizer: that it work without my being aware that it's even on. It's thick and soothing but also unscented and not sticky, and it absorbs instantly. I've been using it on my face, hands, and feet so far, but Catherine says it's also great on chapped lips and rough cuticles, and I'm sure I'll get there eventually. Experimenting with this balm may be the only good thing about a long winter.
After reading this ode to cocktail toothpicks, I sent the jaunty olive-topped set as a small gift to a martini-loving couple who have had a lot to say cheers to lately — a wedding anniversary and a new home. They responded that cocktail hour started as soon as they opened the package.
Jordan McMahon, tech writer
Earlier this month, I swapped my pocketable iPhone 12 Mini for a significantly larger iPhone 14 Pro Max in hopes of doing more reading in my favorite read-it-later app, Matter, and the larger screen has made that easier by showing more text and making it less frustrating to highlight large sections. It's like having my Kindle and my iPad Mini all in one device, and its nearly all-day battery life ensures that I've always got something to read.
I have long been a fan of Nomad's braided Lightning cable, but lately I've been trying to take more advantage of my iPhone's MagSafe feature, which lets me magnetically attach and easily remove accessories like a battery pack or PopSocket to the back of my phone. It also works for wireless charging, and Anker's MagSafe charger is a fairly cheap puck that can charge my phone overnight without my having to plug anything in. Plus, the snap when it connects to my phone is never not satisfying.
The Strategist is designed to surface the most useful, expert recommendations for things to buy across the vast e-commerce landscape. Some of our latest conquests include the best acne treatments, rolling luggage, pillows for side sleepers, natural anxiety remedies, and bath towels. We update links when possible, but note that deals can expire and all prices are subject to change.