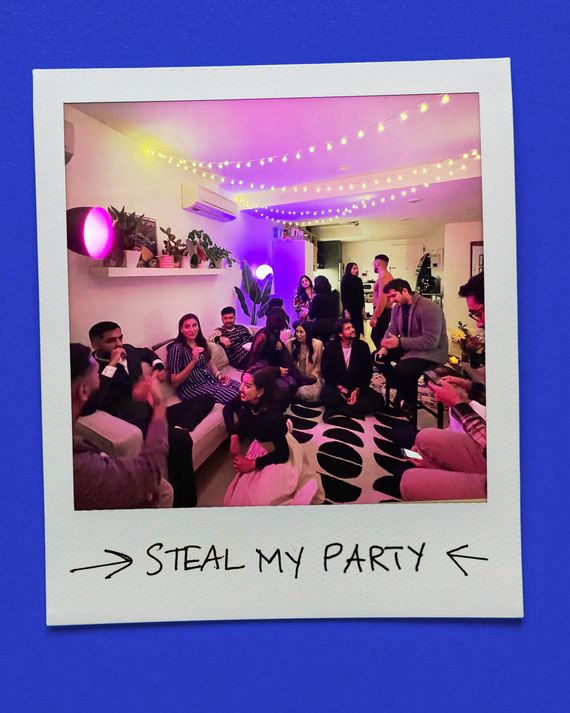 Photo-Illustration: The Strategist; Photo: Ali Reza Malik
Hosting can be a lot, especially when part of the game is having the soirée you put together look effortless. In this series, veteran party-throwers tell us how they pull off their highly specific, flawlessly executed gatherings. This installment comes from Brooklyn-based recipe developer Mehreen Karim, who tells how she pulls off a Friendsgiving dinner for almost more people than can fit in her apartment.
Last year, recipe developer Mehreen Karim and her husband, Rais, stuffed 25 guests into their one-bedroom apartment for a Friendsgiving feast with a menu that was playful and nostalgic — and didn't give anyone mashed-potato-and-gravy fatigue. "The main dish is a vat of my creamy mac and cheese made with a can of cream-of-mushroom soup," she says. "In my brain, that's the turkey."
Pulling off such a big meal requires some outsourcing to friends and picking up ready-made items from local shops, as well as serious planning, which is where Karim's expertise really comes in. The key is a busy week leading up to the event — during which she crosses off items from a master to-do list — so that, on the day of, she can stick to a detailed timeline while still being able to enjoy time with friends.
This level of forethought makes accommodating last-minute additions a breeze and, in the spirit of the holiday, also makes sure everyone leaves full (and maybe even with a takeout container of leftovers). "I just want to feed people while they're having a good time and make them feel really grateful to be in this specific space tonight," she says.
Two weeks before: Plan the menu
Once I have my RSVPs, I'm able to fully set a plan for myself in terms of what I definitely need to have and what I maybe don't need to have. I'm looking at my list and deciding how big my grazing board (basically an elaborate spread of my favorite snacks set out at the start of the party) needs to be, what dinner will consist of, and what I want friends to bring.
I also plan out how I'm going to rearrange my apartment. You don't want there to be uncomfortable congestion in a one-bedroom, but thankfully, we have a long open-kitchen-to-living-room situation. I actually draw out a layout, wanting to create as much floor space as possible for people to sit.
The grazing board is set up on my counter-height table at the far end of the room so that when people enter, they're not immediately getting food, but meeting people instead. It can hold whatever you want, but it should look abundant, a mix of fresh vegetables like radish, cucumbers, and carrots, as well as crackers, fresh bread (get a friend to pick this up day of from any local bakery, like Nick + Sons), and cheeses like cheddar, pepper jack, and feta. I'm really inspired by how Edouard Massih of Edy's Grocer in Greenpoint does his grazing boards, so last year I went Mediterranean-inspired and got things from his shop, too: muhammara, labneh, dolmades.
We don't drink in my house, so I make sure to have nonalcoholic drinks to set out. Ghia is my go-to because I can add sparkling juices and fruit juices, but it can also be more sophisticated and deeper on its own.
For the dinner portion, I'm happy to outsource the salad to a friend because that's a lot of prepwork when I'm already cutting vegetables for the grazing board. The main dish is the mac and cheese. The rest of the menu consists of meatballs and Impossible meatballs with a spiced-cranberry glaze using jarred cranberry sauce, my croissant stuffing, my South Asian twist on handheld chicken pot pies made with warm spices and puff pastry, and my cookie-butter pumpkin cheesecake with chocolate ganache and pomegranate on top. I have people bring more dessert options, too. I want them to feel creative, but I'm also controlling, so I'm like, "As long as it's not cheesecake, or too creamy, or too chocolate-heavy, that's fine."
One week before: Buy seasonal décor
The days leading up are actually busier than the day before or day of, because that's when I do most of the work to prevent myself from getting too overwhelmed. I make a playlist and purchase any décor items. I like a mix of pretty and romantic things, like bulb string lights for the seating area, but also cheesy things like a sign that says "Grateful, thankful, blessed," like a "Happy birthday" sign at an 8-year-old's birthday party.
I buy all the disposables I'll need, too: plates, cutlery, cups, napkins (if you have so many people over that you need disposables, it's worthwhile to get a nice-looking and durable set), skewers for the meatballs, and little takeout boxes to send people home with leftovers.
I also do a big grocery shop and make the things I'm able to freeze: the meatballs and the pot-pie pastries. I lay them on a sheet tray first so they retain their shape and then transfer them into gallon-size bags.
Three days before: Final shop
A few days ahead, I shop for all the things I haven't already bought, which mostly means the foods that will go on the grazing board. So that's when I make my trip to Edy's and buy cheese and crackers and any produce that I want to be as fresh as possible.
I also make the cranberry glaze for the meatballs and my cheesecake, both of which store really nicely in the fridge.
Two days before: Rearrange the apartment
Two days before, I rearrange the apartment to make sure it all works. I think it's a great idea to ask a few friends to bring an extra rug or some extra floor cushions if you can. It makes a big difference. I even think about where I want the trash situated. Being really clear about where people can dispose of things is important. I put up the decorations, too.
The day before: Map out the tables
I map out the grazing board, as well. It can be on top of big cutting boards, or you can lay down a giant sheet of parchment that covers the whole table. Either way, I pull out all the bowls, platters, and serveware I'll need. I think sizing can be difficult sometimes, and I want to know how everything is going to look next to one another.
Same goes for the main buffet table. I set out the serving stuff we'll need there, as well as the plates and silverware. I like mixing in some cake stands to display food on. It just looks much more dynamic instead of having everything on one flat plane. And it creates more room.
The night before: Meal prep
I prep the veggies for the grazing board, and at the same time chop my herbs and aromatics for the stuffing. I break apart chunks of croissant and bread for the stuffing so they'll get stale by the next day, grate all the cheese for the mac and cheese, and add the finishing touches — the ganache and the pomegranate — to the cheesecake.
Before I go to bed, I make a timeline for the next day of what's going in the oven when, and how long things take to cook and reheat. A lot of what I'm planning around is the mac and cheese and the stuffing. I want to make sure that I have enough time to actually host and be a part of the party. I only want to be actively cooking for maximum an hour or so.
3 p.m.: Helpers arrive
I ask two friends to come early to help — anything more than two people and it just turns into a pre-party. I ask one of them to bring fresh bread for the grazing board, and their main job is to arrange that whole setup, minus anything that should go out at the last minute. They do the drinks table, too.
Meanwhile, Rais is making sure the playlist runs smoothly and setting up the lights. In addition to the string lights, we have these Philips Hue lights. To me, that's the star of the evening, being able to change the colors as the night goes on. I like to change them in gradients, so they're lighter when people first get there, and then they dim down and change color as the sun sets, and by the end of the night it's darker.
I add the finishing touches, too. I put on a high-quality fireplace video on YouTube, which goes the whole night. I write a note on a small chalkboard that gets set out on the main food table — something like "We love you. We're thankful for you. Love, Reenie and Rais." I like that because if people come late, or while we're preoccupied, they're able to experience our presence without us saying anything to them right away.
Rais is an illustrator, so I put out one of his sketchbooks so people can write or draw. It's just a nice activity to have. Lo and behold, last year one of my oldest friends from college was there, and he didn't know anybody, and at some point he just sat back and illustrated the entire party.
3:30 p.m.: Preheat the oven
By 3:30 p.m., the oven is preheating. The pot-pie pastries go first, straight from the freezer. That takes about 40 minutes or so because my oven is small and I have to do a few rounds. Then the meatballs go on sheet trays and get cooked. Those take about 15 minutes, all at the same time, because they can be laid out close together.
While that's happening, I start on the stuffing. The stuffing is parcooked on the stove before it gets crisped up on top in the oven right before serving. My goal for all those dishes is to have them to the side, ready to rewarm right before dinner, which is why it's really important to have clear counter space and all the prep happening in the days before. Because if not, then your counters are just completely shot. The only thing I make during the party is the mac and cheese.
5 p.m.: Guests arrive
People start to trickle in at 5 p.m., with the majority of guests there by 6, so I'm able to spend the first part greeting, chatting, sitting.
6:30 p.m.: Mac-and-cheese time
I go in on the mac and cheese by 6:30. I disappear for a little bit, but it really is one long room, so it's easy for friends to come hang out and stand with me. The mac and cheese is such a low lift, it doesn't require too much measuring or focus.
While I'm making the mac and cheese, I set the oven to a low temperature — around 200 degrees — just to reheat the pot pie and the meatballs. When those come out, someone helps plate them on platters I've already identified, puts skewers in the meatballs, tents them in foil, and brings them to the table, along with the cranberry sauce. The things people bring, like the salad, are already out there.
Then the mac and cheese and the stuffing go in at the same time, under the broiler, for just about ten minutes, and that's the last step.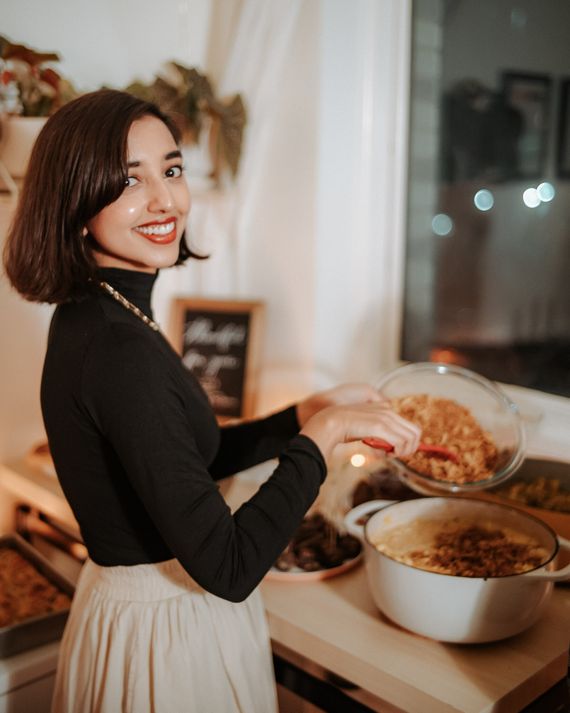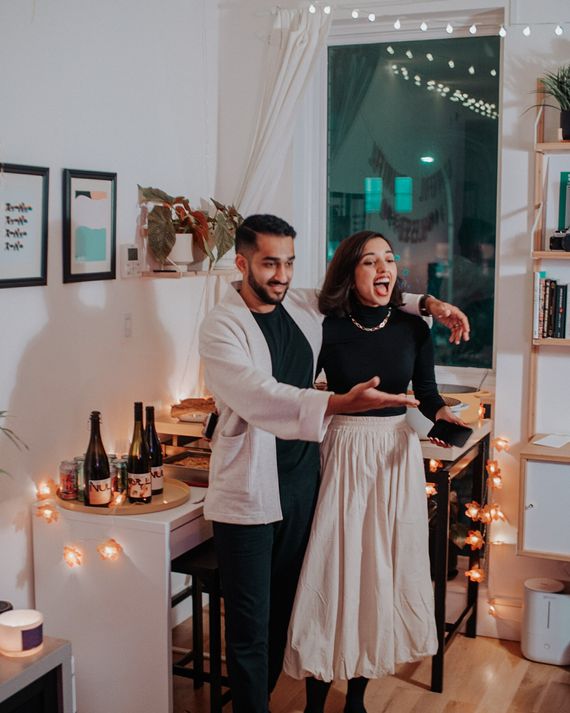 7:30: Dinner
Once all the food is out, I take a moment to get everyone's attention. I thank them for coming, thank the people who brought things, and describe the dishes. People kind of make a line and go up and get food and then go back to where they were sitting.
At some point in the evening, it feels like the appropriate dessert time. I clear the dinner dishes and bring those out — my cheesecake, and whatever anybody else brought. Rais makes a big pot of chai for people who want that. It's off the cuff, but you want to bring about one and a half teabags and a half-cup of water per person to a boil and then down to a simmer. Then you add milk until the color resembles a light-golden biscuit, then keep it going on low heat until it's reduced by about 20 percent and is more of a light amber brown.
It's all very casual. Some people head out, some people keep talking and hanging. The playlist evolves from chill into more fun songs. The lucky stragglers get leftovers, packed away into those to-go boxes. Last year the energy was quite high, I would say, until midnight, at which point I was trying to change into my pajamas and sleep.
The Strategist is designed to surface the most useful, expert recommendations for things to buy across the vast e-commerce landscape. Some of our latest conquests include the best acne treatments, rolling luggage, pillows for side sleepers, natural anxiety remedies, and bath towels. We update links when possible, but note that deals can expire and all prices are subject to change.