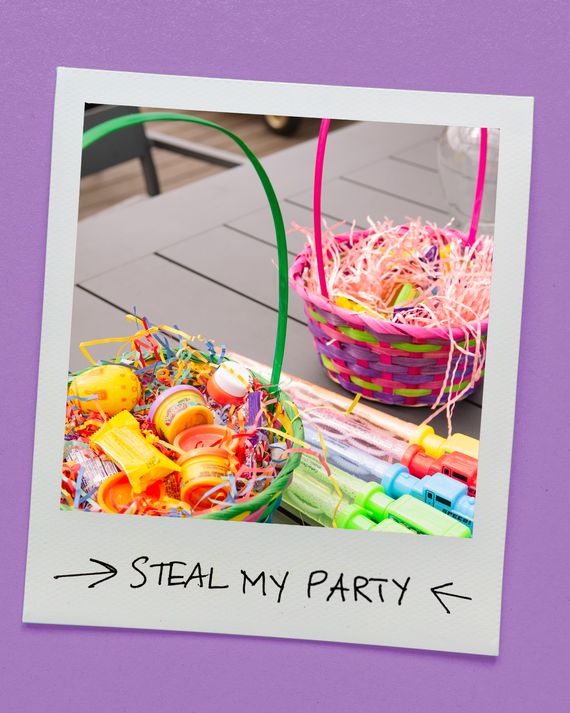 Photo-Illustration: The Strategist; Photo: CeCe Olisa
Hosting can be a lot, especially when part of the game is having the soirée you put together look effortless. In this series, veteran party throwers tell us how they pull off their highly specific, flawlessly executed gatherings. This installment comes from CeCe Olisa, founder of Cocoa by CeCe, who walks us through how she plans and executes a kid-friendly Easter brunch party that's fun for all her guests.
CeCe Olisa and her closest girlfriends had their first Easter "Bunny Brunch" in 2013 at the West Village restaurant Revel. They returned year after year, often decorating the space themselves with flowers or Easter eggs to make it feel like their own. A decade later, the restaurant's no longer in business, but the Bunny Brunch is still going. Olisa now hosts the group in her building's common outdoor space, where the kids can run around and the adults can kick back.
Over the years, Olisa has mastered bringing what she calls "the hope and potential of spring" to her brunches using symbolic touches (a tablescape with flowers that have hidden meanings) and new traditions, like a mini Easter-egg hunt for the children now that they're older. Below, see how Olisa has made an already special holiday that much more memorable for both the adults and kids involved.
A week before: Assess the tableware and plan the menu
The first thing I do is take stock of my dishes and table linens. I reuse serving plates I've collected over the years or sometimes leftover paper plates from the previous year. I also assess my tea towels, which I put at every place setting. I want people to be comfortable making a mess, and it sets a playful tone for the tablescape. I make sure they complement the plates, but I'm not afraid to mix patterns. If my tea towels are too stained or I'm low on plates, I make a trip to a T.J. Maxx or Marshalls. They have lots of discounted party supplies that are more offbeat than, say, Target or Party City. If I'm not able to find what I'm looking for at those physical stores, then I'll buy a set of plasticware from Amazon.
Instead of doing regular plastic cups or glasses, I use these Capri Sun–like pouches. It's fun for both the kids and adults, and we don't have to worry about anything breaking. I order 100 — that's more than enough, but guests can use multiples and running out won't be an issue. If I have extras, I use them throughout the year on beach and pool days.
I also do menu planning about a week out. I decide how I want to invest my time that day. Typically, I choose something to order, like a Wolferman's Bakery Cheer gift basket that comes complete with jams; something I can prep the night before and pop in the oven on the day of, like my highly requested egg soufflé; and then a dish or two I might have to stand over, like perfect crispy bacon and breakfast sausage. My friends also bring stuff, so we'll text about who's bringing a cake, drinks, and any other snacks.
Three days before: Grocery shop
I do a Costco run specifically for eggs because I need a big carton. Between dyeing eggs for the Easter-egg hunt and my egg souffle, I'll use them all. While I'm there, I pick up meat, garnishes, and orange juice and make an order for a couple of bottles of bubbles. Even though I tell guests they can bring whatever they prefer to drink, I offer some of my favorites. Usually, I get a bottle of Maison Marcel Sparking Hearts, McBride Sisters Black Girl Magic Sparkling Brut, and Ruinart Champagne. The Ruinart is a splurge, but it's become a favorite.
Two days before: Flowers and a Target run
I incorporate fresh flowers into my tablescape, so I make an early-morning trip to the Flower District on the Friday before Easter. My favorite shop is JRose. It's one of the smaller ones, but it has a beautiful selection and the guys in there are so helpful and patient. I have an intention for the new season in mind when buying flowers, so I research some of their meanings ahead of time or ask the owners for recommendations. I usually end up with sunflowers because they represent happiness, a rose or peony because they both represent love and beauty, and then a flower that's the dealer's choice.
Afterward, I go to Target for all the kids' stuff. Sometimes it's a little picked over since I'm going a couple of days out, but I always find what I need. I like making the Easter baskets its own experience, so I buy paper grass to fill the bottom, Reese's chocolate eggs, and Play-Doh. The Easter-egg hunt is kind of secondary. I buy plastic eggs, which get filled with cash or jelly beans. There's usually an ATM at Target, so I'll pull cash out for the eggs and ask a cashier to break the bills into dollar and five-dollar bills.
The night before: Egg decorating and meal prepping


Decorating eggs was a core memory for me growing up, so I like doing that for the kids in my life. In past years, I've had a friend and her daughter come over to paint eggs, and last year I gave two of my girlfriends the night off and did a craft night with their kids. For the egg dyeing, I focus mainly on what the kids would enjoy, rather than the aesthetic. Last year, I got a tie-dye kit that was a lot of fun, and the year before that, we did a speckled metallic kit.
After the Easter eggs are done and the kids have gone home, I prep the egg soufflé. I mix all the ingredients in a bowl, cover it, and leave it in the fridge for the next day. It's very simple and super-puffy since it has cottage cheese in it. Sometimes I make two batches — one with chiles and one without — for adults and kids. If I need another dish, I whip up rose-flavored overnight oats with Greek yogurt, rose syrup, and edible roses. It's extremely easy to throw together last minute, and everyone loves it. I also place all the bubbles in the fridge so they've cooled down by the next day.
Day of


6 a.m.: Early prep
I'm an early riser and wake up around 5 a.m. to start prep work. (And because it's Easter, I attend a morning church service at 8 a.m.) Basically, I place the décor — tea towels, plates, vases — into a cart to go outside later in the day. Next, I take out any meat from the freezer to defrost and move the egg soufflé from the mixing bowl to the baking dish and start a load of dishes so they're washed when I get back from church. Lastly, I snip the flower stems to make sure they're getting water all day.
11 a.m.: Cooking and baking
When I get back from church, I put the egg soufflé in the oven and start working on the breakfast-sausage patties. This takes up to two hours because I make it from scratch. First, I chop fresh sage, thyme, and scallions. Then, I mix that and a bunch of seasonings into ground pork. Next, I make little patties and place them on wax paper. To give my patties more flavor, I fry some bacon strips in my Le Creuset and use the fat to cook my patties (adding some olive oil when needed). Because the cooking is more meticulous and takes a lot of my attention, I have a friend on standby in case I forget anything. Usually, I forget the ice, so I have them pick some up before coming over to help.
11:30 a.m.: Decorating


Once my friend's over and I have that extra set of hands, she brings the cart I prepared earlier down to the patio. While I'm cooking, she lays out the tablescapes, arranges the drink station with the pouches and garnishes, sets up the Easter baskets, and fills the plastic Easter eggs. She hides the eggs right before guests arrive. Since I do live in an apartment building and other residents and their kids or pets are in and out of the area, we want to make sure many eggs are still there when the kids arrive.
1:30 p.m.: Guests arrive


My friends usually go to service around 11 a.m., so they start arriving around 1:30 p.m. Ideally, I'd like to be completely done with the hot foods at this time and bringing them down to the patio. I turn on an upbeat playlist on my Bluetooth speaker, greet everyone, and make sure everybody knows one another. This is especially important with any kids who haven't been introduced. If I'm running behind on cooking, guests can make cocktails while I finish up and bring food down to the table.
2 p.m.: Easter-egg hunt and prayer
Shortly after everyone arrives, we'll do a quick toast and prayer of gratitude. It's nice having people in the city with you on a special day, so I take a moment to acknowledge that. After, we start the Easter-egg hunt. The kids are ready with lots of energy, so we let them run around and do their thing while my girlfriends and I laugh, take pictures, and sip cocktails.
2:30 p.m.: Brunch
It usually takes about 30 minutes for the kids to find all the eggs. Now it's finally time to eat. Everything should be fully set up, so I can relax and enjoy the time with my loved ones.
3:30 p.m.: Photos and flower bouquets


Once we're done eating, we usually take lots of photos with our phones or the Instax cameras I have out on the table. The photos are a nice memory my friends can take home after the party. I sometimes also offer my friends a DIY take-home bouquet using the floral arrangements I have on the tables. It's another activity that really doesn't require any extra steps. And for kids, I lay out some bubble wands they can enjoy.
5 p.m.: Clean up


Things start to wind down around 4:30 to 5 p.m. This is where the cart comes in handy again. One thing I've learned over the years is to put a box of trash bags on the cart on the way down. Throughout the day, my friends are good about tossing stuff into one of the trash bags every hour or so, so there isn't typically too much overwhelming mess at the end of the party. And there usually aren't a lot of leftovers, either. I'll take any bags down directly to the trash using the cart. Afterward, I just have to bring up my vintage dishes and things that need to be washed and stored until next year's Bunny Brunch.
The Strategist is designed to surface the most useful, expert recommendations for things to buy across the vast e-commerce landscape. Some of our latest conquests include the best acne treatments, rolling luggage, pillows for side sleepers, natural anxiety remedies, and bath towels. We update links when possible, but note that deals can expire and all prices are subject to change.