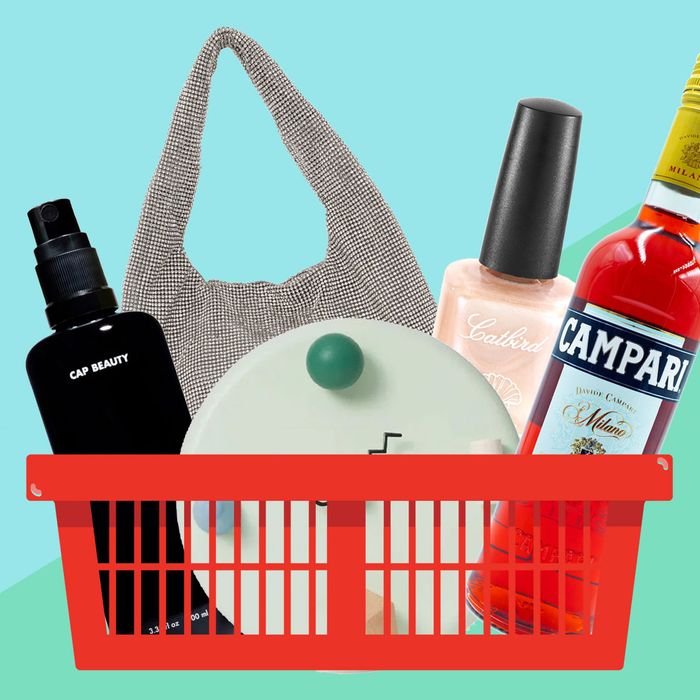 Photo-Illustration: The Strategist; Photos: Retailers
If you follow our monthly feature "Your Shopping Cart," you know we have some eerily good intel on what you all are buying, which led us to think that, as Strategist editors, we could turn the tables and highlight all the things we've been buying for ourselves. As you'll notice, it's both a blessing and a curse to be a Strategist editor; we're picky, but sometimes we just have to get on with it. (It's online-shopping expertise meets IRL needs.) Below, what we bought in March.
Kelsie Schrader, managing editor
My hair has not been responding well to my usual hair products lately, and I wanted to see if sulfate-free products would make a difference, so I decided to try our best overall conditioner, which is free of sulfates (and lots of other stuff). I started using it last month and was immediately impressed by how much shinier and softer my hair was after one wash, but I wanted to wait to write about it until I'd used it longer in case the early results were a fluke. They were not. I went back home for a few days this month and didn't bother bringing any conditioner with me, figuring I'd use whatever my mom had, and there was a major difference after just one not-Verb conditioning: My curls were less shiny, less soft, and less defined. I also have far fewer bad hair days with Verb, which is big for my frizz-prone curls. I wouldn't normally spend this much on hair stuff, but I will certainly re-up when this bottle runs out.
Arielle Avila, writer
A highlight of my month was seeing the New York Botanical Garden's otherworldly orchid show. (I highly recommend attending one of their after-hours Orchid Nights while you still can.) Almost as delightful was the garden's gift shop. Before heading into the conservatory, my boyfriend and I stopped in and couldn't help picking up a couple of souvenirs. His pick was this mushroom mug, which I've used for my morning coffee nearly every day since.
I bought this mini "decomposition" book despite having stacks of half-filled-out journals on my nightstand. This one's made with postconsumer recycled material, I justified, and it's small enough to carry around in most of my bags for those moments when I think inspiration might strike.
Maxine Builder, editor
I want to be a stronger swimmer (and finally conquer my lifelong fear of getting water up my nose), so I signed up for private swim lessons at my local YMCA. And though I have a whole basket full of swimsuits, my collection of stringy bikinis and high-cut one-pieces weren't right for swimming laps. So I grabbed this suit on my last Target run. It's cute but still appropriate for family swim, stays in place while I'm flapping around in the water, and feels much more high quality than the price would suggest. I still have a couple weeks of lessons left to learn how to do a flip turn, so wish me and my nostrils luck.
Emma Wartzman, kitchen and dining writer
I have very weak and thin nails that tend to break if they grow too long. Gel manicures only exacerbate this problem so they're totally off the table. And while I love regular nail polish, I personally can't stand the moment I see even one small chip, so I reserve solid colors for special occasions (and my toes). Enter: Nail Glow, which I found out about on this very site in an old article from 2017. I decided to splurge on the relatively expensive bottle, and I'm incredibly glad I did. It's clear with the smallest hint of pink to give your nails a healthy-looking glow. It lasts a couple of weeks and you barely notice when it starts to peel off. I've taken it to the nail salon once, but it's subtle enough to look good even when I apply it myself. I already love it so much that I can promise you I'll rebuy when this bottle runs out.
In an attempt to will in spring and summer, I picked up a bottle of Campari at my neighborhood wine shop the other day and have been sipping on spritzes with a generous squeeze of Meyer-lemon juice from the annual package of California fruit my mom sends me every winter.
Jen Trolio, senior editor
One of my daughters is endlessly interested in rocks and gems, so for her birthday I bought this box of break-your-own Moroccan geodes to hand out as party favors. Did I feel a little guilty sending a bunch of 5-year-olds home with a project that required the use of a hammer? Yes. Did I later receive text messages from their parents about how much the kids loved them? Also yes.
Despite plenty of positive reviews, I was skeptical of whether this motorized egg-decorating gizmo was worth its viral hype — until the brand sent me one to try out with my kids and we had so much fun that I ordered one for my sister and nieces. All you do is pop in three AA batteries, turn it on, place a hard-boiled egg in the rollers, and use the included nontoxic markers to adorn it with a rainbow of color, no dip-dying necessary. Sure, there are creative limitations, like being able to make only stripes. But for parents who want an extremely low-stress way to check the "dye Easter eggs with my children" box, it more than delivers. I found it kind of meditative, myself, and I think it'd be a great activity to do with a group when there are multiple ages to entertain. Because it's so quick to use and the marker dries almost instantly, it doesn't require much effort or time beyond actually making the hard-boiled eggs. But on that last note, here's a pro tip: I found it worked really well even with a bunch of wooden eggs from Amazon, which I bought because my daughters are always bummed when they have to put their newly decorated masterpieces in the fridge. I thought I might have to bust out some colorful Sharpies to prevent smudges, but the included markers worked perfectly.
Ambar Pardilla, writer
I was quite intrigued with Catbird's debut into the manicure market, as chief creative officer Leigh Plessner is a noted glitter-nail-polish collector. I always do my manicures at home, so I like to pick up new polishes whenever I can. I went with Baby Pearl. It's so iridescent that you barely notice the shade. And while I usually start to see a little peeling around the two-day mark post-manicure, I haven't seen a hint of chipping since I put it on a couple of days ago.
Rachael Griffiths, writer
I've sworn by CeraVe's hydrating cleanser for over three years, but I've been struggling with some pretty angry breakouts lately, so I thought I'd give its Acne Control Cleanser a go. The cleanser contains a 2 percent concentration of salicylic acid, an acne-fighting ingredient that exfoliates dead skin cells and unclogs pores. It's been only a few weeks, but there have been noticeably fewer cysts and bumps developing on my skin overnight, so I'm really keen to see the results after a couple of months of daily use.
Before I headed off on a trip to Seoul and Tokyo earlier this month, I needed to top up my SPF supply. I usually use the bog-standard Bondi Sands SPF, and I didn't realize I'd accidentally bought a tinted version until I applied some at home. It was what Bob Ross might call a "happy accident," though, as the slight tint in the SPF gave me a subtle glow on days that I skipped makeup (or my foundation sweated off on long hikes or trips to the onsen). Crucially, the SPF doesn't leave any streaky buildup — unlike other tinted products I've tried in the past — which is handy because I lather my SPF all the way down to my collarbones and across my hands and wrists, too.
Lauren Ro, writer
After months of research, I finally bought a white slipcovered chair for the corner of my living room at the ABC Carpet and Home outlet in Industry City, where I was able to haggle for a tiny discount on top of the already slashed price. To make it an even cozier reading chair, I got a lumbar cushion at Lulu & Georgia, which makes my favorite down-filled throw pillows and bought three different ones because I couldn't decide (plus I had a discount code). My favorite ended up being this linen-wool-blend boucle-covered one in mustard. It's cushy, comfortable, and, most important, looks very Nancy Meyers against the chair's pristine cotton fabric.
The last couple of wall clocks we've bought cost $5 or less, and after a while, they stopped working. This time, when shopping for one for the baby's rooms, I decided to spend a little more on something cute and hopefully more reliable. I chose this wooden one designed by Pat Kim for Areaware. It's normally $85, but I got it on sale at Bando for $64, which is a lot more than what I wanted to spend on a clock, but because it doubles as an abstract piece of art, I thought it might be worth it.
Latifah Miles, writer
I have hit the stage of pregnancy where almost nothing in my closet fits, and with the rest of the summer ahead of me, I caved and started adding maternity basics to my wardrobe. I am picky about my clothes — even more so now that I have a bump to dress. I found this stretchy cotton maternity dress when scrolling on Target's shopping app and it looked like the perfect "throw on and go" type of tank dress that I think will come in handy — so I bought it in two colors, brown and violet. I'm usually between a medium and a large, and sizing up to large was the right choice; it fits perfectly. The dress is a comfortable, hits me right above the knees (which means something to me since I am five-foot-ten), and the ruching on the sides allows room for my bump without sacrificing the overall silhouette.
Simone Kitchens, senior editor
Since I had a baby six months ago, my skin has been incredibly dry — like, bone dry. I chug water, I slather on oil, but nothing seemed to help until I started spritzing on this toner a few weeks ago. I mix it with a couple of drops of oil and my skin still feels dewy to the touch at the end of the day. On nights when I am too tired to wash my face, I'll splash on some water, do a few spritzes, and wake up with the most refreshed, even-toned skin. The mister on the bottle is incredibly pleasant feeling; it's just so fine. And the neroli scent is subtle but very appealing. This toner doesn't feel like an "extra step" because it's become my main moisturizer.
This was a gift for my husband, who is a painter and the person I defer to on all things color. It's a tiny catalogue of color combinations made by the Japanese artist Sanzo Wada in the 1930s. We already have Vol. 1, and it's the most enjoyable little thing to flip through.
Brenley Goertzen, junior writer
I have a few accessory brands bookmarked on SSENSE in hopes that, one day, I'll snap up a dreamy discount. NYC-based Kara is one of them. I've had my eye on this micro shoulder bag for the past six months, and finally, the site listed it at a sale price that was too reasonable to pass up. I quickly clicked purchase and could not be more pleased. I hear silver, especially sterling silver, is in. It's so ethereal. This bag nestles right below my underarm and instantly glamorizes my evening plans.
The closest mall to where I live is the Mall of America. I don't go that often, but when I do, I feel like I have to return with something, like a shopping badge of honor. I mean, it is America's mall. I've been wanting a denim jacket, but this denim isn't your typical light-blue wash; it's grayer and therefore much more unexpected. I'm also really into its billowy sleeves and oversize pockets. I've already worn it a handful of times; in fact, I slipped on a patch of ice while wearing it, resulting in a trip to the ER. While my left eyebrow is now flanked by four stitches, this sturdy jacket protected my forearms and is perfectly unscathed.
Erin Schwartz, writer
I have the rare New York apartment with a window in the bathroom, so there's enough sunlight for plants but not enough floor space. I decided to install a hanging planter, but my first search didn't turn up much — there is just so much macrame and non-draining ceramic pottery on the market. I was close to giving up when I came across the Missoni family fruit basket in the Strat home catalogue. A fruit basket, I realized, also makes a pretty good hanging planter — it's cheap, made from durable materials that can get wet, dirty, or a little sticky, and has some flexibility in its dimensions. The Missonis' three-tier basket was larger than I wanted, but I found this great vintage Target guy on eBay. Then I bought these ceiling hooks from Amazon; I have yet to install them, but they feel sturdy.
Sam Daly, deals editor
I tend to overpick my nails while I watch TV, so I decided to buy this silly fidget toy. My nail beds appreciated not being destroyed when I finally binged The Last of Us last weekend.
While I enjoy weekly exfoliating scrubs like the Soft Services exfoliating bar or Necessaire's Body Exfoliant, sometimes you want something that's not quite so intense. I just added Soap & Glory's coconut-scented body scrub to my shower routine, which feels like slathering a tropical smoothie all over your body. I feel baby smooth after using it, and a little goes a long way.
Tembe Denton-Hurst, writer
I'm gearing up for book events, so, like many authors before me, I'm trying to find clothes that'll match the cover of my book. I recently bought this tube dress from ASOS, which can be dressed up with heels or dressed down with sneakers and will serve me well for many events to come.
Kitty Guo, junior writer
Having recently finished An Yu's novel Braised Pork, I was feeling especially attuned to imagery of fish men, so it seemed fortuitous when I stumbled across this tin of Jose Gourmet sardines in Winner's new butcher shop. Despite the much-touted tinned-fish revival, I'd never participated in the trend myself as I'm generally not huge on seafood; still, I figured there's a first time for everything. Well, it turns out sardines smothered in tomato sauce are delicious, and so is tuna marinated in olive oil, and so is mackerel dressed in lemon and capers. Consider me an official convert.
Jenna Milliner-Waddell, associate editor
I was being cheap this month, and it backfired multiple times. One example: I cheated on my braider to go to someone less expensive, and when they canceled my appointment an hour before (because of course they did), I had to get an emergency appointment at a salon that charged me double what my go-to stylist was asking. The other time was when I was looking for yoga-mat towels. I started going to Inferno hot pilates at YO BK and figured if I kept it up it would be most economical to buy my own towel instead of renting one every day. I have the Manduka Yogitoes hand towel, so I already knew how well its grippy technology worked, but the price tag for the full-size mat seemed daunting. I started to look around and found a Lululemon one for under $40. The reviews were mixed, but I figured it was worth a try, which it was not. I did one burpee and the towel went flying. When I got home from class that day, I immediately placed on order for this Yogitoes towel I should have bought in the first place.
The Strategist is designed to surface the most useful, expert recommendations for things to buy across the vast e-commerce landscape. Some of our latest conquests include the best acne treatments, rolling luggage, pillows for side sleepers, natural anxiety remedies, and bath towels. We update links when possible, but note that deals can expire and all prices are subject to change.