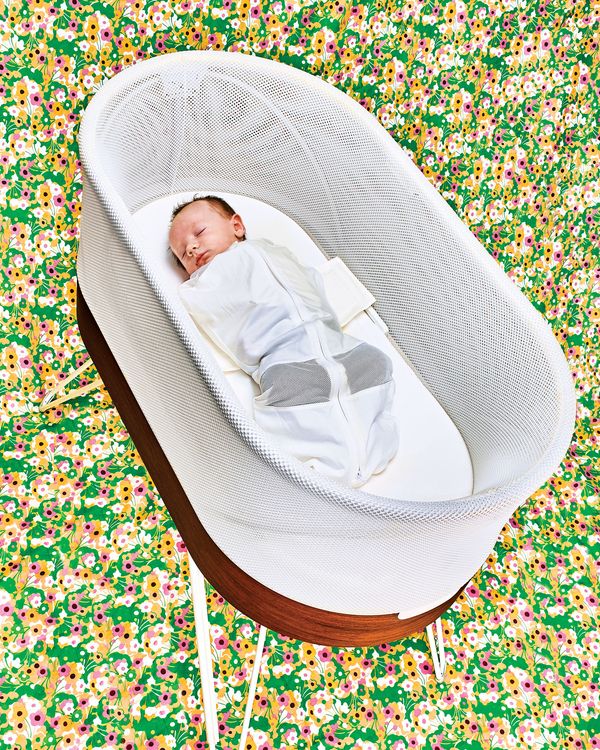 Photo: Bobby Doherty/New York Magazine
Editor's note: Christina Ladd, mother to a then-6-week-old baby, first tested Happiest Baby's SNOO Smart Sleeper in 2017, soon after it was released. After ten weeks of testing, she concluded it was worth the high price tag, and over the last six years, it's become a cult favorite (and is even one of our all-time favorite products for new moms).
As part of the Strategist's Two-Day Sale, Happiest Baby is offering 20 percent off everything on its site with code STRAT2DAY, bringing the price of this "miracle bassinet" below $1,400. We're republishing this piece so you don't miss your chance to snag the sleeper or any of Happiest Baby's parent-approved swaddles and sleep sacks. For more Strategist-exclusive deals, check out the Two-Day Sale here — or read on to see why the SNOO has been a favorite of ours for so long.
I must admit upfront that I, like many of my fellow Brooklyn moms, am a devotee of Dr. Harvey Karp. He's the pediatrician who wrote The Happiest Baby on the Block almost 15 years ago, and subsequently changed the way we soothe our hysterical infants. I watched the DVD version a lot when I was pregnant. So when the baby was about 6 weeks old, and I heard Dr. Karp had come out with a specially designed bassinet — which addresses three of his five "S" steps of calming a crying baby (Swaddling, Shhs-ing, and Swinging) — I was inclined to believe it would work. And somehow justify the $1,200 price.
The day I received the SNOO, little Zoi had been sleeping next to my bed in a bassinet that received 4.5/5 stars on Buy Buy Baby. I was satisfied, but also experiencing all the typical nightly struggles: frequent wake-ups, irrational and overwhelming safety-related anxiety, and inability to master the swaddle. If the baby wasn't waking me up on her own, I was keeping myself up by checking that she was safely wrapped up and on her back throughout the night. The SNOO promised to ease some of this psychic load.
In terms of making things easier, it got off to a great start with its perfectly organized packaging (like a giant version of an iPhone box) and 1-2-3 assembly (you barely even need the instruction manual). The set includes the four-legged bassinet — as an architect, I felt extra appreciative of its Yves Béhar–designed clean lines, walnut trim, and mid-century-esque tapered legs — along with three SNOO Sacks, a mattress liner, mattress cover, and outlet plug.
Operating the electronically enabled SNOO is also simple: Swaddle the baby in a SNOO Sack, which clips into the SNOO and guarantees she will stay on her back; then regulate the multiple levels of "soothing," either by using the control button on the front of the bassinet or the smartphone app. The levels are represented by color: blue being the lowest grade of rocking and white noise, and orange being the highest. As the baby cries, the SNOO automatically responds by increasing its soothing level. If all the levels are tried and the baby doesn't calm down, indicating she needs physical attention for feeding or changing, the function times out. (Then it's on you.)
After testing this process for ten weeks, I found that all the white noise and optimized motor speeds really made a difference. Now, a huge caveat is that my husband and I have been blessed with a baby who's not a crier, who rarely woke up outside of when she needed to eat. But in the few times she did wake between feedings, the SNOO would send her back to sleep by the second soothing level (green), within a couple of minutes. We rarely went through the full color spectrum. In our experience, the SNOO was most effective rocking Zoi to sleep after nighttime feedings. She would doze off immediately. You have no idea how grateful I was to have those extra, precious minutes of sleep for myself.
In comparing notes with other new moms, I'm not sure the SNOO accelerated her ability to sleep through the night; her patterns seem similar to that of other babies: At 6 weeks old, she was sleeping four-hour stretches, which extended to six hours by 10 weeks old. But I can say it alleviated a lot of the anxiety that still plagued the non-SNOO-owning parents. As far as swaddling products go — and just check my Amazon Prime history, I've tried pretty much all of them — I would even venture to claim their SNOO Sack is the best on the market. None of the others would keep her from struggling to escape, and ultimately succeeding, unless they were super complicated and time-consuming to construct (if you haven't noticed a theme here, motherhood has taught me that every extra minute feels like an hour at this stage in the game — especially if you're onto your third diaper change in the middle of the night). The SNOO Sack, yes, looks a little like a straitjacket, but it's an adorable straitjacket. The quick Velcro wrap and zip held Zoi in snugly and kept her arms down. The light, stretchy material with integrated mesh made me confident that she wasn't overheating. I racked up many extra minutes of rest knowing that she was comfortable in her swaddle, and firmly on her back. The only downside has been the resulting bald spot behind her head — but she'll outgrow that.
My biggest concern, now that we want to transition Zoi to the crib before I go back to work, is how she's going to handle going from all the multilevel rocking and soothing to no motion at all (even if the SNOO's weaning function is supposed to help with this). Dr. Karp designed the bassinet to be used up to six months, but since we don't have that kind of time, we'll just have to see what happens next. As for the considerable price tag, it's hard to say whether or not it's worth it, but so far my advice to friends has been this: If you can find room in the budget — or better yet, add it to your baby registry as a potential group gift from your loved ones — you will be very, very grateful for all those bonus moments of peace.
The Strategist is designed to surface the most useful, expert recommendations for things to buy across the vast e-commerce landscape. Some of our latest conquests include the best women's jeans, rolling luggage, pillows for side sleepers, ultra-flattering pants, and bath towels. We update links when possible, but note that deals can expire and all prices are subject to change.
Every editorial product is independently selected. If you buy something through our links, New York may earn an affiliate commission.