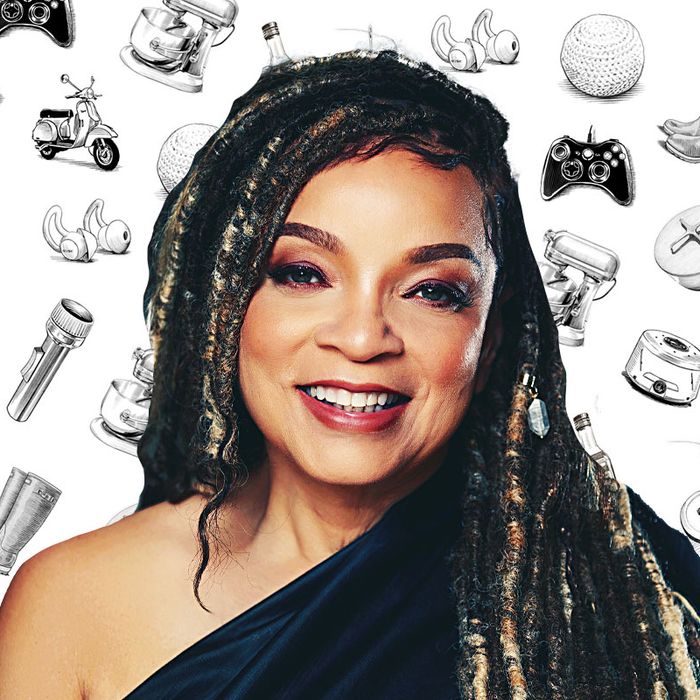 Photo-Illustration: The Strategist; Photo: Jaxon Photo Group
If you're like us, you've probably wondered what famous people add to their carts. Not the JAR brooch and Louis XV chair but the hair spray and the electric toothbrush. We asked Oscar-winning costume designer Ruth E. Carter, whose book The Art of Ruth E. Carter is out now, about the diffuser she uses to set a mood for actors' fittings, art classes she takes between jobs, and the gingerbread-spice latte blend she can't live without.
I feel like when I'm drawing a character, a face, the eyebrows are so important to the expression — and that makes me very careful about how I shape mine. I can't walk out the door without my brows being filled in. I start my day with my Tweezerman. There's a whole kit in there — a brush, the pencil, the tweezer. I don't use a template — I like a natural feel to go with my natural hair, my natural look. When it's too stylized, it's hard to maintain. If I go through glam, I let them paint a paint that's super perfect and sculpted, but that's not my everyday.
I do keep my brows cleaned up. I go with the pointier tip because I don't want any mistakes. It's one at a time. Someone told me that when you wax, you're yanking on your skin and it can actually cause you to have a saggy overhang on your lid. I was like, Oh, God, no. I'm gentle. I think I have that [overhang] already in my family, like there's a second lid. So I'm going to be very conscious of when my second lid develops — maybe advance from a Tweezerman to someone who can actually pull it back.
I love this paper. The toned paper helps me express my ideas. When you're about to put in the lowlights — or when you start with a medium tone, you're able to put darks and highlights together — you're actually getting to the expression of your piece a lot quicker. It's like magic to me, being able to put in the shadows, highlights, and shape of a form. If I'm trying not to be too involved in a sketch, I'll use the smaller sketch pad. I get a bigger one when I'm working on a drawing over a couple of weeks. I actually pull the page out and I clip it to an easel, so I don't actually draw in the pad. I use the tan. I use the gray. I have one from Malcolm X — a collage of the girls from Selma — that's on this paper. I have one from Roots — sketches of tribal groups — sketched on the toned.
I've always been a painter. In between working, I paint. The Bold School keeps me exercised in looking at how to work with shadows, how to work with a color palette. I revisit the Bold School on weekends when I'm working sometimes. I can't get into so much paintwork then. But I do listen to the courses because they help me when I'm thinking about how to compose a garment — what tones I can bring into it that won't be so typical. This helps keep me in the zone of materializing fabrics and textures.
It's something that I'm committed to — putting some of the things from the classes that I've learned into action. It's not a one-to-one science. It's truly a more emotional journey: When you learn a technique, you make it your own. You start using those principles in your development of a costume. You're just really feeling it out and figuring it out. And when they feel good, it's based on a lot of the things that you've learned. The Talokans in Wakanda Forever — we were constantly looking at color theory for the colors of the Mayan culture and how to create a mosaic out of some of those costumes.
I find that these — when I'm working, checking something on set, trying to get out of the way — give me an extra sense of a workout. If I want to give myself a morning stretch, they're there for that. They're like pants. I don't feel like I'm a little naked. They're thick — even if it's chilly, they're not so thin that I'm cold. Though I rarely wear these to an exercise class, because they're a little too heavy for that. They have lots of panels. They also have pockets on the side, and a zipper in the back for keys.
I have one at work, I have one at home. I like to sort of "clean" the air at work. When actors are coming into a fitting, I like there to be an aroma that's welcoming, fresh, and that makes them feel like they're coming into an environment that's been kind of curated for them, that they're the first in this world. I feel like this gives a light, refreshing scent.
And at home, when I'm unwinding — I usually do yoga or weights, either with a private trainer, or go into my Peloton app — I'll set the mood for the room. It might be a little meditation or some stretching, but I really do love how aromatherapy soothes you. It brings in the practice of mind and body. I usually keep mine in the den. That's my woman cave, you know? I lean toward the eucalyptus — maybe it's from spa visits I've had through the years. I love that feeling. Eucalyptus reminds me of a retreat somewhere. I like the lavender and the citrus, too. The defuser mists like a humidifier — you fill it with water — so it does bring some moisture to the air. It helps the skin. You feel like you're doing something healthy for yourself.
I wore these when I received my first Oscar. And the same glasses were on my face when I received the second Oscar. That tells me that I can't live without them. They're actually sunglasses I took the lenses out of. I had my prescription put in. I made them transitional so that they do become sunglasses when I'm outside. Because as you get older, your eyes are a little weaker, and so you have to protect them from the sun. These are the right eye shape and size for me. I think they're modern. They don't feel trendy, either. They feel classic.
[Editor's note: Though Carter's exact glasses have since sold out, this pair is similar to hers.]
I travel a lot. I have to get to places that I have to put my mind-set into — a lecture, keynote. Sometimes I'm flying in on the same day, and I really don't have time to chat. I'm kind of focused. I use that time to meditate, put on the Calm app, or listen to something inspiring. I need these earbuds because there are some real chatty people on flights — like the person isn't even taking a breath or letting the other person have a comment. It's just nonstop. But I've had some really good conversations on flights with people I didn't expect. So I don't want to stifle someone's excitement about a once-in-a-lifetime conversation. I kindly put these in — no offense — and I'm going to go into my zone. If I don't have those earbuds, I have to turn around, go back home, get them. I will miss my flight if I don't have those earbuds.
I thought I had made a mistake when I first got this because it was so small. Then I started using it. It's a true weekender. It'll hold a pair of tennis shoes, dress shoes, and two outfits. It'll hold your cosmetic bag. It has side pockets for any kind of things you need to slide in there. It has the front compartment, if you really think you might want to bring your passport. You could get a small book in there. And the suitcase is the perfect size to go in the overhead or under the seat in front of you. I never check a bag when I bring it. I've had mine since I went to South Africa — one of the bags I brought with me — and that was in 2017. There's nothing wrong with it still. It's not stained. It's not broken. It really does withstand the travel abuse of getting shoved around. I've used it for so long and so much.
Not only is this good for me when I'm traveling, it's also good for me on set. I usually check in on my phone. I don't have to take any IDs out. If I have to even go in a side pocket of my backpack, I have to put something down in order to get to it, and that's a drag. Since it's on my body, if I have a backpack or I'm carrying an overnight bag, it makes life that much easier. I have the black. As a designer, I wear a lot of black. So it blends into everything. I make sure the phone screen is facing me. Usually when I'm working, I get text messages, I get phone calls, I get reminders. I have to keep it on so I can keep up with the ins and outs of my day.
I can add the chai latte to my coffee; it's kind of like a half-and-half thing. Then I don't need much almond milk or Splendas to get my morning started. But I'm trying to lighten my load. We have so many stresses — I certainly do have lots of deadlines. So I've been moving to a healthier routine than that cup of joe. I really only need one of these and I'm good for the rest of the day. I'm retraining my palate to accept other tastes than coffee in the morning. I can do the chai latte by itself and it's just as nice. I like the taste of those spices. I couldn't make one from scratch. It reminds me of Thanksgiving. I'm always gravitating to those flavors: pumpkin chai, cinnamon, nutmeg, clove. That's my vibe.
[Editor's note: Though the gingerbread-spice blend is currently sold out, there's a pumpkin-spice version that's still in stock.]
The Strategist is designed to surface the most useful, expert recommendations for things to buy across the vast e-commerce landscape. Some of our latest conquests include the best acne treatments, rolling luggage, pillows for side sleepers, natural anxiety remedies, and bath towels. We update links when possible, but note that deals can expire and all prices are subject to change.