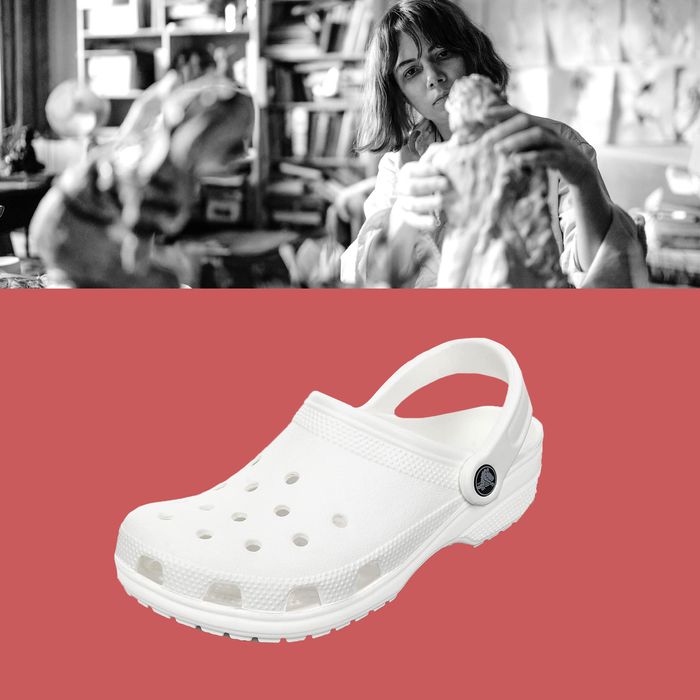 Photo-Illustration: The Strategist; Photos: Retailers
While working on Showing Up, director Kelly Reichardt's new film starring Michelle Williams, costume designer April Napier would often FaceTime Reichardt, who was on location in Portland, Oregon, where the film is set, from flea markets in Los Angeles. "We'd try on some great olive-colored, drab, surplus Army Navy pants, and she'd say, 'Too cool!'" Napier recalls. "We would try on Dickies: 'Too cool!' We would try on blue, French, old workwear that's all fucked up: 'Too cool!!!'"
It was important to Reichardt that the characters in her film looked like real people, specifically the real-life artists she knew — as opposed to quote-unquote "artists" conjured up for the screen. Lizzy (Michelle Williams) is a grumpy, frumpy, white-Crocs-wearing sculptor working out of her garage; Jo (Hong Chau) is her slightly more successful artistic rival and landlord in slightly more expensive overalls; and Eric (André 3000) is the slick kiln master at the Oregon College of Art and Craft, where all three of them work or hang out — partly because they can't seem to flee the comforts of the coop.
For reference, Reichardt turned to Black Mountain College, a private liberal-arts school founded in North Carolina in 1933 with alumni including Willem and Elaine de Kooning, Robert Rauschenberg, Merce Cunningham, Cy Twombly, and Buckminster Fuller. Lizzy's visual reference point, specifically, was the lesser-known sculptor Lee Bontecou, who sported a similarly blunt bob haircut, and for Eric, it was the ceramicist Doyle Lane. It was Napier's job to not only ground these characters in reality but also situate them in the present, hence the Crocs. The results are subtle and nuanced, which, of course, only makes them all the more cool.
Below, we tracked down where each character gets their so-not-cool-it's-cool wardrobe.
White Crocs
"It was important for Kelly that the artists all look contemporary, which is why I had the idea of putting Crocs in there," Napier says. "Even if Lizzy is wearing weird wrap skirts, oversize men's shirts, and vintage clothes, those Crocs really ground us." Napier herself also happens to own white Crocs. "I've been wearing them for years — since pre-pandemic days — and they worked perfectly with Lizzy's neutral palette," she continues. "Kelly also didn't want a lot of patterns in the film so that the costumes didn't compete with the work that was going on. Lizzy was definitely more somber, neutral, internal, comfortable."
Boat-neck blouse
Napier found an oversize blouse from an '80s and '90s brand called Sostanza while perusing the racks at a vintage shop one day. Here's one for sale on Poshmark.
Wrap skirt
In an effort not to make Lizzy seem "too cool," Napier found two modest cotton wrap skirts for her from "some random thrift store," one of which she believes was from L.L.Bean. Hitting just below the knee, they objectively have nothing cool or sexy about them, but paired with a cropped sweater and Lizzy's blunt bob, they still offer an appealing silhouette.
Socks
One big, existential question that came up during filming was: Does Lizzy sleep in socks? Napier said "Yes, obviously," but others on set were horrified at the thought. In the end, Lizzy wears socks to bed (and with her Crocs) "because honestly, no one wants to see feet in a film, I don't think," says Napier. (Debatable.) The ones Lizzy wears are thick and textured with an oatmeal tone.
Minnetonka slippers


When Lizzy isn't wearing Crocs, she's in Minnetonka slippers — another item Napier grabbed from her own closet.
Pajamas
Lizzy sleeps in floral-print, vintage-looking pajamas by a brand called Domi, which was founded by a friend of Napier's. It looks like the Salter House of Los Angeles.
"Jo has it a little more together," says Napier. "She's a little bit more successful and a little bit more stylish." You're not going to see her in Rachel Comey, but she wears brands like Caron Callahan and Haight, which offer pricier, more stylized versions of the kinds of clothes Lizzy wears.
Yellow Bandanna
When we first meet Jo, she's wearing head-to-toe blue and a yellow bandanna. "We use blue a lot as a touchstone for her because it's a very working color and it's also a very Portland kind of color," Napier explains.
Blue sweatshirt
Blue Jumpsuit
One of Jo's blue jumpsuits was borrowed from someone in the art department at the Oregon College of Art and Craft, where the movie was filmed. Another, by the brand Dottir, was borrowed from an assistant cameraperson.
Dresses
Jo wears a two-tone dress by Correll Correll to Lizzy's opening. This is it in a different colorway.
Bag
The blue tote bag Jo carries is by a Portland-based brand called Chester Wallace. Reichardt is friends with the founders.
Shirt
André 3000's character, Eric, wears a lot of vintage as well. But in order to root him in the present, Napier reached out to brands like Online Ceramics, Brain Dead, Sci-Fi Fantasy, and Bode as well. Ultimately, he wears a groovy graphic shirt by Total Luxury Spa.
Sandals
Unlike Lizzy, he prefers Tevas to Crocs. Napier says she also put him in Dansko clogs, but they didn't make it into the film.
The Strategist is designed to surface the most useful, expert recommendations for things to buy across the vast e-commerce landscape. Some of our latest conquests include the best acne treatments, rolling luggage, pillows for side sleepers, natural anxiety remedies, and bath towels. We update links when possible, but note that deals can expire and all prices are subject to change.