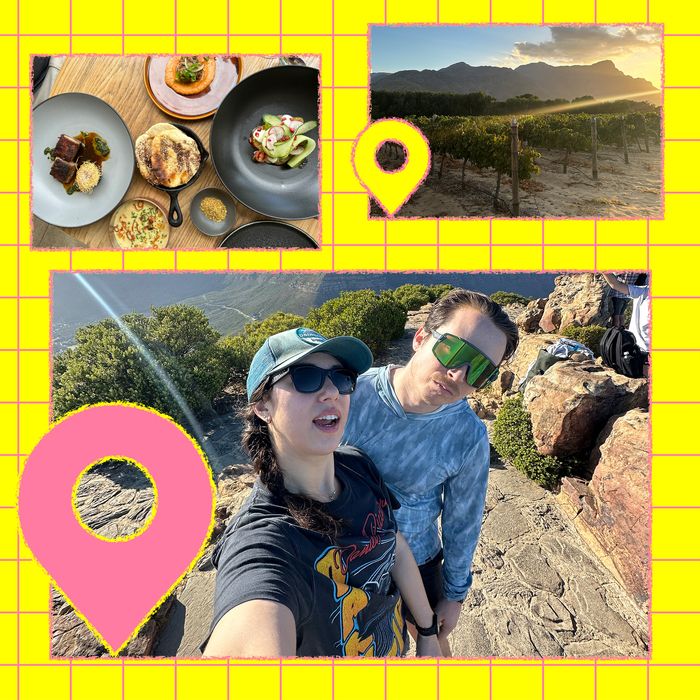 Photo-Illustration: The Strategist; Photos: Maxine Builder
Everyone knows that person who spends weeks sniffing around travel blogs, going deep into Tripadvisor rabbit holes, collecting Google docs from friends of friends, and creating A Beautiful Mind–style spreadsheets to come up with the best vacations and itineraries possible. In this recurring series, we find those people who've done all the work for you and have them walk us through a particularly wonderful, especially well-thought-out vacation they took that you can actually steal.
My husband, Luke, and I knew we were going to take two weeks for our honeymoon, and we both wanted to travel far from home to a place we wouldn't get to go back to often — if ever again — so we spent a while debating between Japan and South Africa. The warm summer weather in February, when we were planning on taking our honeymoon, and the favorable exchange rate tipped us toward Cape Town. South Africa had been on our radar because Luke spent a fair amount of time in and around Johannesburg for work over the past decade, though he hadn't spent much time in Cape Town. I'd never been to that corner of the world, so it seemed the right level of novelty for each of us as well as a place with enough to see and do to easily fill two weeks.
We started planning our honeymoon in mid-November, and everything was booked by Christmas. By coincidence, one of Luke's friends was spending all of January in Cape Town to kiteboard, so Luke left for South Africa a few days before I did. I was fine with this arrangement, as I didn't have to watch him kiteboard on our honeymoon, and he got to do some world-class water sports — and if compromise like that isn't a good way to start a marriage and a honeymoon, I don't know what is.
6 p.m: Arrive at Cape Town International Airport and drive to the hotel
There's no quick way to get to South Africa from the United States, and there's no direct flight from New York to Cape Town on Delta, my airline of choice. So I flew from La Guardia to Cape Town via Atlanta, and the whole trip took the better part of 24 hours, including a three-hour layover and a 14-hour flight across the Atlantic Ocean. It was, at best, rough, and I arrived feeling bad. So I was relieved to meet up with my husband, who had already picked up a rental car from the airport. Though I refused to drive because South Africa was a British colony and they drive on the left side of the road, having our own car ended up being vital to accessing some of the best sights outside the city and navigating within it; Uber was not as readily available in Cape Town as people told us it would be. Parking is surprisingly ample (though if we were to do it again, I would get a smaller car that's easier to park, even if Luke enjoyed driving the pickup, or bakkie as it's called in these parts).
Luke had also already checked into our hotel, Kensington Place (38 Kensington Crescent, Higgovale Gardens), which came highly recommended by our friends who had honeymooned in Cape Town in December. Located in the Gardens neighborhood right underneath Table Mountain, this boutique hotel was blissfully quiet. Our room on the second floor was spacious with a private balcony overlooking a pool in the courtyard and a large rain shower.
8 p.m: Cancel dinner on Kloof Street and fall asleep
I had big plans for my first night in Cape Town to get dinner at Kloof Street House (30 Kloof St., Gardens), the restaurant that was most often recommended by my friends, a 15-minute walk from our hotel. But I'll have to save it for my next trip because I fell asleep in our room fairly quickly.
6:30 a.m.: Hike Lion's Head at sunrise
I am of the belief that there's nothing like some sweat to beat jet lag, so we woke up at sunrise and walked from the hotel to Lion's Head, one of the two peaks that dominate the city skyline. It's easier to hike up Lion's Head than Table Mountain, but it's not easy — and it's definitely not something I'd recommend to folks with a fear of heights. You have to scramble up a few metal ladders and grab onto chains that are bolted into the rock to get an adequate hold. It's also just straight uphill for a full mile or so. But the trail is very clearly marked and well trafficked, so I'd say the chances of getting lost are low (despite the warnings from our hotel concierge). At the top, there are incredible views of the city, the ocean, and Table Mountain. Door to door, the whole expedition took us just under three hours, covering over 1,100 feet of vertical.
11:30 a.m.: Explore Bree Street and the Company's Garden
After showering and eating breakfast on the hotel's well-shaded deck — with a big shout-out to the freshly squeezed juices — we decided to take a stroll from our hotel through the city center. The main tourist area is the V&A Waterfront, which we avoided because Imagine Dragons were in town and our concierge told us it'd be more mobbed than usual. Instead, we walked down from the Gardens to Bree Street. It runs parallel to Long Street, the main tourist drag for backpackers and college kids looking for a big night out, and has a much calmer, more mature vibe. We window-shopped for a while and eventually stopped for lunch at Clarke's (133 Bree St., Cape Town City Centre), a lunch-counter spot with lots of white subway tile, light wood, and houseplants that was pleasantly bustling on a weekday afternoon. Luke got a burger, and I had a grilled cheese with tomato soup.
From Bree Street, we crossed Long Street and headed toward the Company's Garden. If you want a little history lesson: This garden was planted in the 1650s by the Dutch East India Company, which needed a way for its sailors to stock up on fresh produce and avoid getting scurvy on the trip from the Netherlands to the Dutch colonies. It's now a park that made for a nice afternoon stroll, with some art installations, a little restaurant, and, yes, a vegetable garden.
8:30 p.m.: Have dinner at the Potluck Club
We got back to the hotel and lay on our balcony for a bit, enjoying some wine and the sunset, before we had to get ready for dinner and hop in an Uber from the hotel to the Potluck Club (373-375 Albert Rd., Woodstock). It's on the sixth floor of the silo of an old biscuit mill in Woodstock, a suburb of Cape Town. This restaurant was another recommendation from our honeymooning friends, so we made the reservation about a month in advance — and you'll definitely want a reservation, as it does only two dinner seatings per night, one at 6 p.m. and one at 8:30 p.m. It has a small-plate menu that's roughly Asian inspired, and these are two dining terms that usually give me pause. But it was far more delicious than the tagline makes it sound.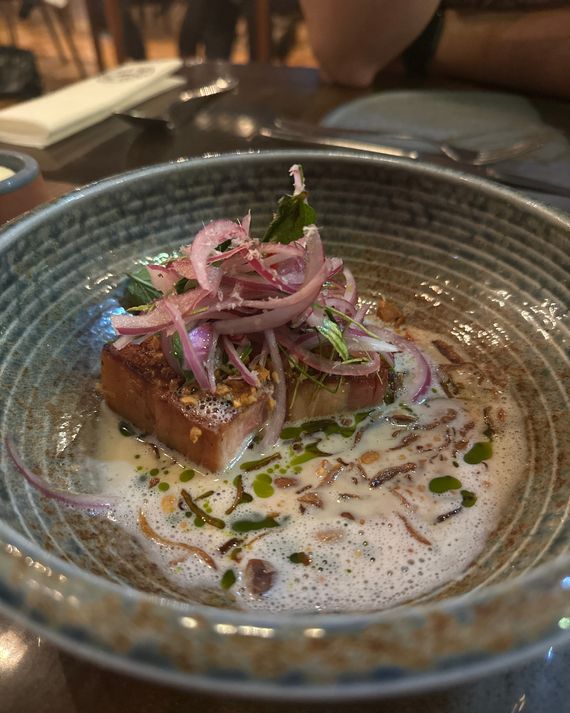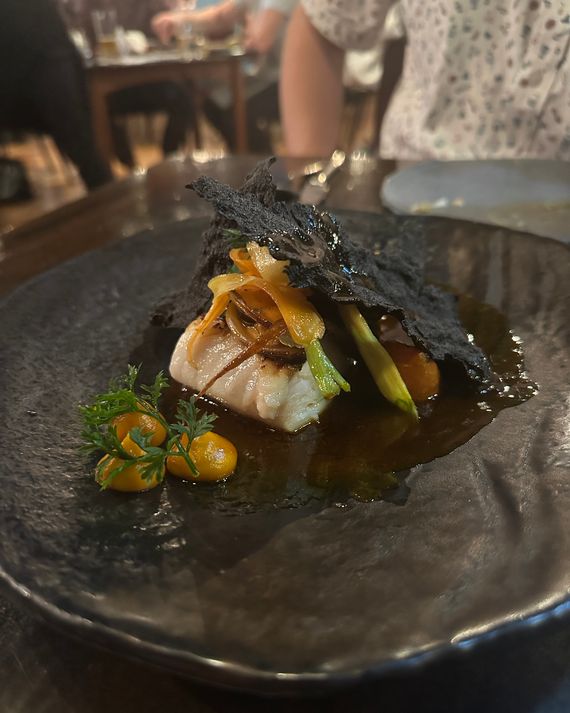 We marked down all of the dishes we wanted to eat on a dim sum–esque paper menu, and our server brought each one out when it was ready. Highlights included pork belly with a not-too-sweet coconut curry, some beautiful linefish, and a tart Eton mess for dessert. Luke maintains it was the best meal we ate in South Africa and the best bang for our buck, at about $85 for both of us with ample drinks.
Noon: Drive to the Cape Winelands and pick up groceries
A lazy morning with another hotel breakfast, this time brought up to our room and enjoyed on our balcony. We packed, checked out, loaded up the bakkie, and drove to the Cape Winelands, about an hour northeast of the city. There are a few different towns in this area, including Stellenbosch and Paarl. We chose to stay in Franschhoek, which was settled by the French and is perhaps best known for its wine tram, a series of buses and a double-decker train that take you from vineyard to vineyard. Our first stop, however, was the Pick n Pay, to grab steak and some vegetables to grill for dinner because …
3 p.m.: Swim in a private pool and braai
… we chose to stay in a self-catered cottage on a vineyard called La Chataigne Farm. We booked the Blanc Cottage, which has a private infinity pool and a gas grill for a braai (the South African term for barbecuing). It was perfectly secluded, even though we shared a wall with the Noir Cottage.
There's a larger pool on the property too, and a pétanque court hidden in some hedges. Of course, the first thing I did upon checking in was change into a swimsuit and hop in the pool. But I most enjoyed wandering through the grapevines with Luke during golden hour before returning to enjoy a chilled bottle of white wine that was made on the property and grilling up our dinner on the deck. It was, obnoxiously, very romantic.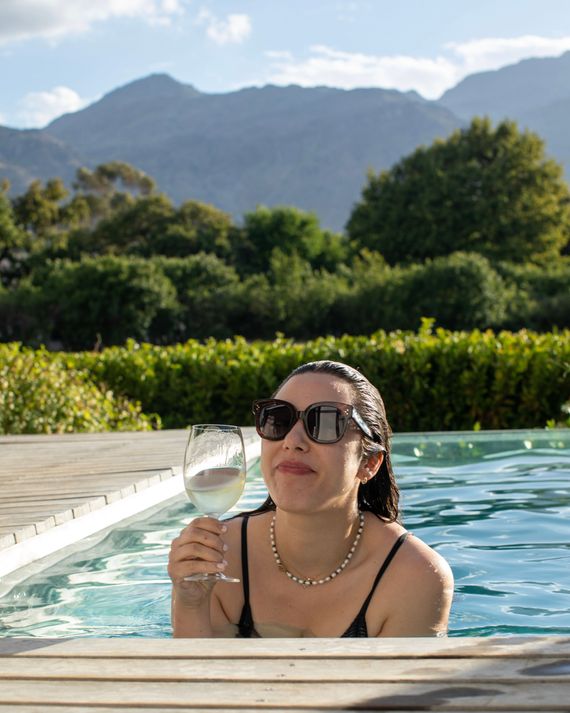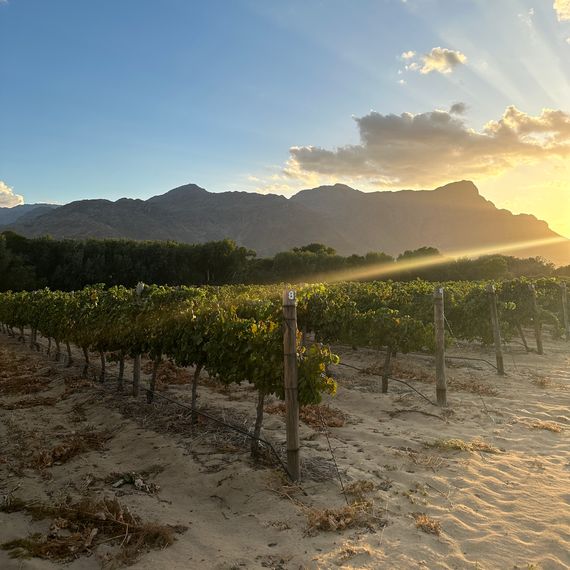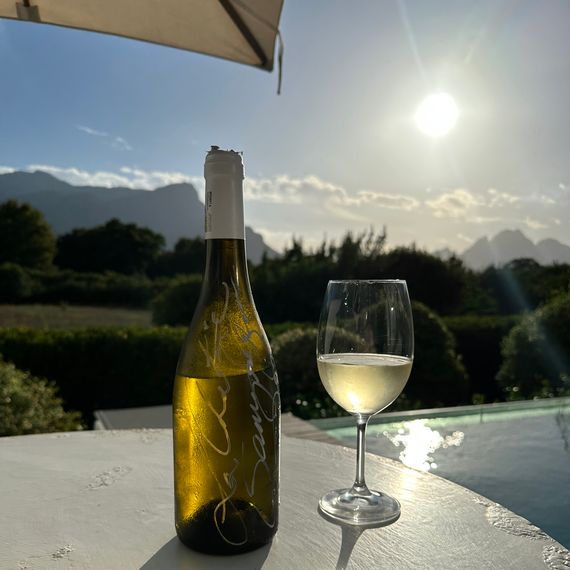 9:30 a.m.: Nibble on croissants before the garden tour
Luke and I aren't huge garden people, let alone garden-tour people. But while researching Franschhoek, I kept seeing the Babylonstoren gardens mentioned over and over again, so I booked a free daily tour out of a sense of obligation. We arrived around 9:30 a.m. with pretty low expectations, thinking we'd maybe be able to grab a coffee before our tour at 10 a.m., and our jaws dropped as we drove in. The farm shop is a multibuilding compound with a whole room for meat, one for cheese, and another for produce that's connected to a different room full of preserves and jams; at the end, there's a coffee shop with nuts and pastries. I had a too-sweet hazelnut-crème-filled croissant and a cappuccino as we waited for our tour to start, along with a free, presumably freshly picked, apple.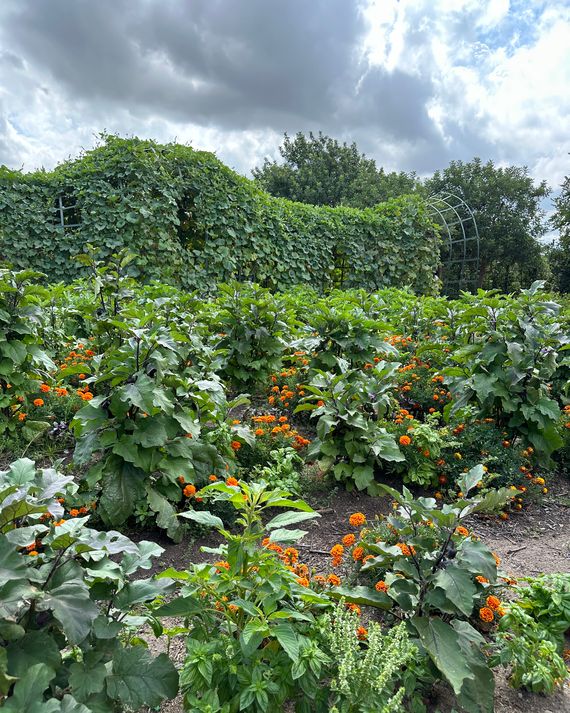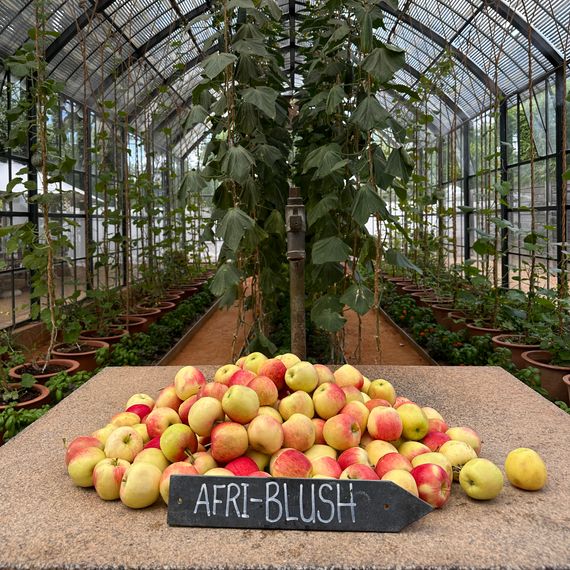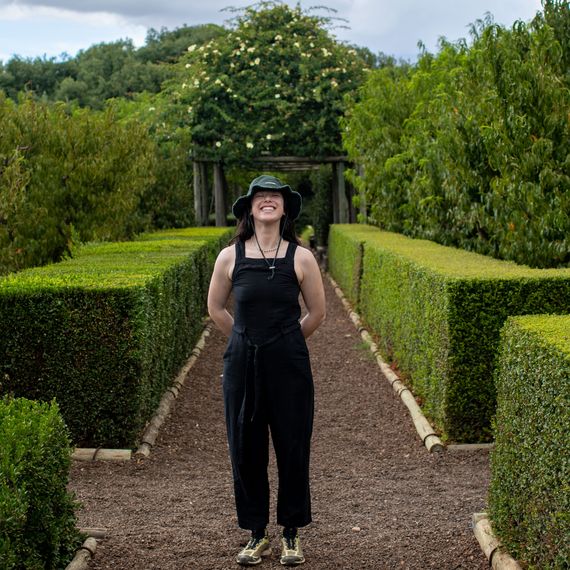 Our tour group was mostly made up of very kind, older British tourists, some of whom were repeat visitors to Babylonstoren and all of whom were deeply enthusiastic about plants. And in the biggest plot twist of all, Luke and I really enjoyed the 90-minute walk through the gardens, which was led by one of the gardeners. We saw massive squash hanging from a trellis, a newly planted cactus garden, and a lawn made of chamomile, among countless other plants — all of it beautifully manicured and incredibly lush.
12:30 p.m.: Have a leisurely lunch alongside free-range chickens
The main activity in Franschhoek is wine tasting, but Luke had to drive the pickup back into Cape Town, so hopping on the double-decker wine tram seemed like an irresponsible (though tempting!) choice. The compromise we made was having lunch at a vineyard where we could tastefully sip wine while eating a real meal. I picked Chefs' Warehouse at Maison (R45, Franschhoek), which offered a four-course selection of tapas for two. The service was leisurely, and the food was good. But the vibes were the real reason to come, a good mix of fancy but unpretentious. There were chickens and baby chicks roaming around the well-treed backyard, including the deck we were seated on, as we ate and drank over the next two hours.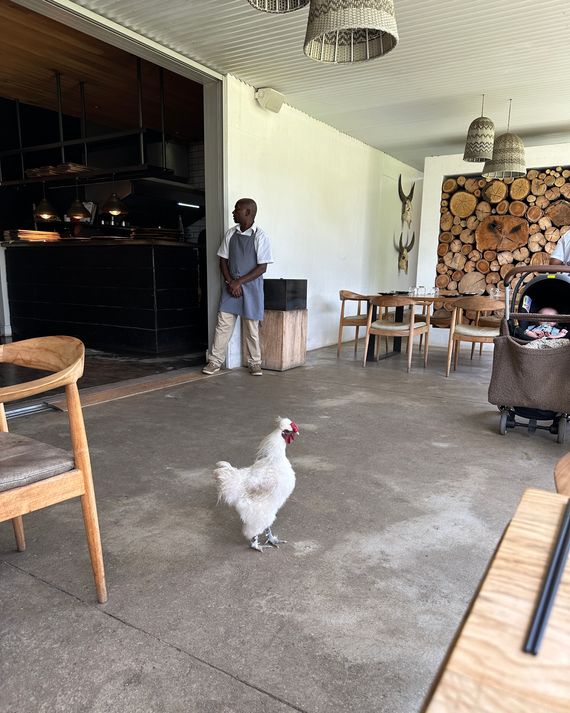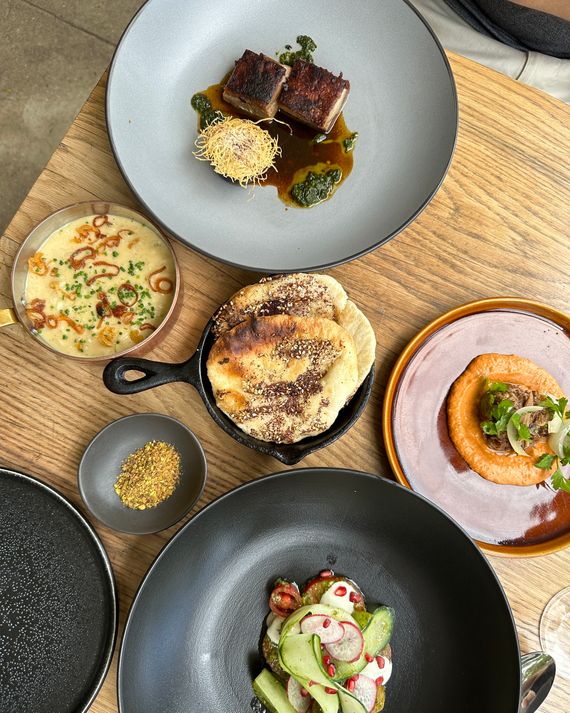 5 p.m.: Find refuge at Future Found Sanctuary
This was the point of our honeymoon when things went off the rails. Our plan had been to stay at a cottage on the beach in the suburb of Kommetjie for two nights, but when we showed up to check in around 4 p.m., the owner told us that, despite our existing reservation, someone else was already staying there and we needed to get other accommodations. The only hotel we could find with any openings that evening was Future Found Sanctuary (10 Hunters Way, Hout Bay), which opened just this year. But our stay there ended up being a highlight of our trip, and I would fulsomely recommend it to anyone planning their own visit.
The hotel sits at the base of Table Mountain, up winding roads through Hout Bay, though it feels more like a compound. We pulled into the driveway and found ourselves outside a modern mansion fit for a James Bond villain, complete with a moat. Our room — one of the more basic ones — had an outdoor shower, a giant concrete tub, and a loft that led to a rooftop deck. There was also a glass door, shaded by a plumeria tree, that opened into the yard a stone's throw from a pool. Luke and I changed into our swimsuits and jumped into the water as the sun set. Emilio, one of the butlers, came through and asked if we'd like some wine while we swam. The answer was an emphatic "yes," especially since I had been sobbing at the thought of maybe having to sleep in the back of our pickup on our honeymoon less than two hours earlier. So we both drank glasses of rosé while floating around in the heated pool, and after rinsing off in our private outdoor shower, I drank the bottle of Rest Elixir — made with coconut milk, turmeric, and rooibos — that had been left on each of our bedside tables before falling asleep.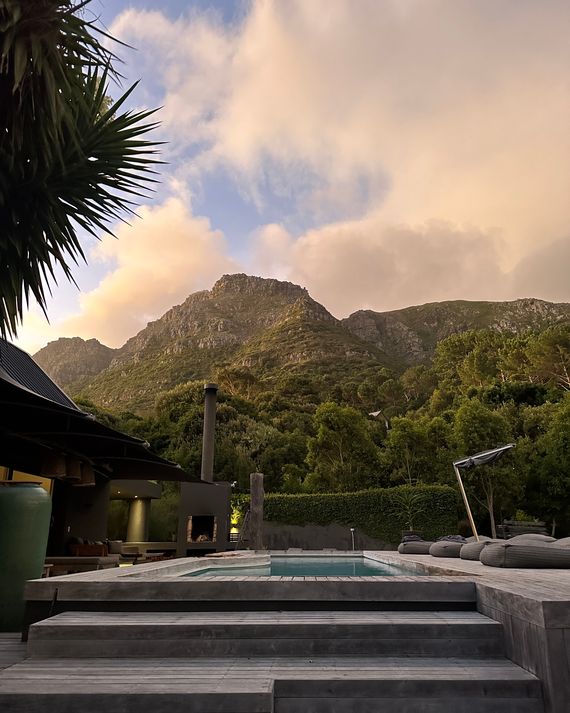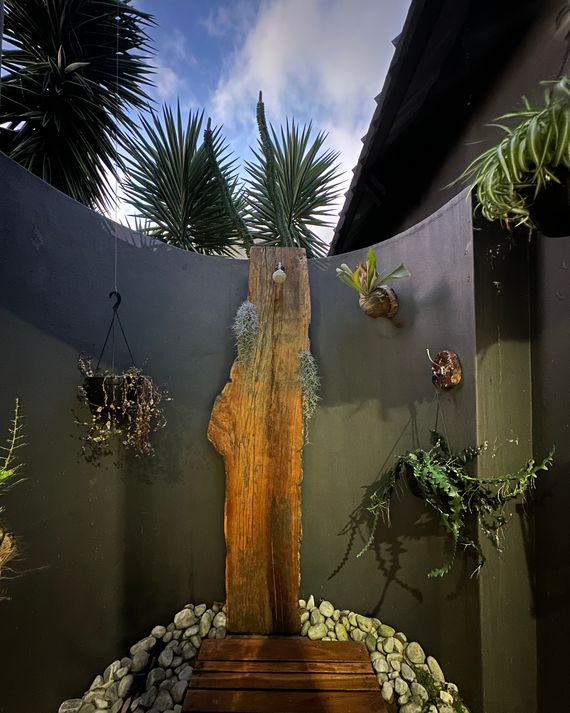 9:30 a.m.: Swim at St. James Tidal Pool
I woke up around sunrise and made myself a pour-over coffee in the room and read on our private-ish rooftop deck while watching the sun rise over the mountain. We went down for breakfast at 8 a.m., which included eggs made to order by a private chef, along with a massive plate of fresh fruit and bottles of fresh-pressed juice. (I cannot express how much I loved this breakfast.)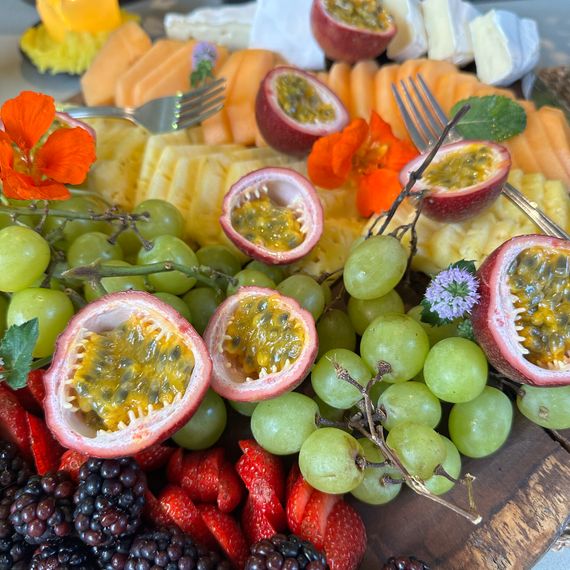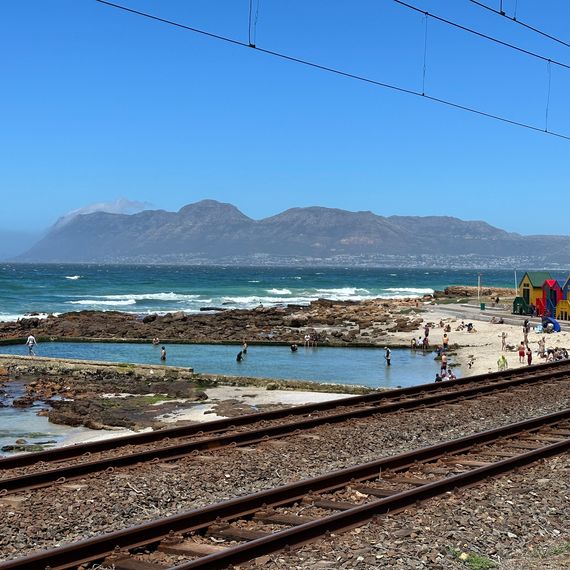 Then, around 9 a.m., we headed out for a day of sightseeing down the Cape Peninsula, starting with my first ocean dip of the trip in the St. James Tidal Pool. Confusingly, these tidal pools are manmade and concrete, built right on the shoreline and filled by the ocean. The utility is that you don't have to worry about sharks or strong currents when swimming in them, though they're still as cold as the Atlantic. The pool at St. James is one of the more popular, and the beach is marked with colorful bathing houses. We were still able to find parking easily and took a brisk dip before heading farther south.
10:30 a.m.: Grab sandwiches at Woolworths
I hear "Woolworths" and I think of the failed American stores, but Woolworths also happens to be the name of a thriving chain of relatively fancy grocery stores in South Africa. Luke lived in Johannesburg for about a year after college and survived off its prepared food; over a decade later, that recommendation holds up. We stocked up on chicken Caesar salad wraps and snacks for later in the day, especially since we weren't sure what the refreshment situation would be as we got closer to Cape Point and the nature reserve.
11:30 a.m.: See penguins at Boulders Beach
This is another one of those things that come up when you search for stuff to do in Cape Town, and it's worth a stop if you're driving down to Cape Point. I can't recommend it as a stand-alone activity, though, because it really is just a gaggle of penguins — albeit very cute penguins — standing on a rock on the beach.
12:30 p.m.: Visit Cape of Good Hope Nature Reserve
Where I could've spent a whole extra day was the Cape of Good Hope Nature Reserve at the tip of the peninsula. The scenery is absolutely unlike anything I've experienced — steep cliffs, thundering waves, and breathtaking views — as is the wildlife. While driving through the park, we spotted a herd of eland and a single ostrich crossing the road, and on our way out, we were momentarily blocked from our car by a baboon eating a snack in the parking lot.
The main attractions are Cape Point lighthouse, one of the oldest in South Africa, and the Cape of Good Hope, which isn't actually the southernmost tip of Africa but is really close enough in my opinion. You can hike between the lighthouse to the Cape of Good Hope itself, and there's even a beach in between where you could have a picnic. But it's about a two-hour round trip, and by the time we made it there, we were running out of daylight.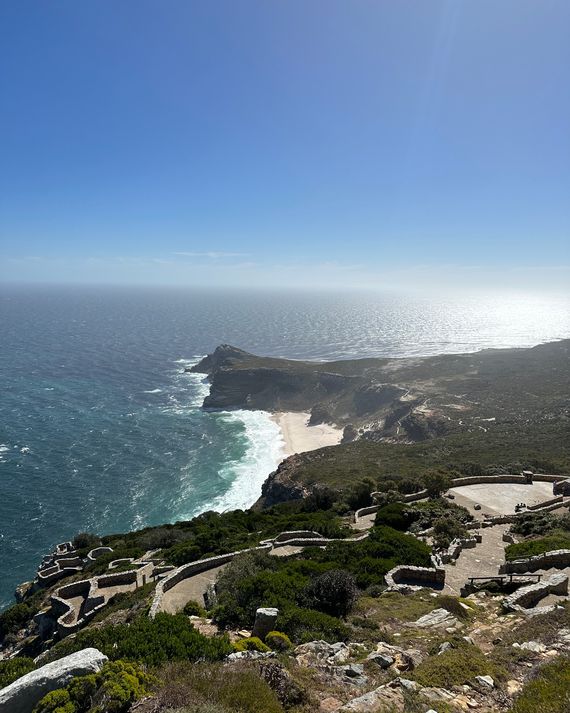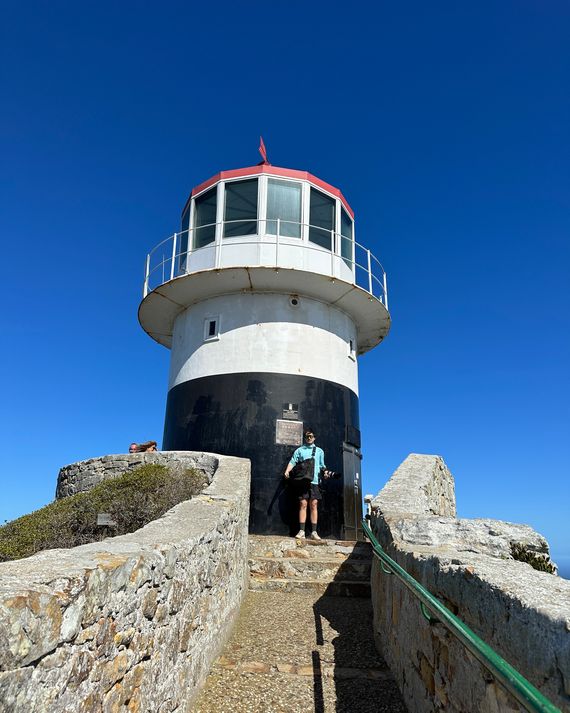 Our real highlight was the Venus Pools, which were a tip from the chef at Future Found Sanctuary who said they're one of her favorite attractions in the reserve. They're about halfway between the entrance gate and the lighthouse, and you have to hike about half a mile to get there. Because it's a bit off the beaten path, it was completely empty except for Luke and me, so we stood there for a while gawping at the massive waves and quick-moving clouds and feeling like we were standing on the edge of the earth.
6:30 p.m.: Drive Chapman's Peak Scenic Route
The drive back to Cape Town was also gorgeous, especially around golden hour. We took Chapman's Peak Scenic Route, a winding road on a cliff overlooking the ocean. (Think Cape Town's version of Highway 1 through Big Sur.) There are lots of places to pull off to the side and take photos, and they're much more accessible when you're driving north from Noordhoek to Hout Bay since you're closer to the edge of the cliff on the left side of the road.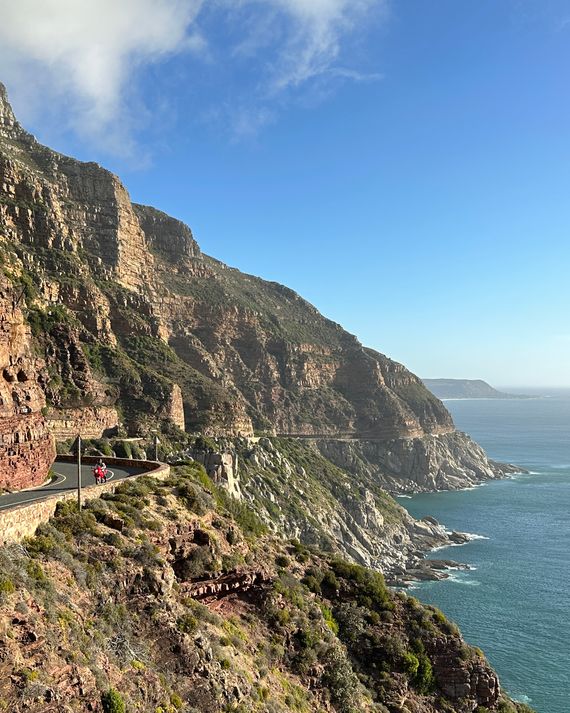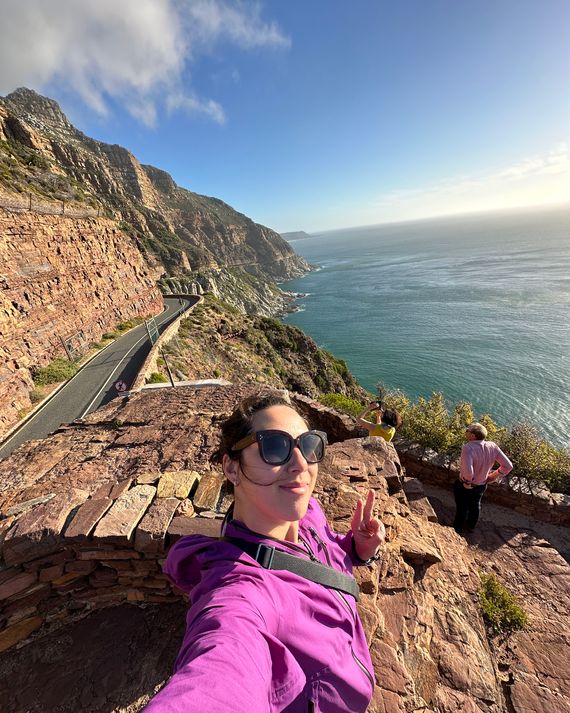 7:30 p.m.: Settle into a Camps Bay Airbnb and cook up some pasta
We checked into an Airbnb in Camps Bay, the toniest neighborhood of Cape Town. We booked a private room in a larger mansion that could best be described as a hostel for married couples. Everyone shared the kitchen, common areas, and, in some cases, bathrooms. However, the amenities were wonderful — with incredible views of the ocean and Lion's Head and a private pool — and the live-in host, Grace, was very kind. Since we had been running around all day, we decided to cook at home, so we made some pasta with ingredients we had picked up at Woolworths and went to bed in our (shared) mansion fairly early.
10:30 a.m.: People-watch at Café Caprice
My primary goal on any vacation is to return feeling more relaxed and looking more tan than when I left, so I felt very strongly about leaving one day free of big activities to just chill. But that doesn't mean I didn't plan out our most relaxing day. It started with brunch at Café Caprice (37 Victoria Rd., Camps Bay), a popular all-day café with a bit of a reputation as a celebrity hot spot. It's on the main drag of Camps Bay, which feels a lot like Ocean Drive in Miami Beach. We didn't see any celebrities, but we did enjoy our avocado toast and cappuccinos and some people-watching.
Noon: Swim in Camps Bay Tidal Pool
We walked less than ten minutes down the beachfront road to get to the Camps Bay Tidal Pool and took another dip. It was much bigger than the one at St. James, so much so that I spotted a woman swimming laps, and the crowd was much hipper, too. There were more groups of cool 20-somethings than families, and we ended up chatting with a German man who worked in advertising and was in town for his job.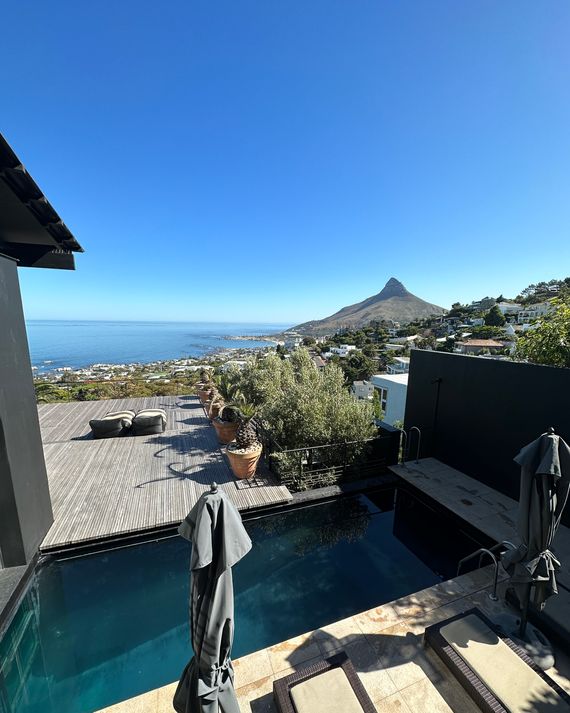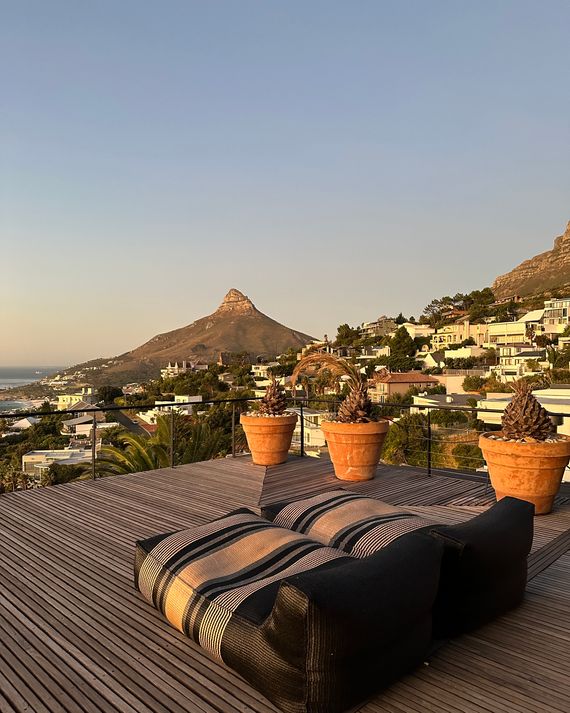 2 p.m.: Hang out on the deck
I would've sat on the white-sand beach at the tidal pool for a while longer, but Luke was getting sunburned. So we returned to the house, and I spent the afternoon lying out on our mansion's deck, reading and drinking white wine and eating figs, while Luke sat inside on his laptop. This, to my mind, was the dream vacation — especially when Luke joined me on the deck at sunset.
8 p.m.: Check out the scene at Chinchilla
This was a recommendation from another friend who had just been in Cape Town for a wedding. Chinchilla (Victoria Rd. Shop 120, Second Floor, Camps Bay) is a scene-y rooftop bar-slash-restaurant with a straight-on view of the sunset. We showed up a little late for a proper sundowner, and the vibes were much clubbier than I anticipated. There were tables of sunburned British tourists, groups of mid-to-late-20-somethings enjoying bottles of vodka, and several teams that were competing in the Ocean Race, which was slated to arrive in Cape Town in the next few days. (The sailors were a highlight for Luke, who went up to the CEO of Team Malizia to tell her he likes their YouTube videos.) I'd say you're paying a premium for the vibes and the view more so than the food and drink, and it's probably better for a group. But we definitely caught the scene of Camps Bay as we walked down the main seaside promenade on our way back to the car.
6:30 a.m.: Hike up Table Mountain to the Diving Board
One reason we picked our Airbnb was its proximity to Table Mountain; we could walk to the entrance of the national park at Kasteelspoort in less than 15 minutes. We hiked up to the Diving Board, a rock that just hangs out over the edge of Table Mountain and makes for a very good photo. The route is clearly marked, but it is truly a staircase that goes straight up the mountain and may be even steeper than Lion's Head, though there aren't any ladders. The view from the Diving Board is pretty breathtaking, as is the photo I took of Luke standing there. (I was too terrified to get close to the board itself.) But it's not the true summit, and Luke and I debated for a while whether we should hike another hour or so to get there. It was already getting hot, even though it wasn't yet midmorning, so we decided to be conservative and clambered back down around 10 a.m.
2 p.m.: Take the cable car to the summit of Table Mountain
After returning to the Airbnb and housing carbs and showering off the dust from our hike, we realized we really did want to see the summit of Table Mountain. So we booked two tickets for the tram to the top, the easiest way to go. (You can see how long the wait will be and how good the conditions are on the company's website so you don't waste your time making the trip when it's cloudy.) After hiking up the mountain mere hours earlier, it felt like the greatest hack to just be whisked to the top in a rotating cable car. We walked around for a while and drank a beer at the gift shop, which doesn't sound that fun but made for a really nice reward. If we were to do it again, I'd hike up via the Diving Board and walk to the summit and the gift shop area before taking the cable car down; we didn't do this because we were worried about having to call an Uber back, but there were quite a few cabs at the entry that we could've taken.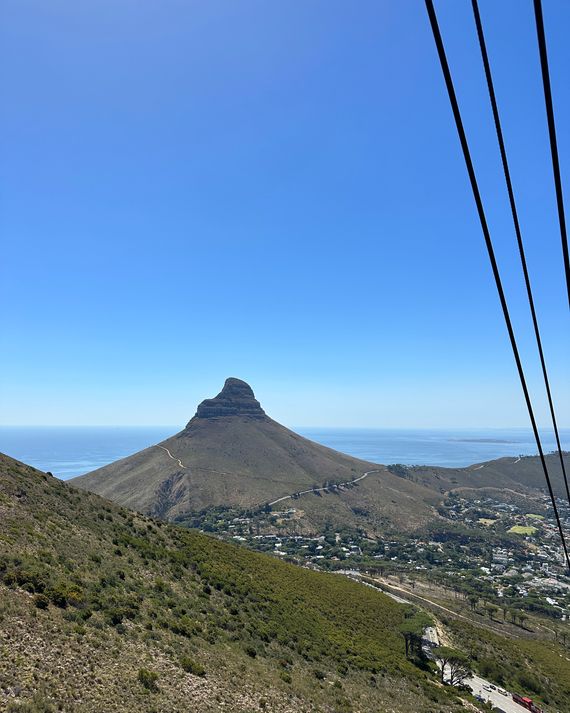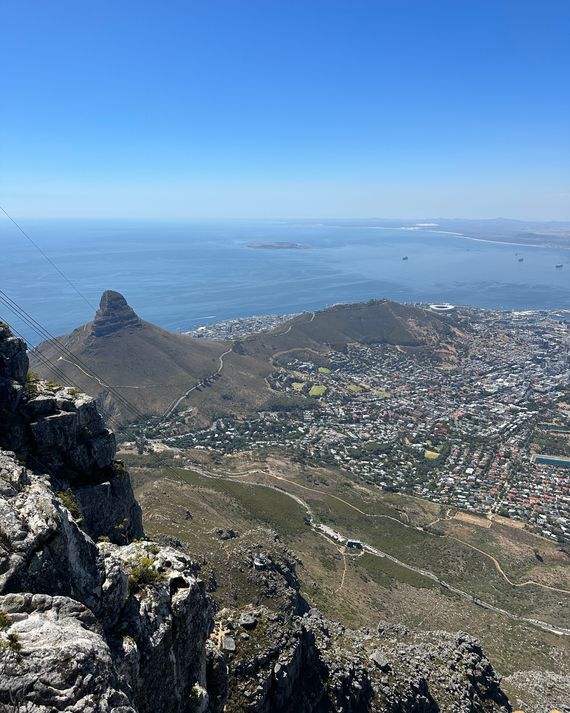 4 p.m.: Head to the beach
After all that mountaineering, the only logical choice was to go to the beach for another dip. This time, we went to a smaller area called Bali Beach that's about a five-minute walk from the Camps Bay Tidal Pool. It was more crowded with locals but more secluded, with a naturally protected area for swimming and lots of rocks for sunbathing.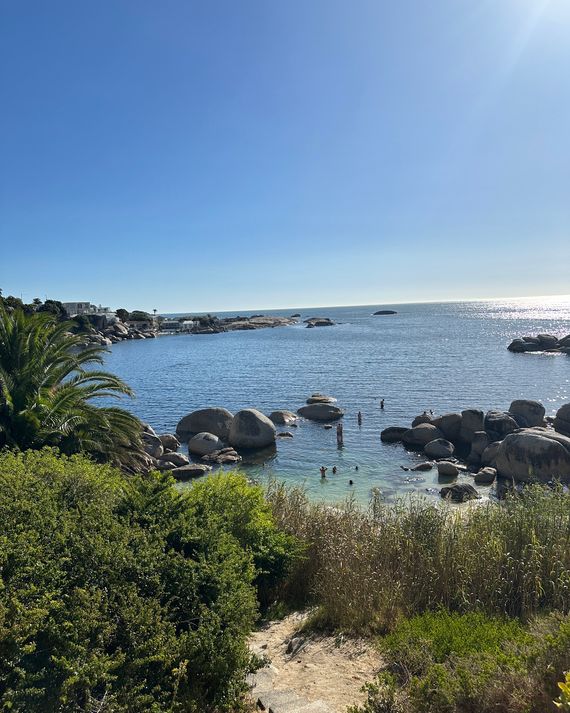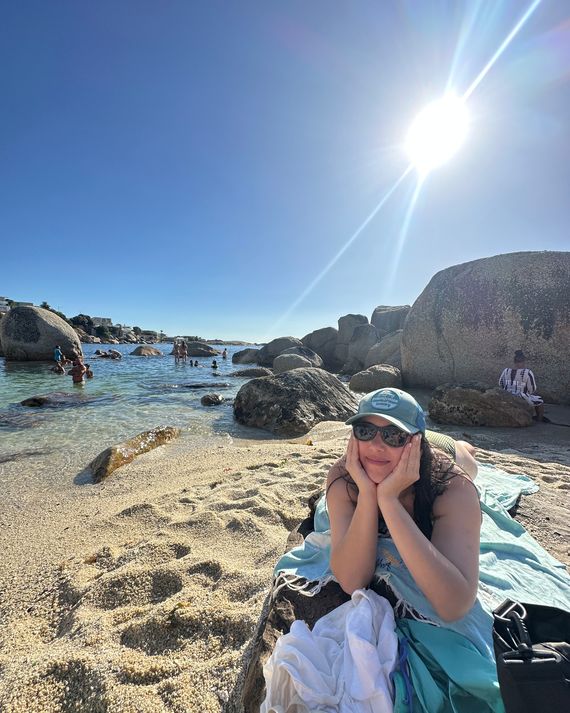 7 p.m.: Catch a cricket match at Newlands
Fresh from the beach, we changed into street clothes and drove over to the Newlands Cricket Ground, which is allegedly the most beautiful cricket ground in the world thanks to the views of Table Mountain and Devil's Peak from the stands. You can take a tour of it, but Luke thought it would be more fun to actually go see a game there — even though neither of us knows a thing about cricket. So he bought tickets to see the opening game of the Women's T20 World Cup between South Africa and Sri Lanka. T20 uses a match format with 20 rounds, and though I still don't totally understand the rules, I do know a wicket is a big deal that's worthy of pyrotechnics, and the fish and chips at Newlands are delicious.
10:30 a.m.: Grab coffee (and a trucker hat) at Deus Cafe
It was our last day in Cape Town, so we spent the morning packing and cleaning out our groceries from the shared fridge. Our first stop of the day was the Deus Ex Machina outpost (140 Main Rd.) in Hout Bay because Luke and I are suckers for the whole Deus Ex Machina thing. We drank cappuccinos in the well-decorated café (where I took lots of photos for interior-design inspiration), browsed the merch, and talked with the store clerk about surfing and Brooklyn. I bought a trucker hat as my only souvenir from this honeymoon.
Noon: Lunch at La Colombe
I wanted to do something deeply, undeniably indulgent for our honeymoon, so I booked us lunch at La Colombe (Silvermist Wine Estate, Main Rd., Constantia Nek), which isn't a stranger to the list of the World's 50 Best Restaurants. We opted for the reduced tasting menu, which had seven courses and took about three hours, with the iconic wine flight (that, candidly, cost nearly twice as much as the food itself). But man, it was worth it — and was one of the more playful, unpretentious fine-dining experiences I've ever had, while still being beautifully presented and well thought out. The second course featured custom ceramics to create a little garden, another offered a faux tomato, and for our main course, we got to choose our own hand-forged steak knife. One of the most fun courses was the Tuna "La Colombe" that came in a little tin can with a black wineglass for a blind tasting. Even Luke, who's not big on tasting menus, was wowed by the experience, and it was certainly a highlight for me.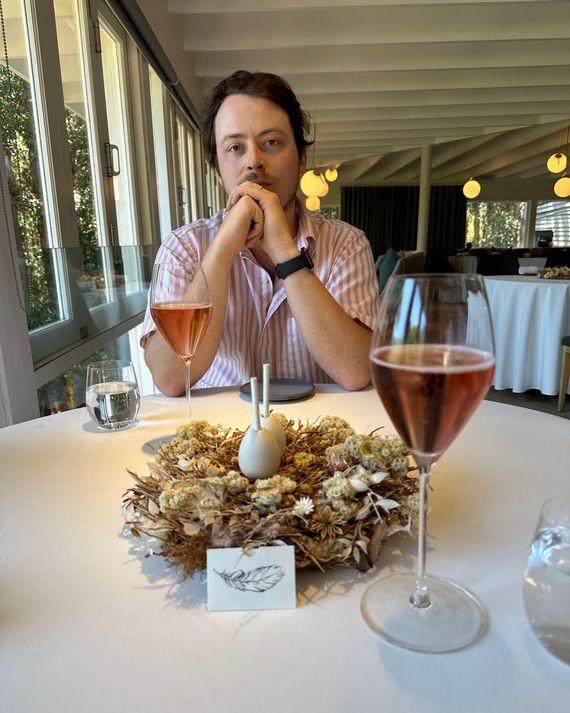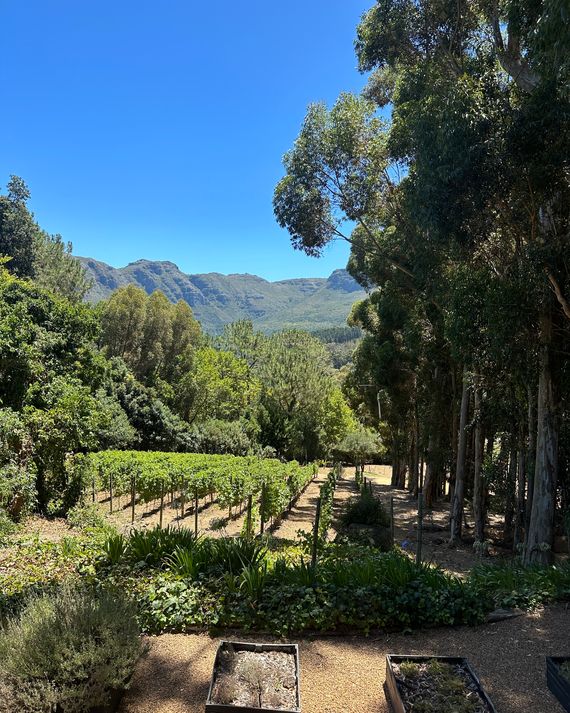 3:30 p.m.: Visit Beau Constantia winery
We still had a fair bit of time to kill before we needed to head to the airport, so we stopped at a nearby winery called Beau Constantia that's nestled into the lower part of the Table Mountain range. It has wine to taste, but I wouldn't go for the wine tasting. On this sunny Saturday afternoon, it was bustling with groups of friends who were out for a day of drinking and fun, and we were happy to drink some wine and enjoy the views from our perch on the elevated deck.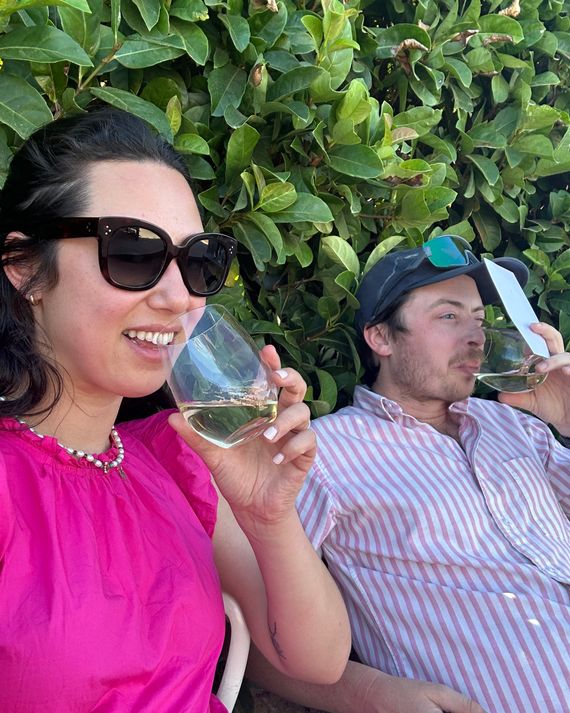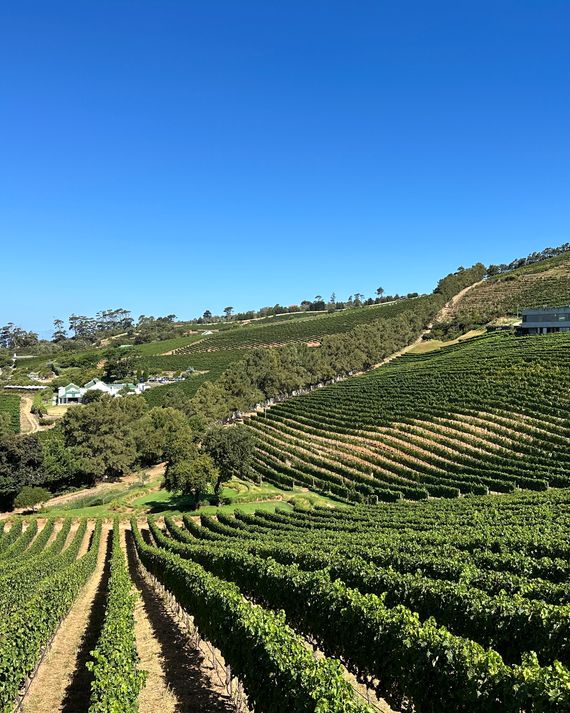 6 p.m.: Hit the beach one last time
Our last stop before the airport was Llandudno Beach, which is tucked away from the main road and offers a wide expanse of white sand and crashing waves. Those waves made it a little too intense for a final dip, but Luke and I had a nice time lying on the beach together one last time.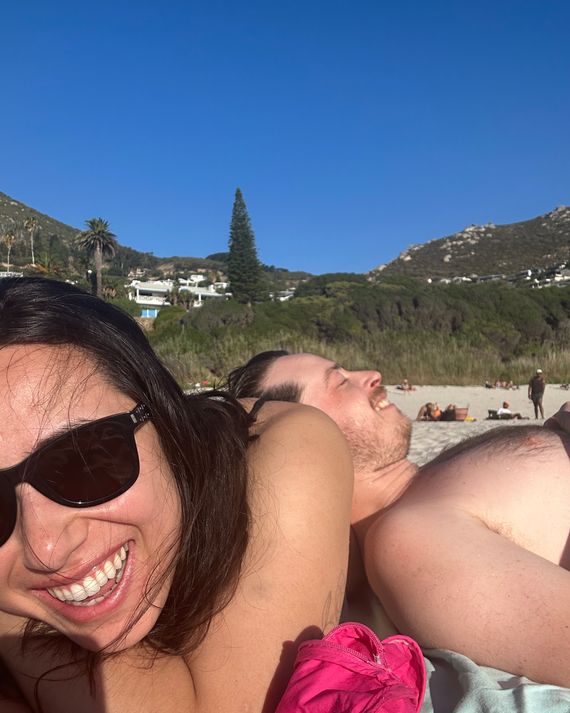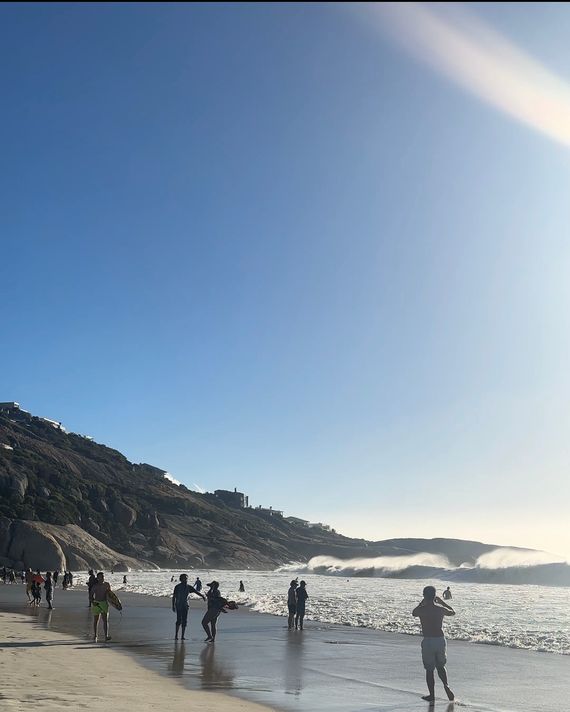 7 p.m.: Head to the airport
We dropped off the rental car and made our way to the terminal with a relatively straightforward (though slightly uphill) walk. We dropped our bags and stopped at Woolworths for more chicken Ceasar wraps to eat on the plane ride home.
Maxine's
Cape
Town
packing
list
There's load shedding in South Africa with blackout periods that last about two hours. Some days, there are just a couple of blackout periods, but other days, there are several, for a total of eight or more hours without electricity. You can download an app to your phone to give you the schedule, and this light was very helpful.
We finished an entire tube of sunscreen on this trip, and even though I applied SPF 70 on every inch of my body, I still came back with a ripping tan.
I run this oil through my hair after swimming in saltwater to help keep it from getting too tangled or dry until I have time to take a proper shower.
Since it was my honeymoon and I knew I'd be spending a lot of time on the beach with my husband, I thought it'd be a nice treat to get a new bikini — but I didn't want to spend too much money on something cheekier than I'd normally wear. This suit from Calzedonia was a good compromise on quality, price, and general sexiness. (Gross, I'm sorry.)
The 16-hour flight from Atlanta to Cape Town is no joke. My compression socks made it a little more bearable, along with the two seasons of Yellowstone downloaded to Luke's iPad.
The Strategist is designed to surface the most useful, expert recommendations for things to buy across the vast e-commerce landscape. Some of our latest conquests include the best acne treatments, rolling luggage, pillows for side sleepers, natural anxiety remedies, and bath towels. We update links when possible, but note that deals can expire and all prices are subject to change.