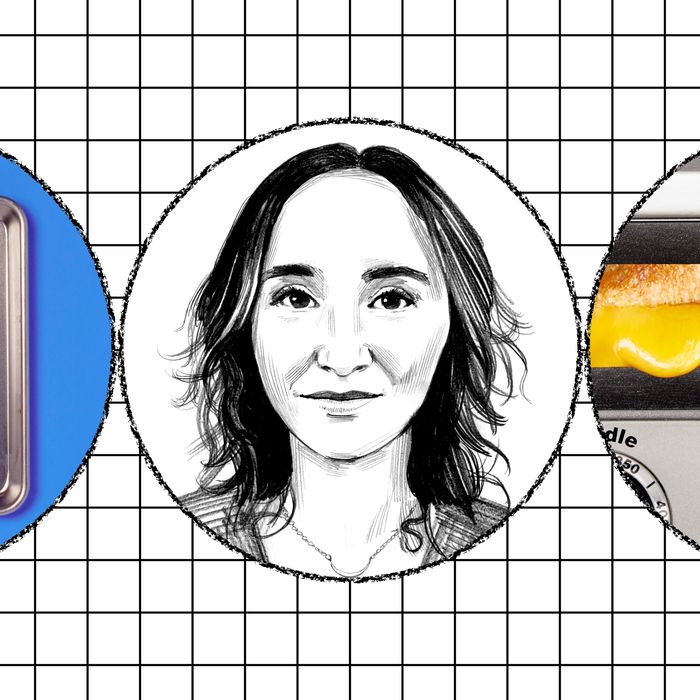 Photo-Illustration: Strategist; Illustration: Joe McKendry; Photos: Marcus McDonald
Welcome to How I Pick My Picks — a kind-of-regular series where we check in with the Strategist staff on the stuff they're using day-to-day, the products they're testing for stories, and the things their friends and family won't stop asking them about. Consider it a peek into the always-whirring brain of a Strategist writer. First up, our kitchen and dining writer Emma Wartzman. This conversation first appeared in our newsletter — sign up for even more insights into how The Strategist sausage gets made here. 
I live in Brooklyn, but I'm writing this from my childhood bedroom in Los Angeles, a visit that has caused me to contend with how similar my kitchen is to my mother's. There's the Zwilling nonstick skillet I told her to buy for perfect scrambled eggs, the Staub baking dish we used to slow-roast salmon the other night, the ice trays she inspired me to get (and in turn inspired the whole Strategist staff), the deli containers where we store leftovers, the Nordic Ware sheet pans I know are durable because I've been using them for a long time and she's been using them for even longer. I've been making coffee every morning in the stovetop percolator I grew up with — the same one I purchased for my apartment across the country. She keeps telling me how great her milk frother is, and I keep telling her I know because I tested it for a story (based on her recommendation).
I test a lot. There are some things that I probably wouldn't ever have used if not for this job. I literally threw a panini party recently to try out different machines. I made my boyfriend two different waffles for breakfast a few weeks ago to see if we preferred square and fluffy or round and crispy (it was the latter). Practically speaking, I might never incorporate a vacuum sealer into my own cooking routine, but after 45 minutes on the phone with a New York City bar owner who does, the obsession is palpable. It reminds me of the way I talk about my own well-loved, heavily used tools — the Dutch oven that will probably still be around when I have kids of my own and my very favorite kitchen shears that I just ordered for my mom because hers aren't cutting it.
As a kitchen and dining writer, what's the product that friends and family always ask for your advice on?
I always say you only really need three types of knives (a chef's, a serrated, and a paring), but I have ended up so far beyond that. I had invested in a few high-quality ones for myself before I started this job; I've received several as gifts over the years and even more to test. My collection is honestly a bit overkill at this point. Also, they always ask about my kitchen trash can. They think it's nice-looking, and I agree.
Do you have any strongly held opinions that have changed after testing?
I've been in the food world for quite a while at this point (including six years at Bon Appétit and another stint freelance food writing after that) and always thought the Zojirushi was the be-all, end-all of rice cookers. No question it's a great machine (I've been testing it for a few months myself now), but at this point, I've also talked to many people who swear by their much cheaper, simpler models like the Panasonic and Aroma that have held up for ages, which I think is cool.
What's the least amount of money you should spend on, for example, a knife?
There are some really good knives out there for less than $65. I'm particularly intrigued by the $37 Japanese-style blade recommended by one expert in our roundup, but I also know a few people (including a butcher I chatted with who is hard on knives) who swear by Victorinox's $60 one. Especially if you get it professionally sharpened a couple of times a year, it'll last a really long time.
What are you currently testing and researching?
When I get back to the East Coast, there's an electric kettle, air fryer, and a newly released version of an old skillet waiting for me.
What product do you think is a total waste of money?
This is difficult because everyone cooks differently, and nothing is a total waste of money if you use it! I think the thing I'm personally most wary of is sets — knives, cookware, utensils — because it's easy to end up with pieces you won't use. I prefer to buy what I need individually. (That said, I worked very hard to make each of those lists as useful as possible if you are looking to invest in a bunch of tools at once.)
What's the most expensive kitchen product that you own?
On the high end, my classic Weber charcoal grill. It's not even a particularly fancy grill, but it was still an investment. Nothing gives me quite as much pleasure as cooking food over fire in the summer. On the lower end, a bottle of Pianogrillo Farm olive oil, which is less expensive than my grill, but still nearly $40. I'm not the olive oil sommelier who recommended it for its "distinctive fruitiness," but I can tell you it tastes seriously amazing.
What's the last thing you bought?
Those Material Kitchen shears for my mom.
What's the last thing you bought for yourself?
A thrifted version of this water pitcher shaped like a fish! I found it for $10 at a random shop in Pennsylvania and was very pleased with myself. It's as functional as any other, but I'm also keeping it on display on my kitchen windowsill because it's so fun.
What are some open tabs on your computer right now? What's on your list, but you can't bring yourself to buy it just yet?
A set of Sarah Kersten soup bowls to match my breakfast bowls. I think I actually talked about how much I wanted them in my interview for this job two years ago and I still haven't splurged. But I look at them … often.
If you had to spend $1,000 at Williams Sonoma, what would you buy?
In this dream world I also have more counter space, so a Breville espresso-maker (those appliances are notoriously expensive).
A Few of Emma's Favorites
The kitchen shears I bought for my mom.
The espresso machine I'd buy if money (and counter space) was unlimited.
The chef's knife that proves that sometimes less is more.
Lastly, my particularly handsome kitchen trash can.
The Strategist is designed to surface the most useful, expert recommendations for things to buy across the vast e-commerce landscape. Some of our latest conquests include the best acne treatments, rolling luggage, pillows for side sleepers, natural anxiety remedies, and bath towels. We update links when possible, but note that deals can expire and all prices are subject to change.