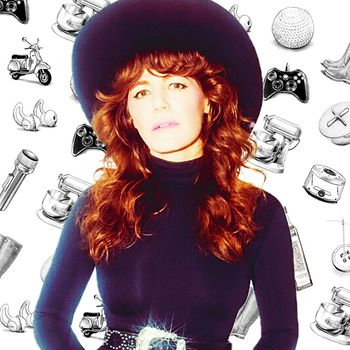 Photo-Illustration: The Strategist; Photo: Bobbi Rich
If you're like us, you've probably wondered what famous people add to their carts. Not the JAR brooch and Louis XV chair but the hair spray and electric toothbrush. We asked musician Jenny Lewis — whose new album, Joy'All, is out today — about the hair products she uses to achieve her signature shag, the coffee mug she once gifted to Harry Styles, and retro Nike sneakers she's loved since junior high.
When the world shut down, all of your beauty products had to be deliverable. So I did some research on the best over-the-counter, very gentle facial cleansers. This is like Cetaphil, but with a French name, so it feels fancier than maybe it is. But it's very affordable, and totally accessible. I'm pretty basic with my beauty routine. It simplified just like everything else in 2020. I basically have a cleanser, a moisturizer, toothpaste. And Band-Aids.
I think I first smelled this in Japan, in a temple, because they burn sandalwood incense typically. The smell is very Zen, but it's also earthy, and I like very earthy scents. I'm not a Palo Santo fan, because one year at a festival — maybe it was Roskilde — they put us in this tiny trailer with no windows. And there was a plate full of rotting fruit in there. My bass player at the time, Jonathan Wilson, had a stick of Palo Santo in his pocket. This was years ago, before it became hip. He burned this Palo Santo and it somehow mingled with the rotting fruit in the dressing room, and I just can't stand Palo Santo anymore. Sandalwood does that same kind of earthy thing without being super obnoxious.
If you get a puppy, it's going to be teething for exactly six months. And so for months and months you think, Oh no, what have I done? This puppy is chewing everything. The furniture, just everything. How am I going to deal with this? Have I made a huge mistake? I have a furry alligator. These sticks look very cute coming out of a dog's mouth, kind of like a joint. So I say to my dog, "Where's your joint? Got your joint?" I would feed her these sticks, and then like magic, at six months old, she never chewed again. These things are amazing, and they seem very limited in their ingredients. We had a labrador when I was growing and we would just squeeze liquid margarine onto its food. Pure carcinogens. And no one said anything. Now I have organic dog cookies on my tour rider, and occasionally someone will go up to the table and eat the dog food by mistake. It's better than the gluten-free cookie sometimes.
I was a big Yeezy shoe fan. I had so many pairs. There was just this feeling when you wore your Yeezys out in the world. But when all that went down with Adidas and Yeezy, I returned to my childhood shoe of choice: my seventh-grade, junior-high Nike Cortezes. This was the style in the public schools in the Valley. With Dickies work pants and then a white tank top. It was very Gwen Stefani. I have a vintage pair that are neon green, which are probably from the early '80s, that are amazing. I also have the red, white, and blue ones, which are sort of repping the Dodgers. They're a very L.A. shoe. And I also have the black swoosh. Kids' sizes! It's cheaper, and when the adult stuff sells out, the kids' stuff is still available.
It's a journey, with this type of washing regimen. If you're used to lather, forget about it. If you want to feel like your hair is clean, forget about it. But it looks better. People don't realize there's a time period where your scalp gets used to the new rules around town. But your hair looks amazing and all you have to do is add water in a spray bottle, and then you just reshape your shag without having to fully wash it. I've tried to introduce some of my girlfriends to it and they don't believe me, they want to wash their hair everyday. But give it a shot.
This works really well with the New Wash. You do the New Wash, you do the balm, you let it dry, you shape it, and then on day three if your bangs are looking a little greasy, you take a little bit of this paste and run it through. And you can also shape just the ends and it's a very easy product to use.
I have never met Anastasia herself. But I do get my eyebrows done at the Anastasia salon at Beverly Hills. There's more eyebrows than when I was growing up, when we tweezed them, and that was the look. My advice is don't tweeze your eyebrows, and also don't laminate them. This goo, you just brush it up and it looks like you've laminated them. It doesn't last as long as you would want, but around midday you can brush them up and they're still a little bit tacky. I really like that look, when the brows are brushed straight. I'm addicted to it.
A Negroni is a very simple drink. It's equal parts gin, Campari, and vermouth. So you can't really mess it up. And then you can sort of improvise with those ingredients and try different bitters. The vermouth world is vast and I'd like to get into fine vermouth, but Dolin you can find anywhere. Your palate matures. I don't think I would have enjoyed a Negroni in my 20s or even my 30s, but there's something about the bitterness that I just love now.
It depends on who I'm sleeping next to. If you've got a snorer — not to be confused with a schnorrer at the Jewish temple, that's someone asking for money — you need these. I dated someone who was a real snorer, so in order to have a healthy relationship, you need to put those earplugs in or you're going to be real mad.
These are a pretty low dose, five milligrams, which I think is so important with edibles. People, if they haven't experienced them before, they go big. Some of these things are 100 milligrams. That's dangerous! Two and a half to five milligrams is a really good way to experiment with CBD and THC, especially for sleep. Very helpful and way less addictive than Ambien, which is a fucked-up drug.
It's a tinted sunscreen, which is important to use, especially on your face. And mineral sunscreen is, I think, the way to go. I go to this incredible facialist in Nashville, Sarah, and I swear she's a witch of some sort. She has a filthy R. Crumb tattoo. She does sound-bath facials, and she recommended this product to me. It's not like you're not going to get any real coverage, but the formality of thinking it's there is important. You have to put this on and then put foundation on afterwards, unless you're someone who doesn't need makeup, which, God bless.
I did a shirt collaboration with this brand, but these pants are really where it's at. They sell out really fast, and they're unisex sizing. I think if you've been living in sweatpants a little longer maybe than you should have been, it's 2023, and this is a good transitional comfy pant. I don't know if I'll ever go back to wearing jeans again, to be honest with you.
My friend Jess Cheatham is a potter, and I met her when I moved down to Nashville, while two-stepping at the honky tonk. She's a great two-stepper and she's also a great potter. All of her stuff sells out. She does this gold tooth mug in seasonal colors. I have a white one and a purple one, but I'm coveting this kale one. It's so cute. When I started the Love on Tour shows with Harry Styles in 2021, I made him a little gift bag of stuff. And in it was one of these mugs. Also a Rodarte sweater that was originally for me, but I was like, You know what? I think Harry will do better in this Rodarte sweatshirt.
The Strategist is designed to surface the most useful, expert recommendations for things to buy across the vast e-commerce landscape. Some of our latest conquests include the best acne treatments, rolling luggage, pillows for side sleepers, natural anxiety remedies, and bath towels. We update links when possible, but note that deals can expire and all prices are subject to change.