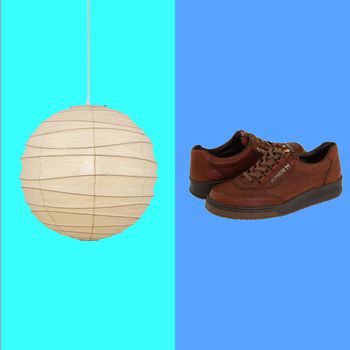 Photo-Illustration: The Strategist; Photos: Retailers
We write about hundreds of products every week. Here, in our version of the Sunday circular, we've plucked some of our recent favorites: expert-recommended essentials, life-changing stuff you didn't know you needed, newly launched gizmos, and very good deals we uncovered while trawling the vast online-shopping universe — a non-touristy handheld fan that charges your phone and lights up after dark, actress Anna Cathcart's patches to curb even the deepest breakouts overnight, and the water-filtration system that separates pro Pacific Coast Trail thru-hikers from the amateurs.
A headphone headband that won't disturb your partner
For the past three months, Strategist contributor Chelsey Pippin Mizzi — a self-described restless sleeper — hasn't gone a night without this headphone headband, which lets her comfortably listen to books or music without disturbing her partner. Mizzi says its functionality is simple: The soft, stretchy material can be manipulated so that each flat speaker is flush against her ear, never jamming or poking in the night. As for the sound quality, "the audio comes through clear — no tinny static or flattened sound, and the range of volume is decent," Mizzi says. And while she acknowledges its somewhat goofy appearance, Mizzi says "wearing it on a dog walk, to the gym, or at the airport doesn't bother me at all."
An avant-garde rug for under $1,000 …
Devastated by the news that the order for a rug she'd bought online had been canceled, Strategist writer Kitty Guo went on a frenzied search for a comparable option that soon became a high-stakes quest for, as she puts it, "my perfect rug, my rug soul mate, my One True Rug." After scrolling through Ruggable, Revival, Craigslist, and more, Guo uncovered this design on Etsy, which she says matches her modern sensibility and preference for bold graphics. But if this one doesn't suit you, Guo says the site is still "an excellent place to browse rugs sourced straight from India or Morocco that won't cost an arm and a leg." Read on to shop her other candidates — and see the one she's actually picking.
… And an under-$20 fan that doubles as a portable charger and a flashlight
Last year, Strategist contributor Annachiara Barretto-Grignoli planned a mother-daughter rail tour to Europe during high summer — and to survive the heat, crowds, and long queues, she brought along two handheld, pocket-size fans. On a 101-degree afternoon in Milan, Barretto-Grignoli says the rapidly whirring blades helped to move the stagnant air and regulate her body temperature; plus, the fan has a portable charger, a flashlight for traversing uneven streets at night, and a stand to transform it into a tabletop model "that emitted a quiet hum, barely noticeable to our fellow diners." Barretto-Grignoli says fellow travelers even stopped her and her mom to ask them where they'd bought the fans.
Anna Cathcart's patches for zits lurking under the surface
Actress Anna Cathcart can't live without these pimple patches (our pick for hormonal acne), which she describes as "miracle workers" for deep, under-the-skin blemishes. Cathcart says the brand's stickers are customized to treat varying skin types; her favorite, known as the Killa, has 24 dissolvable micro-darts designed to push salicylic acid, niacinamide, and hyaluronic acid into "really rough and hard to get rid of" bumps. "I put one on overnight, and it always slows it down, or helps get rid of it before it gets to the surface," Cathcart says.
A discreet (and affordable) rear bike light for nighttime rides
You've likely read the Strategist 100 (and our other greatest-hit collections for the kitchen, home, kids, and babies), and now, we bring you our latest catalogue: the Lighting District. This edit features 100 of our absolute favorite lighting implements, which includes Secret Service–approved flashlights, TikTok-viral LED light strips, and these ingenious bike lights used by Strategist writer Jeremy Rellosa for the last four years. "They've got elastic bands that attach to any handlebar or seat post, and they don't budge, even while riding over the gnarliest road bumps," he says. They're also so compact that he can carry them in his pants pocket after locking up his bike. (They would also make a delightful Father's Day gift for an outdoorsy dad.)
The protective foot pads Erykah Badu wears when "earthing"
"I like to earth it a lot — that means go barefoot," Erykah Badu says. When she ventures somewhere "a little too nasty" for her feet, the Grammy Award–winning singer-songwriter sticks these thin waterproof soles to her soles. "You're still getting the reflexology when you're stepping on the little pebbles and rocks, but you're not getting the germs and cuts," she says.
A design-y water pitcher for Alessi aficionados …
After living together for nearly a decade, Tessa Vermeulen, the founder and designer of Hai, and her husband, Gennaro Leone, have accumulated the necessities, which is why their wedding registry includes some more sentimental and special items they've long wanted. Along with a set of red-and-blue glasses they discovered at the hotel Le Sirenuse and an Ooni for garden pizza parties, the pair's list includes this stainless-steel creamer to replace "a water jug we very much dislike," Vermeulen says. "Just a nice, simple metal jug," she says. "That's it. No crazy backstory" — except she says that all the couple's serveware is made by the 100-year-old Italian company. Must be nice.
… And the water filter PCT thru-hikers screw onto Smartwater bottles
Walking the entirety of the Pacific Coast Trail requires super-lightweight and durable backpacking gear, so Rellosa spoke to thru-hiking veterans to get the lowdown on what marks someone as not a total noob. Harrison Bacordo, a Denver-based software engineer who completed the trek last September, says more than 90 percent of PCT hikers use Smartwater bottles because they're lighter than Nalgenes or stainless-steel drinking vessels. In conjunction, many also use this Sawyer system — which is compatible with Smartwater's plastic sport cap, so you don't lose water when you drink, Bacordo says — to remove harmful bacteria, protozoa, and sediment.
The handmade "NYC ERA" and "F JOHN MAYER" bracelets that make a Swiftie a Swiftie
To uncover what fans are wearing to Taylor Swift's Eras tour, Guo conducted a semi-scientific survey at Penn Station as concertgoers commuted to MetLife Stadium. The unofficial uniform is a fun dress — to represent one of the pop star's albums — along with knee-high cowboy boots, Guo says, but finishing touches included accessories like personality hats, butterfly clips, and full sleeves of DIY jewelry. "Many fans bought bead kits online and crafted bracelets in the weeks before the show," Guo says, who spotted sayings like "WOULDA COULDA SHOULDA," "KARMA IS A GOD," "SCREAMING CRYING," and more.
The Steven Spielberg shoes Chase Halls buys in droves
Artist Chase Hall says he began buying Mephistos in 2014 while working for creative Grear Patterson, who told Hall it was the shoe Steven Spielberg wore for decades. As an "obsessive collector" of things that inspire him, Hall says he now owns well over 50 pairs in every color the brand offers and some rare duo- or tritone ones. Because he stands for over 16 hours a day, Halls claims it offers "a tough-love type of support, not a gushy plastic type of support," and is sturdy and reliable like a hard mattress or a nice car.
A Noguchi lamp that's "soft on the eyes"(and another lamp that's poised to be the next Noguchi)
In this week's two-part Noguchi news, we turned to dozens of writers, architects, illustrators, and more to take photographs of themselves with their washi-paper light sculptures exactly as they've styled them, like this ceiling lamp owned by architectural designer Amanda Gunawan. "I like how they look when they're lit up because it reminds me of the Asian tradition of writing your wish on paper lanterns and sending them up into the sky on special occasions," says Gunawan, who also owns the Akari 21A.
But for an easier-to-source alternative that might be on the brink of Noguchi-caliber popularity, Strategist writer Lauren Ro says she keeps spotting lamps made of basketry and wicker. Many of the shapes and natural materials Ro has observed speak to the themes of Noguchi's work, and she predicts that we'll only continue to see this trend trickle down to bigger retailers like Crate & Barrel.
The Strategist is designed to surface the most useful, expert recommendations for things to buy across the vast e-commerce landscape. Some of our latest conquests include the best acne treatments, rolling luggage, pillows for side sleepers, natural anxiety remedies, and bath towels. We update links when possible, but note that deals can expire and all prices are subject to change.