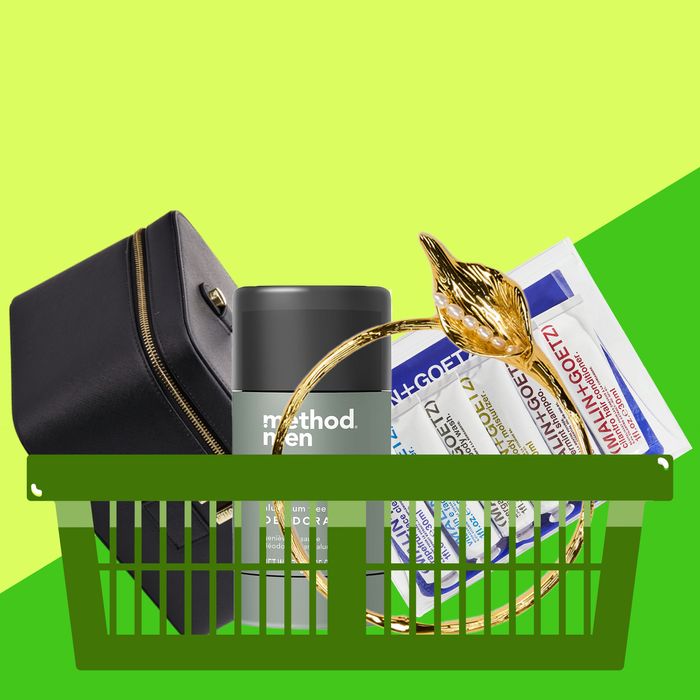 Photo-Illustration: The Strategist; Photos: Retailers
If you follow our monthly feature "Your Shopping Cart," you know we have some eerily good intel on what you all are buying, which led us to think that, as Strategist editors, we could turn the tables and highlight all the things we've been buying for ourselves. As you'll notice, it's both a blessing and a curse to be a Strategist editor; we're picky, but sometimes we just have to get on with it. (It's online-shopping expertise meets IRL needs.) Below, what we bought in June.
Maxine Builder, editor
I fell deep into #europeansummer TikTok and convinced myself that I needed some oversize-but-tailored chinos for a trip to France, and I was absolutely correct. These ended up being the only pants I wore for the entire five days. They were lightweight enough that I didn't feel sweaty while biking around Paris, and they still looked nice enough for drinks at a café with my husband's friend from high school. They were comfortable enough that I even wore them on a two-hour train ride from Lyon to the airport and the six-hour flight home, instead of my usual Adidas track pants. My one caveat is that the sizing on these pants is absolute nonsense. I usually wear a size 8, and according to Free People's own size chart, I'm between an 8 and a 10 — but the tag on these chinos says they're a size 2 and they fit me perfectly.
Ailbhe Malone, senior editor
I was standing outside the Lido, towel in hand, the other day when I realized I hadn't brought any shampoo with me. Washing my hair with hand soap didn't appeal, and as I'm going on a trip at the end of June anyway, I figured I'd grab some travel toiletries. Unfortunately, I was in Covent Garden, central London, so my drugstore options were a Fresh, a Kiehl's, and a Malin + Goetz. Malin + Goetz had the best offer ($38 for shampoo, conditioner, body wash, face moisturizer, body moisturizer, and a face cleanser). I think it would be a delightful gift for a frequent traveler — or a forgetful swimmer like me.
Emma Wartzman, kitchen and dining writer
In the year and a half that I've been living in my apartment, I've given much more attention to decorating the main rooms (living room, kitchen, dining nook) than the ones fewer people hang out in. Right now, I'm in the mode of giving some much-needed attention to those latter spaces, which included buying this slim rack for my closet floor to finally organize the pairs of fancy heels and lesser-worn shoes I keep in there (instead of by my front door).
Also on that list was a new shower curtain (my old one was fraying and losing grommets from too many runs through the washing machine). I like this one because the white keeps my small bathroom looking clean and bright, but the waffle weave gives it just a bit of visual texture.
Kelsie Schrader, managing editor
I was back in my hometown of Kansas City this month and was showing someone all the major sites, which of course, included Boulevard Brewing Co. We got two flights, one of which included a few of Boulevard's spiked seltzers, called Quirks. I don't generally like most brands of seltzers — they taste too … sweet? Not sweet enough? Chemical-y? I can't pinpoint my exact issue, but they don't ever taste quite right to me. But Boulevard's were actually, genuinely good. The flight included the Raspberry Rocket Pop and Strawberry Lemon Basil flavors, both of which were so smooth, balanced, nuanced, and fresh. I liked them so much that I bought a pack to take down to the Lake of the Ozarks, and they were gone in a day or two. I wanted to try all the other flavors (especially Key Lime Coconut) but ran out of time. Sadly, they aren't sold anywhere in New York, but if you're ever in K.C. or see them in stores, I'd really recommend trying them.
I decided to trade in my iPhone 11 (whose battery was getting close to useless) for an iPhone 14 this month. I'm a daily dropper, so before I even left the store, I had them put on a glass screen protector, but I wanted to do some research on cases before buying one. (In the interim, I literally just carried my phone around in the box it came in.) I have a very old iTunes gift card I can apparently use on Apple accessories, so I was thinking I'd get Apple's silicone case, as I liked the slim and simple look and coordinating color options, but a lot of people on the internet say Apple's silicone cases chip easily, attract dust, and maybe aren't durable enough for the very clumsy. So I ultimately decided to stick with Otterbox, which I've been using for years. While not as slim and sleek as Apple's cases, the Symmetry series is far less bulky than other Otterbox cases, but it's still durable and simple looking. It was also half-off at Best Buy in the exact blue color I wanted. Plus it's MagSafe-compatible, which I'm going to start using for charging since I've heard it can help with the longevity of your phone's battery. (I used my iTunes card to get Apple's MagSafe charger instead.)
Brenley Goertzen, junior writer
I've been typing "ergonomic makeup bag" into search bars for several weeks. I eventually made a pact with myself to pay top hits on Amazon or TikTok ads no mind, as I've already gone these routes and it leads only to broken palettes and exploding serums. I knew what I didn't want: a structureless pouch where all my products could smash together like a beauty mosh pit. I should be clear that I'm a floor-get-ready type of girl, so my skin-care and makeup need to sit upright and stay perfectly arranged. At last, the e-commerce algorithm spit out a video for a highly organized pack made by the Australian brand Étoile Collective. My boyfriend kindly pointed out that étoile means "star" in French, and since receiving my vanity case, I must say that this has become my sun, moon, and all the stars. A non-flimsy divider means every item has a place, and the sturdy handle makes it easy to carry from one room to another.
I was in the market for a new "emotional support water bottle" when a discussion in one of our staff Slack channels sparked my interest in Owala. Unlike my Hydro, this model is the best of both worlds as it has two spouts, one for sipping through a built-in straw and another for taking big gulps. I've always been terrible at hydration, but so far, it's more than tripled my daily fluid intake, which means fewer headaches but more bathroom breaks — but hey, I call that progress. I've become so accustomed to having it in hand that it's the only way I'll drink at the dinner table.
Erin Schwartz, writer
This month, I had a rite of passage I'd never yet experienced in 13ish years of machine sewing — I broke a needle. It hit a pin while I was shortening the straps of a rhinestone tank top; it turned out to be my only machine needle, so I had to hand-stitch one strap back together before wearing it out that night, like Laura Ingalls Wilder. I bought this replacement pack of needles, plus leather needles, to fix a pair of shorts that have been sitting in my to-sew pile forever.
Photo: Erin Schwartz
As a small-headed person, I have a hard time finding sunglasses that fit my face and don't awkwardly extend past my cheekbones. The real solution would be to try them on IRL, but I don't know any stores that are the right medium between $10 Saint Mark's Place sunglasses stands and stores where I'll end up overpaying. So I finally got around to measuring my face to find a well-fitting pair on eBay. In my search, I found Kata sunglasses, which run on the smaller side — around 4.5 inches wide, versus the standard sunglass width of around 5.5 inches. They fit perfectly, have good sun protection, and come in a bunch of fun, subtly Matrix-y designs. Would get another pair!
Lauren Ro, writer
Our 1-year-old loves bopping to music and banging on things, so we decided to get him a proper drum set, specifically this one from the Strategist's best gifts for 2-year-olds story. It was an immediate hit (pun intended). Naturally, our 4-year-old loves it, too. There are different presets and built-in activities you can do, like following a pattern, but the baby mostly likes to freestyle. The best part about it is that it's quite compact — just 12 inches across — and very easy to put away.
Even though I have a million other white dresses that look like this, I couldn't help myself when I saw it at the store. Made of a linen-cotton-rayon blend that makes it a bit structured, it's got a cute empire bust with a stretchy, ruched back panel, narrow adjustable straps, and an ankle length (on me, at least) that I imagine can easily transition from day to night. It washes well, too. I can see it being my summer uniform, and am considering getting it in black as well.
Jeremy Rellosa, writer
I'm on an eternal hunt for a daily roll-on deodorant. I'm a fan of OffCourt's deodorant spray, but sometimes I need a little more protection on sweaty days. I came across this aluminum-free roll-on at the drugstore and liked its subtle yet fresh-smelling scent that has notes of cedar. It doesn't stain or leave a smell on my clothes, and I don't have to worry about my deodorant being too overpowering. It's also almost sold out every time I go to the store, so I just got another stick to re-stock.
This month, I went to my first astronomy-club meetup in Brooklyn, and I bought this field guide to study up on my constellations beforehand. It has detailed sky charts that can help you spot everything up above. It's fun to flip through and learn about different constellations and stars (and the history behind their names) even when I'm not studying for the next stargazing session. And although the light pollution is quite bad here in New York, there are some spots outside of the city that let you observe the skies more clearly.
Ambar Pardilla, writer
I hate summer — and a big reason for that is because I don't like putting on shorts. The pulling, the tugging, the thigh chafing. So I've been on the hunt for pants over the past few weeks — ones that are loose and won't make me sweat. Somehow I ended up at Athleta. The over-65 crowd that we polled for our Senior Survey was right about the brand, — though, I went with the Stellar instead of their beloved Brooklyn pants. The Stellars might be the only cropped, wide-legged pants that are actually cropped and don't balloon on me. I went with the petite inseam (which is 21.5 inches compared to the regular 23.5) and can show off some ankle. I can move in these. I can sit in these. I own them in every color now.
And because I can't go long without getting something shiny for myself, I figured, Why not? when I noticed this on sale. Very Georgia O'Keefe.
The Strategist is designed to surface the most useful, expert recommendations for things to buy across the vast e-commerce landscape. Some of our latest conquests include the best acne treatments, rolling luggage, pillows for side sleepers, natural anxiety remedies, and bath towels. We update links when possible, but note that deals can expire and all prices are subject to change.