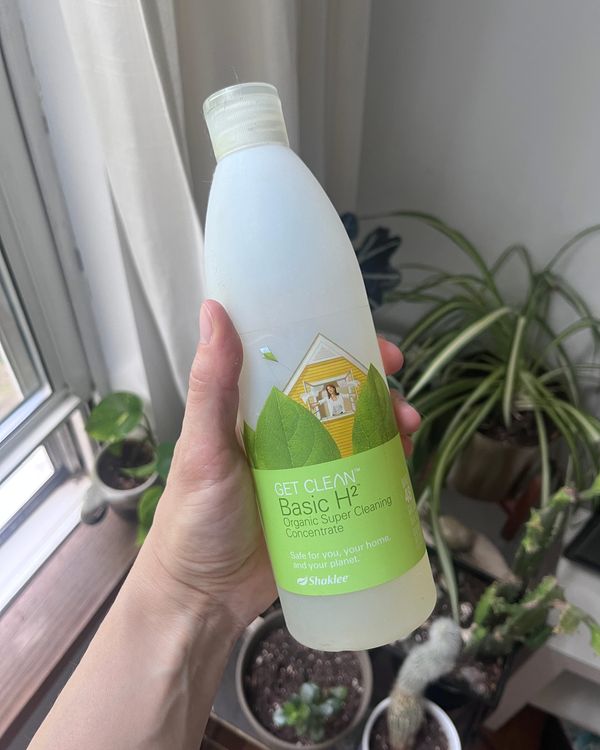 My life has changed a lot since 2015. Back then, I never thought I'd own a dog, temporarily relocate to Washington D.C., reside in a Brooklyn neighborhood full of babies, or fall in love with a woman, but here I am. Seasons, people, and priorities all change, but one thing that sits quietly under my bathroom sink, forever unchanging in both packaging and performance, is my cheery green bottle of Shaklee Basic H2 Biodegradable Cleaner. For the better part of a decade, it's been my go-to, a security blanket that soothes me with its shocking cleaning and degreasing power and its almost mystifying ability to never run low — I go through the product so slowly, eight years on, it's still more than half full. Eight years! It's my longest relationship to date.
I discovered Shaklee when I was an editor at a women's magazine and a co-worker casually mentioned it was the most effective natural cleaner she'd come across. I ordered a bottle, thrumming with excitement as I checked my mailbox. When I took it out of the box, it looked remarkably unremarkable. It's not flashy — it lacks the saucy curves and Skittle colors of a Method product; it forgoes the summery scents of anything from Mrs. Meyer's. Were my sky-high expectations about to come crashing down?
I'm not normally one to lose my shit over housekeeping items, but the product description on the website boasted of a roundly ecofriendly product: nontoxic, pH balanced, and free of hazardous chemicals, fragrance, chlorine, and — the product copy assures us — toxic fumes. There was also the promise that I'd become my own alchemist, replicating pricey all-natural spray cleaners at home. A couple drops in 16 ounces of water means a perfect glass cleaner. A larger squirt of a quarter teaspoon, and I, godlike, could basically create a $5.99 all-purpose spray. I'm a Midwesterner; I love a bargain. And if the promises were true, I was about to save so much freaking money on counter spray, Windex, shower cleaner, and more.
I'd picked up empty spray bottles from my local dollar store in anticipation, and in the kitchen I dutifully mixed up two batches: glass cleaner and multipurpose spray. I tried the latter on my counters, the microwave, and my kitchen table, and lo, it worked almost exactly like the $$$ Method spray I'd been keeping under the sink. It wasn't scented (though I later got into the habit of adding a couple drops of lemon essential oil, my own little Earth goddess panache), but it lifted away grime and left smooth surfaces shiny. I tried the glass cleaner on the bathroom mirror next with equally perfect results. I marveled. Had I found the magic bullet that'd slash "ran out of cleaning products" off my list of problems forever — or at least, for a long, long time?
Years later, I can say it's a resounding yes. Shaklee Basic H2 Biodegradable Cleaner's solvents — derived from corn and coconut — cut through grime with the quiet determination of Anne Hathaway inhabiting a role. The nontoxic potion works wonders on grease, disappearing oily splatters on my stove's grates and drip bowls, lifting away the sheen on my microwave and backsplash. A tablespoon stirred into a gallon of water makes a mopping solution that leaves floors sparkling because this workhorse truly can Do It All. (The product also allegedly scrubs oil away from dirty driveways, but I haven't tested this out.)
I've tried other natural cleaners over the years (Ology, Seventh Generation, and Mrs. Meyer's, to name a few), and I find that while the glass cleaning is pretty much the same across brands, Shaklee seems to clean off hard surfaces — cooktops, counters, and the like — with a little less elbow grease than other ecofriendly sprays. (Greasy fingerprints and shriveled pasta are no match for anything strong enough to clear gasoline off asphalt I suppose.)
And it does it without smelling like … well, much of anything. The scent is neutral, almost imperceptible — milder than most natural cleaners, and far kinder to the nose (and lungs) than traditional products. The tang of ammonia, the fake-flowery stink of sprays, the eye-watering fumes of bleach — it's wild, when you think about it, what we willingly blink and breathe through in the name of housekeeping. If COVID-19 taught us anything, it's to deeply love and appreciate our sense of smell and functional lungs, and I'm pleased to have found a natural cleaner that actually works sans nasty smells.
And, of course, when the global average temperature is expected to climb three degrees Fahrenheit or more within the next few decades, I enjoy that Shaklee is not only an Earth-friendly cleaner — there are plenty of those on the market — but also that I'm not a prisoner to the consumerist cycle, forever ordering replacement products, tossing empty bottles into the recycling bin so they can bob in the ocean for 450 years. According to the U.N., 98 percent of single-use plastic products are produced from fossil fuel and the greenhouse gas emissions tied to the production, use, and disposal of plastic will grow to a stunning 19 percent of the global carbon budget by 2040. To me, it feels downright John-Muir–esque to notice my bottle of glass cleaner is empty and, without running to drugstore.com or trekking to the dollar store, pour tap water into a bottle, add a tiny bit of cleanser, and go on with life — zero freight shipping, mailing materials, or new plastic bottles involved.
The Strategist is designed to surface the most useful, expert recommendations for things to buy across the vast e-commerce landscape. Some of our latest conquests include the best acne treatments, rolling luggage, pillows for side sleepers, natural anxiety remedies, and bath towels. We update links when possible, but note that deals can expire and all prices are subject to change.