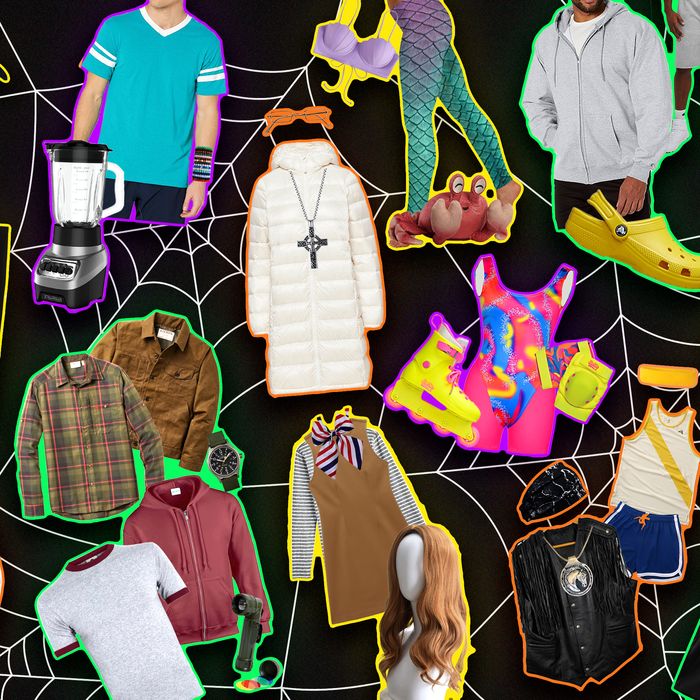 Photo-Illustration: Strategist; Photos: Getty, Retailers
When the temperature in September climbs above 90 degrees, it's easy to find solace in thoughts of a much less humid — and much more spooky — season. Plus, planning your Halloween costume early is the logical thing to do, lest you miss your chance to buy just the right accessory, face paint, or pair of neon Rollerblades. So to help you get your get-up all squared away, we have once again created a list of the best pop-culture Halloween costumes (2023 edition) that you can easily create with stuff you already own and things you can quickly buy online. Below you'll find something for everybody, including instantly recognizable memes, dolls come to life, and real-life people fighting the good fight.
Hailey Bieber and Justin Bieber at Rhode x Krispy Kreme
2023 was the Year of Collaborations (Ganni x New Balance! Barbie x Everyone!), but one of the strangest might be between Rhode (the beauty brand) and doughnut maker Krispy Kreme to make a strawberry-doughnut-flavored lip treatment — particularly for the paparazzi photos of the launch. The Biebers were simultaneously overdressed and underdressed for the occasion, with Hailey (née Baldwin) in a corseted minidress and Justin in SpongeBob-colored Crocs. The task will be comparably low effort for whoever dresses as the "Justin" of this two-part costume — add a just-rolled-out-of-bed sweatsuit, tube socks, and a baseball cap over a hoodie. The "Hailey" needs a little more planning and a pair of strawberry earrings for branding's sake.
AI-generated Pope in a Puffer Jacket
This year's major cultural shift came in the form of artificial intelligence. For months, the news was full of creepy stories about extremely talkative AI that tried to break up marriages, successfully convinced unsuspecting humans of their not-a-robot status, and invented facts that ended up getting people in deep trouble at work. But the AI renaissance isn't happening only in essays and emails. A startling number of us believed that this photo of the pope in a puffer was real. Of course there will be folks dressed as ChatGPT or Microsoft's Bing (a.k.a. Sydney), but if you want your costume to be instantly recognized, go as Midjourney's AI-generated pontiff. All you need is a knee-length white puffer, a cross necklace, a white satin Zucchetto (a yarmulke will work for the purposes of the costume, but not in the eyes of the Catholic church), and a pair of old-guy glasses.
Celebrities on strike
This is a perfect no-effort costume and one that lets you dress as your favorite union-represented Hollywood actor. Just wear a SAG-AFTRA tee — purchased through the union's official online merch store, of course — with casual pants, walking shoes, and a pair of sunglasses for a veil of anonymity. Then, to add some extra detail, you'll need a picket sign with a funny and somewhat depressing strike slogan written on it in Sharpie.
A swarm of spotted lanternflies
Last year's lanternflies are back with a vengeance (September is egg-laying season) — and scientists still say you should kill them. Instead of going as one lanternfly, make the costume a group affair and be mistaken for a swarm of the spotted suckers. Get yourselves a polka-dotted unitard from French children's show Miraculous: Tales of Ladybug and Chat Noir, an antenna with swirled ends (you can smoosh them out for a squashed look), cardboard and paint for DIY wings, and some sneakers to stomp on the actual bugs seen throughout the night. Zapper not included.
The central question of Succession — who will get "daddy's kiss?" — wasn't answered until the final minutes of the final season. It appeared as though eldest son Kendall "Little Lord Fuckleroy" Roy would earn the coveted title of CEO. The siblings even hosted an informal "anointing" of the new King with a crown of blended nobbies of bread, licked cheese, Tabasco, Branston pickles, and cocoa powder. To replicate the fleeting moment of happiness for the Roy siblings, must-haves include a bobbed wig and blender container for Shiv; a striped T-shirt (the one on the show was from Walmart, but has sadly sold out since the finale) and an armful of beaded bracelets for Roman; and a button-down, cabana-striped towel around the waist and baseball hat for Kendall. (Apparently his cap is from an ultraexclusive golf club — you can just iron on a monkey patch.)
"Planet of the Bass" and the ensuing Biljana Electronica drama
You might have scrolled through the Vine-esque "Planet of the Bass" song from comedian Kyle Gordon (a.k.a. DJ Crazy Times) and Biljana Electronica (played by content creator Audrey Trullinger) without much thought of the ode to '90s Eurodance. Only the chronically online caught that Gordon replaced the character Electronica not once but twice in follow-up TikToks. There was an actual NPR explainer on the fiasco, as those on the internet weren't happy with the replacements (joke's on us, as Gordon has an album coming out à la Weird Al). Still, the official music video for the song features the original Electronica. Clapping the hands! To dress as the duo, you'll need a cargo vest, sunglasses, and a slicked-back 'do for Crazy Times and a "When God Made Man, She Was Only Joking" cami and flares for Electronica. (She has a hair tutorial too.) Worst-case scenario is a stranger thinking you're an early-aughts Eurovision act.
Barbie leaving Barbieland
Although much of this summer's billion-dollar Barbie movie (which released the same day as Oppenheimer, launching a thousand Barbenheimer memes) is set in pastel-colored Barbieland, Margot Robbie's Barbie ends up in the real world after an existential crisis involving flat feet. The "real world" is Venice Beach, with Stereotypical Barbie (Robbie) and Beach Ken (Ryan Gosling) Rollerblading around real people and learning about the realities of the patriarchy while dressed in the most "Let's Get Physical" aerobicswear you can imagine. There are dozens of dupes for the leotard already, and you can buy the very skates used in the film, along with the matching elbow and knee pads.
Ken and Ken and Ken and Ken Storming Malibu Beach
Like it or not, Gosling and his fellow Kens stole the spotlight in Barbie. Whether they were waging war on the shores of Malibu Beach, performing a power ballad in all black, or passionately serenading their respective Barbies with a cover of "Push" by Matchbox Twenty, the simple-minded boy dolls were never not funny. To channel their confused, misplaced rage with a group of friends, pull on a pair of '80s short shorts, a colorful tank top, sweatbands, and sneakers. If you're going as Gosling's Ken, your costume is far less colorful and consists of a black fringe vest, lightning-bolt headband, horsehead medallion, and a pair of tight black jeans.
#Scandoval
The premise of Scandoval is simple: Vanderpump Rules star Tom Sandoval cheated on his longtime partner Ariana Madix with castmate Raquel Leviss. But the drama around the affair was nothing short of a circus, resulting in one of the wildest reality-show reunions ever aired as almost all of the show's cast turned against Sandoval (an exception was his fellow Tom, Tom Schwartz). Tons of insults were thrown, including the now-iconic "you're a worm with a mustache" from James Kennedy. It's the sort of thing Bravoheads live for. Would-be Sandovals can wear a stick-on 'stache, suit pants, and hastily painted-on white nails, while their costume partner dons a version of Madix's revenge dress, which is actually a top and skirt. (Her bob is optional, but encouraged.)
Midge Campbell from Asteroid City
Wes Anderson's latest film, with its washed-out orange-and-turquoise color palette, is recognizable even if you've only seen the trailer. And actual reviews aside, much applause was given to the orangey-red lipstick Scarlett Johansson wears in the movie's bathroom scene. So if you happen to look good in that shade, own some matching orange pajamas, or have a friend who's going as an alien (either from the movie or from July's congressional hearing on UFOs), this is the costume for you.
The M3gan Dance
Before Barbie, there was M3gan. The year's other big doll movie delves into our relationship with robots, but it's the dance M3gan does that's gotten the most attention. M3gan's outfit is easy enough to recreate with white tights, an Americana bow tie, a striped T-shirt, and a shift dress (you can actually rewear this one from Everlane post-Halloween). Add a wavy wig and the look is unmistakable.
The Last of Us: Joel and Ellie
Before the debut of this TV series based on the popular video game, Pedro Pascal was not widely known as "Daddy." After it aired and took over the country's consciousness, Pascal became Daddy on a monumental scale — everyone also started talking about brain-eating fungi. Still, without a friend dressed as Ellie, fellow partygoers might mistake your Joel costume as a lumberjack or some other outdoorsy type. To inhabit Joel, you'll need a flannel shirt, a workwear jacket, a military watch (broken if you want to go for accuracy), and some well-worn hiking boots. For Ellie, you can get away with a ringer tee, a hoodie, a flashlight, and a snarky attitude.
The Last of Us: Bill and Frank
By far the most talked-about episode was the one that centered on Bill (Nick Offerman) and Frank's (Murray Bartlett) love story. Despite the couple's tragic demise, their partnership on the show was apocalypse relationship goals. They grew their own food, had a sick bunker, and played romantic duets on the piano. To go as them, throw on a couple of sweaty T-shirts and fake beards. For extra-dark bonus points, accessorize with crystal goblets of red wine.
NYC Rat on the Run
Mayor Eric Adams spent what felt like half of his time in public this year talking about his project to control New York's rat population. His plan for total rodent destruction included hiring the very first New York City rat czar, changing the hours when residents are allowed to put out trash, and sending anti-rat PSA flyers to all New Yorkers featuring a pun and a rat with a suitcase. This costume is admittedly niche, but for the people who will get it, it is chef's-kiss perfection.
Jenna Lyons on RHONY
The Real Housewives of New York shake-up — good-bye to Ramona Singer, Luann de Lesseps, and Sonja Morgan of the Morgans — introduced a brand-new cast into the Bravoverse. But the breakout star of New RHONY is former J.Crew creative director Jenna Lyons. An homage to the "Woman Who Dressed America" has to have pieces from the retailer she was once synonymous with — we're thinking this classic collared shirt, which should be unbuttoned to the navel, ropes of pearl necklaces, the skinniest of skinny ties, and a pair of aviators should do the trick for her masculin-féminin look. Don't forget a bun.
Ronald Gladden from Jury Duty
Ronald Gladden, the only non-actor on the reality show Jury Duty, made his debut as America's newest sweetheart this year. No matter what the producers and writers threw at him, he reacted with kindness and bemused generosity. So if you're looking for a joyful rather than scary Halloween costume, he is it. Just get yourself a short-sleeve striped button-down and a name tag customized with Ronald's juror number, 54.
Sha'carri Richardson's comeback
Speaking of joy, watching Sha'carri Richardson win the 100-meter world title this August was invigorating. After her controversial suspension back in 2021, Richardson finally got what she deserves: a gold medal. To celebrate Halloween as the fastest woman on earth, get yourself a pink high-neck unitard, some blue shorts, pin-on race numbers, and iron-on letters to rep team USA.
The Little Mermaid from The Little Mermaid
The Little Mermaid is the latest Disney classic to get the live-action treatment, with Halle Bailey starring as the titular character in the 2023 re-make. Costume-wise, the new Little Mermaid is similar enough to the old Little Mermaid. You might even have parts of the mermaiden look from a past Halloween. To recreate the seashell-bra-and-scaled-tail-clad Ariel, we found a bikini top that you can swim in and patterned leggings (having an actual tail takes too much commitment) recommended to us by a professional mermaid. Carry around a Sebastian plush for the night.
A Swiftie at the Eras tour
Taylor Swift's Eras is the singer's first tour in five years, with Swifties crowding sold-out stadiums since that Ticketmaster debacle. Concertgoers have their own uniform of sorts, as fellow Strategist writer Kitty Guo observed on a gaggle of Swifties outside of MetLife Stadium; fringe and glitter abound. Whether or not you've been lucky enough to snag tickets, you can channel the look with sequins, rhinestones, and feathers; a pile of friendship bracelets (DIY them with a bead kit if you don't want to buy them readymade); and cowboy boots.
The Strategist is designed to surface the most useful, expert recommendations for things to buy across the vast e-commerce landscape. Some of our latest conquests include the best acne treatments, rolling luggage, pillows for side sleepers, natural anxiety remedies, and bath towels. We update links when possible, but note that deals can expire and all prices are subject to change.