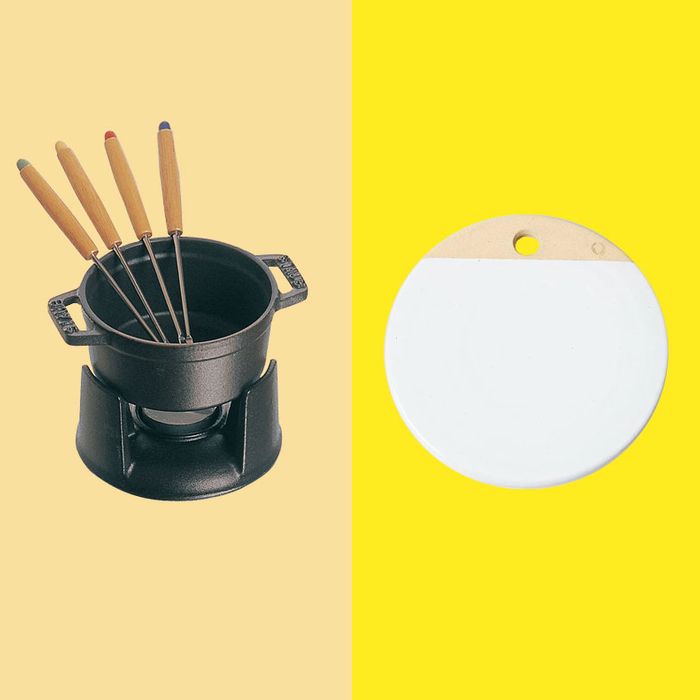 Photo: The Strategist. Photos: Retailers
Cheese is similar to coffee and wine — as in, the people who love it, really, really love it. It's hard to argue with the comforting pleasures of a golden grilled cheese, the allure of a creamy orb of burrata, the salty satisfaction of a pungent Pecorino. But if you're looking for something special to give the cheese lover in your life, you may want to go with more than just a chunk of the stuff. With that in mind, we asked more than a dozen cheese experts, from indie cheesemongers to shop owners to authors, for the best cheese-centric gifts to give this season. From practical (beautiful boards and knives they'll actually use) to educational (virtual tastings) to playful (a "Big Cheese" hat), there's something for every curd obsessive on your list.
Cheese subscriptions and tasting boxes
This assortment from Artifaqt, a family-run wood shop in Phoenixville, Pennsylvania, includes a keep-forever cheese board that's as appealing as the consumables it comes with. "I love the idea of giving someone a board that they can keep, along with some memorable pairings like chocolate and blue cheese," says Tenaya Darlington (aka Madame Fromage), author of Di Bruno Bros. House of Cheese and cheese director at Philadelphia wine bar Tria. She likes serving "handmade cheeses on boards that have been made by hand," whether for holiday, birthday, or wedding gifts.
"I'm lucky to count Saxelby Cheesemongers as my neighbor at Chelsea Market, and I am obsessed with nearly everything they do," says Matt Gallira, founder and CEO of Big Mozz. "Their monthly cheese club makes for a beautiful gift." Darlington is also a Saxelby fan, and she's currently eyeing its Butter Collection: "I can't imagine a better gift to receive in bed — on toast, of course," she says.
Amanda Parker, managing director of Bay Area cheesemaker Cowgirl Creamery, suggests this unique (albeit pricey) cheese-and-much-more option. "Lady & Larder is doing a lovely job with gift baskets, especially the mixed bushels of cheese, California produce, and seasonal flowers," she says.
Parker is also excited about this new release on Food52 of Cowgirl Creamery's own cheeses. "It includes almost everything we make," she says — well-known triple creams, fresh cheeses, a good melting cheese called Wagon Wheel, some smaller-production varieties that are generally harder to get your hands on, cottage cheese, and crème fraîche. This is especially nice, she notes, for people on the East Coast, since Cowgirl's products can be harder to find there.
Cheese boards and platters
"Slate provides a sharp visual contrast with cheese, and these boards come with chalk that makes it easy to label the cheeses you and your guests will be eating," says Mateo Kehler, co-owner of Vermont-based cheesemaker Jasper Hill Farm. Jessica Little, co-owner of Georgia-based cheesemaker Sweet Grass Dairy, also recommends Brooklyn Slate's boards: "I love presenting cheeses on a darker background for a more dramatic look," she says. Both Kehler and Little like that Brooklyn Slate uses stone from a third-generation family quarry in Vermont. In general, stone boards "are the easiest to clean up, especially if the person you're gifting it to likes soft cheeses like Bries and Camemberts, which tend to be messier," explains Molly Browne, education manager for Dairy Farmers of Wisconsin Cheese and an American Cheese Society–certified cheese professional.
Kehler also suggests these "beautiful circular and rectangular stone clay serving boards with a white glaze, if you prefer something more versatile" than slate. Kurt Beecher Dammeier, founder and CEO of Seattle-based Beecher's Handmade Cheese, opts for white ceramic platters, whether for cheese or other foods. "Unlike some wood or marble boards, a ceramic platter won't stain from oils or acids and is very easy to clean in the dishwasher, which is especially handy when you're serving a really soft cheese, like Vermont Creamery's Bonne Bouche," Dammeier says. "I also look for platters that are flat to the edge. This gives you the full surface of the platter to work with, versus using something like a dinner plate that will push your cheeses and accompaniments toward the center of the plate."
For something a little more whimsical, look to local artisans. "Ceramicist Alison Evans is famous for her pieces that recall sea life, and her medium and large oval plates from the Razor Clam series are ideal for presenting cheese logs, small rounds, and pyramids," says Axelrod. She also recommends the "functional works of art" from Duane Butler as well as the handmade serving boards by La Marée Art.
Parker likes this local Oakland woodworker's round board, "not only for the warmth it provides for a cheese board but because it also functions as a piece of art — I hang it on the wall of my kitchen whenever it's not in use," she says. "Since it's a rather sizable, circular board, I like to center my cheese plate around a focal round of cheese, like Cowgirl's Mt. Tam or one of the domestic bark-wrapped cheeses that are so good this time of year, like Uplands Rush Creek Reserve or Jasper Hill's Winnimere."
Gallira has been ordering Brooklyn butcher blocks for years as gifts and to use in his own kitchen. "Nils and his team do amazing work, and their shop in Brooklyn is a woodworking paradise," he says. Although pricier than the more common long-grain boards, these end-grain styles with brickwork patterning should be more durable and long-lasting, and they'll supposedly stay more sanitary because of end graining's self-healing properties.
Cheese knives
Dammeier likes this colorful seven-piece set, explaining that "cheese knives are a fun way to show a little personality in your presentation, especially when you like to serve cheeses as I do, on a white platter." It includes everything you need for a cheese board, she says, "and the design is fun and elegant."
A good option for outdoorsy types, "this Opinel picnic knife is a must-have accessory," Parker says. "It's portable, useful for more than just cheese, and can handle everything from a softer cheese to a super-aged one." Kehler is also a fan of Opinel's "beautifully handcrafted knives."
Parker calls this stylish trio a "super-luxury" cheese accessory, but, she adds, "I think the tortoiseshell is gorgeous, and I would be absolutely delighted to have these in my own home."
Cheese gadgets
"We like to remind consumers that it's safe to store artisan cheese at room temperature," says Kehler, who keeps a "handsome" cheese grotto in Jasper Hill Farm's office that is constantly stocked with "ripe and ready cheeses we're nibbling on." Besides its handsome appearance, a grotto will make sure "cheese is at the perfect ambient temperature and humidity to keep it pristine until serving," Browne adds. If a fancy mini-fridge exclusively for cheese seems up their alley but just slightly too extravagant, a wine cooler or fridge works too. That's what Judy Schad, owner of the Indiana goat-cheese brand Capriole Farms, told us she uses for storing cheese at home.