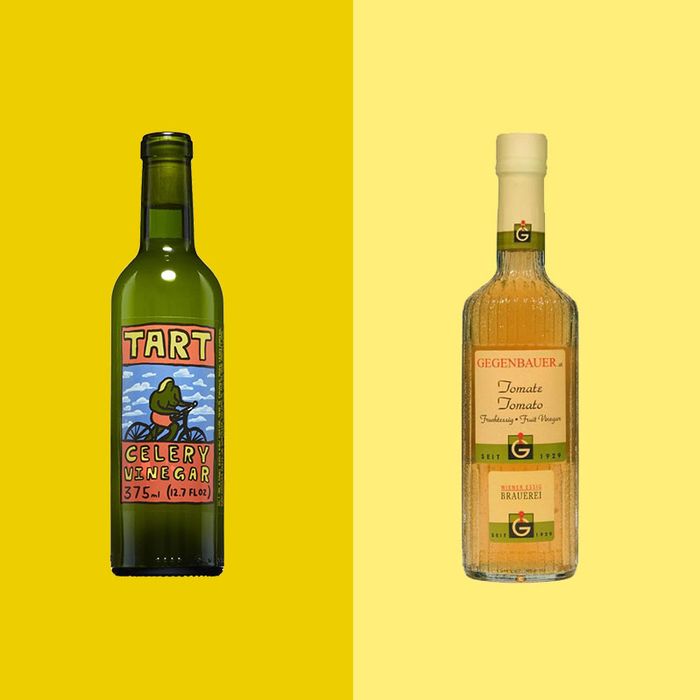 Photo-Illustration: retailers
If you consider yourself a fairly serious home cook, you already know that acid is a vital component to pretty much every dish. If not, let this be your introduction: Acid brightens, balances salt and fat (two other nonnegotiable elements of a well-rounded plate), and in the best cases, adds layered flavor. Vinegar is one of the simplest ways to achieve this complexity, but it's not as easy as just grabbing whatever you have in the cabinet. The world of vinegar is vast, so to help you navigate it, we consulted experts to find out their favorites and exactly what to use them for.
"Vinegar is a product that is fermented past alcohol," explains Michael Harlan Turkell, author of Acid Trip and a true connoisseur of vinegars of all kinds. "So anything that can be made into an alcohol can be made into a vinegar. And any sugar can be made into an alcohol. And any starch can be made into a sugar." This is basically a backwards way of saying that there are a lot of ingredients that can be turned into vinegars — wine, of course, but also grains, vegetables, and fruits. You are likely already familiar with rice wine vinegar (which comes from a grain) and apple cider vinegar (which comes from a fruit), and while we got recommendations for some of these more traditional types, there's also a lot of innovative, out-there products that deserve a spot in your pantry.
"I think vinegar is having a bit of a renaissance as an ingredient," says chef and food writer Andy Baraghani. "I have so many different kinds in my pantry that I reach for all the time — to dress greens and vegetables, to add to braises, to finish soups or fatty roasted meats to bring them back to life, for desserts." Soon you'll be using vinegar for way more than just vinaigrette (but also lots of vinaigrette) — and your cooking will never be the same. Read on for the full list of recommended options.
The best wine and Champagne vinegars
Martin Pouret is Turkell's go-to for wine vinegars. They're made in Orléans, once home to hundreds of vinegar producers (supplying about 80 percent of France) because of its location on the Loire River. When wines traveling by boat to Paris from other parts of the country went bad on their journey, they would be unloaded at the port of this coastal city. Left consistently with spoiled wine, many residents turned to vinegar-making, but now Martin Pouret is the only one left. "They've been making vinegar for around 400 years, with the same barrel-aged process they've always used," says Turkell, who likes to use the brand's vinegars for anything French, especially sauces like hollandaise and béarnaise.
For American-made wine vinegars, Turkell turns to Katz, whose products come from vineyards in and around Napa Valley. These vinegars are "bigger and bolder than their French counterparts," he says, "with a bit of added sugar for sweetness." The Agrodolce vinegars in particular are so balanced that you can add them straight to a salad with no oil.
"This is probably the vinegar I use most," says Fanny Singer, author of the cookbook Always Home and co-founder of the design shop Permanent Collection. It's actually made by her dad, who farms biodynamically in the Sonoma Valley to produce a standout product from his estate Syrah wine. "It doesn't taste like the acrid, pale-red citric acid that's marketed as red wine vinegar in most supermarkets," she says. "Before he had his own vineyard in California, my dad moved to Tuscany and began importing vinegars, which became the bedrock of what they used at Chez Panisse [her mom's restaurant]. Then he started growing his own here in that same Italian style." Singer uses it in dressings ("I make at least two a day," she says), and also to finish garlicky greens or as a mignonette — really any dish that leans Italian, French, or Mediterranean.
"I've used Forum's vinegars for years," says Baraghani. "What I love about this one is that there's some residual sugar, so when you taste it, you're not getting a sensation so intense that your cheeks tingle. It has an almost honeylike quality that makes it very well-rounded." This is a great one to layer with other acids, whether citrus or vinegars with different flavor profiles.
Banyuls vinegar can be a bit difficult to source in the States, but it's one of the most prized vinegars in Singer's collection. As all Banyuls vinegar does, it comes from a specific place (just like Champagne technically has to come from the Champagne region of France): Banyuls-sur-Mer, a town in southern France, right near the border of Spain. They produce Grenache grapes there, and in turn this slightly sweet vinegar.
"I prefer Champagne vinegars to white wine vinegars — especially in California, where white wine vinegar ends up having a Chardonnay profile," Singer says. "That comes across in this vinegar. It's less unctuous, and therefore more versatile." Again, she mixes this vinegar into dressings, but will also sprinkle some straight on top of vegetables. "When you have good vinegar, you don't have to do a lot to your food," she says.
"My husband's family loves this wine," says Naz Deravian, author of Bottom of the Pot, "and the vinegar is really nice, too. It's not quite bubbly, but almost effervescent, and on the milder end. I use it on crisp little gem lettuce, or as a finisher on a piece of fish in place of lemon." (Her go-to for every day is Trader Joe's red wine vinegar, which is tough to find online. It's a bit sharper in taste, and perfect for dressing her nightly salads and drizzling on the Persian soups and stews that are often on her dinner table.)
The best beer vinegar
"There should be more beer-based vinegars," says Turkell. "We have so much great craft beer in this country and not a lot of great beer vinegars." The exception, however, is American Vinegar Works, which produces many different kinds of vinegar in general, and got a couple of mentions by our experts. Though it's currently sold out, their beer malt vinegar is a favorite of Turkell's — "light, bright, low-acid, and perfect with fish and chips." You can sign up on its website to be notified when it becomes available again.
The best sherry vinegars
Turkell is also a fan of this super-solid sherry vinegar from Spain. The company makes a lot of wine vinegars he likes, too, but the sherry, he believes, should be on everyone's shelf. Sherry vinegars tend to have a bit of a stronger taste than red wine vinegars, so Turkell pairs it with foods that can stand up to it, like grilled octopus, Romanesco, and beans.
"Sherry isn't a drink I particularly like," Singer says, "but something about sherry vinegar is so good." She uses it in vinaigrettes, along with red wine vinegar, to add dimension to a mignonette, and most often, to deglaze pans after cooking something like a pork chop.
[Editor's note: This vinegar is currently sold out, but depending on your location, you may be able to get it through Instacart.]
"This one, from a family-owned bodega in Spain, is older than I am by a few years, and has aged more gracefully," (half) jokes Jessica Battilana, food writer and author of the cookbook Repertoire. But really, she says, "It makes the most delicious, non-astringent, full-flavored vinaigrette, and a few drops will enliven a tomato salad. I love its pronounced nuttiness and depth." You should also expect to taste hints of blueberries.
The best distilled white vinegar
"Distilled white vinegar gets a bad rep," says Deravian. "People think it should only be used only as a cleaning product — but I don't know how that happened." White vinegar, which is made from a vodkalike grain alcohol, is certainly intense, but she puts it to use in many ways. "It has a really clean, clear taste," she says, "which makes it perfect for when you want a tang, but not necessarily a ton of added flavor, like in creamy dressings, or in a gravy, or for deglazing a pan that already has a lot going on." It's also super-cheap, which makes it great for pickling, where you need a larger volume of liquid.
The best balsamic vinegars
Atara Bernstein, co-founder of Pineapple Collaborative and maker of the ACV (below), readily uses this syrupy balsamic vinegar from Modena, Italy. There are certain types of balsamic that are highly regulated in terms of where they're made and how long they're aged, and while this is technically defined as a "balsamic vinegar condiment," it can be used pretty much interchangeably. It's the thickest and sweetest of the three versions produced by a woman named Mariangela Montanari. "It has a beautiful, silky texture and caramelized flavor that's a bit sweet and a bit sour," says Bernstein. "I use it in dressings, of course, but it's also amazing with steak and as a finisher over roasted vegetables."