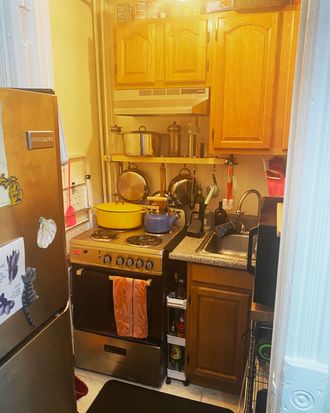 The author's kitchen is too small to fit a fridge, so hers sits just outside of it in the living room.
Photo: Hannah Starke
After a very long winter at home with roommates, I moved into my first solo apartment this spring. I haven't stopped talking about it since: The place is rent-stabilized, near an express train, and has French doors, exposed brick, stained glass, southern exposure, and wood accents older than my grandparents. But it also has a kitchen that's better described as a 22-square-foot closet. Four cabinets (two half-size) hang above a sink and oven, which sit on either side of a sliver of countertop that's just big enough for a Nutribullet. Beneath the sink there are two more cabinets. With no room for a fridge, mine lives just outside the kitchen, in my living room.
This wouldn't have given pre-pandemic Hannah, whose dinners primarily came from the frozen-foods section of Trader Joe's, a moment's pause. But after a year spent cooking the majority of my meals at home and actually enjoying it, I had no choice but to optimize every square inch of the kitchen. Even though this apartment is not my forever home, I wanted stuff that not only met my spatial needs but would also last for years (if not decades) and look nice enough to distract visitors from the shock of how tiny the area is. Armed with the dimensions of every nook and cranny, I spent months acquiring products. From fridge magnets that store my Swiffer, to a dish rack that rolls up, to some skinny-wheeled shelving that slips beneath my counter, read on for the 16 things I got to eke every bit of function out of my 22-square-foot kitchen.
Photo: retailer
First, I needed a place to keep pots and pans. I initially looked at pot racks made to fit in a corner but realized that even those space-saving models would bump up against my oven door. So I turned to wall-mounted options and landed on this affordable, sturdy rack that was mercifully easy to put together. I installed it above my oven and like that it comes with hooks — I can't fit a utensil crock on my counter, so I use the hooks to hang any tools I need while I'm cooking.
Photo: retailer
Speaking of products that keep things in reach while I cook, I outfitted the side of my refrigerator that faces into the kitchen with all kinds of storage. Among the stuff is this magnetic knife bar, which currently holds my chef's knife, a smaller knife, and two pairs of scissors — and can easily fit more.
Also stuck to the kitchen-facing side of my fridge is this magnetic paper-towel holder that has a shelf where I keep all my gummy vitamins.
Photo: retailer
On the same side of my fridge closer to the wall, where they're kind of hidden by the paper-towel holder and knife rack, are several of these magnetic clips with tiny arms. They keep my two Swiffers, hand broom, extendable duster, and grabber tool out of the way but within reach.
Photo: retailer
I bought this cart thinking that its butcher-block top would function as additional counter space for food prep (and that I could just put my microwave on top of my fridge). But that plan changed when my mother told me that a microwave on top of a fridge is a potential hazard. So I decided to use the cart for its intended purpose and put my microwave on top of it instead. However …
Photo: retailer
I got this bamboo cutting board to place on top of my microwave and use as the extra counter space I need for food prep. It's not as elegant a solution as the one I initially conceived, but it works just fine.
Photo: retailer
Moving my microwave to the cart also gave me the opportunity to use the appliance in other ways: namely, as a space for more vertical storage. I stuck a bunch of these wire Command hooks on both sides of it so I could hang tools like my microplane, tongs, lemon juicer, can opener, and sifter. I put some hooks on the kitchen-facing side of my fridge, too.
Photo: retailer
This hanging caddy is where I keep my sheet pans, which are half-size and way more convenient to use, clean, and store in a small kitchen like mine. The caddy is meant to hang on the inside of a cabinet door, but mine wound up being too narrow to accommodate it. So I hung the caddy on the side of the microwave cart instead.
The microwave cart has two adjustable shelves beneath the butcher-block surface where my microwave sits. I use them to store various cookware, appliances, and nonperishables: a blender, toaster, cast-iron skillet, mixing bowl, colander (inside of the aforementioned mixing bowl), and sometimes even my cats' wet food. The shelves' adjustable nature makes the cart more versatile because you can sort of customize it to your space. For instance, I installed the lower one 15 inches off the ground so that I could stick this tiny Strategist-recommended dishwasher on the floor to maximize shelf space.
Photo: retailer
The thing about the mini dishwasher is that it needs a place to drain while in use, either a sink or a bucket. This neat dish rack I got can be rolled out over the top of a sink, creating a surface that allows the dishwasher to drain or things to dry while still leaving some sink space for me to use. When I need to hand-wash larger items like my Dutch oven, I can just roll the rack up to get access to my entire sink.
Photo: retailer
The rolling dish rack alone didn't offer me enough dish-drying space, so I got one of these shelves to stand above it. While they're not designed to be used together, to my surprise, the shelf locks right into place on either side of the dish rack.
Photo: retailer
I attached some Command hooks to the underside of my larger cabinets in order to hang this wire basket above the sink and dish rack. It's where I keep dishwashing supplies like extra cloths and my Mamison gloves.
Photo: retailer
Also on the underside of my cabinets above the sink is one of these rotating holders — I hang my dishwashing brushes on it. I stuck the other one, which holds mugs and measuring spoons, under the hood above my oven.
Photo: retailer
Beneath the sliver of counter space between my oven and sink is a gap that turned out to be the perfect size for this rolling cart. Using it to store pantry staples like spices, salts, and tinned goods helps free up the limited space in my cabinets. Plus, tucked next to the oven, it makes grabbing those items easier while I cook.
Photo: retailer
My kitchen counter actually doesn't extend all the way to the oven — there's a sliver of open space between it and the stovetop. I filled that space with one of these silicone protectors. It not only makes the area look more finished, but also helps protect the pantry supplies on my rolling cart from wayward cooking splatters.
Photo: retailer
The other side of my sink, where the counter meets a wall, has just enough space for this slim organizer I use to store all my cutlery.
The Strategist is designed to surface the most useful, expert recommendations for things to buy across the vast e-commerce landscape. Some of our latest conquests include the best acne treatments, rolling luggage, pillows for side sleepers, natural anxiety remedies, and bath towels. We update links when possible, but note that deals can expire and all prices are subject to change.