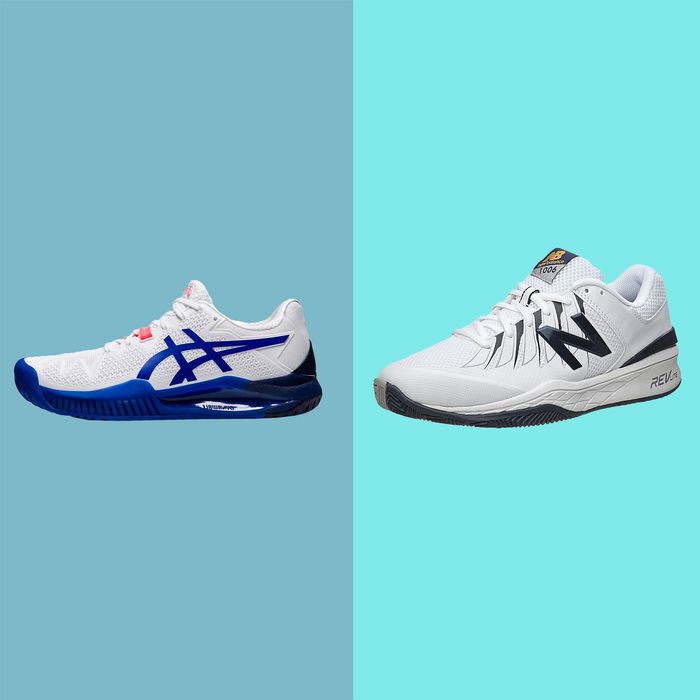 Photo-Illustration: The Strategist; Photos: Retailers
Because it's an ideal sport in the age of social distancing, tennis has surged in popularity in the past few years. The increase in interest has boosted demand for tennis gear, which in turn has led to a shortage of sneakers, according to Mark Mason, owner of Mason's Tennis in NYC. Despite the difficulty involved in acquiring just the right pair, it's important that round-robin veterans and new players alike get properly fitting tennis shoes because footwear can greatly affect performance on court.
Footwork in tennis spans a wide range of movement: running backward, lunging, sidestepping, and even sliding (think Novak at Arthur Ashe stadium), which is why running shoes and other nonspecific sneakers won't cut it on the court. Mike Layton, owner and CEO of Westside Tennis in California, says, "If you start changing directions in a running shoe, you might hurt yourself because you are not going to be able to pivot on the ground as easily as you would with a tennis shoe."
To find the best men's tennis shoes, I spoke to former players, pros, and tennis store owners from around the country. The eight pairs below (most of which were mentioned by multiple experts) were consistently described as "best" for various reasons, including being suitable for those suffering from the common complaint of plantar fasciitis. All pairs featured are designed for playing on hard courts, and our experts say that shoes suitable for hard courts will translate well to clay (and other surfaces, if you're so lucky).  If you already know what sort of shoe you're looking for, use the quick links below to navigate. But if you need more guidance,  read on for eight options that will have you sliding across clay or bounding up to the net in no time.
Quick links
Best overall | Best for sliding | Best for narrow feet | Best for wide feet | Best for plantar fasciitis | Most stabilizing | Most comfortable | Best for older players
Durability: A sport that involves so much starting and stopping can wreak havoc on your gear. Layton explains that tennis shoes "are more solid around the whole perimeter of the shoe" and may seem clunky at first, but the bulk is necessary for the shoe to last a reasonable amount of time. If you're wondering if you need to replace your shoes, try this test that writer and former IMG Academy tennis trainee, Emilia Monell, recommends: "Place the two ends of one shoe between your hands and apply pressure — if the shoe caves in on itself, it's lost support, and it's time to get new ones." Monell notes that shoes for recreational players (weekend matches or biweekly drills) can last as long as a year. But if you're training and playing at a competitive level, three months is typically the maximum life span.
Support: When you think of Andy Murray's grinding style of play, you can probably see why he might need two ankle braces. Given how tennis calls for tons of lateral movement and frequent changes in direction, tennis shoes must be designed to handle this demanding sort of action. If you were looking for a streamlined shoe or something sleek like soccer cleats, you might be disappointed by how chunky and almost orthopedic tennis shoes appear, but the apparent clunkiness is important in creating sufficient support. Layton explains that tennis shoes are "heavier than running shoes" and "have better lateral support on the inside and outside of the shoe" to protect the ankle, so you don't strain or twist it when you're moving side to side.
Fit: Fit and comfort go hand in hand for tennis shoes. A shoe that's too large (or has a toe bed that is too big for narrow-footed players) will lead to jammed and bruised toes. The alternative problem, a fit that's too tight, can lead to bloody toenails and blisters. Woody Schneider, co-owner of NYC Racquet Sports, says the ideal shoe is "the one that fits your foot the best." It can be difficult to get a sense for the fit of a sneaker if you're not wearing it on the court, it, so it's a smart idea to try the shoe on in-person. If you can, imitate the explosive movements of tennis and do a few split stops and try your side step. If you have any doubts about whether your feet are considered wide, standard, or narrow, you should give all three a try and bring in your current shoe for expert comparison.
Best overall tennis shoe
Enhanced durability | Heavy support | Versatile fit
Five experts call the Asics Resolution 8 a fantastic option that — unlike many of the pairs on this list — should fit anyone comfortably, regardless of the width or volume of their feet. Layton tells us these would work for "a majority of people, regardless of skill level," while Frank Green, a high-performance tennis coach based in Philadelphia, adds that right now, these are "probably the top tennis shoe because of their comfort, style, toughness, and because they're suitable for every kind of court." NYU's head tennis coach Horace Choy says the Resolution 8 is also "very popular" with his team, in part because the shoe's low profile means you're "closer to the ground, which I personally think makes you feel a little faster." Layton adds that he has had "foot issues in the past, but not with these," promising that they "hit all of the requirements for a good tennis shoe, including good lateral support and stability."
[Editor's Note: Mark Mason noted that many tennis shoe factories have been in COVID lockdown much longer than expected, and delays in shipping have led to a shortage of available sizes and models. Mason says the Asics should be available in March, but there will likely be delays until April or May for other brands that are not currently offering a wide range of sizes.]
Best tennis shoe for sliding
Enhanced durability | Sliding support | Standard fit
"You know when a car changes its design from a 2020 to 2021 model and they change the hood? That's kind of what Nike did with this shoe," Green explains. Nike claims that it used years of data to create what the brand calls this "next-generation" tennis shoe that balances cushioning and traction. Mark Mason recommends the React Vapor NXT for its "great Achilles and lateral support," which gives the wearer structural support for sliding. Meanwhile, the modified herringbone outsole provides just the right amount of grip so you feel stable but limber. You'll find both durable rubber and tough plastic in high-wear areas, such as the inner side of the foot, to ensure the shoes don't wear down when you skid across hard or clay surfaces.
Best tennis shoe for narrow feet
Moderate durability | Flexible support | Narrow fit
While reporting this story, I repeatedly heard that, with the exception of Asics, different shoe brands are known for designing with particular feet in mind. "Nike has a reputation for narrower feet; others, like New Balance or K-Swiss, are known for wider feet," Choy says. Phil Parrish, tennis director of the Longfellow Health Club in Wayland, Massachusetts, also recommends this pair for athletes whose feet run on the narrow side. This model's durability comes from reinforced mesh that has a thin, flexible overlay to prevent the sensation of stiffness. If being weighed down is a concern for you, Mason says this shoe is known for being light. It has no rubber in low-wear areas making it especially efficient.
Best tennis shoes for wide feet
Enhanced durability | Heavy support | Wide fit
Parrish and Harry Tong, host of Tennis Spin on YouTube and a buyer at California Tennis Club, both call out this shoe specifically for players with wide feet since it's available in standard and 2E widths. Parrish adds that the shoes can accommodate all-around heftier feet as well as wider ones. "You've got the width," he says, "but the shoe also has a good amount of volume from top to bottom." Aside from its accommodating fit, Karen Moriarty, co-owner of the Tennis Professionals — Sportech in Rye Brook, and Dana Mason, buyer at Mason's tennis, both point to this shoe as a crowd favorite. "It's really nice on a hard court because of the durable sole," Mason says, though it is designed to be an all-court shoe.
The best tennis shoe for plantar fasciitis
Enhanced durability | Maximum support | Slightly wide fit
Plantar fasciitis can be a death sentence for tennis players. When the band of tissue that connects the heel bone to the toes gets inflamed, it can feel excruciating to do simple movements like pushing off and landing. If your plantar fasciitis is manageable and your doctor has given the green light to continue playing, you should shop for shoes with cushioning in the heel, thick soles, and extra padding to reduce shock. This Babolat shoe checks all three boxes because it is designed with thermoplastic rubber and a tube compression system beneath the heel for exceptional shock absorption. Schneider says this shoe offers intense stability alongside "as much comfort as you're going to find in a tennis shoe." Mason calls this the "best-fitting tennis shoe" in the sense that a wide range of players with different foot types (narrow, wide, high-arched) have said this model fits perfectly. Schneider adds that these shoes are cut slightly on the wider side, which is convenient if plantar fasciitis requires you to fit custom orthotics, extra-cushioned socks, or inserts.
Most stabilizing tennis shoes
Maximum durability | Intense support | Standard fit
Green recommended this "classic shoe" that, like the Asics Resolution 8, is designed to fit a variety of foot types. This model's lacing has lock-in construction, which molds the tongue to your foot to create maximum stability and makes for a close fit regardless of foot type. Parrish, who has worn the shoes, notes that they have a "mid-foot shank" (the part of the shoe above your inner arch) that "takes some weight out of the shoe but gives you more stability." He explains this design element comes in handy because "tennis has become a game with more side-to-side movement, so you really need a shoe that can handle that."
Most comfortable tennis shoes
Maximum durability | Heavy support | Wide fit
Tong says these New Balance shoes, which are available in both standard and wide sizing, are "the softest, most cushiony, most bouncy shoe you can have in tennis." To anyone who plans on trying them, he warns that "it took me a couple of minutes to get my feet into the shoes the first time because they are so firm when brand-new." But Tong explains that rigidness is a sign of a good tennis shoe and not something to be alarmed by: "You want them to hold on to you and be tight around the whole foot; you can't have too much movement or else you will get blisters and a black toe." He compares the feel of the Fresh Foam LAV to wearing "a soft, comfortable ski boot," insofar as both fits are very supportive and snug. They have an additional fan in Greg Pearson, owner of Tiki Tennis in Islamorada, Florida. "I have worn all brands of shoes, but [New Balance is] most comfortable to me," he says.
Best shoe for older players