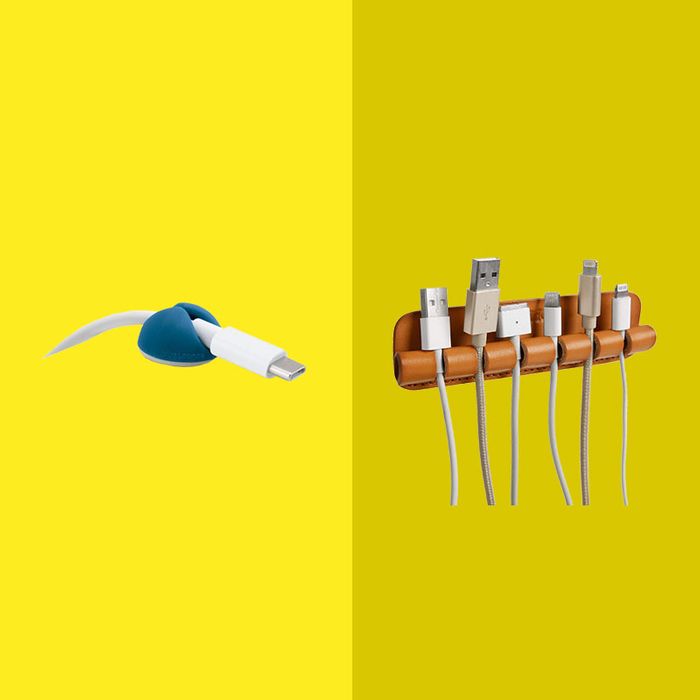 Photo-Illustration: The Strategist; Photos: Retailers
Like it or not, cables are probably a big part of your life. You need them to charge your phone (even with a wireless charger), and your TV, and smart speakers probably require a cable or two to stay powered. One surge protector here, two HDMI cables there — a bunch of chargers and a few lightning cables later, and before you know it, you're sitting in a forest of tangled cables. I know the experience all too well; I test speakers, monitors, headphones, and all kinds of other tech products, and I'd be lost without cable organizers to tame my office. Whether you're trying to reorganize your WFH setup or declutter the space behind your entertainment center, these small yet handy products can make a big impact. To find the best ones available, we spoke to tech specialists and writers about the cable organizers they recommend and tested a couple ourselves.
Before you can wrangle your cables into order, you'll need to pick the best tools for your situation. Options like straightforward Velcro strips or zip ties can bunch unruly cables together without breaking the bank, or you can snag something a little fancier like a set of clips to keep important cables handy under your desk, or a cable bag to keep everything tidy while you're traveling. You can also get a rack to mount under your desk or other furniture to hide cables that might clash with your room's whole vibe.
Some organizers work for only single cables or even single specific-size cables, while others can be adjusted to accommodate multiple cables of various sizes.
Organizers that are attached (whether by adhesive or clamps or some other mounting method) are meant to be stationary, while ties and bags are great for travel or home use.
Zip ties and clips that attach using adhesive can realistically only be used once (and if you're concerned about the adhesive damaging the surface you want to use, you may want to consider an alternative). Some desk-mounted organizers, like the two listed below, require you to drill holes to attach the rack or organizer permanently. Velcro and wire ties and, of course, bags are meant to be reused.
Best overall cable organizer
Type: Velcro tie | Capacity: Multiple cables, adjustable | Portability: Portable | Reusability: Reusable
Velcro cable ties are one of the most adaptable, useful, and inexpensive cable organizers available. I've used them for years to keep lightning cables and camera cables neatly wrapped and to bundle smaller items like pens and pencils. These adjustable and reusable ties are eight inches long and half an inch wide and can fit a variety of different-size cables; one tie can easily hold three USB-C cables or a combination of a USB-C cable and an HDMI or an ethernet cable. They also have a sliding design, which allows you to tighten them very easily. This pack of 100 ties can be used in different spaces all around your home.
Best heavy-duty Velcro-tie cable organizer
Type: Velcro tie | Capacity: Multiple cables, adjustable | Portability: Portable | Reusability: Reusable
Amazon reviewers praise these Velcro ties, particularly when it comes to wrangling the cords of kitchen appliances such as blenders or food processors. "No more small appliance cords making a mess in the cabinets," writes one reviewer, who notes that they are "very tough," especially compared to thinner cable ties. The ties are seven inches long and three-quarter-inch wide — about a quarter inch wider than our best overall pick — making them a bit more durable and well suited for organizing heavier cables. They lack the pull-through tightening design but are still adjustable. They also come in several colors beyond the typical black, including pink, green, red, purple, and blue, in case you'd like to color-code your cables or add some flair to your organizational game.
Best cable ties for your nightstand
Type: Steel-wire core with rubber coating | Capacity: Multiple cables, adjustable | Portability: Portable | Reusability: Reusable
A tidy nightstand is just as important as a neat workstation; nobody likes fumbling through a jumbled mess right before bed or first thing in the morning. Strategist writer Kitty Guo praises the Nite Ize ties for their flexibility, thanks to a steel-wire interior and a grippy rubber exterior, as well as the various color and length options. As a bonus, she says, they're the ultimate fidget toy: far superior to any spinner, popper, or other gewgaw that's expressly intended to keep your hands busy.
Best cable-organizer bag
Type: Bag | Capacity: Multiple cables, adjustable | Portability: Portable | Reusability: Reusable
This Ruggard cable case was recommended to us by B&H senior technologist Mark Steinberg. One of the more interesting details he pointed out is the clear window that allows you easily identify any cable you might need while on the go. The case is weather resistant, and one side has 12 dedicated cable slots with elastic loops to hold cables securely. (You can store additional or larger cables in the pocket on the other side.) The Ruggard comes with six Velcro cable ties for keeping cables wrapped while in the case. And if you like the design but don't need to carry as much, it comes in a smaller size that has six dedicated cable slots with three Velcro ties.
Best zip-tie multipack
Type: Plastic zip ties | Capacity: Multiple cables, adjustable | Portability: Not portable | Reusability: Single use
Zip ties can be especially great for larger cables that you might have in the living room or in a basic sound-system setup. Your best bet is to coordinate which cables go into which devices. Television cables should go together, while your audio gear can go into a separate bundle. Once you have the cables bunched together, zip-tie them up and you're good to go. Velcro is a little more forgiving; you can easily detach and readjust a Velcro cable tie, but zip ties, while adjustable, tighten in only one direction and are a little harder to remove. You can also use a small piece of masking tape to label which cables are for which device. Because zip ties require some work to unlock (and sometimes you'll just have to cut them off), I recommend them strictly for stationary situations. They can also be used as a good cable-storage option; you can pack away cables in a box with the zip ties, keeping them coiled so they are easy to identify and reuse. All of the zip ties in this pack of 100 are eight inches long, and you can trim off any extra length as needed. They come in black or clear, so you can match them to your cables if you like.
Best cable-organizer clips
Type: Self-adhesive clip | Capacity: Each clip holds one thin cable | Portability: Not portable | Reusability: Single use
Professional organizer Daniel Loya, the owner of Spaces Transformed, recommends these BlueLounge cable clips for keeping track of "unruly" cords that are always "slipping off your desk and out of reach." Plus, he says, the self-adhesive backing can be easily removed. This package includes nine clips, and each one holds a single cable. The clips are best for stationary situations like a home office — you can place them on the edge of your desk closest to a power outlet where you might have a laptop charger or iPhone charger plugged in, and this clip will hold the cable so it doesn't slide off the top of the desk.
Best leather cable organizer
Type: Leather clips | Capacity: Up to six thin cables | Portability: Not portable | Reusability: Single-use adhesive
Queer Eye's Bobby Berk uses these TopHome leather cable organizers in his home office. "It's so smart looking, and everyone has cords hanging all over the place, so this is a great way to organize them that still looks chic," says Berk. The TopHome holds up to six thin cables, and you can stick the leather clip to the side of your desk using the included adhesive. You can also order a three-pack of single clips that each hold just one cable. They come in three different leather colors, but "I'm really into this kind of desert color right now, and the leather I think looks really expensive for this type of item instead of using one that's plastic," Berk says. "It shows interest in your space and makes it unique without a bunch of pattern and color bombarding you. In addition to your home office, I'd also recommend everyone get one for the kitchen."
Best cable rack
Type: Plastic tray | Capacity: Multiple cables | Portability: Not portable | Reusability: Single-use adhesive
Thanks to the number of gadgets I have to test at any given time, cable management feels like a fool's errand to me. The closest I've gotten to a tidy cable arrangement at my desk is using this under-desk tray, which came with an upgrade pack I got with my standing desk, as a place to dump all the cables I know will be staying put. It attaches to your desk with an adhesive that, in the three years I've had this desk, hasn't budged despite being moved across three different homes in two states. It's sort of like a catch-all for all your essential cables, but if you're particular about keeping things neat, a few zip ties or velcro straps like our picks above will help keep things in order while the tray keeps everything out of sight.
Best desk-skirt cable organizer
Type: Mat with pockets | Capacity: Multiple cables | Portability: Not portable | Reusability: Reusable (with screws)
Sean Hollister, senior news editor at the Verge, says he used to have a rats' nest of wires under his desk, and he tried a number of cord keepers and wraps before landing on the Mount-It. "These privacy panels have built-in pockets for cables," he says. The large mesh pockets open and close with Velcro strips, so everything inside is easy to access, and cables can enter or exit the pockets in multiple directions. Hollister uses them to hide a lot of mess as well as his ethernet switch. You can choose between 41-inch or 60-inch widths, depending on the size of your space.
• Bobby Berk, Netflix's Queer Eye
• Sean Hollister, senior news editor at the Verge
• Daniel Loya, professional organizer and owner of Spaces Transformed
• Mark Steinberg, B&H senior technologist
The Strategist is designed to surface the most useful, expert recommendations for things to buy across the vast e-commerce landscape. Some of our latest conquests include the best acne treatments, rolling luggage, pillows for side sleepers, natural anxiety remedies, and bath towels. We update links when possible, but note that deals can expire and all prices are subject to change.