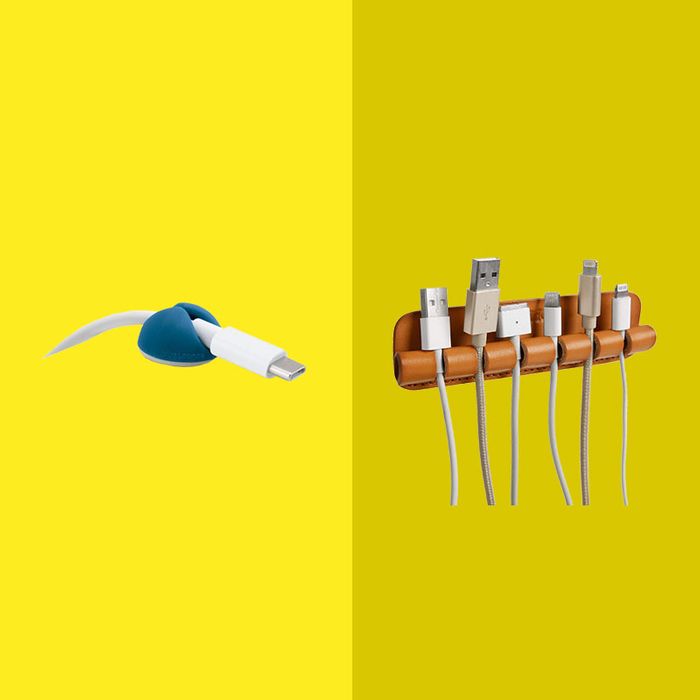 Photo-Illustration: The Strategist; Photos: Retailers
Modern tech would have us believe that a fully wireless, cable-free future is near — but even if most of your gadgets and gizmos are technically wireless, it doesn't take much for a nasty batch of cables and cords to pop up like weeds in the spring. One surge protector here, two HDMI cables there, a bunch of chargers and a few lightning cables later, and before you know it, you're sitting in a forest of tangled cables or something out of The Matrix. I know the experience all too well; I've tested speakers, monitors, headphones, and all kinds of other tech products, and I'd be lost without cable organizers to tame my office. Whether you're trying to reorganize your WFH setup or declutter the space behind your entertainment center, these small yet handy products can make a big impact. To find the best ones available, we spoke to TikTok tech experts, tech specialists, and writers about the cable organizers they recommend.
Best overall | Best zip-tie multipack | Best cable clips | Best cable-organizer bag | Best cable rack | Best heavy-duty Velcro tie | Best desk skirt | Best leather | Best cable ties for your nightstand
What we're looking for
Storage type and design: Before you can wrangle your cables into order, you'll need to pick the best tools for your situation. Options like straightforward Velcro strips or zip ties can bunch unruly cables together without breaking the bank, or you can snag something a little fancier like a set of clips to keep important cables handy under your desk, or a cable bag to keep everything tidy while you're traveling. You can also get a rack to mount under your desk or other furniture to hide cables that might clash with your room's whole vibe.
Capacity: Some organizers work for only single cables or even single specific-size cables, while others can be adjusted to accommodate multiple cables of various sizes.
Stationary vs. portable: Organizers that are attached (whether by adhesive or clamps or some other mounting method) are meant to be stationary, while ties and bags are great for travel or home use.
Single-use, permanent, or reusable: Zip ties and clips that attach using adhesive can realistically only be used once (and if you're concerned about the adhesive damaging the surface you want to use, you may want to consider an alternative). Some desk-mounted organizers, like the two listed below, require you to drill holes to attach the rack or organizer permanently. Velcro and wire ties and, of course, bags are meant to be reused.
Best overall cable organizer
Velcro tie | Holds multiple cables, adjustable | Stationary or portable | Reusable
Velcro cable ties are one of the most adaptable, useful, and inexpensive cable organizers available. I've used them for years, whether to keep lightning cables and camera cables neatly wrapped or to bundle smaller items like pens and pencils. The adjustable and reusable ties are eight inches long and can fit a variety of different-size cables; one tie can easily hold three USB-C cables or a combination of a USB-C cable and an HDMI or an ethernet cable. They also have a sliding design, which allows you to tighten them very easily. This pack comes with 100 ties, which is extremely useful if you need them in different spaces around your home.
Best heavy-duty Velcro-tie cable organizer
Velcro tie | Holds multiple cables, adjustable | Stationary or portable | Reusable
Amazon reviewers praise these Velcro ties, particularly when it comes to wrangling the cords of kitchen appliances such as blenders or food processors. "No more small appliance cords making a mess in the cabinets," writes one reviewer, who notes that they are "very tough," especially compared to thinner cable ties. The ties are seven inches long and ¾-inch wide — about a quarter inch wider than our best overall pick — making them a bit more durable and well suited for organizing heavier cables. They lack the pull-through tightening design but are still adjustable. They also come in several colors beyond the typical black, including pink, green, red, purple, and blue, in case you'd like to color-code your cables or add some flair to your organizational game.
Best cable ties for your nightstand
Steel-wire core with rubber coating | Holds multiple cables, adjustable | Stationary or portable | Reusable
A tidy nightstand is just as important as a neat workstation; nobody likes fumbling through a jumbled mess right before bed or first thing in the morning. Strategist writer Kitty Guo praises the Nite Ize ties for their flexibility, thanks to a steel-wire interior and a grippy rubber exterior, as well as the various color and length options. As a bonus, she says, they're the ultimate fidget toy: far superior to any spinner, popper, or other gewgaw that's expressly intended to keep your hands busy.
Best cable-organizer bag
Bag | Holds multiple cables, adjustable | Portable | Reusable
This Ruggard cable case was recommended to us by B&H senior technologist Mark Steinberg. One of the more interesting details he pointed out is the clear window that allows you easily identify any cable you might need while on the go. The case is weather resistant, and one side has 12 dedicated cable slots with elastic loops to hold cables securely. (You can store additional or larger cables in the pocket on the other side.) The Ruggard comes with six Velcro cable ties for keeping cables wrapped while in the case. And if you like the design but don't need to carry as much,