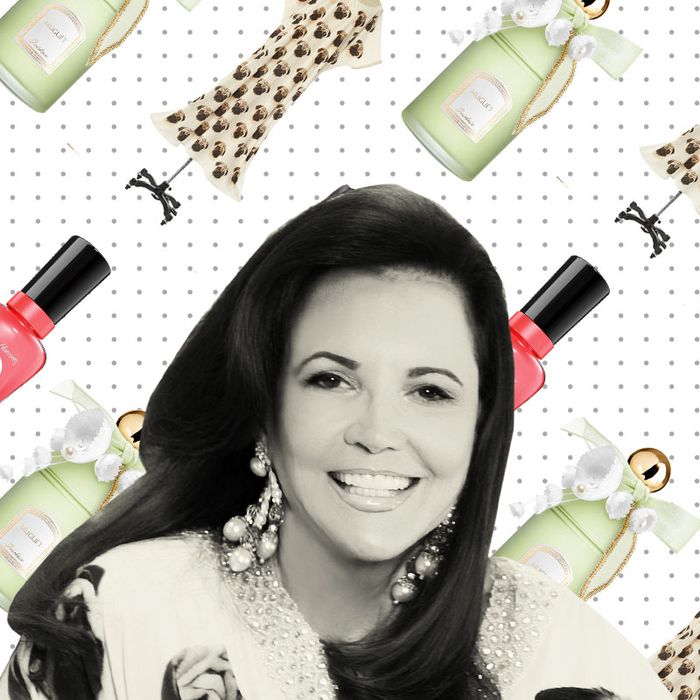 Photo: Courtesy of Patricia Altschul
If you're like us, you've probably wondered what famous people add to their carts. Not the JAR brooch and Louis XV chair, but the hand sanitizer and the electric toothbrush. We asked Patricia Altschul, the grande dame of Bravo's Southern Charm, which items she can't live without.
I love to watch old movies, especially this one because Mame is my role model — I adore her madcap antics and her fabulous eye masks. And, of course, her sleepwear with feathers, mesh, and satin. She's certainly someone I relate to.
Not only does this lip treatment moisturize, but it's super nourishing and protective, with an SPF of 15. I use it daily when I'm at home, or when I'm traveling, too.
This is the absolute essential tool for creating my five o'clock cocktail. Michael uses this every day when it's time for my "medicine," the perfect gin Martini. Using the mallet actually crushes the ice to the ideal consistency for me.
I've had Porthault linens since the 1960s. Some I've had for 30 years, and they just keep getting softer. My absolute favorites are the ones from the Marie Antoinette collection.
This lasts longer than any other nail polish. It has a wide brush that's super easy to apply, and the staying power is just amazing. My nails never break!
This fragrance is delicate and not overpowering at all. I adore the lily-of-the-valley floral notes, and people are always stopping me to ask, "What scent are you wearing?" Plus, the bottle is gorgeous.