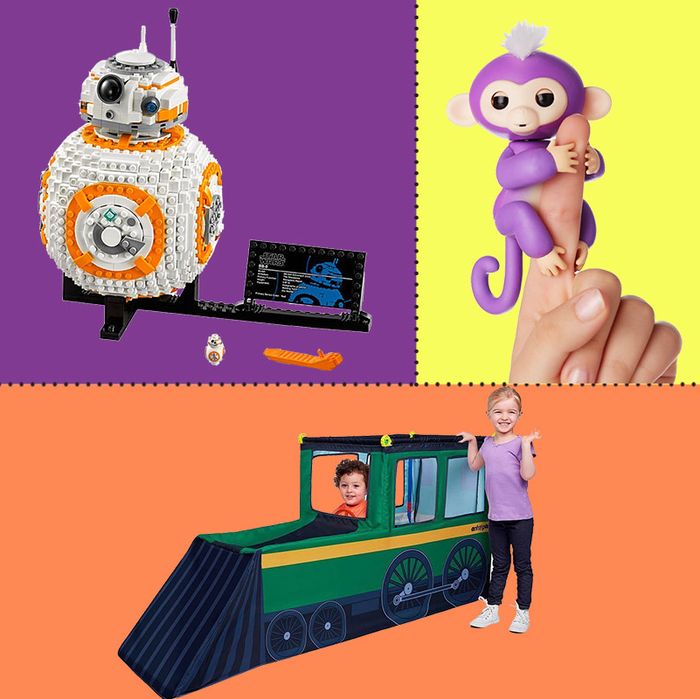 A couple of weeks ago the Toy Association presented the winners of the Toy of the Year Awards, the Oscars of the toy industry, at the Ziegfeld Ballroom. And this year the audience of industry insiders experienced a moment not far off from last year's La La Land–Moonlight Oscars fiasco: The top prize, Toy of the Year, ended up a tie. Fingerlings and L.O.L. Surprise shared the win.
For anyone that interacts with children, those winners aren't much of a shock: Collectibles are in and these were by far some of the most popular, but we wondered, are collectibles actually good toys for children to play with? Do they encourage learning and collaboration? To see how these top winners and the 17 other best toys placed in the eyes of a child psychologist, we reached out to Roberta Michnick Golinkoff, co-author of Becoming Brilliant: What Science Tells Us About Raising Successful Children (and who helped us find the best toys for 1-year-olds, 2-year-olds, 3-year-olds, 4-year-olds, 5-year-olds, and 6-year-olds).
"These are really cute. The idea that you can have a monkey pet, endow it with a personality, and speak to it is fun because this gives you something to do with it. I can see kids having a collection of these in different colors and making a family of them. How fun is that? You can have them interact and act out little scenarios."
"A kid might like that, but it doesn't seem like something brand-new and exciting to me. I like the idea of collectibles, though. I might point out that collecting things from nature has always been available to us, like feathers you find on a walk or pretty rocks, seashells. I'm always looking for toys that have stickability where the kid can keep coming back to them, but I'm not sure what you do with these after opening them. It's nothing to write home about."
"I could see kids wanting to play with these characters. This one has a horror theme, which I'm not sure about, but I love Grimms' fairy tales, which aren't exactly Alice in Wonderland. They had a lot of violence in them, too. I'm not overwhelmed by these, but they're a license for imagination and that's good."
"It just dances? Once you see that he dances and there's music, how many more times are you gonna play with it? I don't know. I don't think this is an amazing toy for inspiring the imagination. It's all about the toy; there's nothing about the kid here. I wouldn't buy it. "
For something with more "stickability," try magnetic tiles, here.
"I know children love this, so I have to endorse anything Lego. I suggest that after they build the original thing, once they're finished looking at it and feeling accomplished, they should try to build something new that isn't prescribed by the box, with the same Legos."
"This looks quite interesting and I do like the crossover with technology. I don't know of many toys that are material toys that then get controlled. It makes sense that this is becoming a thing. It's definitely for an older child."
"It's cute, but we need superheroines. This comes with a cape for the kids so they can do things with this character as a buddy. Kids could do a lot of make believe with that, which is good, but I need a female version too. And why not? Girls need superheroes too."
If you prefer a girl superhero doll, DC makes a version of Wonder Woman, here.
"Board games encourage children to talk to each other and negotiate. They can teach children about numbers and counting. Think about Monopoly: You had to figure out money, how to take turns, how to not flip out when your friend landed on the spot you wanted. This is great because it'll encourage social interaction, collaboration, and communication."