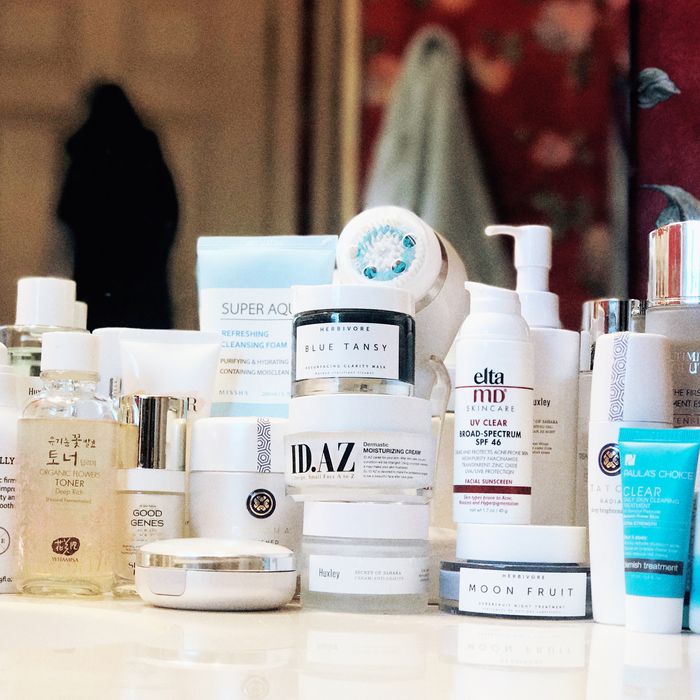 Very Good Light founder David Yi's skin-care haul.
Photo: Courtesy of retailers
After the runaway success of Rio Viera-Newton's Google doc, I became fascinated with skin care and skin routines. What secret sauces were all these low-key obsessives among us slathering on every morning? How did they all solve their acne and black spots and dark under-eyes? It also led me to think: What's the deal for men with great skin? To demystify and destigmatize skin care for the other half, we've talked to four men with glowing skin — one who used to double-cleanse while on tour with the U.S. army in Iraq — about their extensive routines.
Richard Chai, fashion designer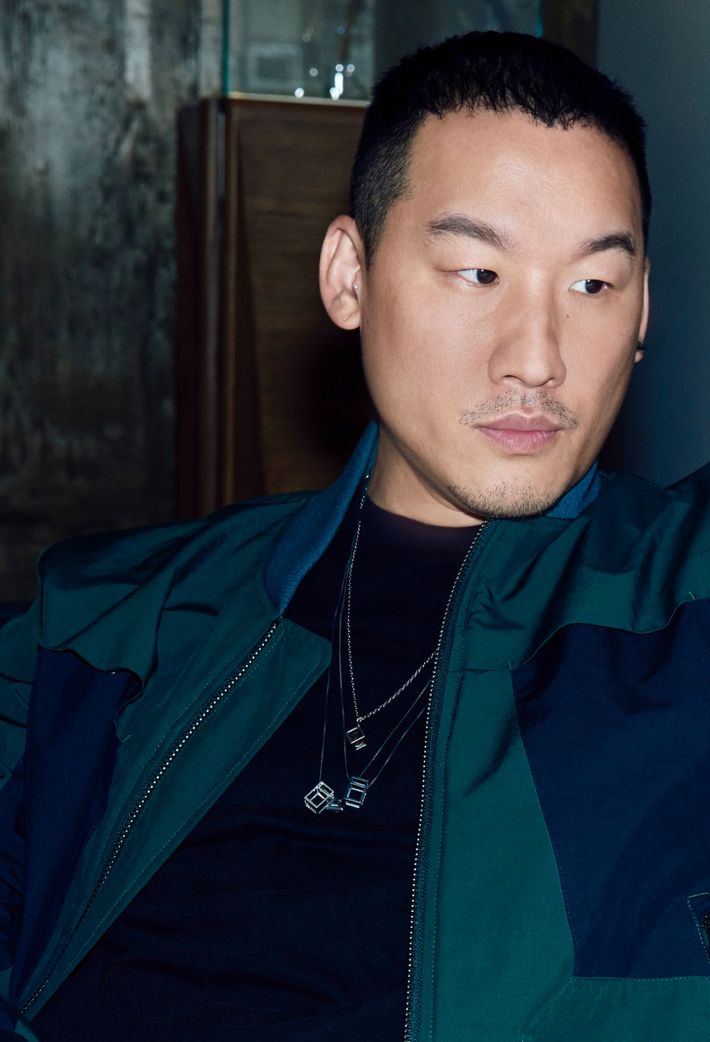 My dermatologist probably wouldn't be happy with my routine, but it's really simple. I find that with my skin, less is more. I know that this will be kind of shocking, but I don't use cleansers. I find that it dries my skin out even more in certain places, and then I need more moisturizers and my skin gets all uneven. I grew up with mothers and grandmothers with flawless skin, so I think part of it is genetics. If I just shower in the morning, the shampoo I use is natural, and when it washes into my face I call that my cleanser. Recently, I've been using this stuff from a brand called Jason, and it's a bodywash shampoo. It's an all-in-one for guys, and it has a really good foresty smell.
I spray organic rose water as a toner. It has all these antioxidants, and it's good for inflammation and evening out my skin. I started using it a million years ago when I went to Morocco, and they all use rose water there. The brand I use it called Alteya Organics. It's just literally a spray, and I just spray it on my face. It works great.
I learned that exfoliating is really important, and my dermatologist, Dr. Colbert, has a facial disc that you just put on your face and let it sit. I do that twice a week, and it takes off the dead layer of skin.
Photo: (c)Luke Pidgeon 2016
My father is a doctor of chemical engineering, and he's always trying different things, so he started making this oil serum. It's all organic essential oils with jojoba, coconut, and other stuff that I can't remember, and I've been using it for a month, and I swear by it. He's just been giving it to family and friends to test out, and people who haven't seen me in a while are like, 'What have you done with your skin?' That's essentially the moisturizer I use, but it's not for sale. Otherwise, sunblock is really important. I like the one from HydroPeptide that doesn't feel like you're covered in white oxides, and it completely blocks out the sun. I like getting tan, but for nice skin, sunblock really helps. I use that in the summer and less in the fall and winter.
David Yi, founder and editor-in-chief, Very Good Light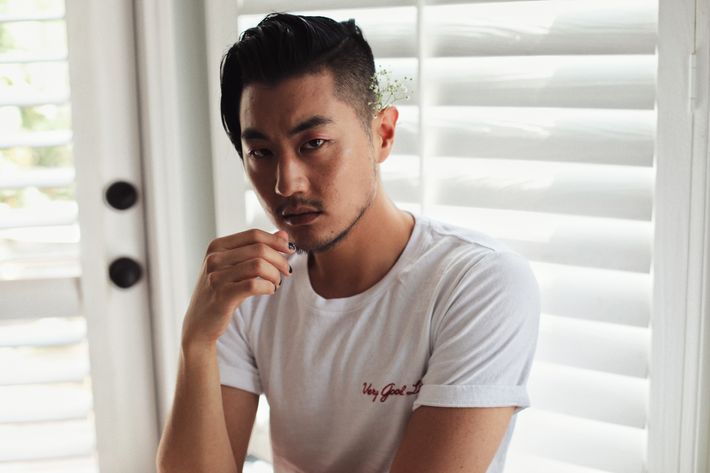 I'm intense in my skin care and I have nine steps, as any good Korean would have. Overall, it takes me all of eight minutes. So I start with an oil cleanser, which might seam weird, but oil strips away oil. At night, the oil strips away any makeup or daily residue, and in the morning, it clears away the extra sebum that you've produced overnight. These days, I'm using a green-tea cleansing balm from the brand Farmacy.
I then use a foam cleanser, and this is a standard way for Koreans to cleanse their face. It's called double-cleansing. For that, I use my favorite cleanser by Cetaphil cleanser. It's the standard. Maybe it's boring to some people, but it totally works. It's very gentle, dermatologist-recommended, and it's definitely something that's just really great for sensitive skin. It's good for getting away any impurities without being too overdrying. That's something that I love using twice a day after my oil cleanse.
I'm also using an AHA/BHA exfoliator mask from the brand Herbivore. It's called a Blue Tansy, and it's really good. I'll leave it on for about 20 minutes. This is awesome for anyone who's looking to treat or prevent blackheads, blemishes, or acne because it gets deep into your pores. To me, it's a little more effective than a physical exfoliator. Those don't get rid of all your dead skin cells like a chemical AHA/BHA will. This one has papaya enzymes that I like.
Immediately after that I'll use a toner. A toner is really important because it replenishes your skin and brings it back to its natural pH balance, which is around 4.5 to 5.5. Water alkalizes your skin, so after cleansing you'll have a very high pH, around eight or nine. Using a toner brings it back to its normal pH level and also preps your skin for the moisturizer. The way I describe it is, your skin is a dry sponge and nothing absorbs if you just drip, drip, drip water on top of it. You have to drench it with water from the top layer to the bottom, and that's when it can actually soak in a lot of moisture and water. Toner allows your pores to open up and soak in the moisturizer. I'd say the toner is actually the most important part of my skin-care regimen. I'll put it on maybe three to four times in one sitting. Korean women do this seven times. I splash it on, splash it on again, and splash it on again. The trick for this is not to use any alcohol in your toner. That will dry your skin. A lot of alcohol is used in toners to create a longer shelf life, but it's not really good for your skin. It's not good for moisturizing or getting rid of dead skin cells. It's not conducive to any skin-care regimen in 2017. I use Huxley toner, and that's one of my favorite product lines. It's from South Korea.
Next, I will definitely treat the skin with an essence, and the essence that I'm using right now is one from Skin, Inc., and it's a vitamin-C essence that I really love. I feel like it's just very nourishing to the skin, and essence rejuvenates the skin from whatever it doesn't replenish or what it doesn't naturally receive. Vitamin C is brightening and very, very conducive to sunspots or aging spots or darkening spots on your face. It really helps to replenish that and give you that even skin tone.
After my essence, I go into my eye cream. I'm using a goats'-milk stick from Kate Somerville. I blot it under my eye and put it under my eyebrow, and then I use my ring finger to dab the product in.
Sometimes, I use a Soko Glam vitamin-C serum just if I need the extra vitamin-C boost. It's Soko Glam's collaboration with Cosrx, and I'll use that at nighttime just if I need that extra boost of vitamins in my face. It's very potent. It's 20.5 percent vitamin C, whereas most serums are just 5 percent. It's so potent and fresh that in a week or two, it'll go from clear to yellow, and then you need to throw it out, which sucks because it's kind of pricey. If you store it in your refrigerator, it'll last you longer.
After that, I'll use a moisturizer, and these days I'm using a Korean brand called ID.AZ. It's from a plastic surgeon's office in Korea, and this cream is for women and men to use post-surgery, so it has a lot of healing properties. I use that as my final step at night. In the daytime, instead of ID.AZ, I use EltaMD's sunscreen. I felt like chemical sunscreens were breaking me out, and then after talking to so many people, I found out that a lot of my friends and Kendall Jenner use EltaMD's moisturizer slash SPF. I was skeptical at first, but after using it, I was like, Oh, this actually works really well. It blends in with your skin very well and doesn't give you that gray film. It's been a lifesaver.
Barret Wertz, freelance beauty and grooming writer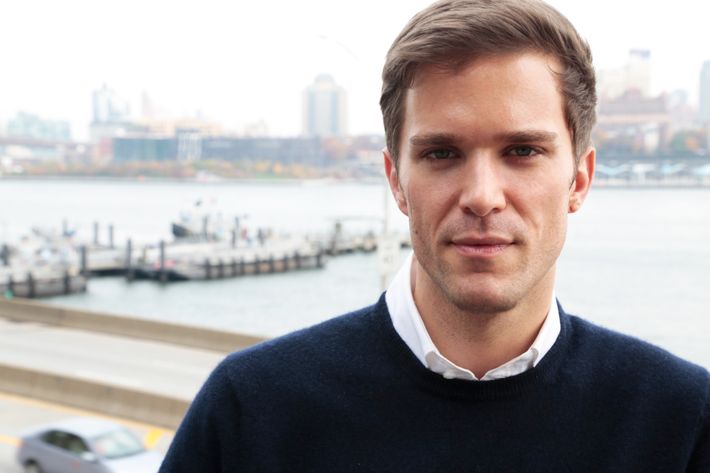 Grooming is my forte. I'm crazy, so I use a lot of stuff. I start off with an oil cleanser, and I've been using an Amorepacific one lately, but I like a Dermalogica one, too. I add a little bit of water to the oil cleanser because that helps it emulsify, and then I rinse it off.
I wash my face again with a gel cleaner, and if I'm shaving, I'll use an exfoliator. For the gel cleanser, I love the RéVive gentle purifying wash. It smells amazing. If I use an exfoliator, I either use a clinical warming-honey cleanser or a Tom Ford exfoliator, which is super gritty and has a great tingle.
I use the cucumber, herbal, alcohol-free toner from Kiehl's, and I use that on a cotton pad. The toners help you get rid of any residual stuff. It's really, really good after you shave to get the shaving cream, and any stuff you have on, washed right off of your face.
Photo: unknown
And then I use an equalizing toner, which is a spray from SkinCeuticals.
If it's the morning, I use the SkinCeuticals CE ferulic, which is just a vitamin-C super-liquid serum, and it's every editor's favorite product.
I'm also using the Kypris antioxidant dew. I'm really obsessed with antioxidants. The vitamin-C serum and the antioxidant dew are two different forms of antioxidants that help fight free radicals. They help by not letting things oxidize in your skin, which helps prevent the dark spots and gives a brightness to your skin during the day. They're really a great combination with a sunscreen for anti-aging. That's the main benefit of an antioxidant. I sat with the president of Kypris, and he told me that they've harnessed this molecule that actually regenerates cells, so I've been trying this one out. I love it, but I have a weird bias to the SkinCeuticals CE Ferulic.
And then I use the Tata Harper concentrated brightening essence, and I put it on after the vitamin-C serum because I like to put the most intense stuff on first.
I use a Sisleyum anti-aging serum. I'm all about serum and I love layering them. This feels really good and has a lot of great properties. It's the thickest of the serums that I use, so I almost use it as the final lotion. Serums should go from thinnest to thickest.
I use three different eye creams and I layer thinnest to thickest. People say I'm crazy, but they each do different things. I use the La Prairie cellular eye essence because it's really great. It has the middle-tip applicator, so you apply directly to the skin, instead of using your fingers, and it helps create circulation and decrease puffiness. After that, I've been using a Dermalogica; it's a similar type of product, but it's a little bit thicker. I put it around my entire eye, eyelid and underneath. And then just where my crow's feet would be, I use an SK-II R.N.A. powered eye cream. It's very creamy compared to the other two, which are liquid or gel-feeling.
The last thing I use is sunscreen. I've really been loving the SkinMedica Essential Defense, which is a broad-spectrum sunscreen. What I really like about it is, it's a chemical and a mineral sunscreen, so it fights the sun in both ways, which I think is really important. It also blends really easily and has zinc oxide, which is just one of the best sun protectants.
Dave Cho, founder, Soko Glam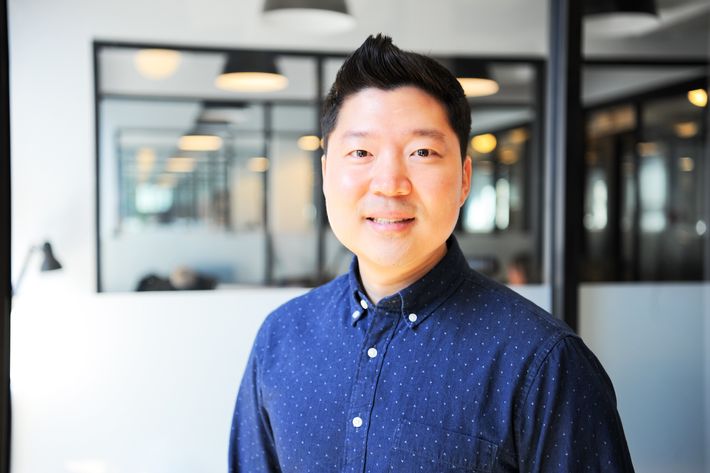 Probably the biggest thing that's shocking in my skin-care routine is that prior to what I'm doing now, I was on active duty in the U.S. military. I did eight years of active duty around the world, including a tour in Iraq. I was a combat arms officer in Iraq, and before and after missions — which would sometimes be four or five days long, and you're not able to take a shower — I remember coming back and the first thing I would always do is wash my face and double-cleanse. My soldiers would just make fun of me because they didn't really understand.
The first thing I do every morning and evening is an oil cleanse. Right now, I'm using an oil cleanser from Hanskin, a Korean brand. When we first started Soko Glam, a Korean-beauty store, when we'd say "K-beauty" people would say, "Is that Kardashian beauty?" My co-founder came up with the ten-step skin-care routine, and almost all of my products are Korean. The Hanskin cleanser is a nice little pump by my sink counter and shower. I always put it on with a dry face and massage it in to get all that oil and debris of my face. It turns into a milky consistency.
Unfortunately the regular cleansing oil is sold out, but the black head version is available here.
The double part of it is that I then use a water cleanser, which is great when I still feel a little residue. Right now, I use a Neogen foam cleanser made out of green tea leaves. I know it's hard to jump into seven steps, so if I were to shorten it, it really comes down to the beginning and the end. The double-cleanse is vital. Some people use a water-based cleanser or Cetaphil, but people don't understand the concept of an oil-based cleanser, which is a game changer for most people. When friends come to me and ask me what they should do, that's the first thing I tell them. A water-based cleaner and an oil-based cleanser. People come back to me after 30 days and tell me how much it's changed their skin, and how they've never had such clear skin. If you want to skip most things, that's fine, but the three-step version of this would be the double-cleanse and the SPF during the day and the double-cleanse and a moisturizer at night. That's the bare minimum people should do.
After that, I use a toner, and right now I'm using a toner from Su:m37. It's a prestige brand and the whole line is fermented. I put it in my hand and pat it on my face.
Before the toner even gets dry, I go into my essence step. I'm using the Missha Time Revolution essence. It's essentially the dupe to SK-II essence. There's been a lot of side-by-side comparisons, and when people do blind tests, they'll choose this product over the SK-II, and it's less than half the price. It's one of the best-selling products in our store and around the world because it had such high-grade formulation, like SK-II, but it's not totally overcharged. I just put a little bit on my hand and I pat it onto my face.
From there, I'll sometimes go into a sheet mask. I'll usually do that on the weekend when I have a little bit more time because I wear the sheet mask for 15 to 20 minutes. I use a green-tea hydrogel mask.
After that, I go into eye cream. Right now, I'm using the eye cream from Hanskin. It's pretty creamy, but it's really great for the colder weather.
From there, I go straight into SPF. I've been wearing sunscreen all my life, since I was a little kid. My mom so ingrained it into my routine that I thought it was normal that everyone wore sunscreen all the time, but I realized, working in the skin-care business, that's not true. A lot of people don't wear sunscreen, but sunscreen is that one thing that if you don't do anything else, you should definitely do that. It's preventative, so it prevents dark spots, sun spots, premature aging, and all that stuff. I'm using an SPF called Neogen daylight sunscreen. That's by far my Holy Grail favorite sunscreen. It's the best sunscreen because it doesn't have a white cast, so it doesn't make your face all white, and even later in the day it doesn't get white and dry. It's a really balanced moisturizer.
My night routine only changes with the last step. I don't wear SPF. Instead, I'll just use a moisturizer, and I just switched this week to a moisturizer from Hanskin. It's the same line as my eye cream, and it has a nice millennial-pink packaging.
The Strategist is designed to surface the most useful, expert recommendations for things to buy across the vast e-commerce landscape. Some of our latest conquests include the best women's jeans, rolling luggage, bed sheets, coffee makers, and bath towels. We update links when possible, but note that deals can expire and all prices are subject to change.

Every editorial product is independently selected. If you buy something through our links, New York may earn an affiliate commission.