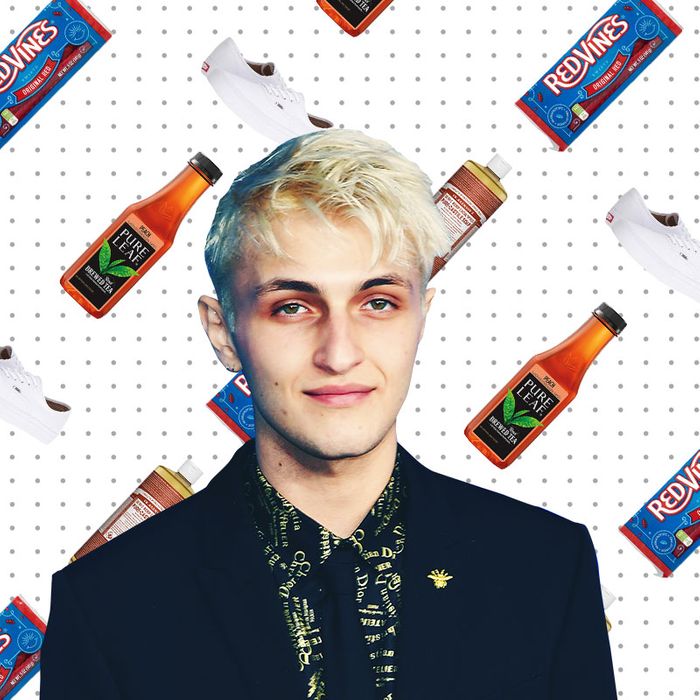 If you're like us, you've probably wondered what famous people add to their carts. Not the JAR brooch and Louis XV chair, but the hand sanitizer and the electric toothbrush. We asked Anwar Hadid (who co-founded unisex jewelry line Martyre with partner Yoni Laham) about the Red Vines, white canvas Vans, and iced tea he can't live without.
Honestly, whenever I stop to get gas or I'm at a corner store, I always get Red Vines. They've always been my favorite candy. I don't really like chocolate that much. These are my go-to.
During high school, I would wear Vans until they broke and then get a new pair. They're kind of my beaters. And then that evolved into me drawing on them and using the canvas to actually paint on. I even dyed a couple pairs. They're just good sneakers that work on everyone.
Photo: Melissa Hom
I love how convenient Postmates is, you know? Whenever I'm in New York and I'm with my friends and we want to order something good to eat, we'll do Postmates. My favorite place in New York is this place called Mimi Cheng's — the best dumplings and kung pao noodles ever. That's basically all I eat when I'm in New York.
I was really addicted to this game for like five years. It's the best game ever. There's a new one coming out this summer; I think one comes out every summer. I wouldn't recommend it to anyone, though, even though it's my favorite game ever. It's just not healthy. I wouldn't talk to anyone. I wouldn't let anyone in my room. I didn't do anything else when I was playing it.
I like the peach one. This is also another thing if I'm at a gas station or a corner store, I'm getting a bottle of Pure Leaf. It's a classic. In L.A., I could never find any iced teas that I liked in the gas stations, but this one was it.