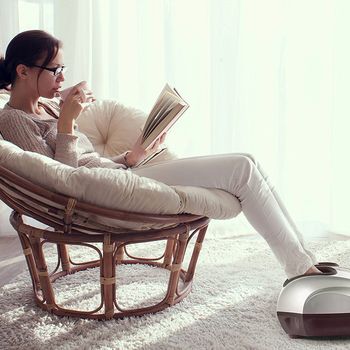 In our advice column, Ask the Strategist, we take your most burning shopping questions and scour friends, call up experts, and draw from personal experience to answer them. As always, please comment with one of your own — we're here to help.
Question: What are the best foot spas?
I began this journey with a call to a podiatrist because we're talking feet here, and because Dr. Weisenfeld was very helpful when I last reached out to her about how to cure and prevent blisters.
Dr. Weisenfeld was less helpful with product recommendations here ("I don't know if I have any …"), but took a different route. She told us what her patients tell her they love to use for their foot pains. "People with plantar fasciitis, which is pain in the arch and heel, use balls with little nubbies to massage the arch. The rolling works out the arch, and it's for people with tight, taut muscles and arch and heel pain," Dr. Weisenfeld said. She also makes sure to note that this is "not a substitute for stretching, which a lot of people think it is."
She mentions that you can use anything, even a tennis ball, for this kind of thing, but all of her patients seem to prefer these spiky balls. They also come in longer cylinders, kind of like mini–foam rollers.
Taking a hint from the doctor, I decided that the best way to find the most successful foot treatments would be to go straight to the people who need them. So I signed on to Reddit, where someone sent a similar question to a subreddit for massage therapists. Along with lacrosse balls (btw, when you type in lacrosse balls on Amazon, a bunch of results refer to massage balls) and golf balls and hiring a real massage therapist, just about all of the comments said that foot massagers aren't ever as effective as you want them to be, but what actually works for relief and better circulation is a foot bath.
Which brings us back to foot spas and the best ones on Amazon.
First, there's the Ivation foot spa massager, with 4.2 stars, about 300 reviews, and lots of very recent five-star reviews that rave about how nice and sturdy this is. The water heats up quickly and stays as hot as you want it to be for as long as your foot bath. You can add salts without damaging the machine, and it's also got rollers and bubbles for proper foot-bath massages and relaxation.
This all-in-one foot-spa-bath massager has 3.9 stars with over 600 reviews complimenting the product on its heat-retaining abilities. A couple things to note: There are quite a few people who didn't love the massage rollers on this one, but they easily come out, and it also can't be used with a bubbling agent, or it'll bubble up the whole house. Still, a very strong contender.
For something simpler overall, like just an appropriate place to soak your feet without all the bells and whistles, here's a foot bucket. (Hey, it's better than a stockpot from the kitchen, which I've been known to use.)
And lastly, for the best straight-up foot massager on Amazon, stick your feet into Belmint's shiatsu foot massager, which has heat (!), so it's kind of like a spa, and has 4.3 stars after 1,016 reviews.
We'd love to hear from you. If you have any burning questions, please leave them for us in the comments.