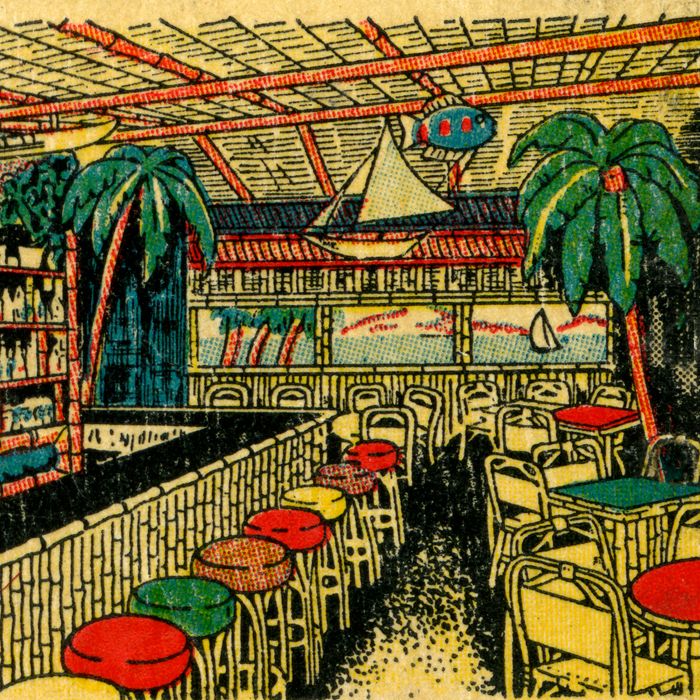 Photo: Jim Heimann Collection/Getty Images
As author and editor Chloe Frechette details in her article "Does Anyone Really Know What Tiki Is?" the arrival of the tiki aesthetic and a sudden fascination with bright, tropical-leaning drinks in 1930s Los Angeles "was the antithesis of the spartan three-ingredients formulas — Manhattan, Martini, Old-Fashioned — that had defined the bar world's status quo for the last half-century." In other words, tiki was exciting. (It was also, in some cases, appropriated.) Then, after falling off in the second half of the 20th century, starting in about 2016, there's been another wave of enthusiasm for bright, bombastic cocktails.
Nothing screams summer like tiki, so we asked three experts in the field — all of whom are bartenders of color actively decolonizing tiki — to tell us everything we need to introduce the magical and complex flavors of tiki drinks to our homes (especially since we won't be sipping cocktails inside a bar anytime soon). Here's what Chockie Tom, founder of "fundraging" pop-up Doom Tiki; Vincent Bright, a bartender at Chicago's Lost Lake; and Jelani Jah Johnson of Clover Club in Brooklyn recommend.
Velvet Falernum
Velvet falernum is as quintessential to tiki as whiskey is to an Irish pub and features prominently in cocktails like the zombie and the mai tai. First produced in Barbados, this syrupy liqueur includes a mixture of ginger, cloves, almond, and lime. Tom and Bright both swear by one brand: John D. Taylor's velvet falernum, which is available at most liquor stores. "Taylor's is the only commercially available falernum actually made in the Caribbean today with a clear Barbados heritage," says Tom, "giving it the advantages of provenance and authenticity over other options."
Orgeat syrup
While cocktails like gin fizzes and mojitos contain a drizzle of simple syrup (sugar dissolved into an equal part of water), tiki relies more on orgeat, an almond-based syrup with hints of orange and rosewater that features prominently in mai tais and the cognac-based, non-tiki Japanese Cocktail. "Making this syrup at home is not difficult," Bright points out, and some versions are made with more sustainably minded nuts and seeds like walnuts and pepitas. But if you want to split the difference, bartenders have gotten behind the small-batch orgeats from Small Hands Foods and Fee Brothers.
Rums
Next is the rum, and do they love their rum in the wide world of tiki. Drinks will often feature multiple kinds of rum, which can range from clear, white rums to syrupy blackstrap rums. But Bright advises against falling too deeply down the rum rabbit hole. "You only need three types to have a pretty solid foundation to work with," he says. "One bottle of Jamaican rum, one of overproof rum, and one of rhum agricole. This should offer a ton of variation and allow you to build cocktails from a simple daiquiri to a 151 Swizzle or Navy Grog."
Tom loves the funkiness and sharpness of Hampden Estate Rum Fire Overproof, which is produced just outside Montego Bay in Trelawny, Jamaica. For more fruit-forward cocktails, she prefers Worthy Park, an aged rum with notes of "rich, chocolaty, and tropical fruit" flavors. Finally, there's rhum agricole, first produced in the French-speaking islands of the Caribbean and made with sugar-cane juice rather than molasses. It works beautifully in a fruit-forward punch or daiquiri.
Swizzle sticks
Any home bartender worth her salt will already own the basics of a home bar: a jigger for measuring out ingredients by the ounce, a cocktail shaker, a strainer, a Japanese-style bar spoon, and a decent corkscrew. But what you may not have in your arsenal is a swizzle stick, which tiki bartenders rub between their hands to mix drinks. "Every home bar should have a swizzle stick for making Ti' Punch and Queens Park Swizzles," says Tom. She likes the Martinique-style swizzle sticks from Kegworks, which are snapped off trees in the Caribbean.
Books
If you're just starting out on your tiki journey, Bright highly recommends Minimalist Tiki, by Matt Pietrek, the man behind the blog "Cocktail Wonk." "It's a good resource that I used early on," he says. "It has a ton of simple-ingredient tiki cocktails for home use."
[Editor's note: This book is currently out of stock, but you can order a copy now for expected arrival in early March.]
Once you've dog-eared your copy of Minimalist Tiki, Bright says you should consider buying two more books: Smuggler's Cove, by Martin and Rebecca Cate, the couple behind the bar of the same name in San Francisco who famously turned a spare bedroom into a tiki bar back in 1999, and 2019's Tiki: Modern Tropical Cocktails, penned by Shannon Mustipher, formerly of Glady's in Brooklyn.
Cups